From an electrifying performance by the godfather of Canadian hip hop, a gala reception at the grand Fairmont Château Laurier and a keepsake photo book that distills the evolution of a dynamic community to a project that brought students together to build a birchbark canoe, a special birthday edition of Throwback and a unique citizenship ceremony, Carleton University's 75th anniversary celebrations have provided an opportunity to reflect on the past and look toward a promising future.
Wes Williams, better known as Maestro Fresh Wes, officially kicked off the anniversary year with his hit single "Let Your Backbone Slide" and some inspiring words during a Jan. 18 show at the heart of campus in the University Centre.
"That's a major transition you make in life, from high school to university, and I made the most of it," said Williams, who studied law and political science at Carleton in the mid-1980s, then went on to release the first Canadian hip hop single to become a Top 40 hit and one of the best-selling singles in Canadian hip hop history.
"Being at Carleton and in Ottawa really helped me find myself. Then I transcended. I went back home to Scarborough, worked hard, and a year and a half later I got my record deal."
Maestro's leap to fame is emblematic of the ambitions of a group of visionary citizens who opened the doors to Carleton College in 1942 to help men and women build their careers and realize their dreams after the Great Depression and Second World War. Their dream laid the groundwork for the thriving dynamic institution that turned 75 years old in 2017.
Anniversary events and projects over the past 12 months have showcased the local, national and international accomplishments of students, faculty, staff and alumni, who embody Carleton's community spirit and ethos of giving back to society through education, research and collaborations with partners large and small.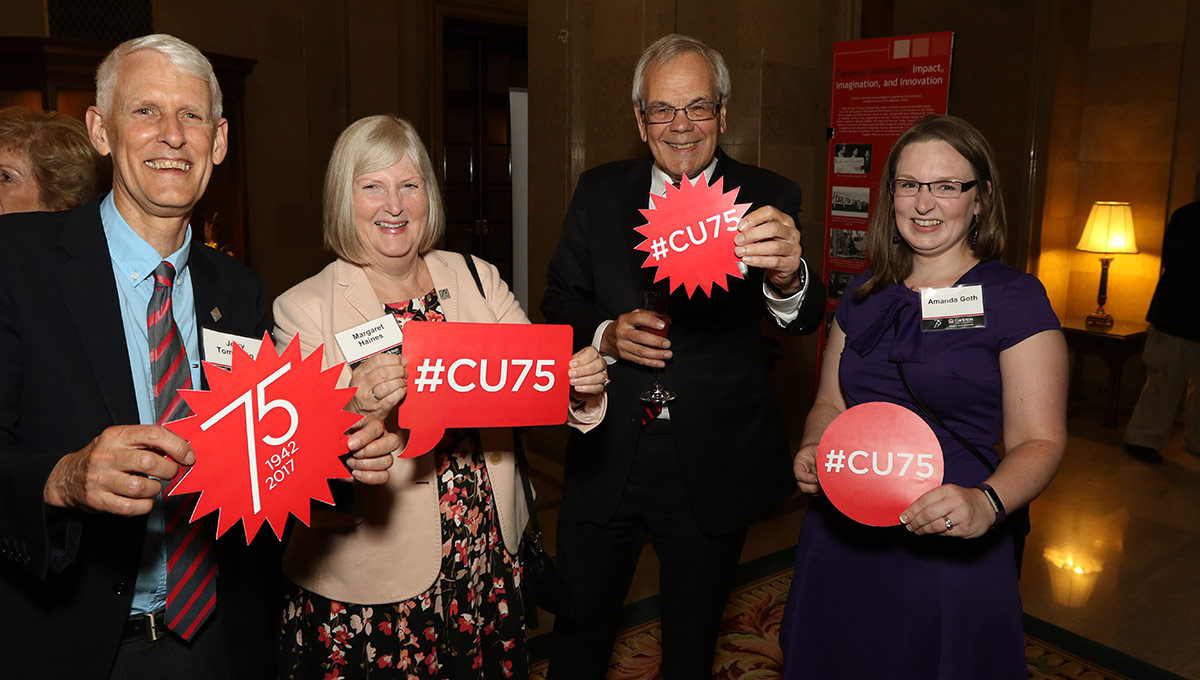 Building Carleton's Reputation
"It's reputation building," Carleton President Alastair Summerlee says about the importance of celebrating milestone birthdays. "It's reinforcing for the internal community, but it's also reputation building outside the institution, because most people at Carleton sort of get on with it and don't stop and say: 'We're doing incredible things.'
"People outside the institution don't necessarily know that, so any kind of celebration is an opportunity to reinforce the internal messages and, at the same time, become more public about who we are and what we do."
When he arrived on campus last summer to become the university's interim leader, Summerlee was immediately immersed in anniversary festivities, which gave him a crash course in Carleton culture.
Among the events he attended were a series of Great Grads, Good Deeds receptions in Ottawa and other cities where alumni told attendees about their experiences at Carleton.
"By telling their stories, they shared a very compelling message about this place and the impact that it has had on their lives and the way they think," says Summerlee.
"To me, that was one of the most moving of the experiences that I had at CU75 events."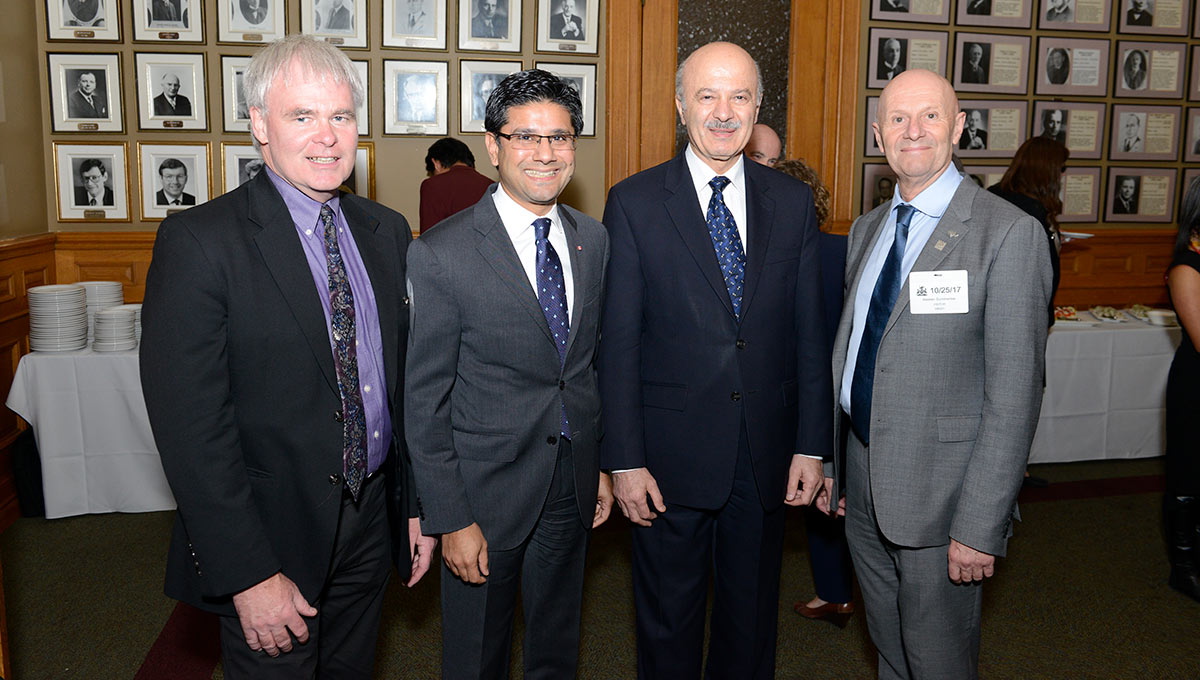 Creating a Birchbark Canoe
For Interim Provost and Vice-President (Academic), Jerry Tomberlin, who chairs the 75th Anniversary Steering Committee, the official unveiling in September of the birchbark canoe in MacOdrum Library and the March book launch of Carleton at 75: Reflections + Photos, 1942 – 2017 stand out among dozens of events.
Tomberlin inherited his role from former Provost Peter Ricketts, who left Carleton last summer to become the president of Nova Scotia's Acadia University. The steering committee was comprised of a dozen or so faculty and staff, who started planning for the anniversary well before 2017 at departmental, faculty and university-wide levels.
"The birchbark canoe project was a wonderful display of experiential learning," Tomberlin says about the collaboration between Carleton's Centre for Indigenous Initiatives and the Carleton University Art Gallery (CUAG), which saw a dozen Indigenous and non-Indigenous students build an eight-foot wooden canoe under the guidance of Daniel "Pinock" Smith, an internationally-renowned Algonquin craftsman from Kitigan Zibi.
"The students learned how to work together and created a beautiful piece of art that changes the whole feeling of the entrance to the library. It's another reminder that we're on unceded Algonquin territory."
The photo book, continues Tomberlin, does an excellent job of showcasing Carleton's community origins and the role these roots have played in the university's evolution. "We're very much a community-based institution," he says. "It's in our DNA."
Throughout 2017, special events and projects, as well as 75th anniversary tweaks to annual or one-off occasions, provided an opportunity to display the university's values and its leadership in research, education and community collaboration.
Examples include the "Celebrating Our Best" reputation campaign, which has highlighted the success of nearly 50 faculty, students, alumni and donors through striking public banners and online profiles, including another eight individuals added to the honour roll this year.
There was also a second Carleton Day at Queen's Park, which saw a group of Carleton researchers, students, senior leaders and staff gather at the Ontario legislature in October to meet with cabinet ministers and provincial officials for discussions about the importance of higher education.
The Visions for Canada 2042 conference in March hosted by the Faculty of Public Affairs explored ways innovative collaborations among researchers and the community may be the most effective response to Canada's future challenges. And a series of pop-up concerts on campus by Music Prof. Jesse Stewart challenged people to rethink what music is by playing unusual instruments like a xylophone made out of books.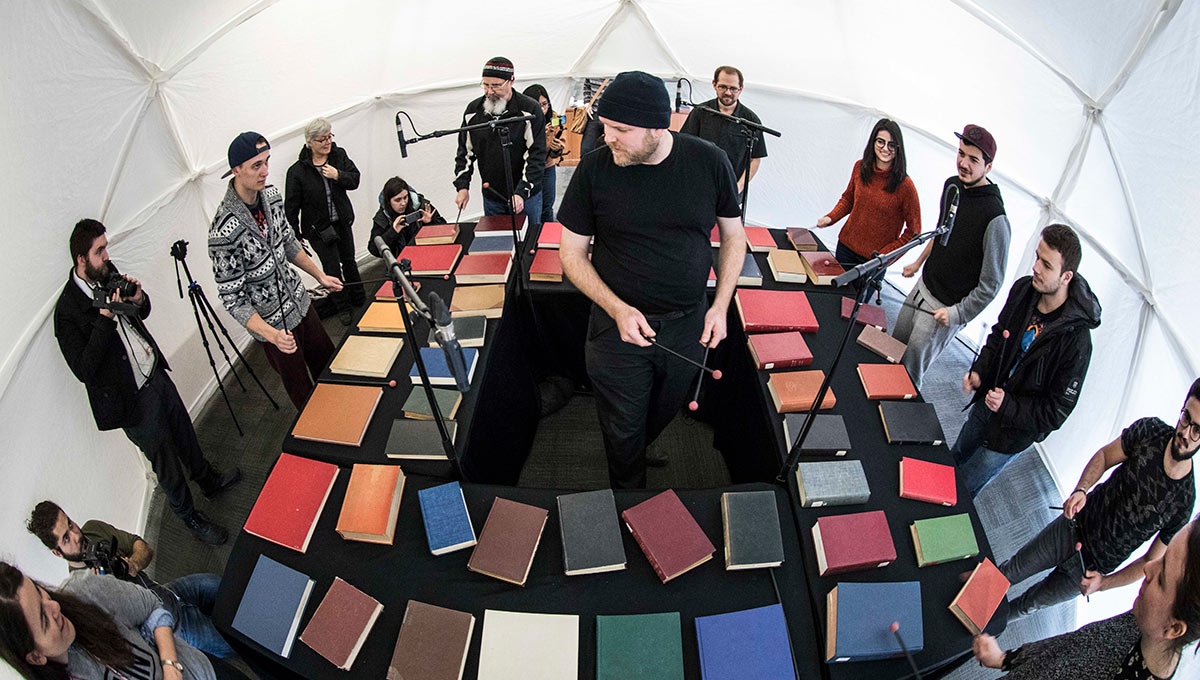 CU75: An Opportunity to
Reconnect with Former Classmates
For Mark Savenkoff, Carleton's director of Alumni and Donor Relations, events such as the Throwback homecoming celebrations and the Founding Day Reception at the Château Laurier on June 18 — the day 75 years ago that paperwork was signed at the hotel to create Carleton — were highlights.
"It provides a forum for graduates to reconnect with former classmates, share stories and reminisce," Savenkoff says of the anniversary year.
"And it provides the university with an opportunity to showcase some of the amazing people who have called Carleton home, those who have been transformed by it and many who have worked hard to support it.
"CU75 mobilized the alumni community," he continues. "Alumni submitted reflections for the commemorative book, volunteered and attended events in record numbers, led projects to raise funds and support our students, and served as ambassadors to our local, national and global communities. Alumni are proud of their alma mater and they are excited champions of the next 75-plus years."
Indeed, while focused on the past, milestone anniversaries are also an opportunity to look toward and plan for the future.
"In looking back, you can also start asking, where will be in 10, 20 and 75 years?" says Summerlee.
"It's important for an academic institution to do that all the time. People joke that we change at glacial speed, but actually, universities change all the time, and they change by reflecting on what they've been doing and thinking about what they could been doing."