By Ariel Vered
Photos by Chris Roussakis & Kevin Burns
In celebration of its 75th anniversary, Carleton University hosted a special Canadian citizenship ceremony for 40 new Canadians, including 11 former and current Carleton students and two professors.
The April 4 ceremony was organized in partnership with Immigration, Refugees and Citizenship Canada (IRCC) and the Institute for Canadian Citizenship (ICC).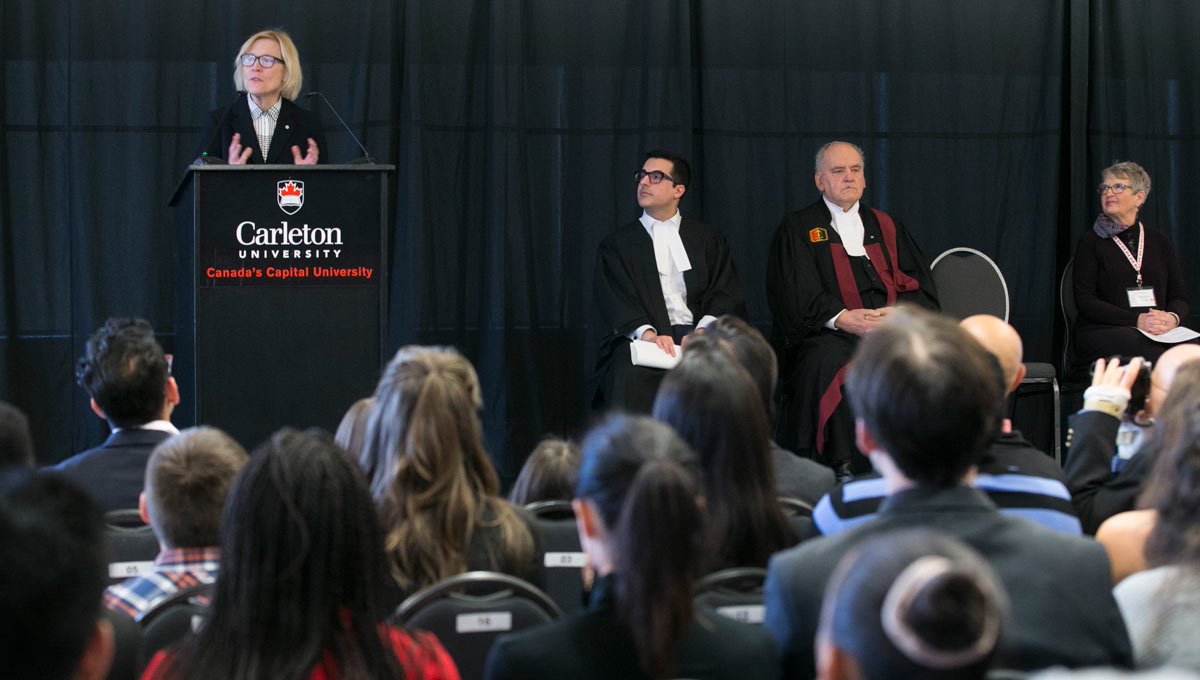 Prior to the swearing-in ceremony, candidates engaged in roundtable discussions about what Canada and becoming a Canadian citizen means to them. A representative from each table shared their thoughts with the assembled crowd.
"This is a wonderful day for Canada and it's all because of you," said Presiding Official George Springate, former senior citizenship judge and a member of the Order of Canada.
He was joined on the podium by Carleton President Roseann O'Reilly Runte and ICC Volunteer Committee Chair Barbara Clubb.
"Canada is special because of the people who are here," said Dr. Runte.
"Thank you, new Canadians, for sharing your knowledge and your customs and your language with us."
Springate invited the 40 candidates for Canadian citizenship to stand and recite the Oath of Citizenship. The new citizens accepted their certificates, signed their oaths and received mini Canadian flags to commemorate the special event. The Carleton Chamber Singers led the room in an acapella rendition of O Canada.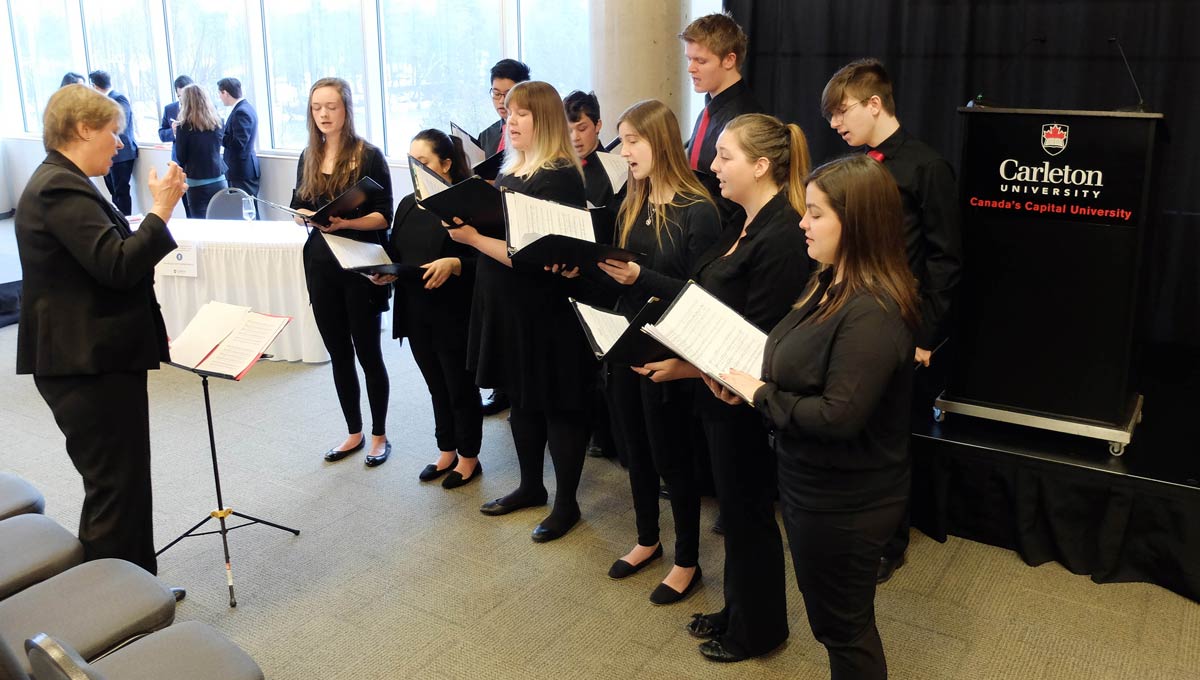 Canadian Citizenship:
Being Part of Canadian Culture
"I'm from India, but I've had the opportunity to live around the world," said Ankash Naresh, who moved to Canada five years ago. "Being a Canadian is a wonderful opportunity to be a part of the Canadian culture. The people here are great, the atmosphere is wonderful. It's a great place to be and grow."
Becoming a new Canadian opens doors to opportunities in employment and civic participation that were unavailable to them as residents.
"I work for the government, so not having my citizenship was really a hindrance to me getting a permanent position," said Meenakshee Proag, a Carleton graduate originally from Mauritius.
"Now everything – my whole life – is going to change career-wise. Also, the right to vote, the right to choose the leader to lead the country, means a lot to me. They are the ones who are going to influence policies of Canada and that's going to influence us in return."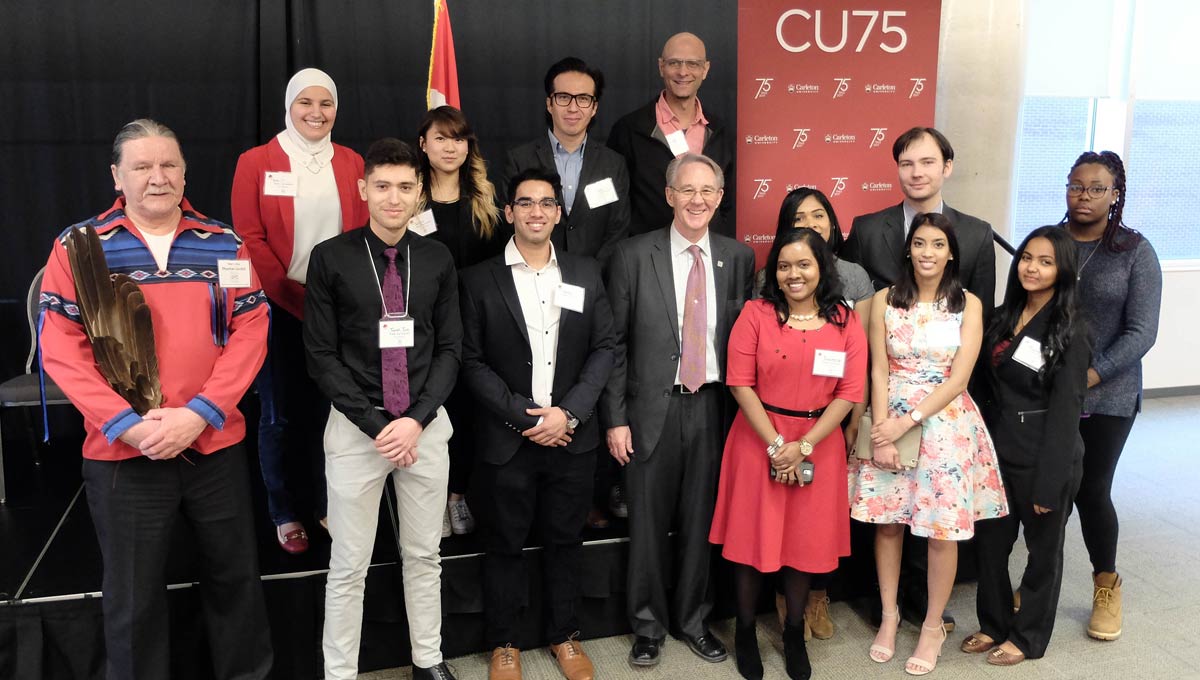 The importance of acquiring the right to vote and a sense of belonging were echoed by many of the new citizens.
"At heart, I feel both Korean and Canadian, but on paper I was never actually Canadian," said Carleton student Julia Kim, who came to Canada when she was two years old,
"So to me, this is like: 'Welcome, finally, 20 years later.'"
"You feel a part of this community," said Carleton student Shrey Shree, originally from India. "You feel more connected now because you're a citizen."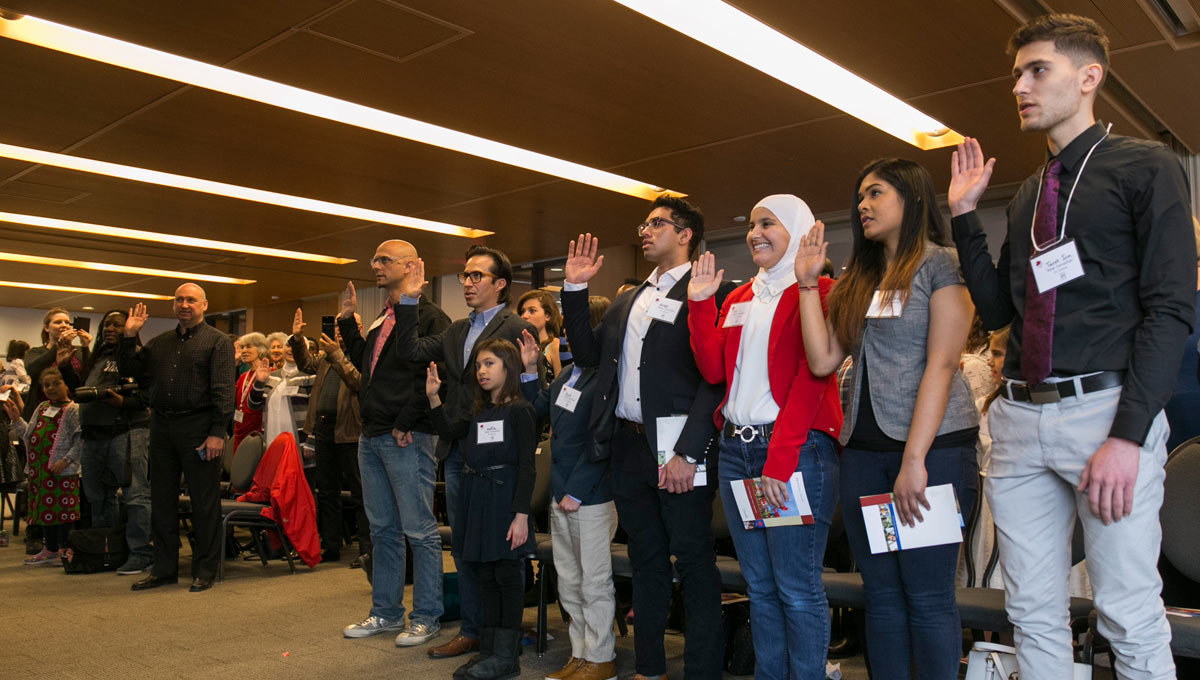 Campus Ceremony a Gift
Many students noted how special it was that the ceremony was occurring at the university, a place where they feel comfortable.
"This ceremony at Carleton feels like it's welcoming me to my home now," said Tarek Issa, who came to Canada from Syria five years ago.
"As a Carleton student, and it's occurring at Carleton, it feels like a homecoming gift."
Student Noor Alkhalili, originally from Jordan, said becoming a citizen is an important milestone in a year full of them.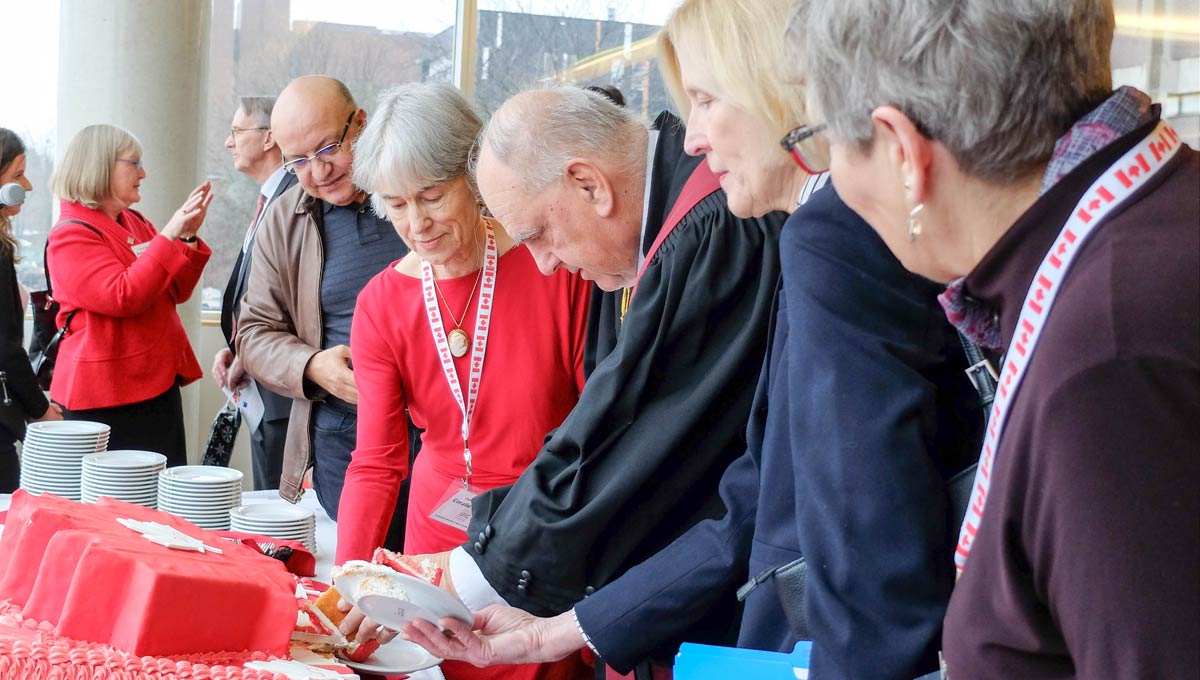 "I'm graduating this year, I got my engineering ring this year, it's Canada's 150th anniversary, and I'm getting [my citizenship] at Carleton . . . Also, I'm a feminist and seeing all the women out there (becoming citizens) is awesome."
Raul Razo-Garcia, an associate professor of economics at Carleton who is originally from Mexico, became a citizen alongside two of his young children.
"Becoming a Canadian means that we will be part of the society that is open and friendly," he said, "but is also full of responsibilities. Canada is a country that is a leading country in the world. As a Canadian now, when you travel abroad you will be representing Canada.
"Becoming a Canadian also means we are going to have the opportunity to participate in the political process in the sense that we will have a voice, we will be able to vote and we will be able to influence the decisions that politicians are making for us."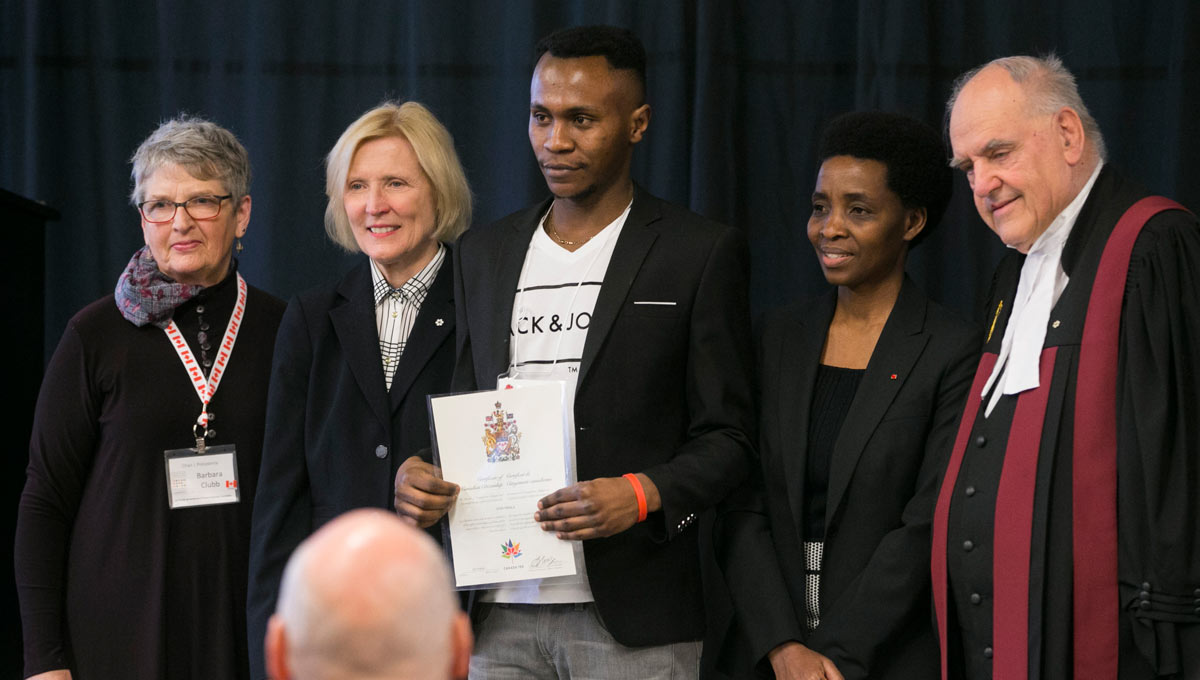 Carleton's 75th Anniversary
Carleton's 75th anniversary in 2017 celebrates the university's commitment to giving back through education while pursuing contributions to the common good. These founding values are at the heart of the university's focus on research, community partnerships and teaching excellence. Carleton students, faculty, staff and alumni are motivated by a desire to make their world a better place. And as the university marks a major milestone in Canada's 150th anniversary year, we are showcasing the innovation and creativity of our collaborations. Because what's good for Carleton is good for Canada and the world. It's been a tradition for 75 years.

Wednesday, April 5, 2017 in Community, CU Anniversaries, Events
Share: Twitter, Facebook