When psychologist Tamra Ricci, who has a physical disability, first began post-secondary studies, she struggled perpetually with doors and inaccessible washrooms.
At the time, Carleton University had recently introduced its Attendant Services Program, a unique 24-hour service that helps people with disabilities get to class and social activities.
"That's why I chose Carleton in 1991 to complete my master's degree," said Ricci, one of several speakers at an event on Oct. 7 celebrating the 25th anniversary of the Paul Menton Centre for Persons with Disabilities (PMC) and the 10th anniversary of the Accessibility for Ontarians with Disabilities Act (AODA).
"At Carleton, accessible doors were everywhere, attendant care offered help 24-7, and the campus was accessible for people like me who had physical disabilities. It was a unique experience – an entire office and staff to make sure I was afforded the same opportunities as my able-bodied counterparts allowed me to focus on being a student like everybody else."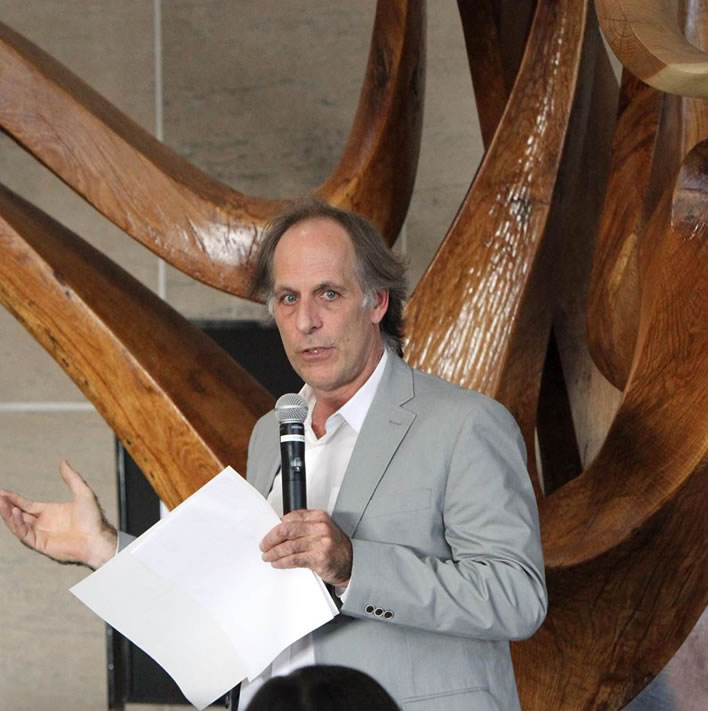 The PMC officially opened on January 15, 1990, less than a year after Paul Menton passed away at the age of 36. A quadriplegic who faced extraordinary challenges as a young student at Carleton, Menton advocated for change, became the university's first co-ordinator for the disabled and inspired the centre that bears his name.
Today, nearly 2,100 students enrolled at the PMC primarily struggle with mental health issues or learning disabilities more than mobility problems. More than 1,000 student volunteers contribute to the centre's accommodation services.
The PMC has recently launched such initiatives as Research, Education, Accessibility and Design (READ) to bring together experts committed to creating a more inclusive society and to prepare students with disabilities for employment.
The anniversary event in the River Building atrium was emceed by Robyn Bresnahan of CBC Radio's Ottawa Morning, an alumna of Carleton's School of Journalism and Communication. Special guests included Ottawa Mayor Jim Watson, several councillors and Carleton President Roseann O'Reilly Runte, as well as Ottawa sculptor David Fels, who unveiled his new work "Inclusivity," Carleton Music Prof. James Wright, mezzo-soprano Julie Nesrallah, singer-songwriter Angelique Francis, chamber choir Seventeen Voyces and Celtic fiddler Robin Evans.
Celebrated athlete and fundraiser Rick Hansen provided a surprise video message, calling Carleton "a shining example of inclusion."
Carleton alumnus Mike Nemesvary, a legendary freestyle skier who became a quadriplegic after a trampoline accident in 1985, had met Menton several years earlier and was intimidated by the sight of the disabled man in his wheelchair.
"The able-bodied community can be scared to engage with people with disabilities," said Nemesvary, who has since become a passionate disability advocate. He enrolled in Carleton's psychology program in 1990 when the PMC was a one-man show run by Director Larry McCloskey.
"If you wanted to pursue your academic dreams, you sucked it up and you endured. The PMC has since become a vital institution."
The PMC was in its early days when entrepreneurship guru Sean Wise, who joined the event via Skype, studied aerospace engineering and economics at Carleton. He recalled how the centre allowed him to "rise to the challenge open to me" in spite of his learning disabilities. "With their help, I got a degree and the life skills I needed to go on to succeed."
Today, with a PhD in business, Wise is an expert on startups and venture capital, mentoring young firms and hosting the web-based television series The Naked Entrepreneur. As a professor at Ryerson University, he focuses on helping students realize their dreams.
"Entrepreneurs have an ability to turn adversity into opportunity," says Wise. "I believe this is also true of people with disabilities, who are turning obstacles into opportunities."
Added Ottawa Councillor Jody Mitic, who lost both legs in 2007 when he stepped on a landmine in Afghanistan: "As a person with new physical disabilities, I can appreciate the activities at the Paul Menton Centre."
A Canadian Armed Forces veteran and author, Mitic focuses his municipal work on making city operations accessible to residents and providing equal opportunity for everyone in Ottawa.
The PMC graduation rate is two per cent ahead of the average for the university, said McCloskey, reflecting the efficacy of the centre's efforts.
"In the beginning," he said, "it was 'if only' we could get over this crisis. It took a couple of decades to change our narrative to 'what if' we embraced challenges. Accessibility is now part of Carleton's strategic plan. For the PMC to lead on accessibility and Ottawa to be the most accessible city in the world by 2025 are doable goals.
"It's nice to have an event like this where you recognize progress, but much of the hard work has yet to be done."
Wednesday, October 21, 2015 in Accessibility, Events
Share: Twitter, Facebook