By Dan Rubinstein
Photos by Ian Crysler
A group of Carleton University researchers, students, senior leaders and staff spent the day at Queen's Park on Oct. 25, meeting with cabinet ministers and provincial officials to discuss the importance of stable support for higher education — and how Carleton can help Ontario address the challenges and opportunities of the 21st century.
The second Carleton Day at Queen's Park — which was modelled after a successful inaugural event in 2014 — showcased the university's capacity for talent development, economic development and job creation, as well as its leadership on energy, climate change and Indigenous issues.
The series of meetings was followed by a reception co-hosted by Ontario Attorney General, Yasir Naqvi, the MPP for Ottawa Centre — the riding where Carleton is located — and Carleton President Alastair J.S. Summerlee.
Carleton alumni and MPPs from the province's three main political parties attended the reception, which was part of the university's 75th anniversary celebrations.
"Carleton has had a very remarkable impact on the development of Canada and Ontario after the Second World War and continues to make an impact," Naqvi said in his opening remarks.
"This is a special time for Carleton," said Summerlee. "It's our 75th anniversary, and a time for us to stand up and talk about the things we've done in the last 75 years and, more importantly, the things we can do in the next 75 years that will be of service to the people of this province, across Canada and around the world.
"There are so many aspects of our programs and programming that are for the public good and will help us continue to achieve the kind of social development that we long for."
Carleton Day at Queen's Park:
Engaging with the Province
Carleton's delegation included Associate Vice-President (Research and International). Pauline Rankin, and three students who are members of the university's Board of Governors: Liam Harrington, Efrem Behre and Natalie Prowse.
Engineering Prof. Matthew Johnson, the Canada Research Chair in Energy and Combustion Generated Pollutant Emissions, joined the meeting with MPP Serge Imbrogno, Ontario's deputy minister of Energy. Johnson, director of Carleton's Energy and Emissions Research Lab and the collaborative multimillion-dollar NSERC FlareNet Strategic Network, recently released a major study that revealed oil patch emissions of methane, a potent greenhouse gas, are significantly higher than federal government estimates and industry reported data.
Engineering Prof. Banu Örmeci, a Canada Research Professor and the Jarislowsky Chair in Water and Global Health, joined the meeting with MPP Arthur Potts, parliamentary assistant to the Minister of Environment and Climate Change.
Psychology Prof. Chris Herdman — an expert in human perception, cognition and the design, implementation and evaluation of advanced human-machine systems — joined the meeting with Reza Moridi, Ontario's minister of Research, Innovation and Science.
The group from Carleton also met with Glenn Craney, assistant deputy minister, Strategy, Advanced Education and Skills Development, and Graeme Stewart, director of policy in the Office of Deputy Premier Deb Matthews, who serves as the Minister of Advanced Education and Skills Development and the Minister Responsible for Digital Government; and with David Zimmer, minister of Indigenous Relations and Reconciliation — a session that was joined by Prof. Jennifer Adese, who coordinates the Indigenous Studies program in Carleton's School of Indigenous and Canadian Studies.
"I don't think there can be anything more fantastic than to meet with ministers, and having students lead the charge about the kind of things that this government has been able to do in support of the higher education agenda," said Summerlee. "Listening to student views is the right direction, because they will inherit our society in the next few years."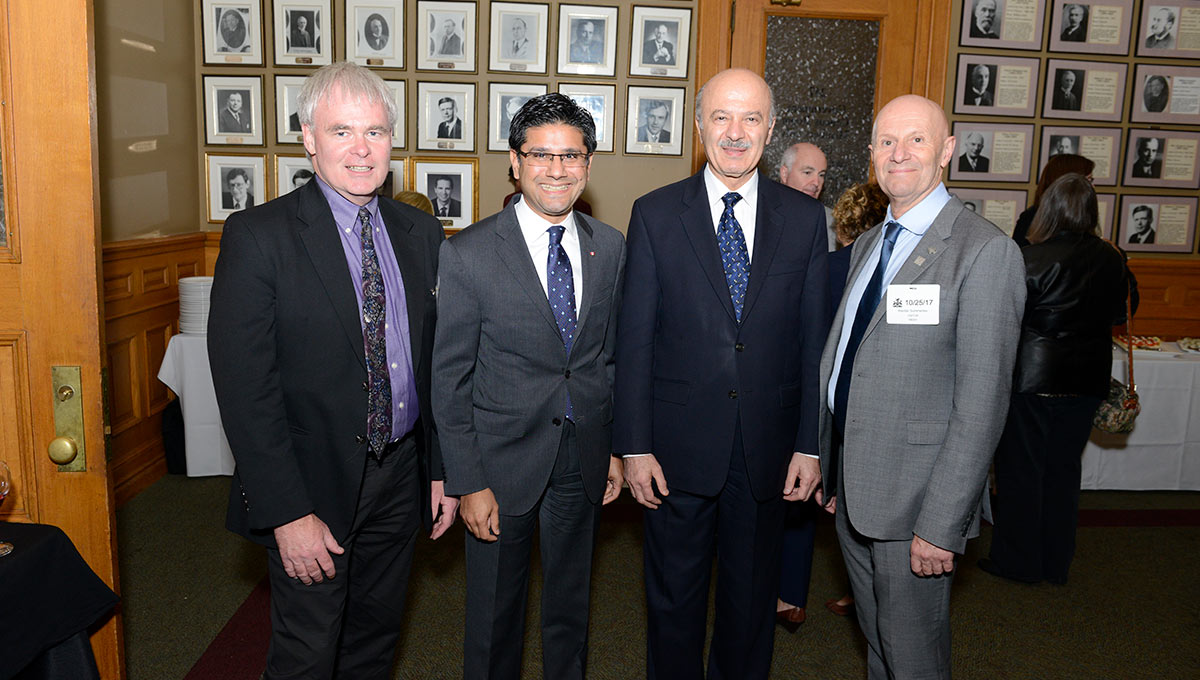 Focusing on Employability Skills
and Experiential Learning
Among the messages shared by Carleton's representatives was that the Ontario government's support for accessible higher education allows universities to focus on employability skills and experiential learning, which meshes with the province's emphasis on jobs and the economy, health care, research and innovation, and energy costs and climate change. And that while Carleton appreciates the government's support for research and innovation, it's time to consider investing in regional clusters to promote economic development.
Carleton's delegation also highlighted the university's work and strengths in: poverty alleviation (Carleton is one of two Ontario universities signed up for the PUSH initiative, Presidents United to Solve Hunger, a worldwide network focused on poverty alleviation, awareness and remediation at home, in Indigenous communities and abroad); water quality research; accessibility; mental health; social entrepreneurship; and artificial intelligence, sensor technologies and cybersecurity, including unique industry partnerships.