By Dan Rubinstein
Photos by Mike Pinder
Seventy-five years ago, a small college offering night courses for academic credit opened shop at the High School of Commerce, known today as Glebe Collegiate Institute.
Championed by a group of visionary citizens, and by a federal government that wanted to help students build their careers after the Great Depression and service in the Second World War, Carleton College steadily evolved into one of Canada's leading post-secondary institutions, a university that has provided a unique educational experience to more than 140,000 graduates.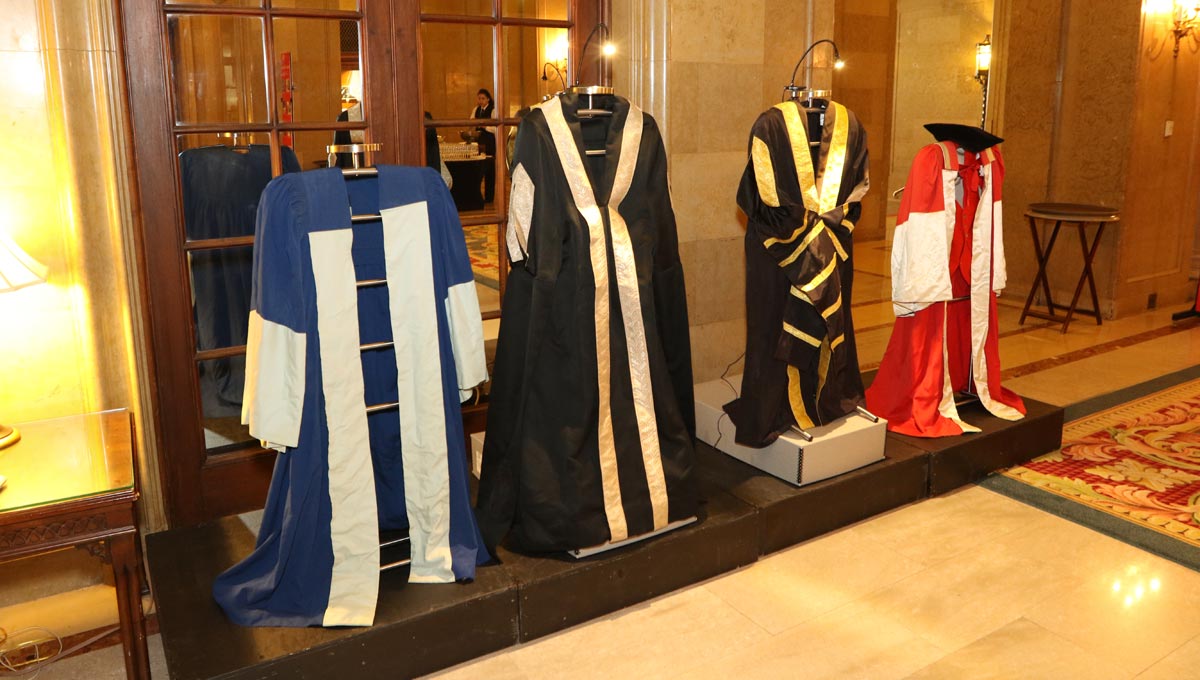 On Sunday, June 18, half a dozen blocks and a world away from those humble origins, 250 or so people gathered at the grand Fairmont Château Laurier hotel for a gala reception to mark Carleton University's 75th anniversary.
On that date in 1942, the Ottawa Association for the Advancement of Learning was established to assume responsibility for the operation of Carleton College. At the same meeting – held at the Chateau – the first board of governors was elected, and Henry Marshall Tory — who had been the founding president of the University of Alberta and National Research Council, and established the school that would become the University of British Columbia — was appointed president and elected chair of the board.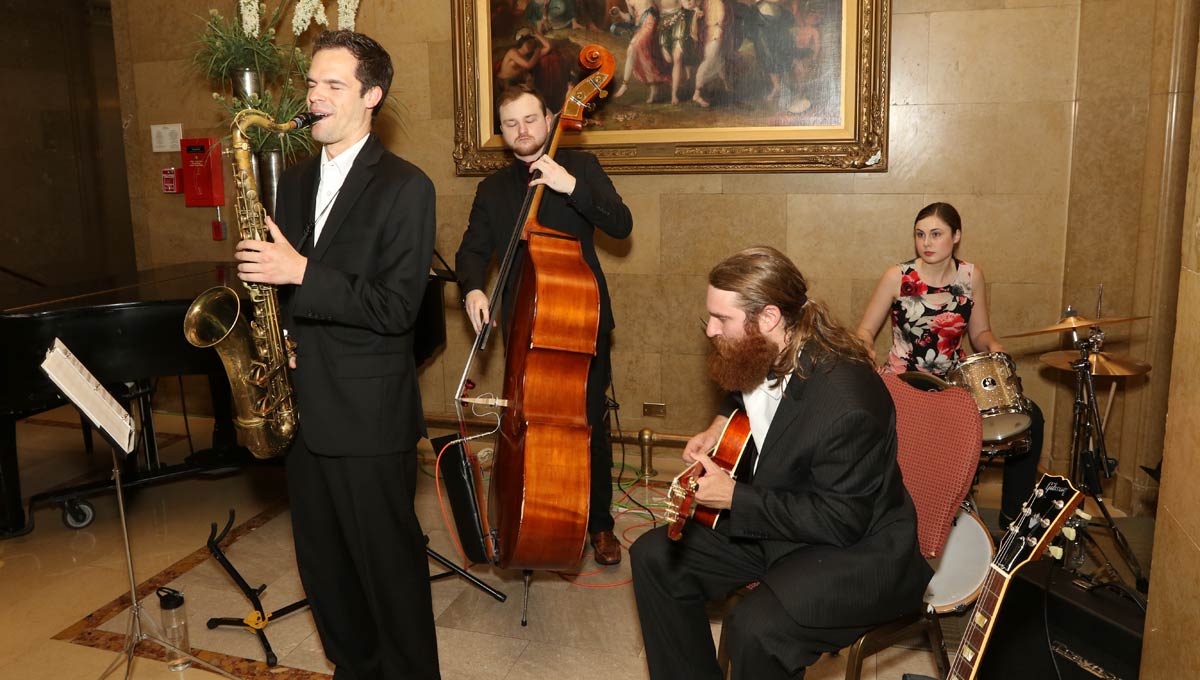 CU75 Founding Day:
Community Celebration
The Founding Day Celebration brought together federal, provincial and municipal politicians, alumni and donors, university executives, faculty and staff, members of the Board of Governors, and people from the community at large.
They were welcomed by a jazz quartet performing vintage 1940s music and a flash mob performance of Boogie Woogie Bugle Boy before being led into the Drawing Room by bagpiper Jack Coghill, a Carleton music instructor and alumnus.
Patti Harper, the head of research support services at Carleton's MacOdrum Library and a driving force behind the anniversary book Carleton at 75: Reflections + Photographs, served as the master of ceremonies for the event, while Elder Jim Albert provided welcoming remarks.
 
Prime Minister Justin Trudeau sent a congratulatory video message.
"It's been quite the journey since Carleton first opened its doors right here in the Chateau Laurier," said Trudeau. "From those beginnings, you have grown to be a leader in higher education and you've helped over a 100,000 graduates take their first steps down their paths to success. Your alums are world-renowned journalists, tech executives, artists of all kinds, diplomats, civil servants and leaders in communities around the world."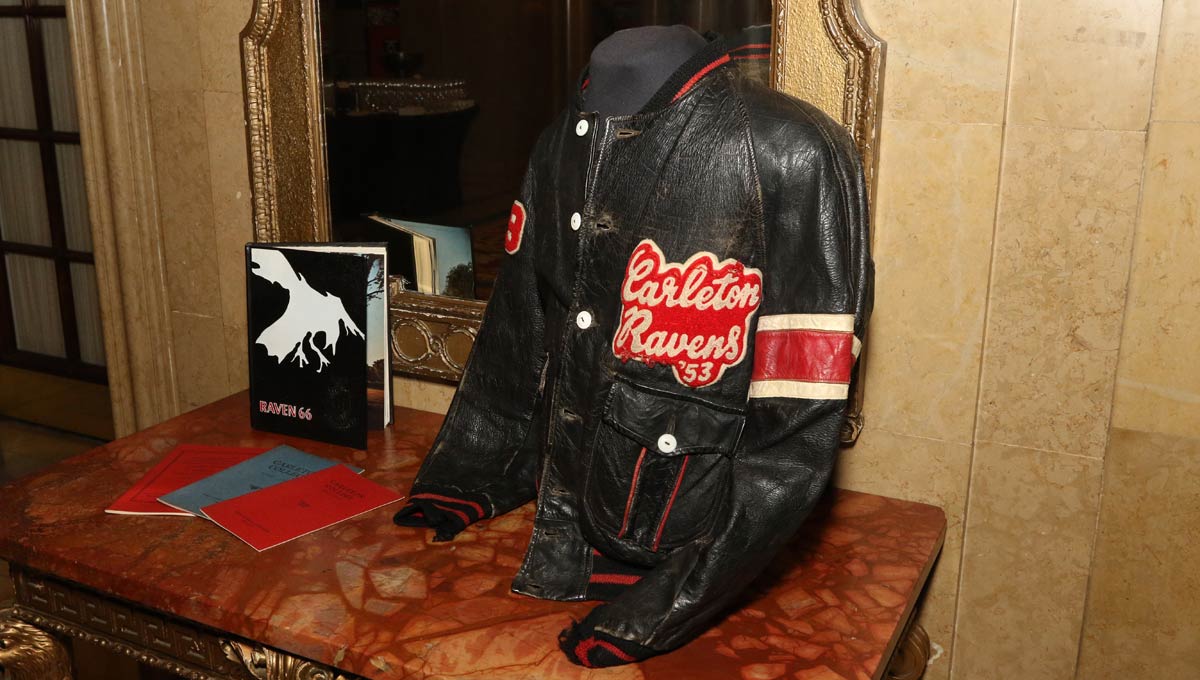 Entrepreneurial Spirit
Outgoing Chancellor Charles Chi celebrated Carleton's "entrepreneurial spirit" before Board Chair Chris Carruthers paid tribute to the vast community support for Carleton, as well as outgoing President Roseann O'Reilly Runte, who is leaving the university to head the Canada Foundation for Innovation.
"I wish to thank the citizens of Ottawa and surrounding communities for their support and leadership in making Carleton what it is today," said Carruthers.
"With your help, we have assured a dynamic future for Canada's Capital University. Carleton's 75th anniversary in 2017 celebrates the university's commitment to giving back through education while pursuing contributions to the common good."
Dr. Carruthers thanked Chi for six years of service and leadership at the university, noting also that Dr. Runte has worked 24-7 for the university over the last nine years while providing "exceptional and stable leadership."
Said Dr. Runte: "We owe a deep debt of gratitude to the citizens of Ottawa who founded Carleton University 75 years ago. Through dedication and collaboration, we will continue to offer this region and the world, access to excellence in education and research to support economic and cultural growth."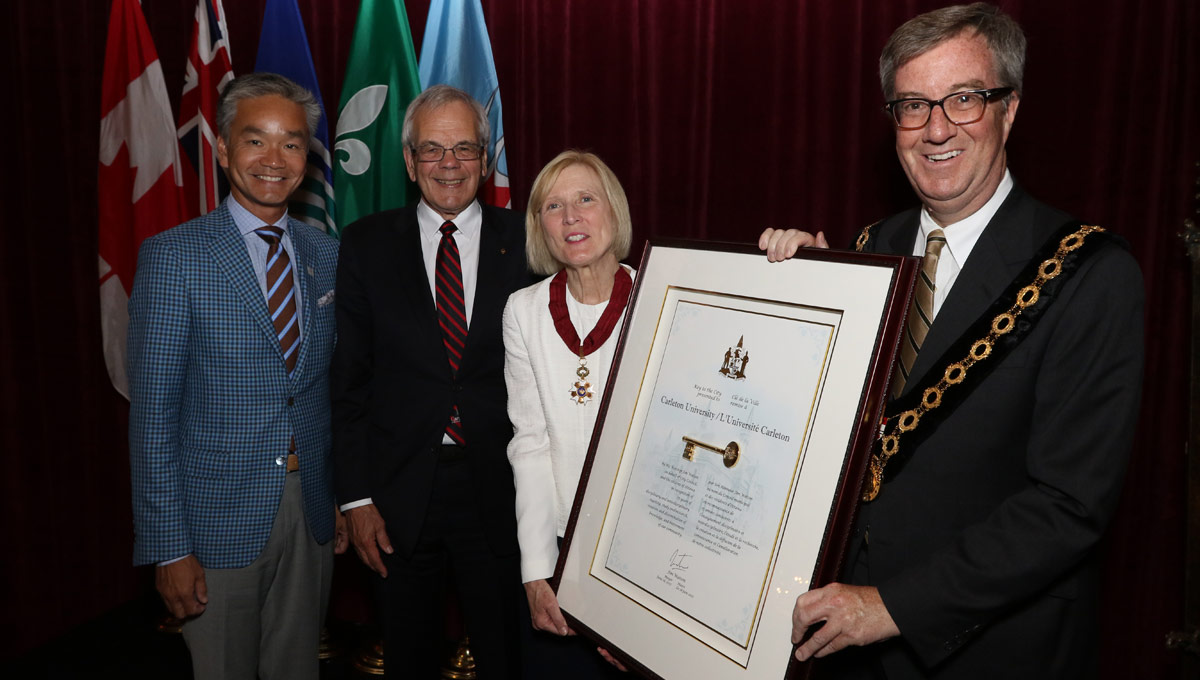 Key to the City
Ottawa Mayor Jim Watson presented his alma mater with a Key to the City — Ottawa's highest honour.
"Over the last 75 years, Carleton has had a tremendous impact in the City of Ottawa," said Watson.
"I count my time at Carleton as the moment I knew I wanted to be involved in public service. Numerous other graduates have also gone on to become community leaders, business leaders, politicians, entertainers or journalists, and they have shaped our neighbourhoods and enriched our lives."
Belgium's Ambassador to Canada, Raoul Delcorde, took the podium next and presented Dr. Runte with the Belgian Commander's cross of the Order of the Crown, awarded in recognition of artistic, literary and scientific merit.
Dr. Runte's award especially recognizes her strong support for establishing international student and faculty partnerships between Belgium and Canada.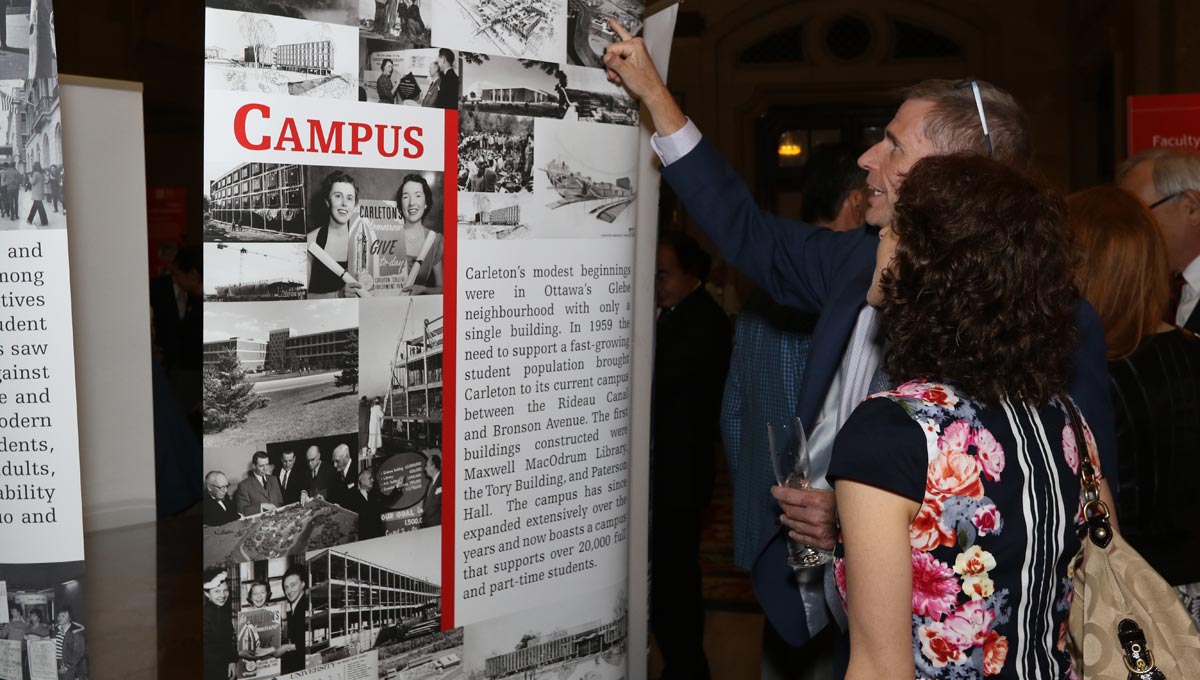 75 Years of Tradition
The formal program concluded with a few words from Fred Gibson, the son of one of Carleton's original governors and the father of three alumni, and from recent graduate Alicia Hutton.
Guests then stayed to eat, drink, mingle and browse historical exhibits charting the evolution of Carleton from its birth in 1942 to the thriving dynamic community it is today.
Carleton's 75th anniversary in 2017 celebrates the university's commitment to giving back through education while pursuing contributions to the common good.
These founding values are at the heart of the university's focus on research, community partnerships and teaching excellence.
Carleton students, faculty, staff and alumni are motivated by a desire to make their world a better place. And as the university marks a major milestone in Canada's 150th anniversary year, it is showcasing the innovation and creativity of its collaborations. Because what's good for Carleton is good for Canada and the world. It's been a tradition for 75 years.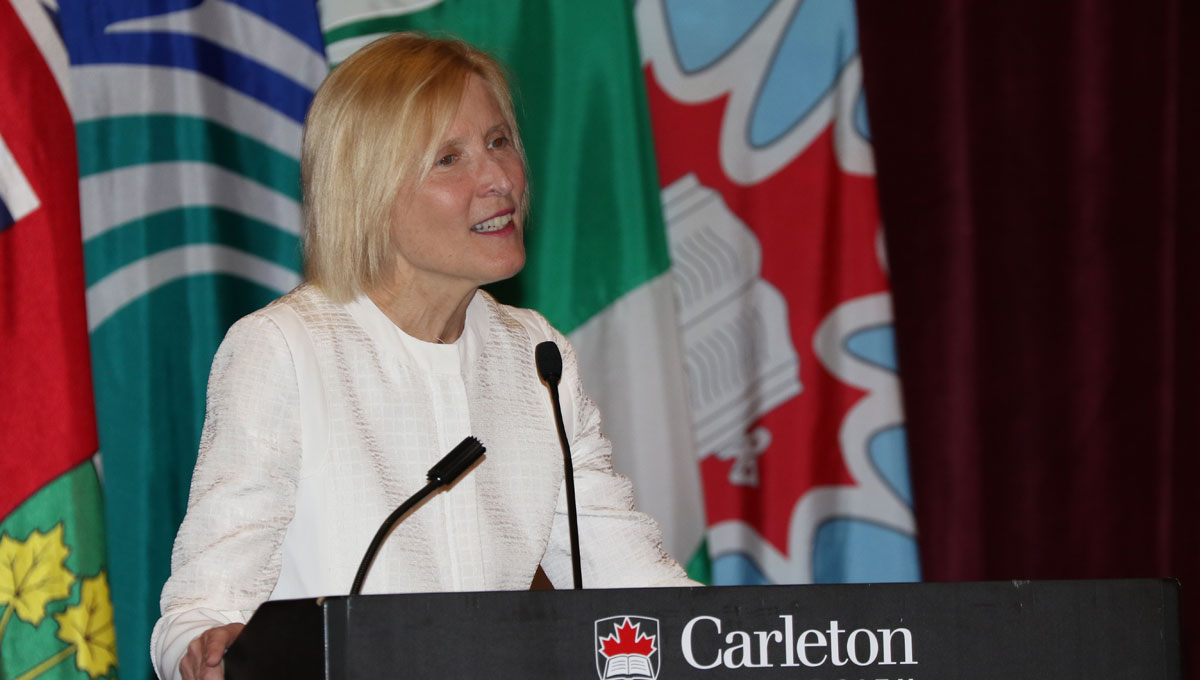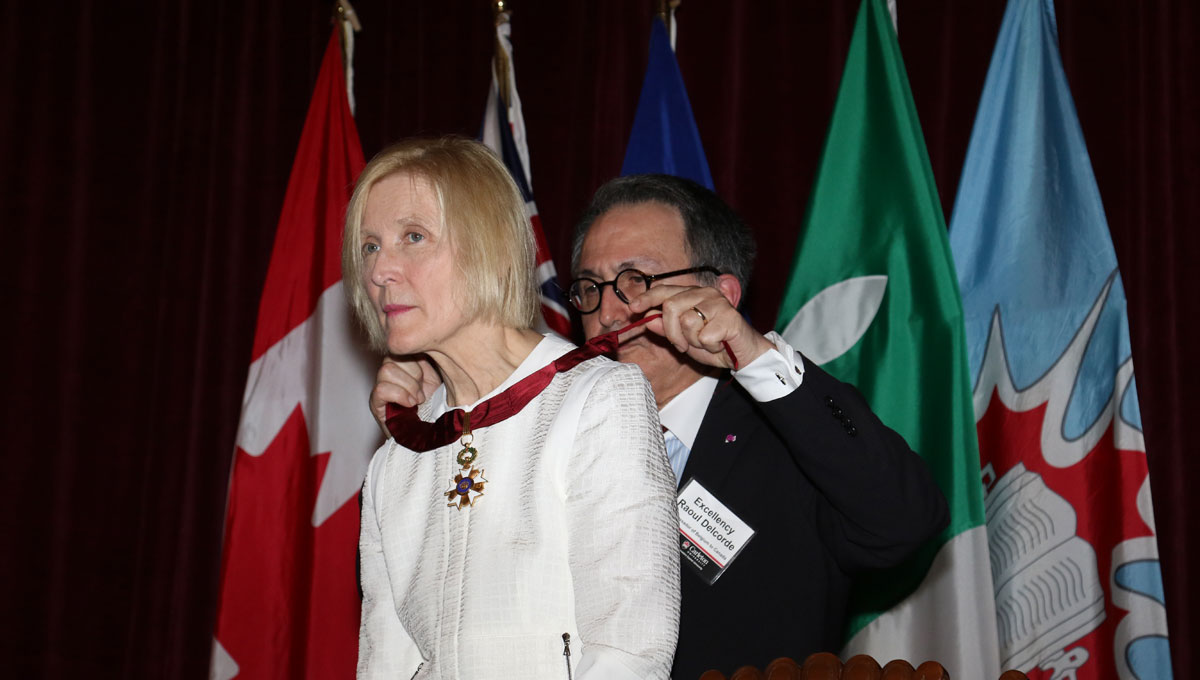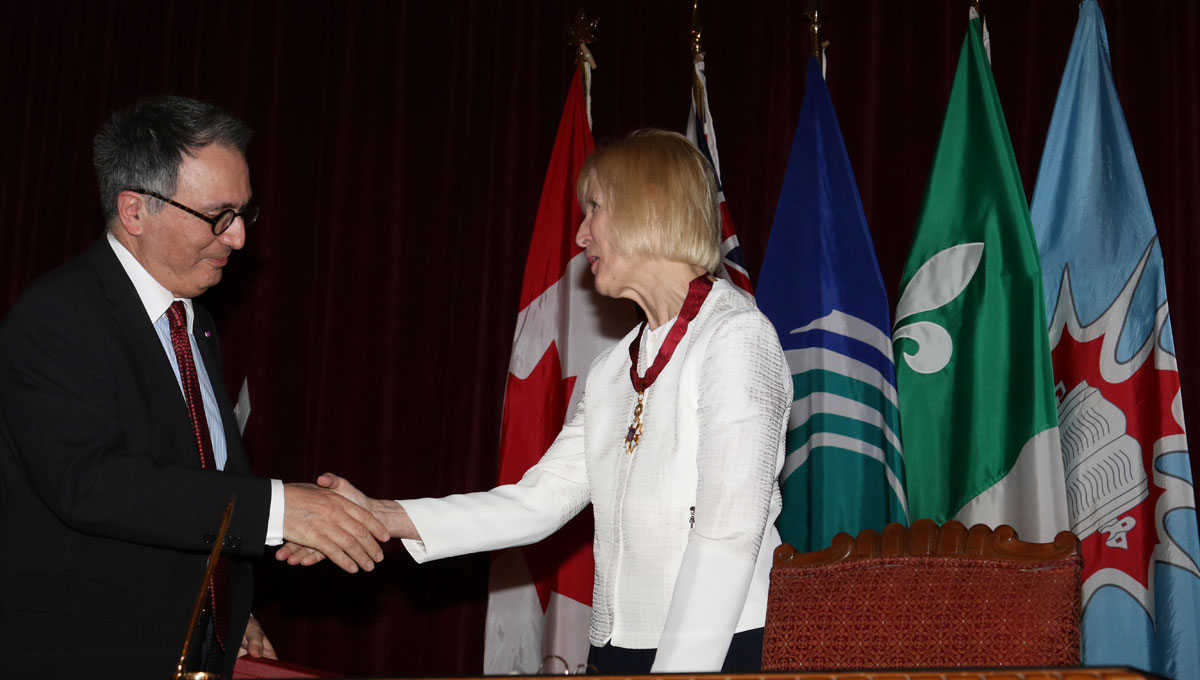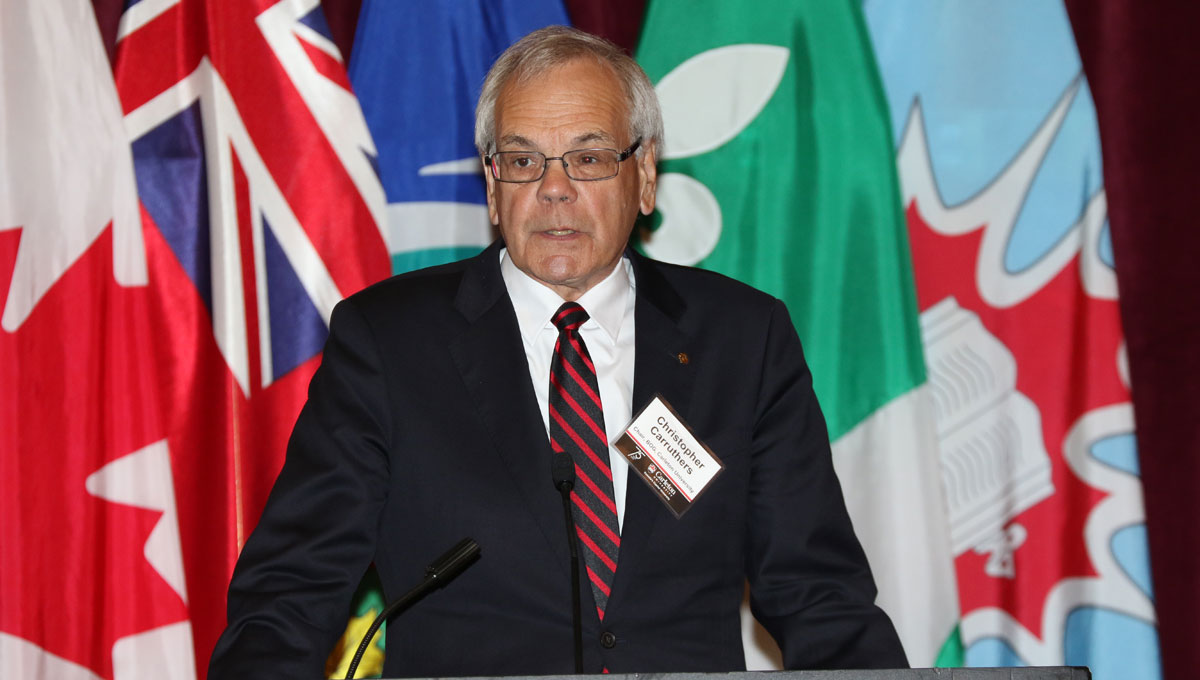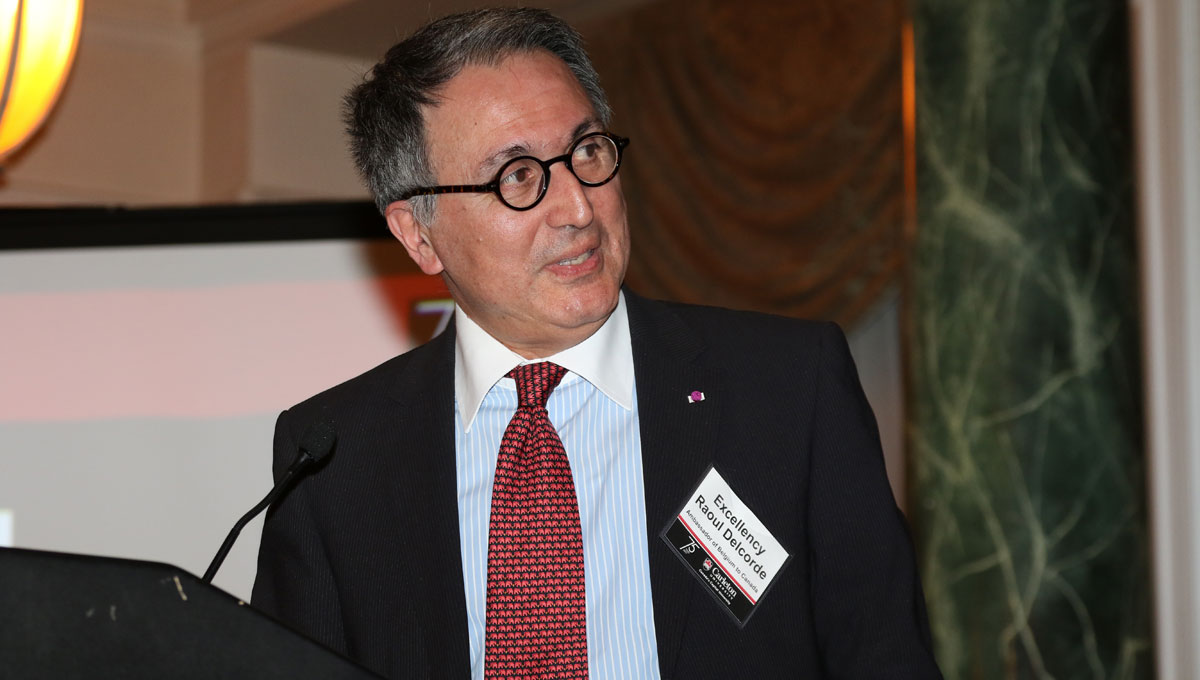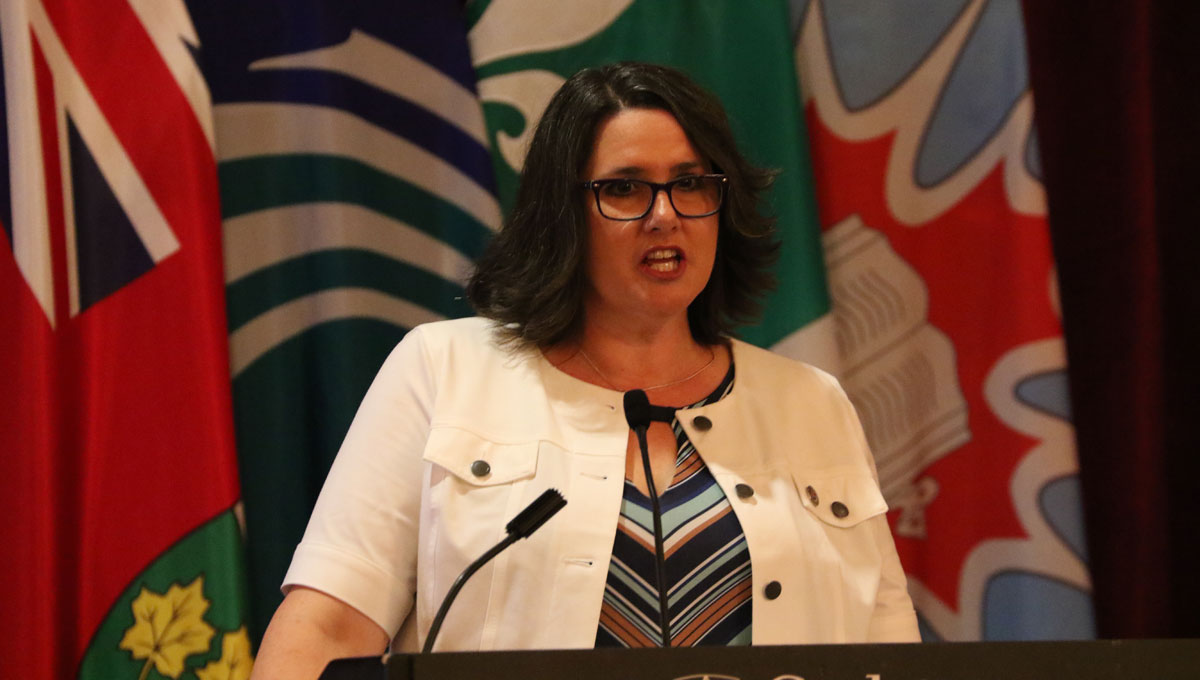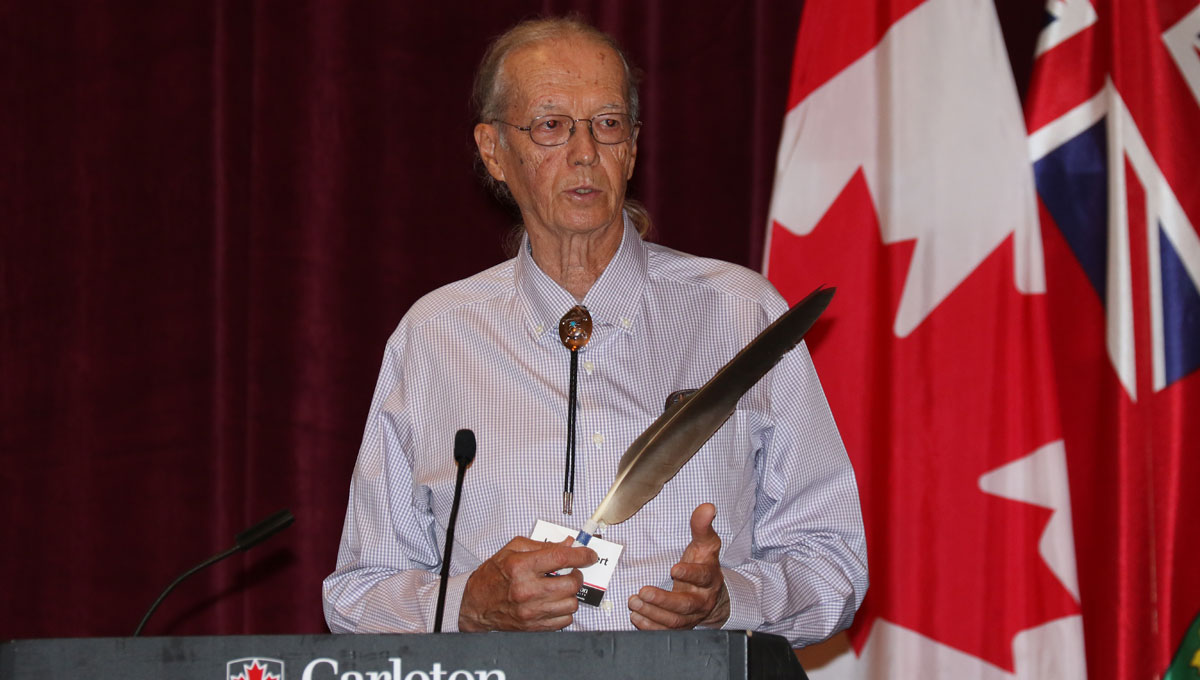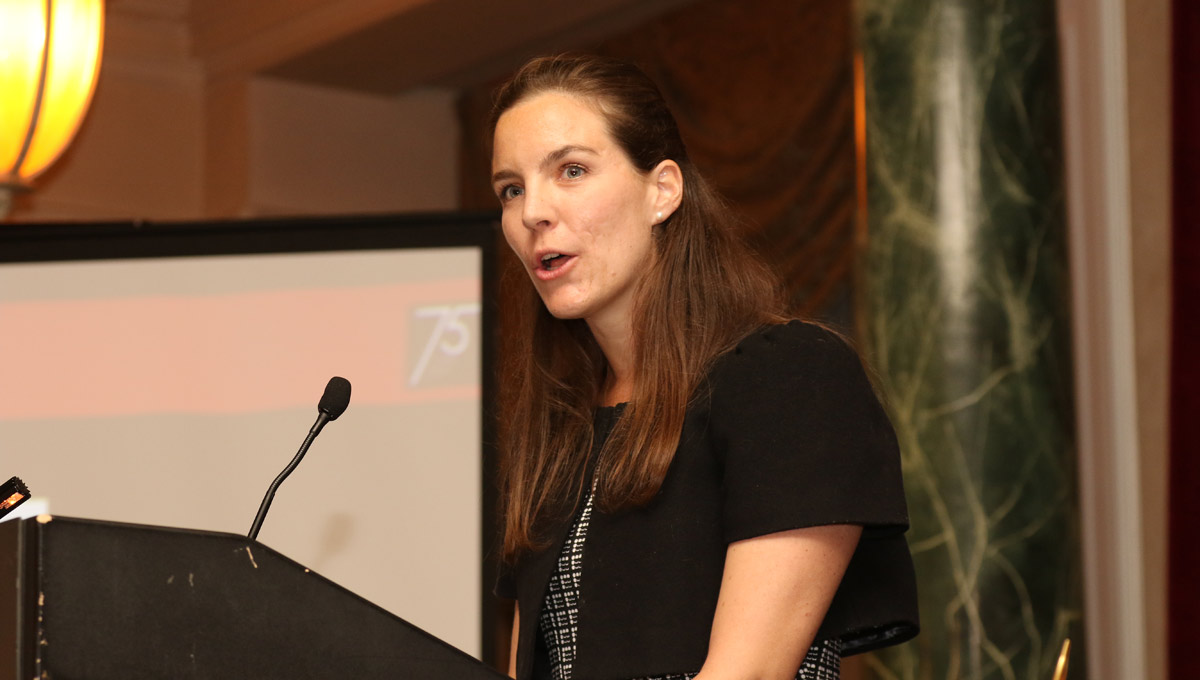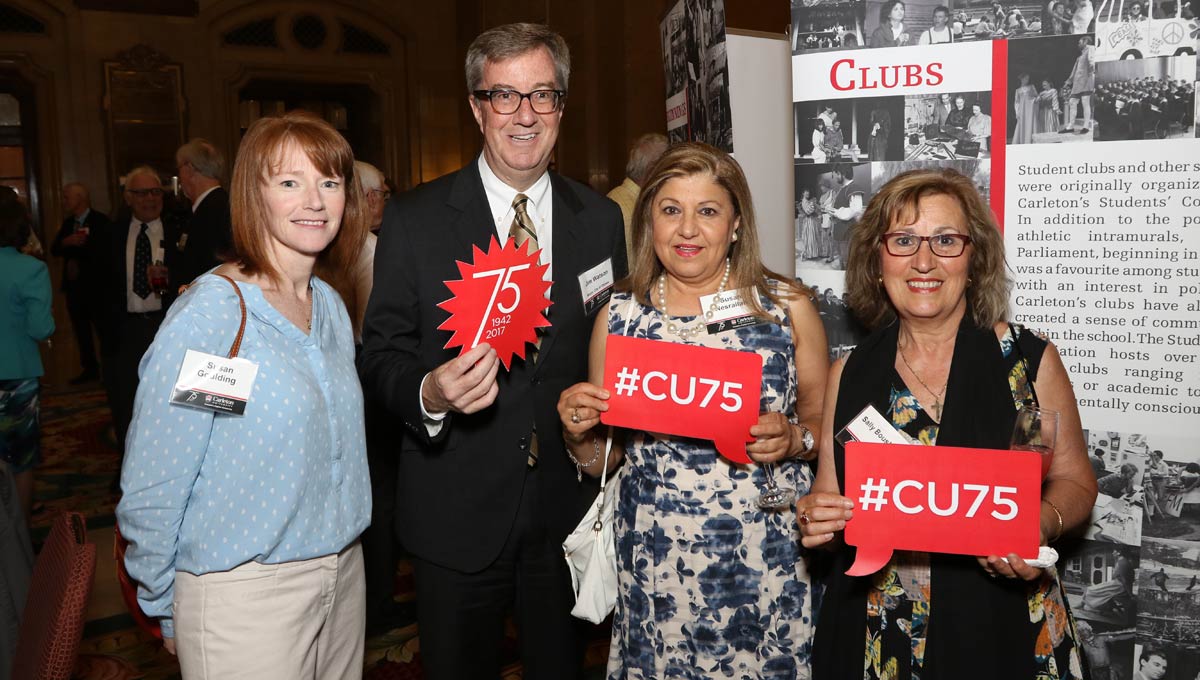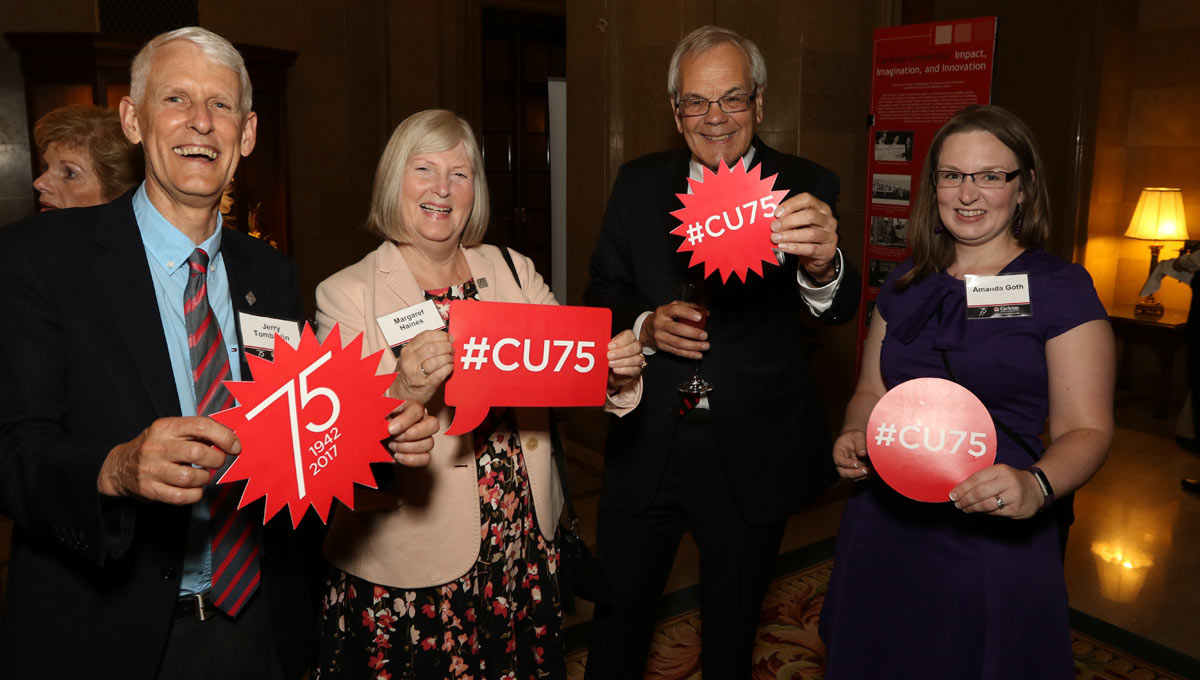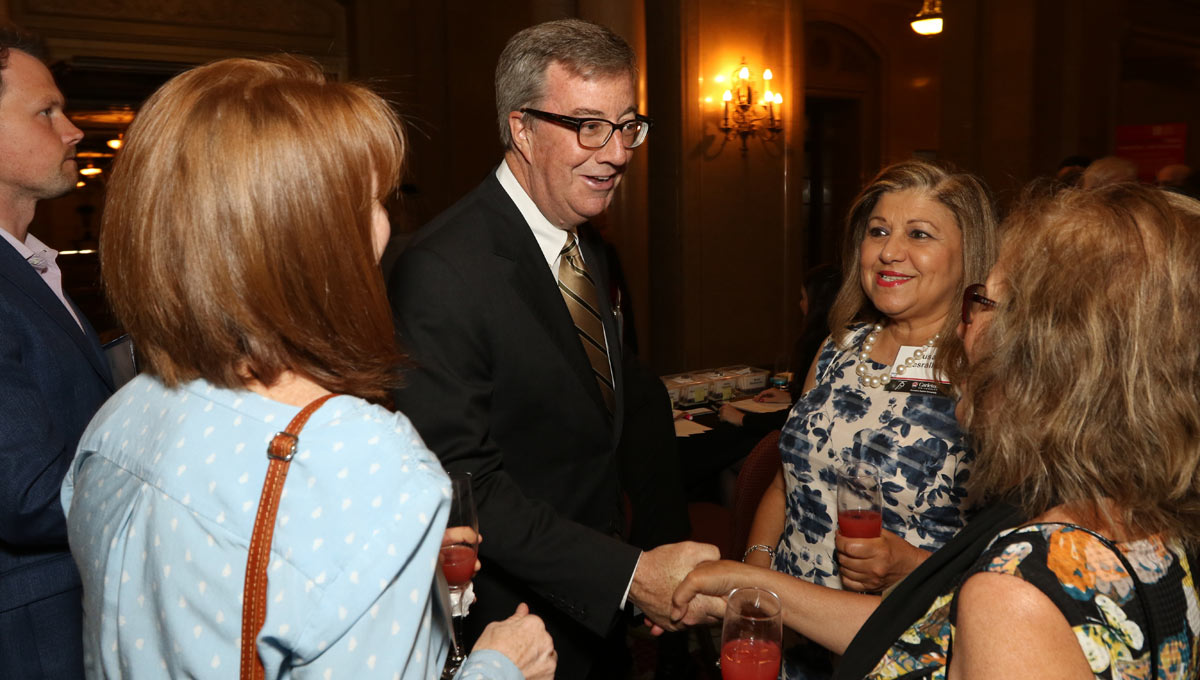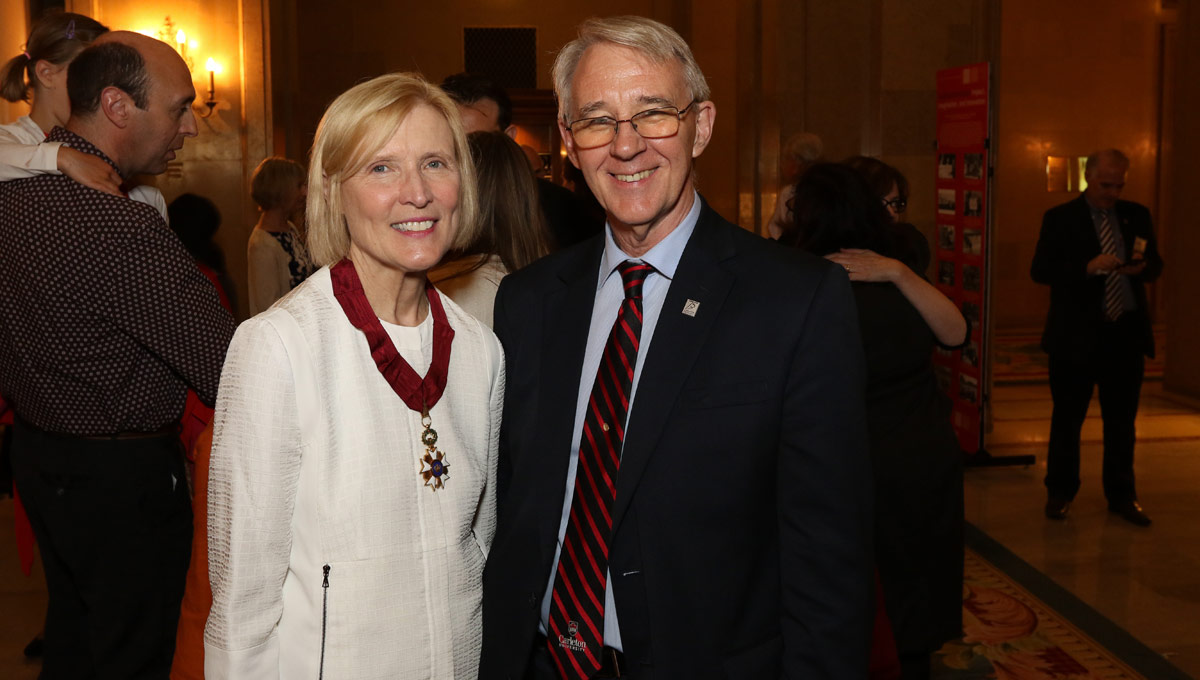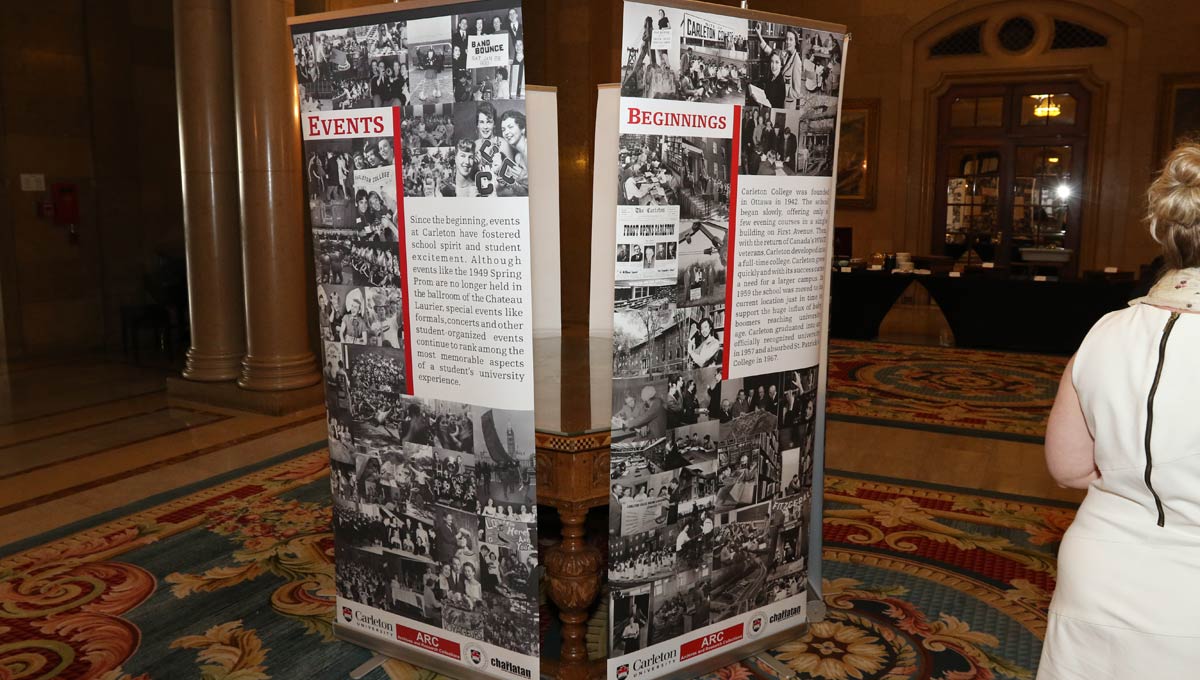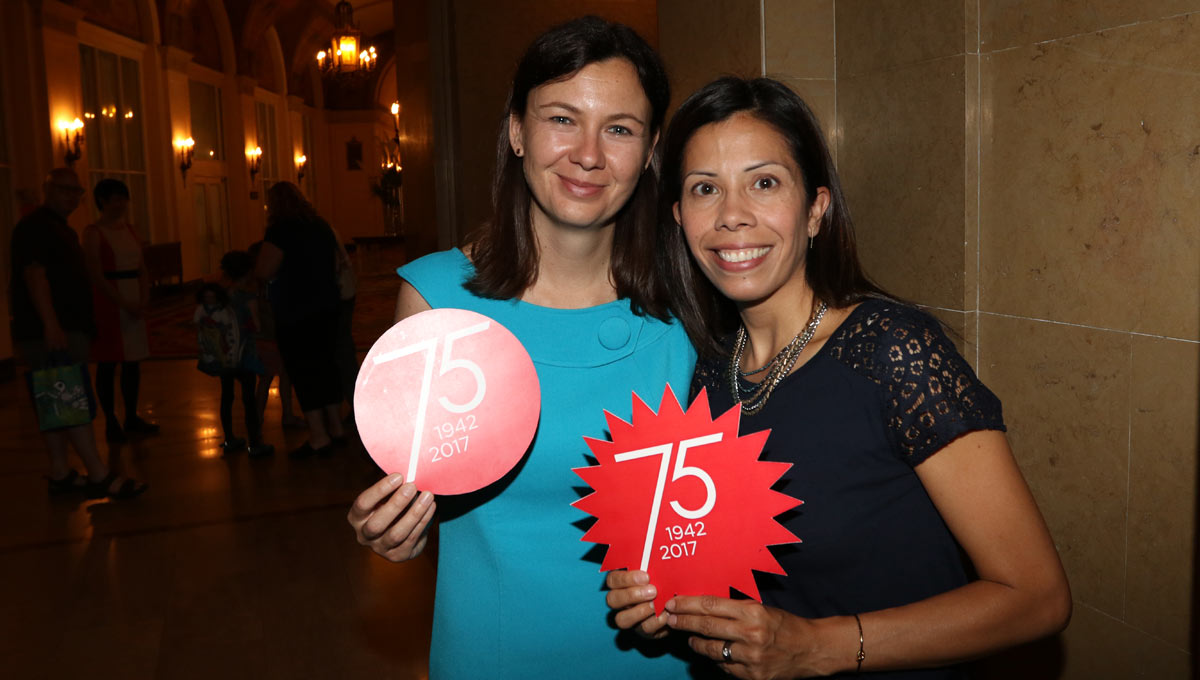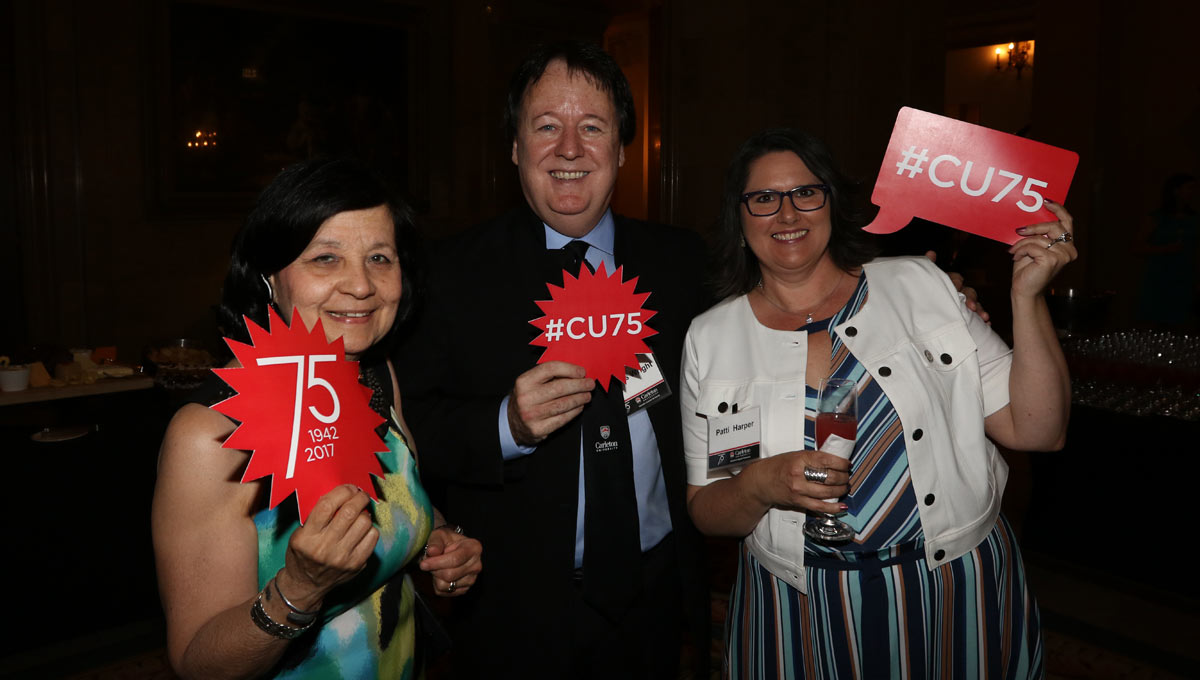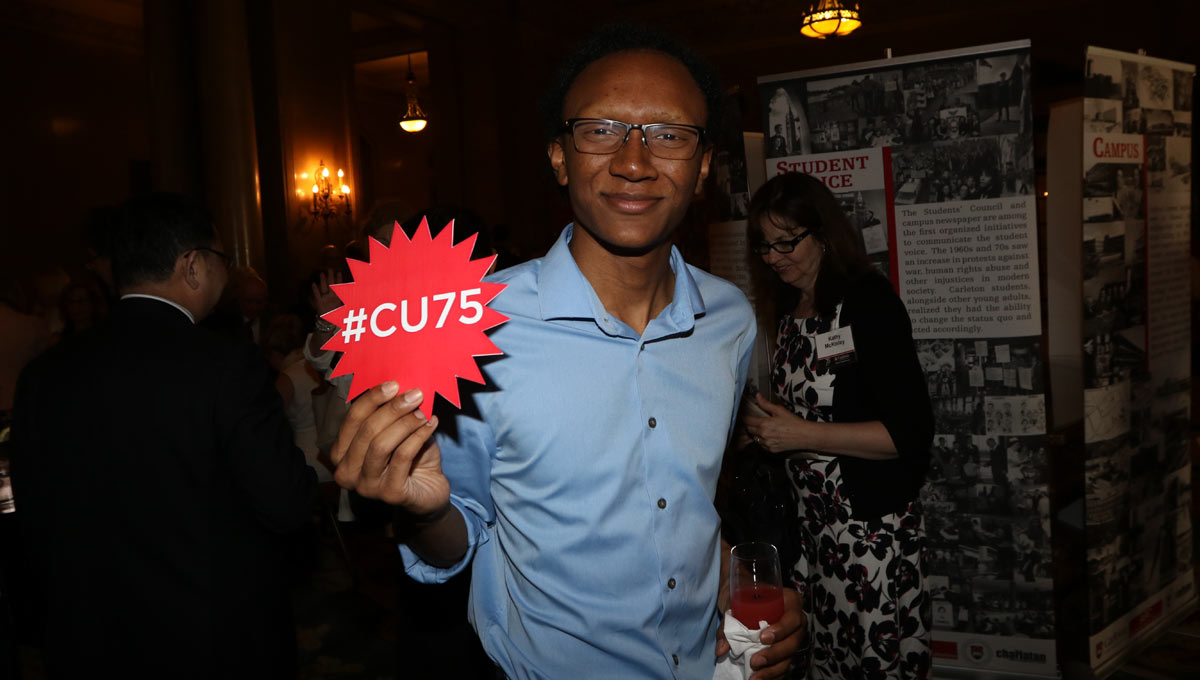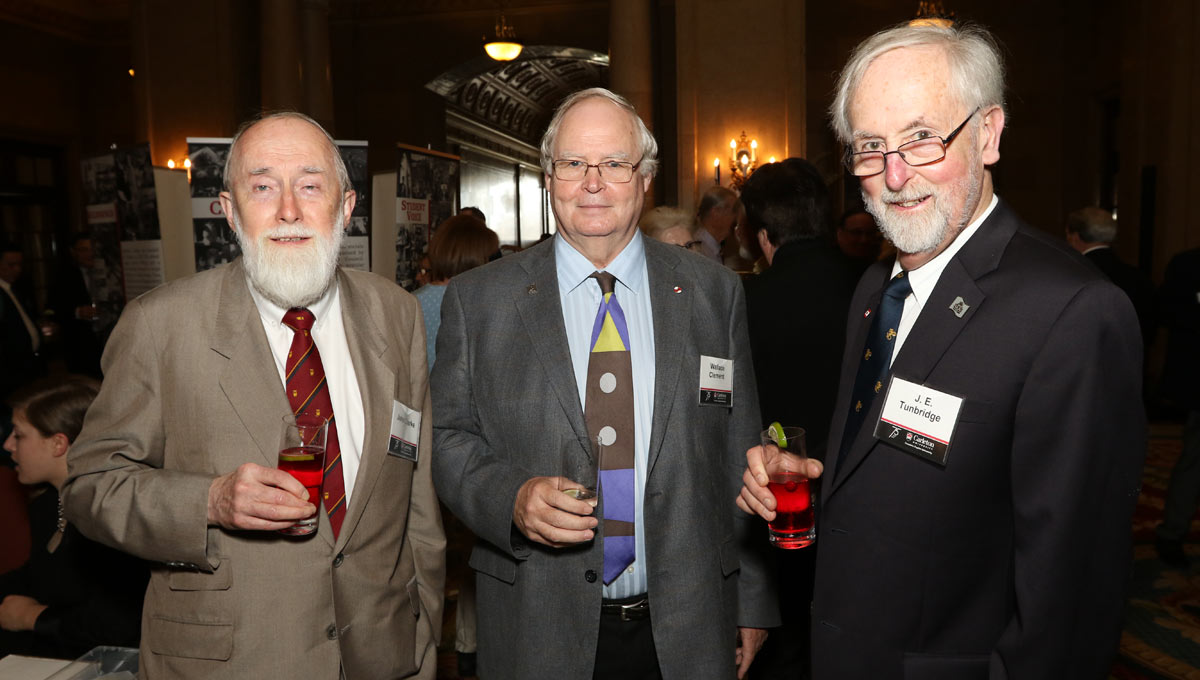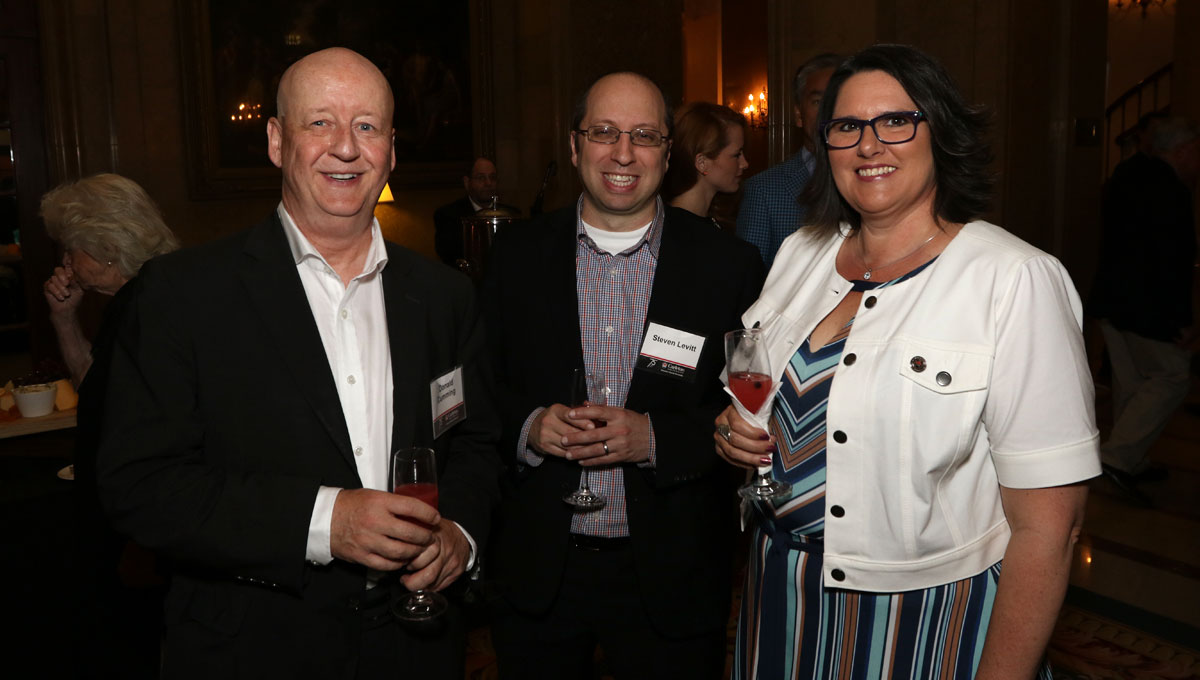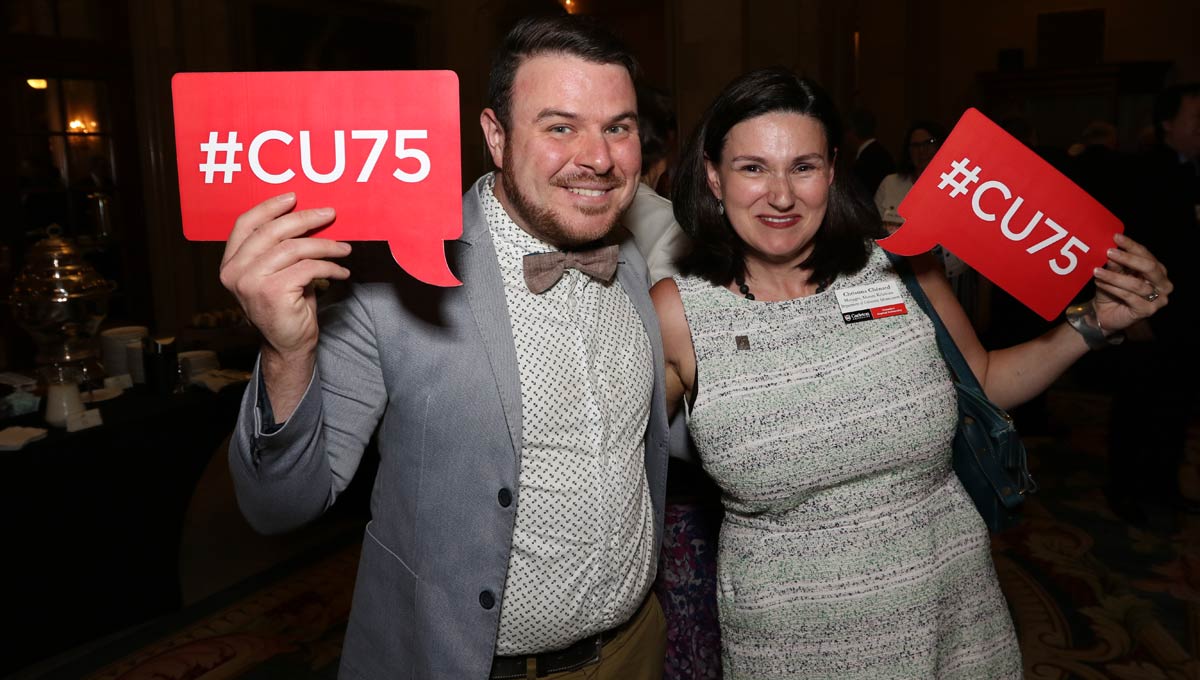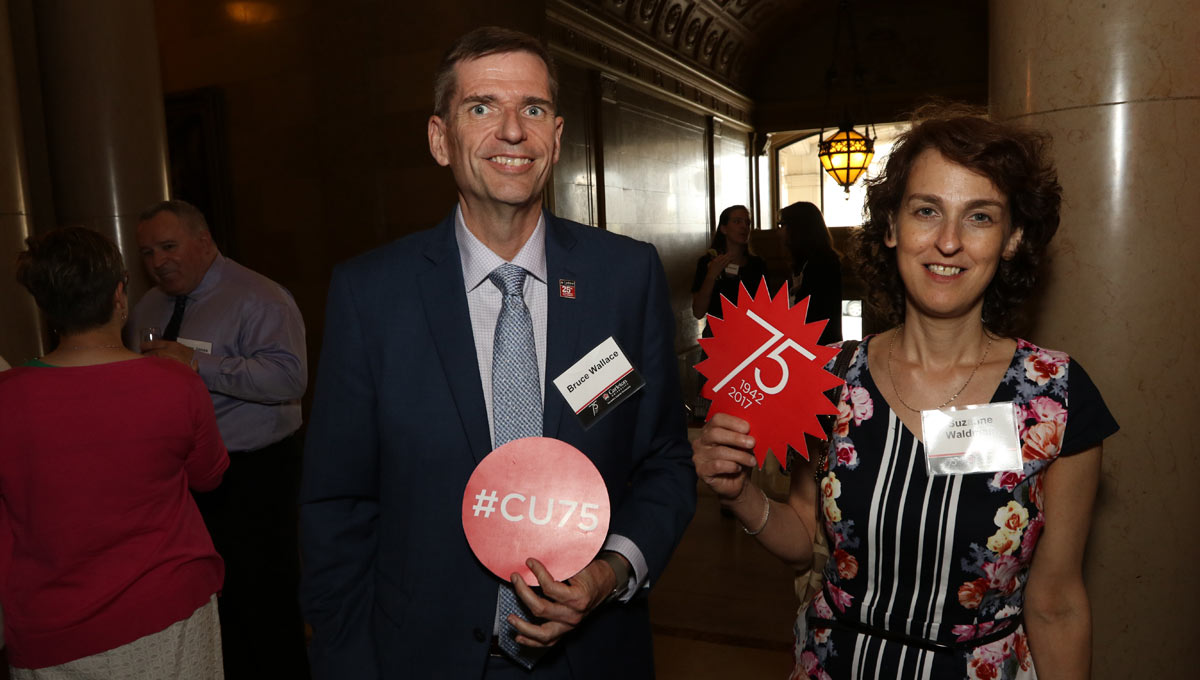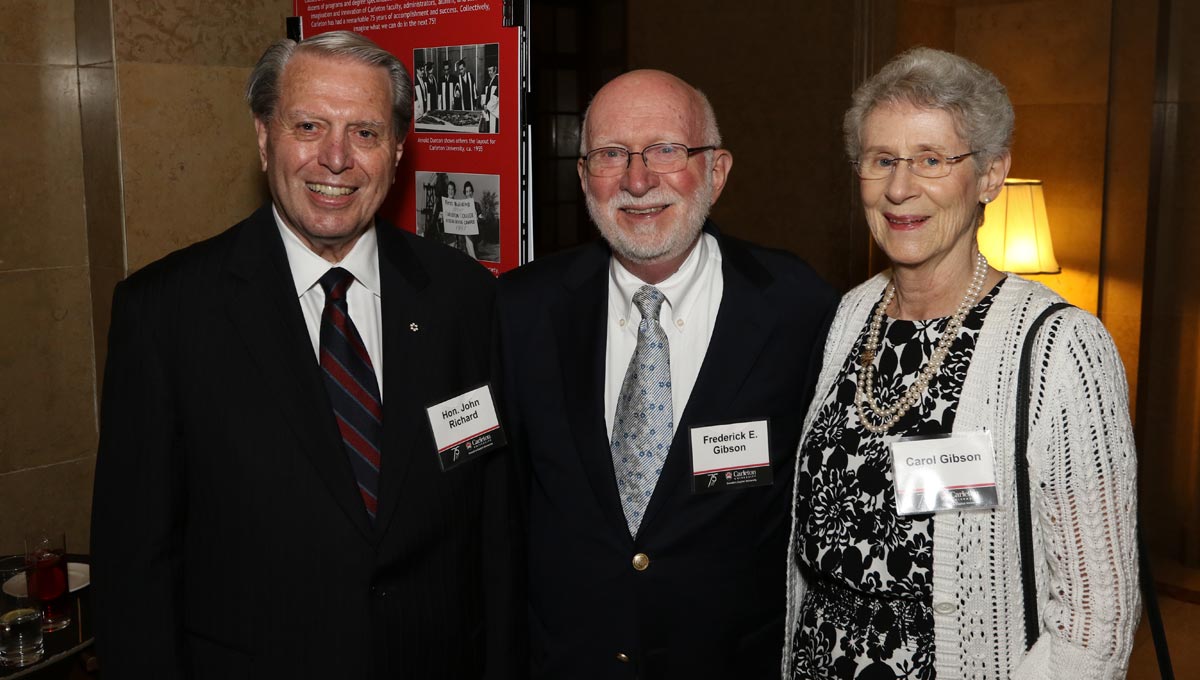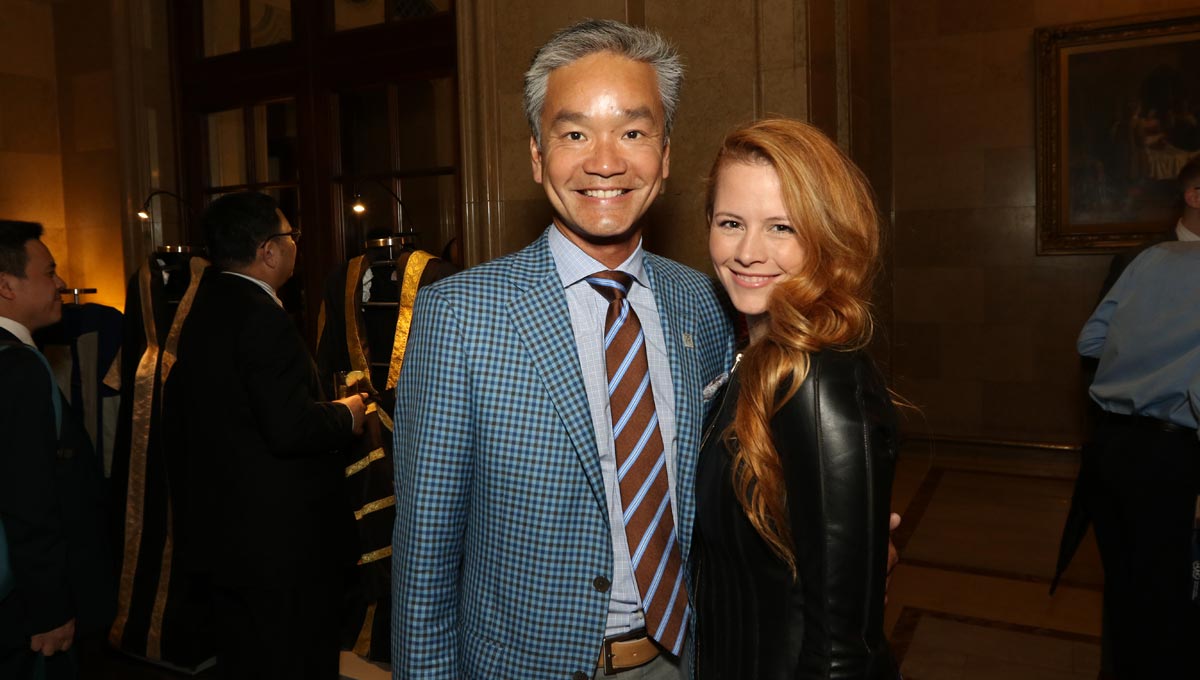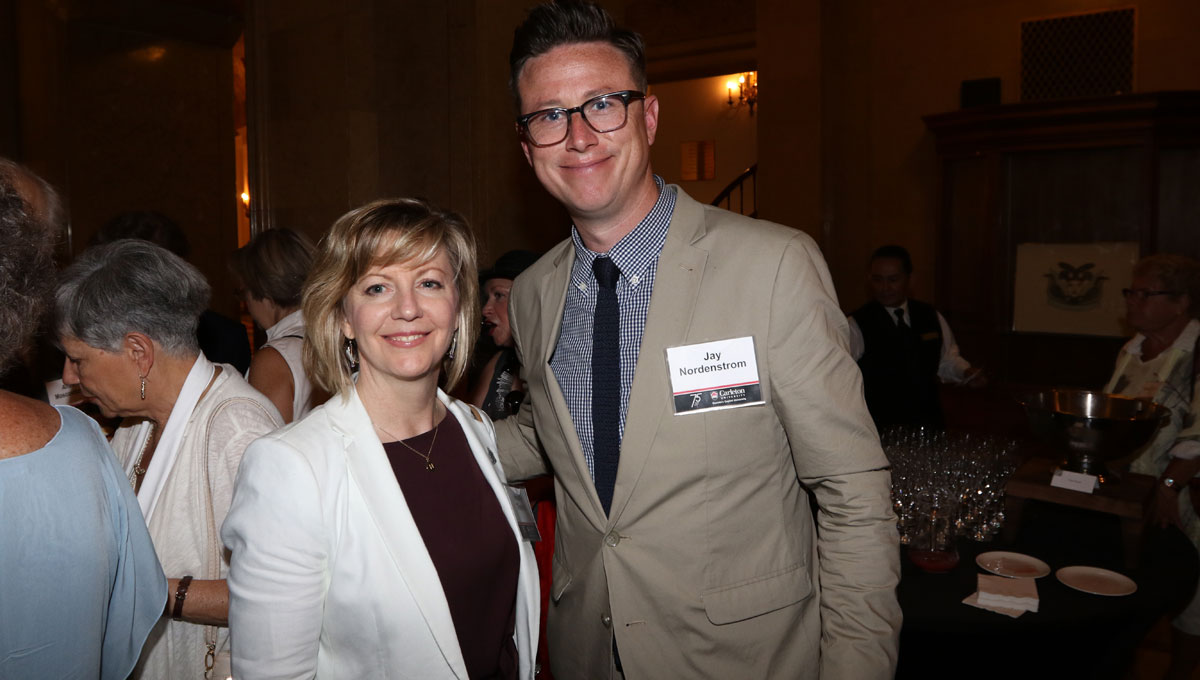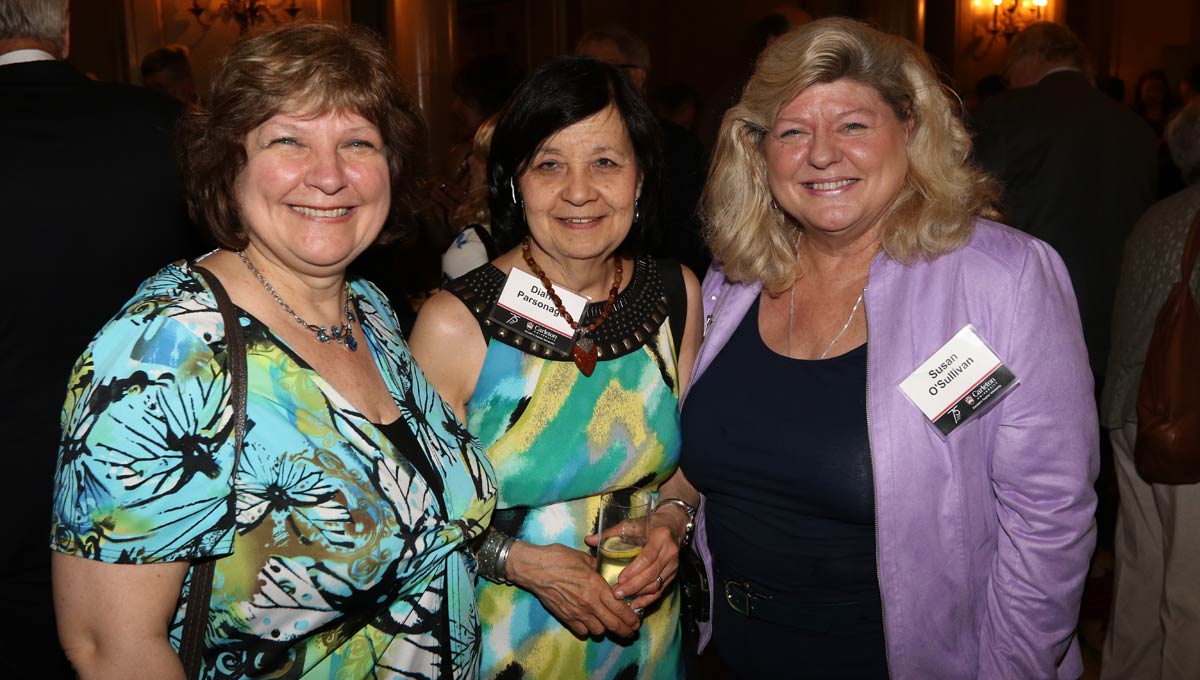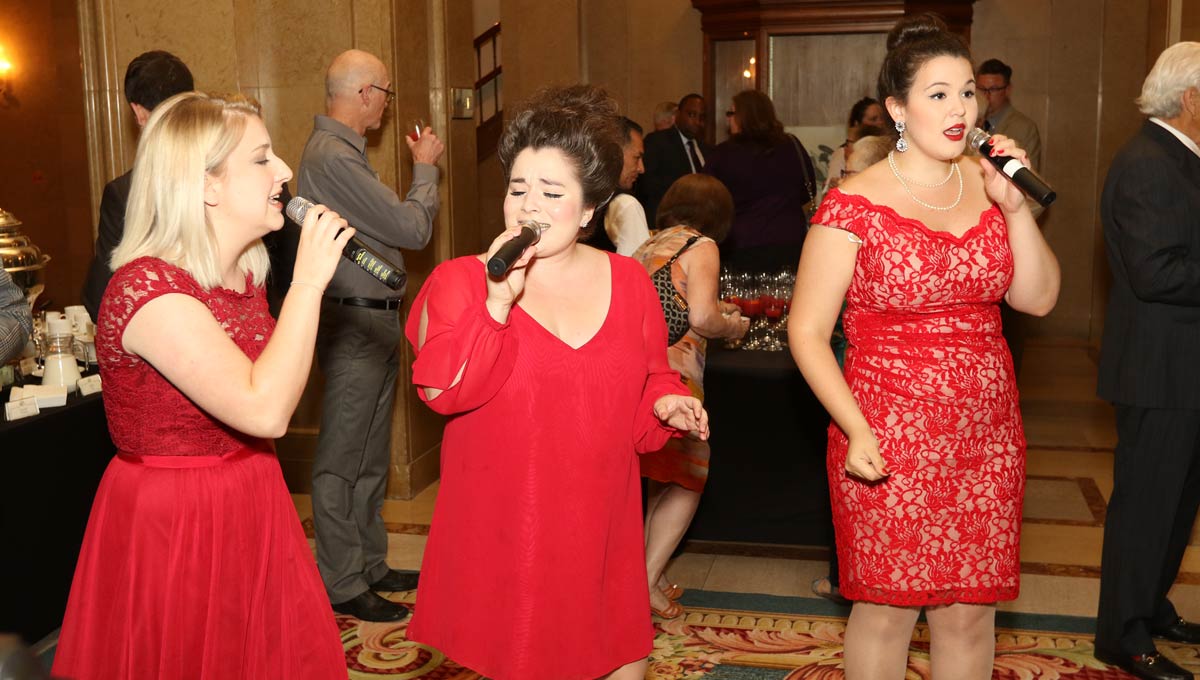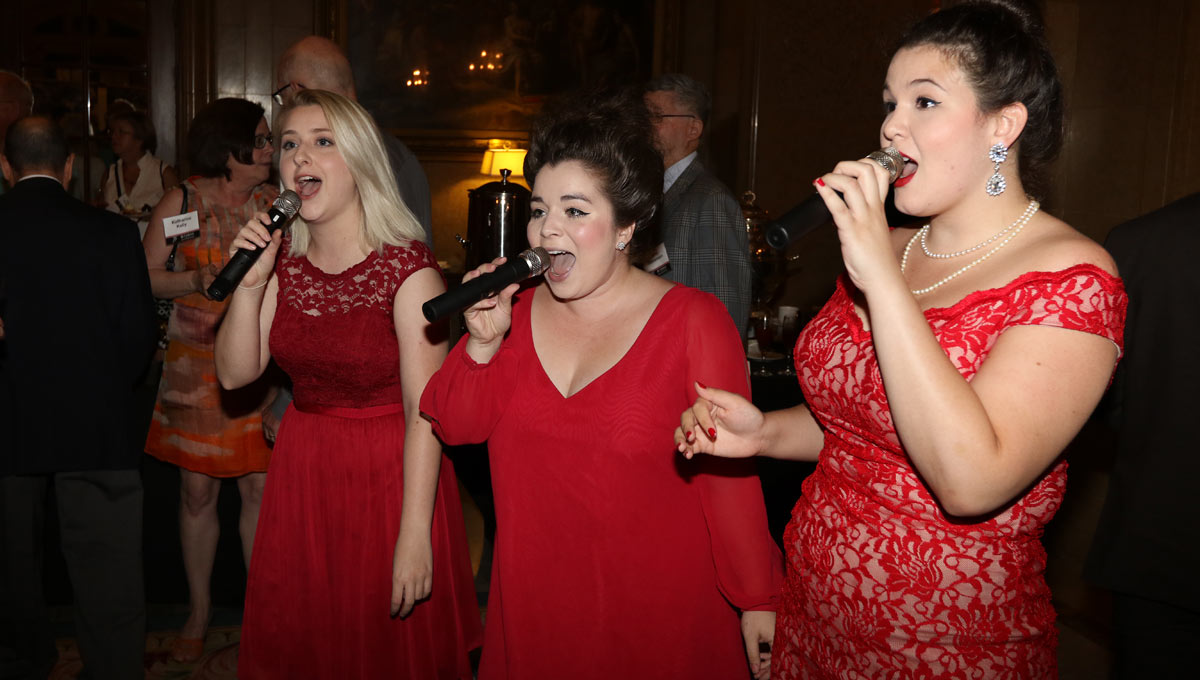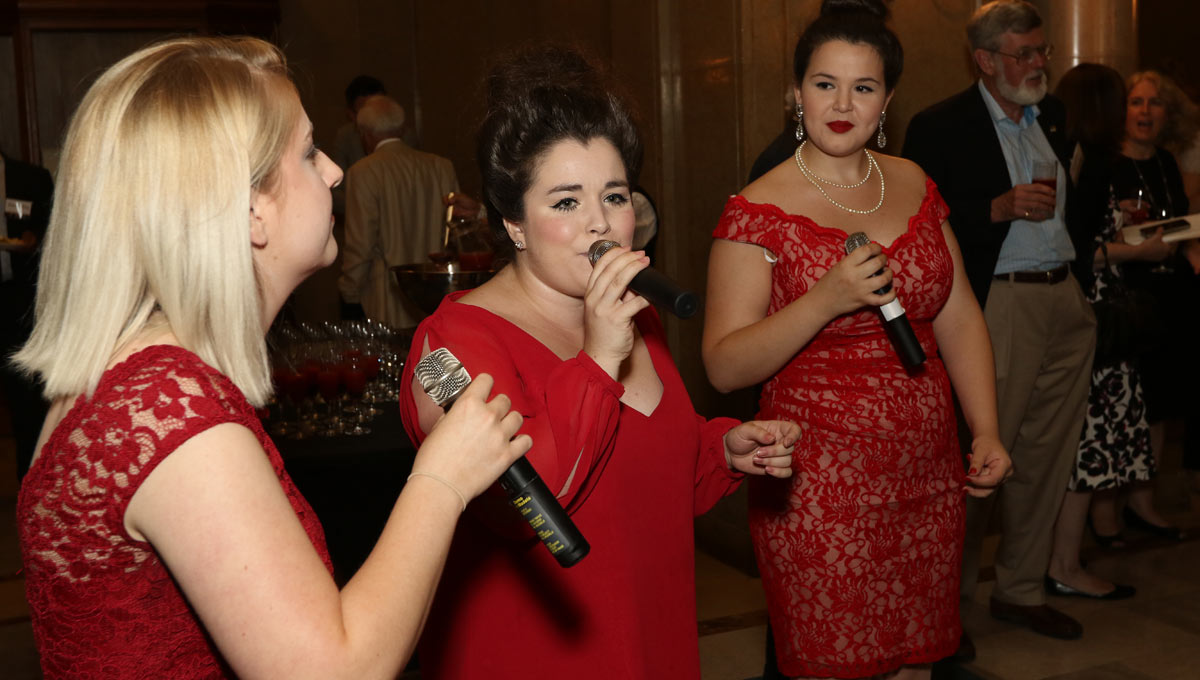 Sunday, June 18, 2017 in Community, CU Anniversaries, Events
Share: Twitter, Facebook