By Dan Rubinstein
Photos by Chris Roussakis and Chris Cline
Hard work. Defence. Rebounding. These qualities have long been the hallmark of basketball teams coached by Dave Smart.
In their semi-final game against the hometown Dalhousie Tigers at this year's U SPORTS national championships in Halifax, the Carleton Ravens men's basketball team held their opponents to just nine points in the fourth quarter for a come-from-behind victory en route to their 14th national title in the last 17 years.
"To me, the fourth quarter of that game, that's what our culture is all about," Smart told a March 20 celebratory breakfast on campus. "They could not score. We struggled, but they could not score, and hopefully the lessons our players all learned over the past few weeks will carry over, not just in basketball, but in life.
"This group, we had our ups and downs this season," continued Smart, who is moving from behind the bench to become Director, Basketball Operations at Carleton, where he will be responsible for developing both the men's and women's basketball programs and continue to build a culture of sport excellence at the university. Women's basketball coach Taffe Charles will step into the head coaching role with the men's team.
"We weren't going great before Christmas. We were winning, but we weren't on a great path. I don't know what happened, but after Christmas, things changed. Our practices changed, and it was definitely noticeable. We were moving in the right direction."
Smart credits the support of the entire university community — from the administration, alumni and athletics department — for the men's basketball program's sustained success.
"Ultimately, this team is where it is because of the foundation that's been put in place," he said. "Without it, there's no chance we'd be where we are in terms of wins and losses."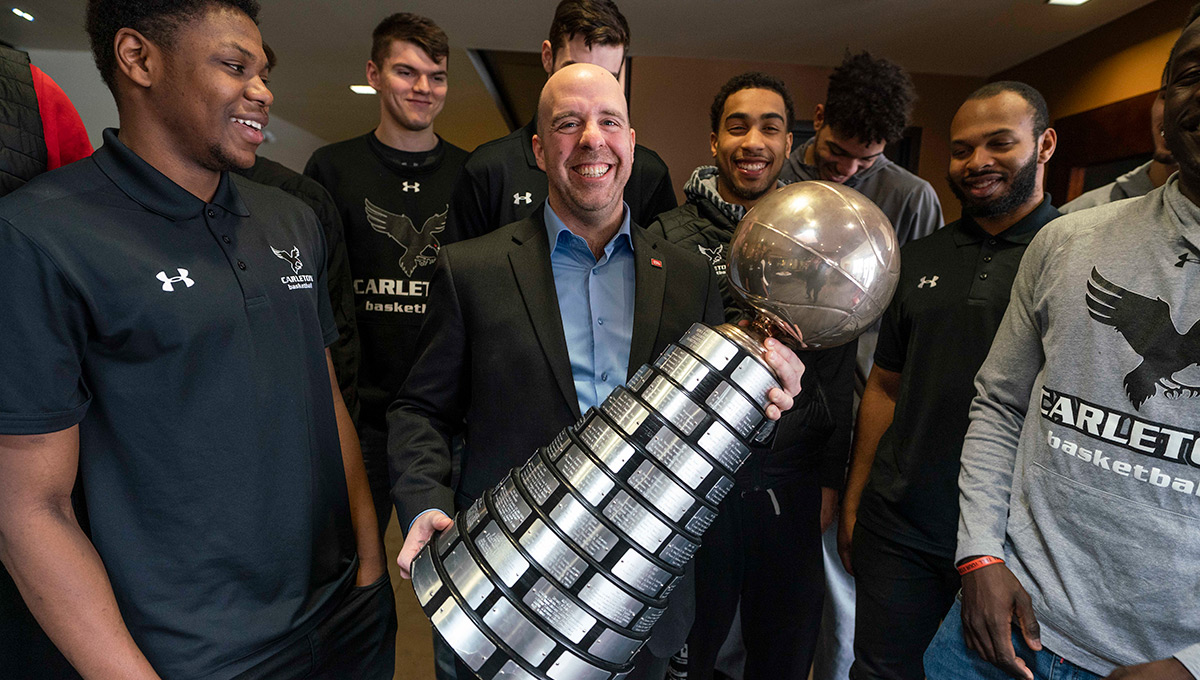 Fourteen National Men's Basketball Titles in 17 Years
"Fourteen national titles in 17 years — that's what we call a dynasty, perhaps the greatest dynasty in Canadian university sports," Carleton President Benoit-Antoine Bacon said at the breakfast, which was emceed by Vice-President (Students and Enrolment), Suzanne Blanchard.
"I'm personally thankful that you're not just a powerhouse on the court, but that you also contribute in a variety of ways in the community, in schools and with junior programs," Bacon told the players on the team.
"That's the culture that Dave has helped bring to this program. You embody the best values of Carleton."
Bacon listed some of Smart's amazing achievement as a coach — winning 92 per cent of his games over 19 seasons and being named Ontario's coach of the year 13 times — and thanked Smart for his continuing commitment to Carleton.
"Taffe has big shoes to fill," said Bacon, "but I'm sure he'll do great."
Bacon acknowledged four members of the team for their all-star performances this season (Marcus Anderson, Eddie Ekiyor, TJ Lall and Munis Tutu) and the three players who are graduating (Troy Reid-Knight, Mitch Jackson and Mitch Wood).
"In June, I'll get to shake your hands and give you your degrees," he said. "I'm proud to work for this great institution, and the Ravens are a big part of it."
"There is certainly a culture of perseverance and determination here," added Bruce Marshall, Carleton's assistant director of High Performance Sport, speaking on behalf of Recreation and Athletics Director Jennifer Brenning, who was out of the country and could not attend. "And that culture is both on the court and in the classroom."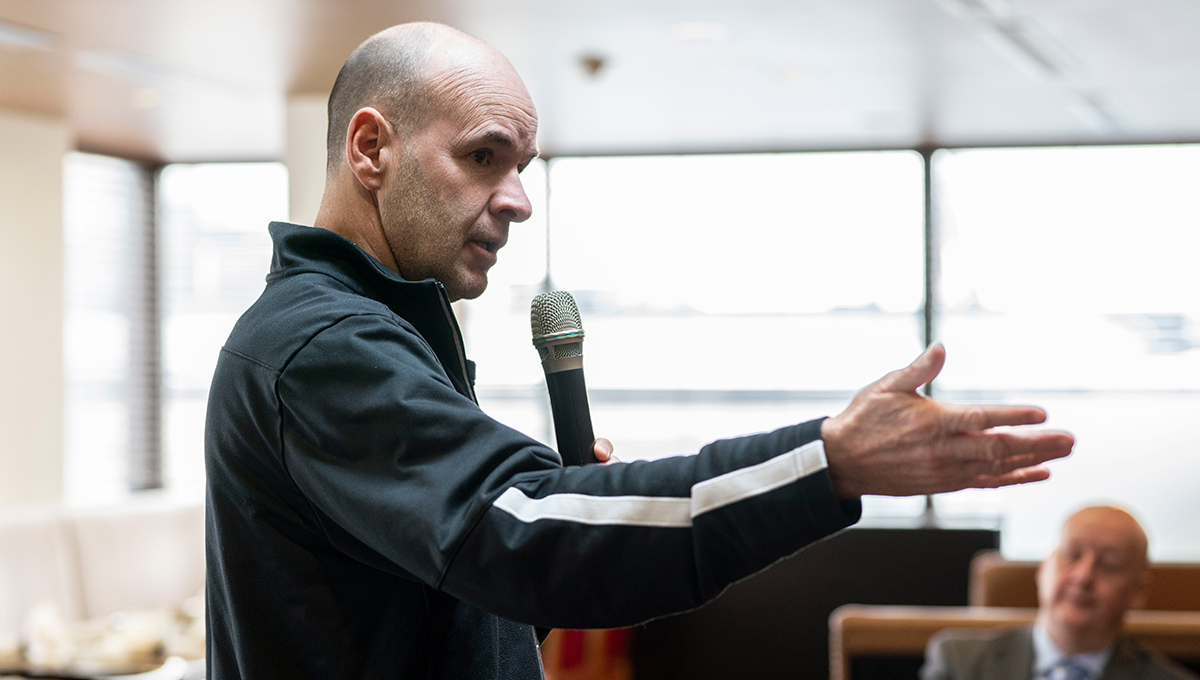 Operational Support, Mentorship and Technical Leadership
Smart's new role entails providing operational support, mentorship and technical leadership to the coaching staff of the two basketball programs, working with the Department of University Advancement in fundraising and community development, and providing mentorship to other varsity team coaches at Carleton.
"Coaching is my second love, my first being my wife and children," he said.
"I am very thankful to the university and I am looking forward to my new role. This gives me an opportunity to stay involved in basketball while having more time to spend with my family."
"I am pleased that Dave has accepted this new challenge where he will build on the legacy he created as head coach of the men's basketball program," said Blanchard. "Dave's program has brought a profile of excellence that has attracted top student-athletes, both nationally and internationally. The impact of the success of this program is seen not only in our recruitment efforts, but also in our community pride."
Smart has also represented Canada Basketball on the international stage as an assistant coach with the national senior men's basketball team and head coach of the men's under-18 team that won silver at the FIBA U18 Americas tournament in St. Catharines, Ont., last year. And he has helped numerous former Ravens make the transition to professional basketball.
"Dave Smart is not just any college basketball coach," Matt Giles wrote last year in a feature about Smart in the American online sports publication Deadspin.
"Smart is a defensive guru, a legend in the sport, to whom Division I's top coaches regularly make pilgrimages to learn at his feet."
"Dave's coaching style is super intense but it's also individually directed," Jay Triano — a former Canadian national team and NBA head coach who is currently an assistant with the Charlotte Hornets — is quoted as saying in the story. "He has a unique talent of being authoritative but also getting across to his players that he knows what is best for them and how they can progress."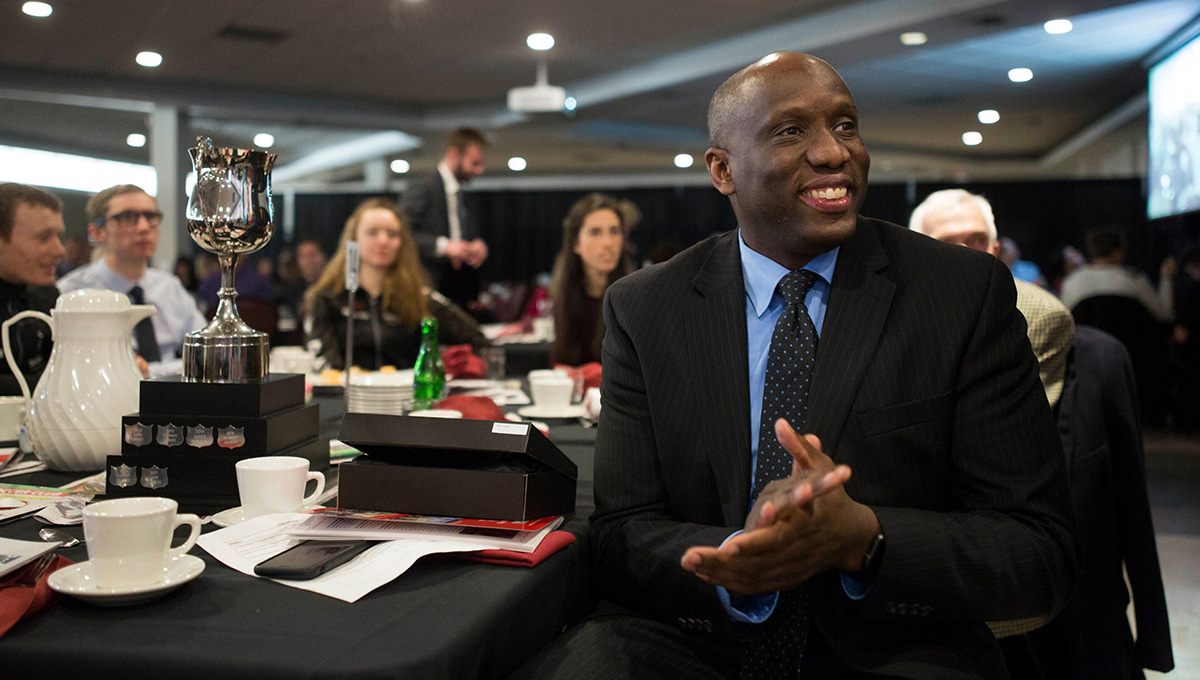 A Tremendous Record of Success
Taffe Charles also has a tremendous record of success in 12 years as head coach of the women's basketball team, including its first national championship in 2018.
"I am truly honoured to be entrusted as the next head coach of the men's basketball program," said Charles, who played for the team from 1990 to 1995 and began his coaching career as assistant with the women's program in 1995 before joining the men's program as an assistant from 1998 to 2007.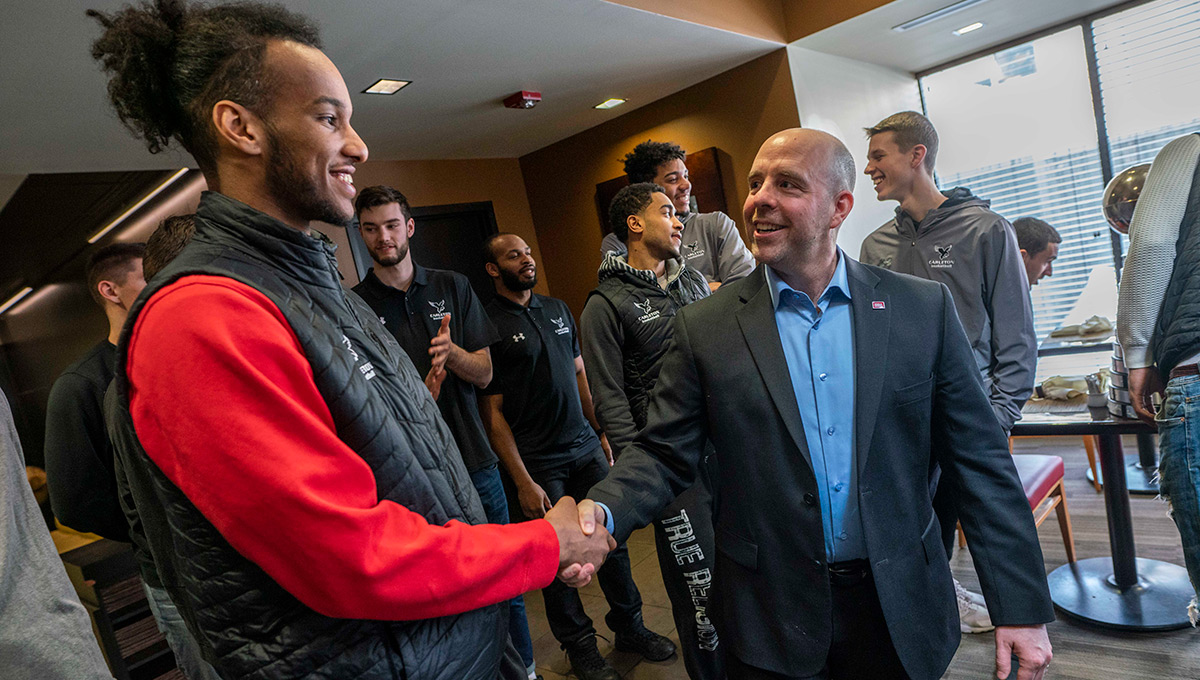 "I look forward to the challenge of continuing the high standard of excellence that has been set by Coach Smart, his coaching staff and the players."
Since his return to the women's program in 2007, Charles has helped the team make great strides, earning four U SPORTS Final 8 berths, four OUA East titles, and two OUA Critelli Cup Championship titles.
In 2017-2018, after a record-breaking season during which the team won all its games, Charles brought home the program's first national championship.
Carleton has launched a national search for a head coach for the women's basketball program.
Wednesday, March 20, 2019 in Athletics
Share: Twitter, Facebook