By Dan Rubinstein
Photos by Chris Roussakis and Valerie Wutti
Heading into their game against the University of Ottawa Gee-Gees at the 12th annual Capital Hoops Classic at the Canadian Tire Centre on Feb. 2, the Carleton Ravens women's basketball team had won 36 straight regular season contests, one victory shy of the provincial record.
And on Jan. 31 at the Ottawa Sports Awards gala, Head Coach Taffe Charles received the city's Male Coach of the Year award. His team won bronze at the 2016-'17 national championships, the best finish ever for the women's basketball program.
Those accomplishments are inextricably connected.
The men's basketball team at Carleton — winners of seven straight national titles and 13 of 15 championships dating back to 2003, and capable of beating highly ranked American schools in exhibition games — is one of the most remarkable university sports dynasties in North America and generally gets the most attention.
But the surging women's program, under the leadership of Charles, a former Ravens star, is increasingly in the spotlight. That speaks to a culture of basketball excellence at Carleton where both teams have a good shot at the U SPORT title in the same year, a feat that hasn't been repeated since both University of Victoria teams won basketball championships in 1985.
"I'm honoured to receive this award, but am even more honoured to have the opportunity to coach such a great team," says Charles, who is in his 11th season as the women's head coach after serving as an assistant with both programs.
"To me, success means seeing these young women thrive as athletes, as students and as citizens.
"No one athlete or coach is bigger than the team," he continues. "That's what our culture is, and we believe that mental toughness, resilience and perseverance are a big part of that. When you're constantly dealing with adversity, with other teams gearing up to take you down, you need to have a certain level of competitiveness. And, as a coach, you need to be demanding to help athletes understand what needs to be done to be the best they can be."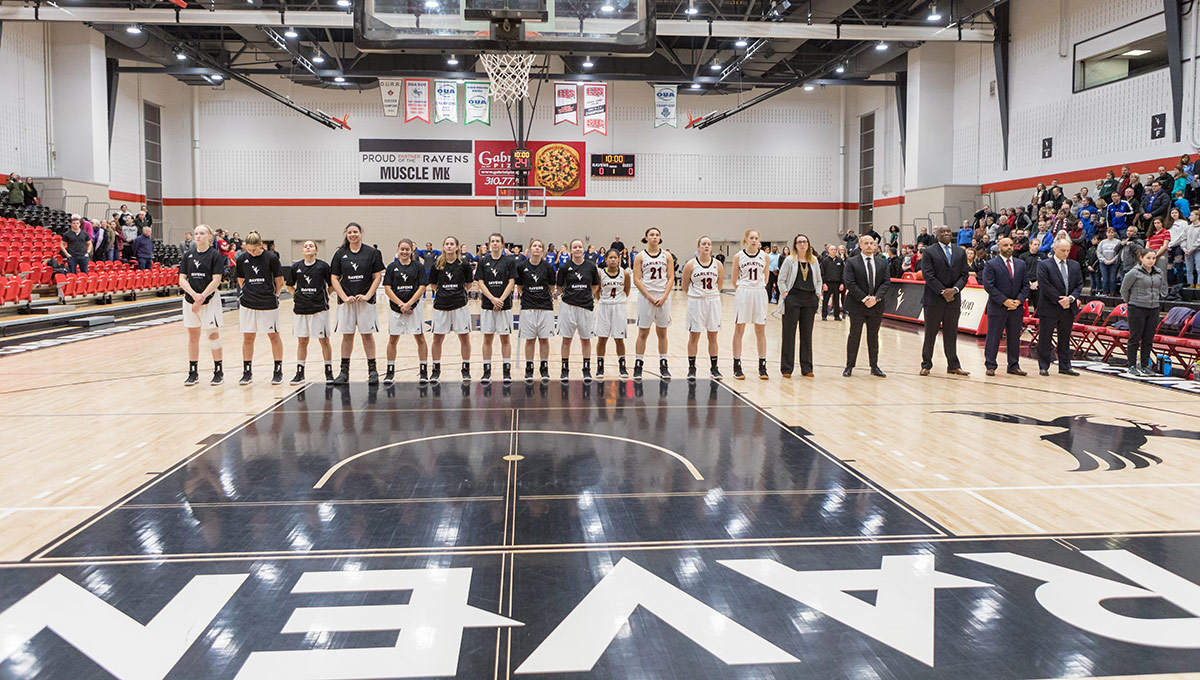 A No-Nonsense Approach
Charles, who was born and raised in Ottawa, was an intense and passionate player for the Ravens from 1990 to 1995, racking up 2,437 points, the third highest total in Carleton history. He was named an Ontario all-star three times.
His no-nonsense approach as a player also defines his coaching style.
"People ask me: 'What's the difference between coaching women and coaching men?'" says Charles.
"My expectations are high, and I've always treated the players I coach as competitive athletes who want to do well. There's no gender difference in the intensity or toughness you need to have to play basketball at a level that'll take you to a national championship."
Charles says he recognizes the barriers that women face in all facets of life and hopes his two young daughters and the women on his team will inherit a world where more positive changes have taken effect.
"One of the biggest things I've learned over time is that you have to get to know the players you're dealing with as individuals, and to get to know the best approach to motivation based on their personalities, not their gender.
"When coaches do their job well, players develop an internal motivation and push themselves for themselves, not for their coaches. Coaching these student-athletes to be leaders on the court, in the classroom and then leaders in their communities, is my main motivation."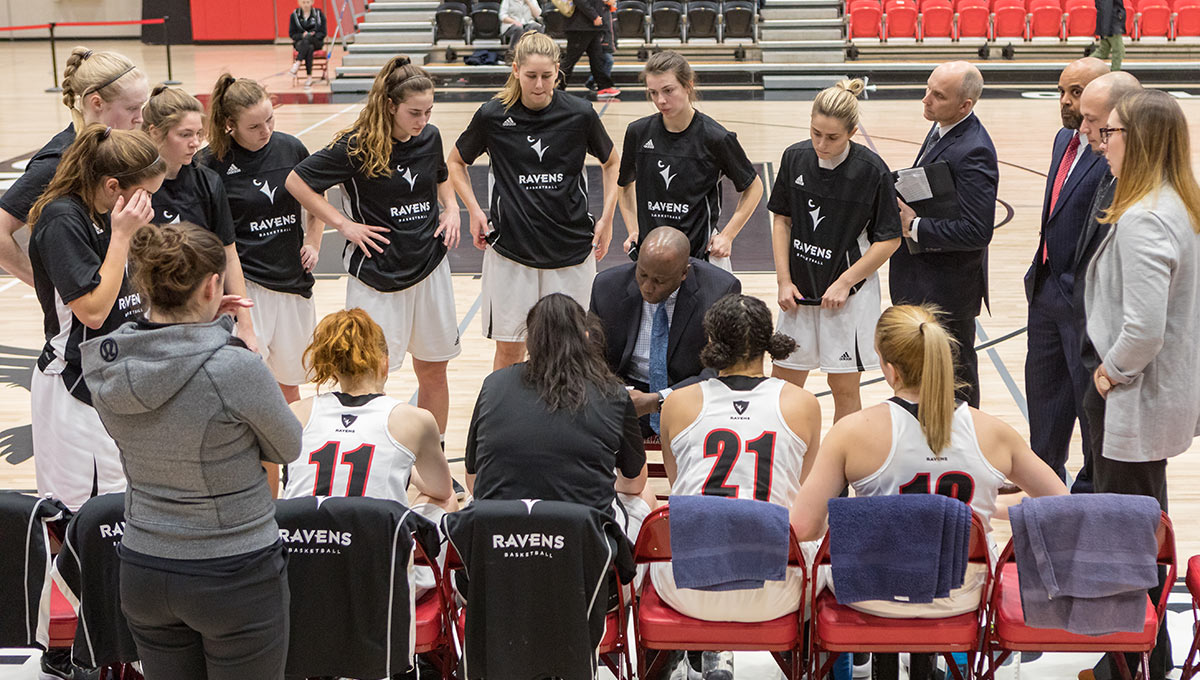 A Desire to Succeed in Basketball and Beyond
Carleton alumnus and former Ravens basketball player Ines Jelic, now a civil litigation lawyer in Ottawa, was on the women's team for Charles's first three seasons as head coach.
"My experience playing varsity basketball at Carleton helped shape me into who I am today," says Jelic.
"To me, the biggest thing that stood out about Taffe's approach was his intensity and his desire for his team to succeed. He knew what the players were capable of, even if we didn't realize it at the time. He has the ability to get you to see that you're not performing as well as you can — he pushed me to get to that point, and not just in basketball."
Another ex-Raven and Carleton alumnus, Elizabeth Roach, who played for Charles for five seasons, echoes Jelic's comments.
"I had a really great experience at Carleton, both with my teammates and with the coaching staff," says Roach, who now works in communications with Public Safety Canada and is an assistant coach with the Algonquin College women's basketball team after coaching at the Boys and Girls Club of Ottawa.
"It was a lot of hard work, but we did really well, and I've taken what I learned into my career and my personal life."
Roach didn't plan to keep playing basketball during her final year of high school, but a friend convinced her to stick with the sport and she decided to keep playing at Carleton.
"It was really eye-opening, the level of training and dedication," she says about her rookie season. "Taffe was an intense coach, but in a positive way. I knew he was trying to build the program. For sure, there were expectations and pressure, but that was part of the fun. We wanted to be treated as seriously as players on the men's team. We worked hard and wanted to be treated like athletes.
"Having coached myself for a while, I would attribute a large part of the Ravens' success to Taffe. The work ethic he instilled was amazing. His passion for and knowledge about the sport, the way he runs the team — it would not be doing as well as it's doing without him."
"He's been coaching for 11 years and the team has been developing year by year," agrees Jelic. "That has a lot to do with Taffe, as well as with the women on the current team. They're mature and are willing to rise to the occasion."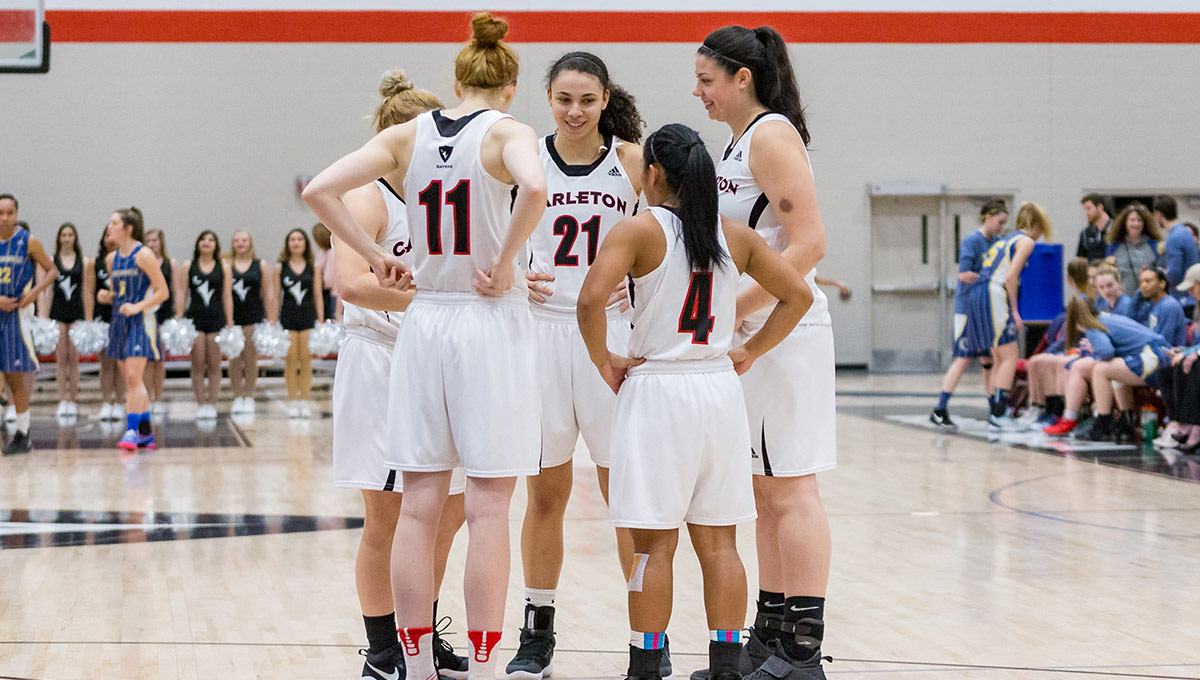 Sustained Success Breeds Success
Ravens men's basketball coach Dave Smart, who knows a few things about winning on the basketball court, says that sustained success breeds success.
One winning season doesn't attract players to your program, he says. But if you're able to compete year after year, and if that performance is underpinned by a family atmosphere in which everybody is accountable to one another, whether you're a coach or a player, you'll have an opportunity to build something that lasts.
"As a coach, Taffe cares a lot and is technically very strong," says Smart, who has been behind the bench for 12 of the last 13 championships and has served as an assistant coach with Canada's national men's basketball team.
"Taffe is so dedicated. He is one of the hardest working coaches that I know, at practices, in games, recruiting, reviewing film, everything. He's also very good at understanding his relationships with his players, and at understanding what buttons to push with each individual."
Smart's intensity as a coach is widely associated with the Ravens men's basketball success, an approach that appears to have rubbed off on Charles.
"I'm definitely intense and passionate," says Smart. "I care a lot about the players respecting one another with their effort. It's the job of a coach to maximize effort. At an elite level, that's based on your relationship with each player. Nobody should come to Carleton to play basketball if they don't want to work hard and improve, if they're not serious about the game."
"There were days when Coach Smart was on me, but that was because he trusted me," says ex-Raven Kaza Kajami-Keane, who helped lead the men's team to their last two championships and is now playing nearly 20 minutes a game with the Raptors 905 NBA G League squad. "It was tough love sometimes, but I could see the end goal. I wouldn't be where I am today without him."
Despite the fact that both the women's and men's teams at Carleton are undefeated this season, they have to focus on their upcoming games, says Smart, not on their ultimate goal.
"For the players on the team, and for all of the effort they've put in, and for all of the women who helped build this program, of course I dream of winning Carleton's first women's basketball championship," says Charles.
"I'm proud to be part of a journey that has seen so many people come together as a team. One of my jobs as a coach is trying to keep the players concentrating on the task at hand, and we know it will take a series of steps to get to the championships. But the women on our team have shown they can rise to the challenge."