By Tyrone Burke
Photos by Chris Roussakis
The Carleton Ravens men's basketball team opened its season with convincing wins over NCAA competition in August, and closed it with a resounding 34-point national title game win on March 10 over the defending U SPORTS champion Calgary Dinos.
Along the way, the Ravens racked up a 22-1 regular season record and won the Wilson Cup as Ontario University Athletics (OUA) champions. Then they ran the table at the Final 8 tournament in Halifax to reclaim the national championship.
It was the Ravens' 14th U SPORTS championship since 2003, the latest milestone in a historic run of success. On March 27, the Mayor of Ottawa hosted a breakfast in the team's honour at City Hall to celebrate the team's achievements.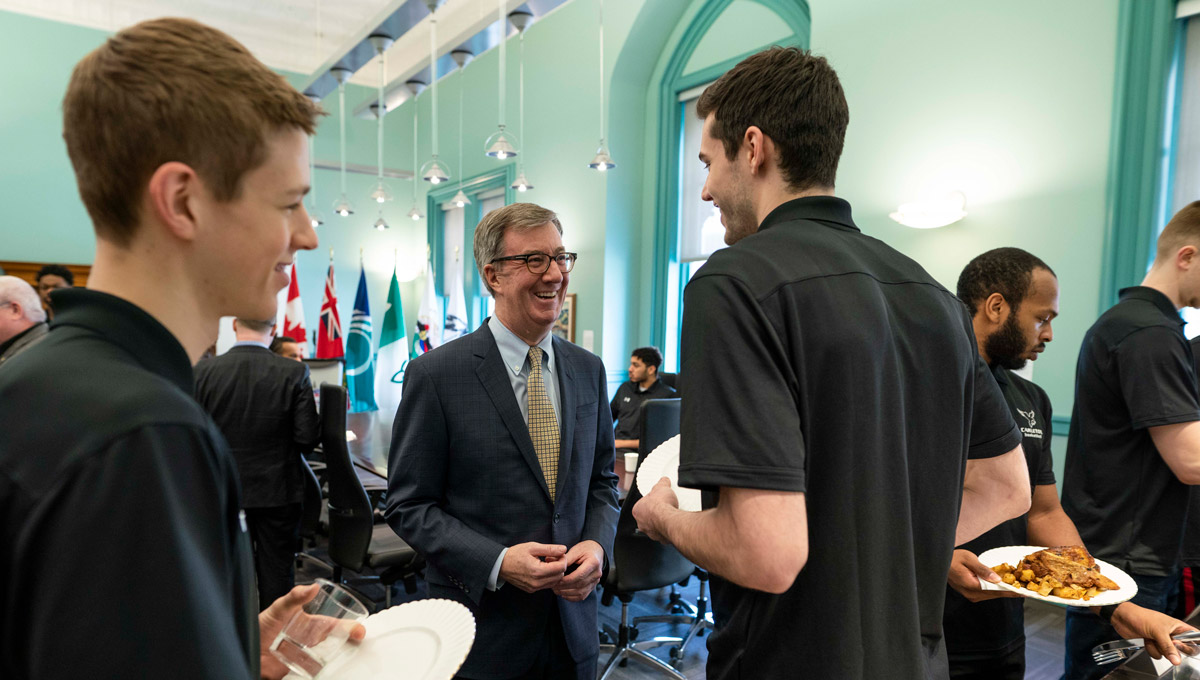 "This breakfast has become a tradition, and 2019 was another great victory by the Carleton Ravens men's basketball team," said Mayor Jim Watson.
"Fourteen championships is a remarkable achievement. The city is very proud and the Carleton University community, which I am a proud member of, is also very, very proud of you."
For Watson, it was especially sweet that the final win came over the University of Calgary.
"I lost a Grey Cup bet with the Mayor of Calgary, and the losing mayor had to raise the opposing team's flag and wear their jersey," he said. "Today is the day we're doing it, so it's a small comfort to me that you thrashed a Calgary team."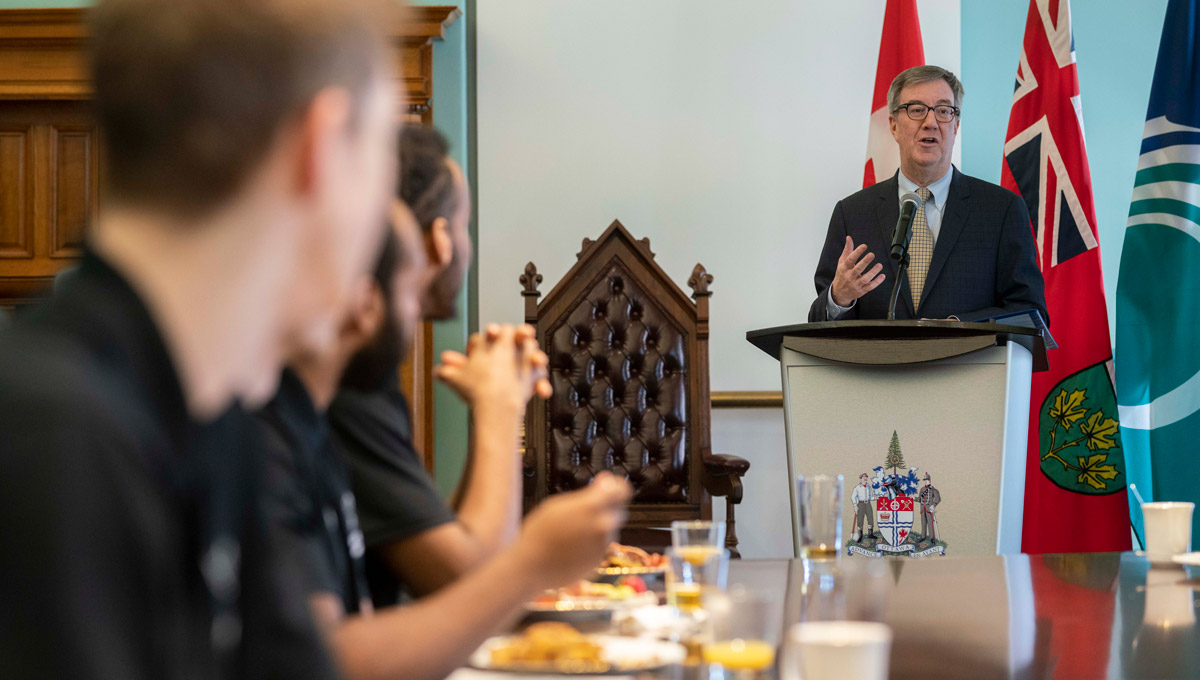 A Nearly Unblemished Record
Though the Ravens had a nearly unblemished record and ended their season as champions, the 2018-19 squad faced plenty of challenges.
"There were a lot of ups and downs this year, as far as coming together as a team," said assistant coach Jean-Emmanuel Jean-Marie.
"At the end of the year, we came together by guys believing and buying in. In the national championship game, the guys really came in firing from the start."
The Ravens were motivated by the fact that they were playing the defending champions.
"I think that is what really sparked the guys, and gave us that drive to finally really put it together for a game," said Jean-Marie. "We were up by a lot, and sometimes you expect teams to fall back a bit when they're up, but the guys were trying to prove something to each other — to prove something as a team, after all the adversity we went through this year."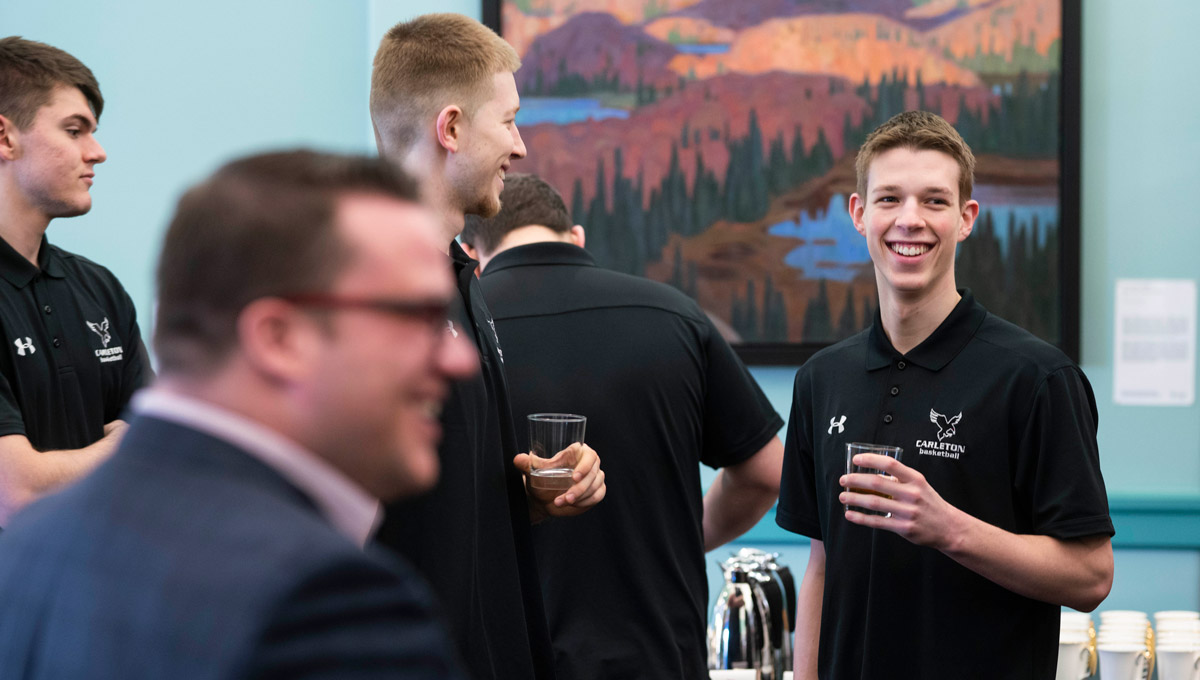 New Leadership Roles
This off-season, long-time head coach Dave Smart will assume the role of Director, Basketball Operations at Carleton, and three graduating players will be moving on: Mitch Jackson, Troy Reid-Knight and Mitch Wood. (Women's basketball coach Taffe Charles will become head coach of the men's team, and a search is underway for a new coach for the women's squad.)
"We had most of our players returning from last year," said Jackson, a fifth-year forward completing his business degree.
"Players like Eddie Ekiyor, Munis Tutu, Marcus Anderson, Stanley Mayambo, TJ Lall, and all of those guys. A few additions really made a big impact. Isiah Osborne transferred to Carleton and Troy Reid-Knight redshirted last year. They really stepped up for us. We started the season doing pretty well against NCAA competition, and we took off more toward the end of the season. We had a really good win against Ryerson in the OUA playoffs, and we really just rode that wave.  At the Final 8, we figured it out."
Vice-President (Students and Enrolment) and University Registrar Suzanne Blanchard thanked the Ravens for their effort, dedication and the distinction with which they represent the school.
"You are more than just athletes," she said. "You are ambassadors for the university. I want to thank each of you individually and as a team. You gave your best every time. It's also important to thank the coaches and the Carleton Athletics team, who are always there to support the team and work toward these accomplishments."