Michelle Olejarz, Michael Scarizzi and Sigogini Sivarajah are among the first group of students who have successfully completed the Northern Studies graduate program at Carleton University.
The interdisciplinary graduate program started in September 2017, emphasizing northern environments and societies. Students are given the option of course-based master's degrees and graduate diplomas.
Geography Prof. Christopher Burn, who supervises the program, says he's proud of the students' achievements. "I am delighted that all of these students have graduated. They demonstrated that the program is manageable as conceived."
Part of the program includes field courses. Burn accompanied students first for a week of travel and study at Moose Factory, Ont., in Sept. 2017 and then for three weeks in the Yukon and western Arctic last July.
"They met many northerners and gained a wide exposure to the sorts of activities that go into making northern communities and governments successful and sustainable," says Burn. "The course is held at the end of their program so that the students can see for themselves the contexts and issues they have been learning about through the year."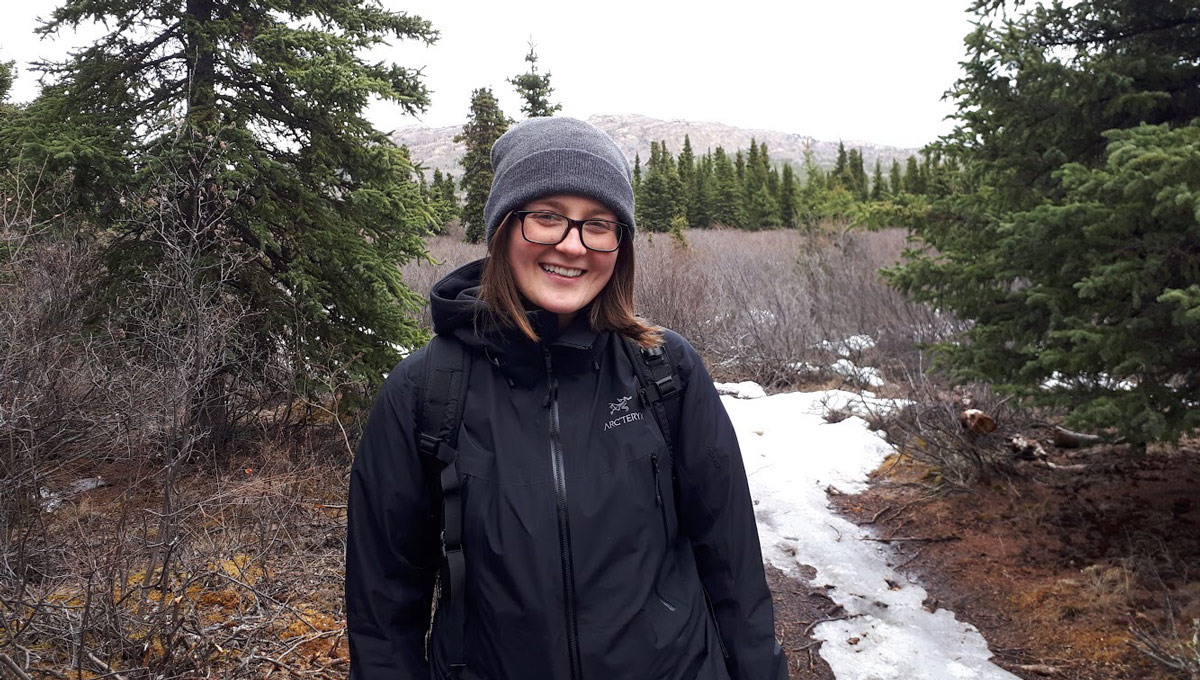 Drawn to the North
Olejarz completed a bachelor of science in Physical Geography with a minor in Earth Science and, after working with Burn, felt the natural next step was to pursue a master's of science in Northern Studies. Currently in school to become a geography teacher, Olejarz is hoping to continue specializing in the field.
"My internship from my master's brought me to work in the Yukon as a permafrost researcher at the Yukon Research Centre with the Northern Climate Exchange and, after having done and enjoyed that, there is a chance I may continue to work in my field after my BEd," says Olejarz.
Scarizzi also studied Physical Geography during his undergraduate years and wanted to continue studying northern environments.
"While the program is interdisciplinary by nature, the emphasis of studying and learning about the biophysical, policy and social environments of northern Canada drew me to this program as an educational opportunity," says Scarizzi. "Climate change effects in northern Canada are much more convoluted than just the physical impacts to the landscape. Therefore, incorporating the social and policy implications for northern Canada and its communities was an attractive component."
The field course requirement left a strong impression with Scarizzi, who is currently working in Whitehorse on a project addressing climate-related geo-hazards on northern transportation networks built on permafrost.
---
More Interesting Reads:
---
"Moose Factory was one of the most engaging educational experiences of my academic career," he says. "We were fortunate to meet with members of the First Nations who reside on the island and to learn from them, listen and share stories.
"I hope to continue working in the field surrounding northern infrastructure management and research during a time of current and forecasted consequences of climate change effects on northern infrastructure in Canada."
Sivarajah is also receiving a master of science. She used the interdisciplinary nature of the program to enhance her undergraduate Health Sciences background. Currently working for Indigenous and Northern Affairs Canada, she hopes to use her government position to gain experience developing policy and leading change.
"I hope to increase health-care accessibility across our nation, specifically in the North, and hope to do this as a physician and advocate within society," says Sivarajah. "I hope to pursue medicine to help those who need it most. This would also allow me to have the skills, knowledge and experience necessary to address health-care framework gaps and collaborate with communities to deliver results."
Addressing Healthcare Inequality
With the unique courses offered, Sivarajah thought northern studies was perfect for her as the health-care inequalities in northern communities in Canada became her career focus.
"It really is the whole package and all within a year," she says. "We learned so many skills such as how to design and deliver community presentations to northern communities and how to prepare a deck for a government proposal. We had the opportunity to focus on the topic/field of our choice throughout, which felt like a personalized learning plan. It's a phenomenal program and a very important one today.
"Having had the opportunity to live and be exposed to the North in various capacities is truly the heart of the program. We didn't only learn about the North, we were able to experience it."
Designed for students to learn how to recognize and support public- and private-sector decision-making in the North, Carleton's new Northern Studies program emphasizes the biophysical, social and policy environments.
"Almost every problem in the Canadian North is multi-dimensional," says Burn. "We are training students to take up positions of responsibility and decision-making in the public- and private sectors, so they need to encounter different aspects of the challenges facing northerners on a day-to-day basis.
Fall Convocation is taking place on Saturday, Nov. 10, 2018. The ceremonies will be broadcast online via live streaming at Carleton.ca/convocation/live.
Thursday, November 8, 2018 in Convocation
Share: Twitter, Facebook