By Dan Rubinstein
Photos by Chris Roussakis
Last fall, when Carleton University Art Gallery director Sandra Dyck asked Cara Tierney to curate an exhibition that would complement and serve as a counterpoint to a concurrent display of photographs taken by Beat poet Allen Ginsberg, the transgendered Ottawa-based artist began to research people whose work reflects the experience of — and societal response to — living in the dynamic terrain between female and male identity.
"In many ways, I've created the show that I would have wanted to see when I was 18," says Tierney, a PhD student in Cultural Mediations at Carleton's Institute for Comparative Studies in Literature, Art and Culture whose exhibition TRANSACTIONS opened with a lively launch party at CUAG on Sept. 12. "This show would have blown me away. It would've saved me 10 years of reading.
"There's a lot to be said about the value of learning through art. There's a lot of knowledge that can be shared. It's almost a recreational way of approaching what can be a very serious subject."
TRANSACTIONS, the first exhibition of this scale that Tierney has curated, features the work of six artists who have drawn inspiration from transactional creative exchanges.
"All of the works are rooted in experiences that, in some way, clarify the contours of a trans identity," says Tierney. "And all of them are autobiographical to a large extent. Much of this stuff is easily accessible online, but you're not going to get to it unless you know it's there."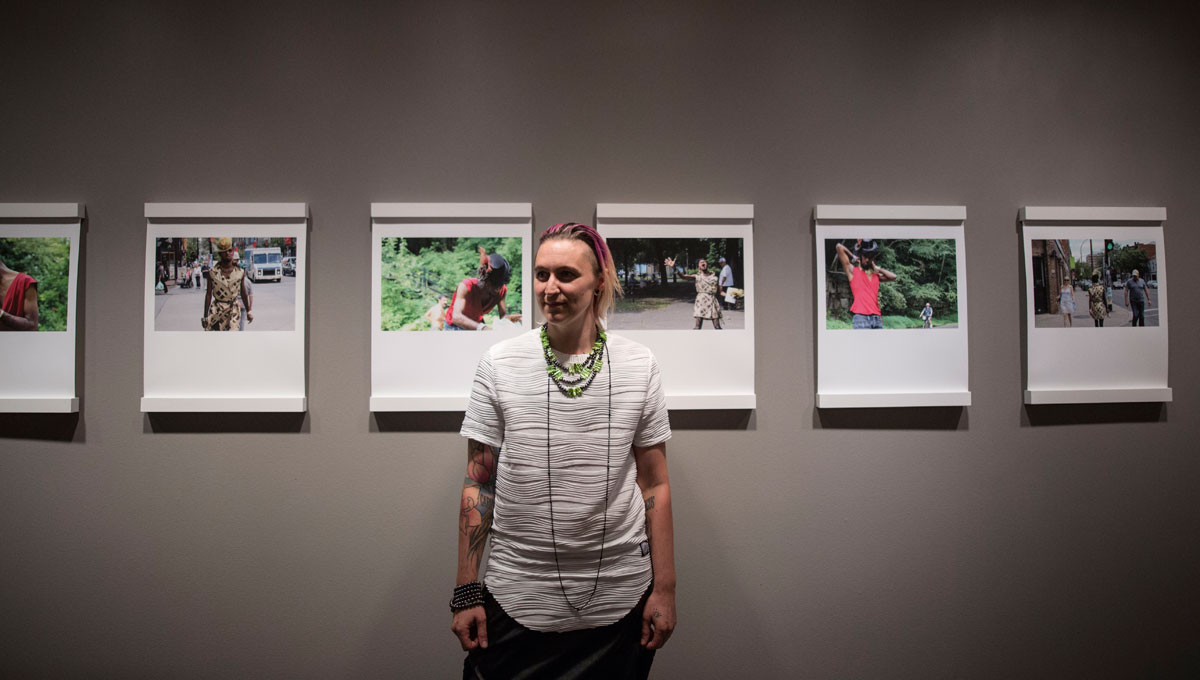 Cara Tierney: Turning tables on
the "heterosexist gaze"
Montreal-based community organizer and multi-disciplinary conceptual artist Kama La Mackerel has produced photographs in her "Race is a Drag" series that capture "the predominantly white and heterosexist gaze" of passersby as Mackerel walks through some of the city's public spaces.
Oli Rodriguez's "The Papi Project" explores "the effect of technology on gay/queer hookup culture, as well as a simultaneous conceptualization of generational loss" as the artist takes to the internet to connect with men who had sex with his father, who died after contracting AIDS in the 1990s.
The illustrated portraits and diary-like texts from Toronto-based graphic artist and filmmaker Elisha Lim's "100 Crushes" series "reveal a pronounced sense of identity culled through personal moments of shared experience."
Lim, who successfully advocated for the use of the pronoun "they" to describe themselves in Canadian gay media, also collaborates with Coco Guzman in "Los Sentidos," a video conversation filmed after the artists were stopped while trying to enter the United States for a performance.
Morgan Sea's "Amazon Seeks Affection: 31 Intimate Moments" uses online photography to document a series of hugs, kisses and cuddles that began during her first visit home after starting her gender transition and her DIY zines deploy humour to help foster "a more tangible and flexible culture for trans*people everywhere."
And the graffiti-like "spray and acrylic paint murals of Ottawa's Kalkidan Assefa, the only straight artist in the exhibition, search for common threads on the gallery walls in between the other pieces, "mirroring the ways in which diasporic identities are shaped through division, fracturing, multiplication, and reconstitution."
"There are six different artists and six different genders," says Tierney, "and a few different pronouns too."
Assefa's participation is important, adds Tierney, because it speaks to the idea of "allyship, and how we support one another.
"Ultimately, this exhibition is about human rights for everybody. It's not just for trans students or questioning students — it's also for everybody who might not have been given the language to talk about these concepts."
"In TRANSACTIONS, Cara presents artists whose works communicate their personal experiences of defining, articulating and expressing gender identities that are often marginalized by the mainstream," says Dyck. "This amazing exhibition underscores CUAG's commitment to reflecting and shaping contemporary society by actively creating space for a plurality of voices, ideas and perspectives."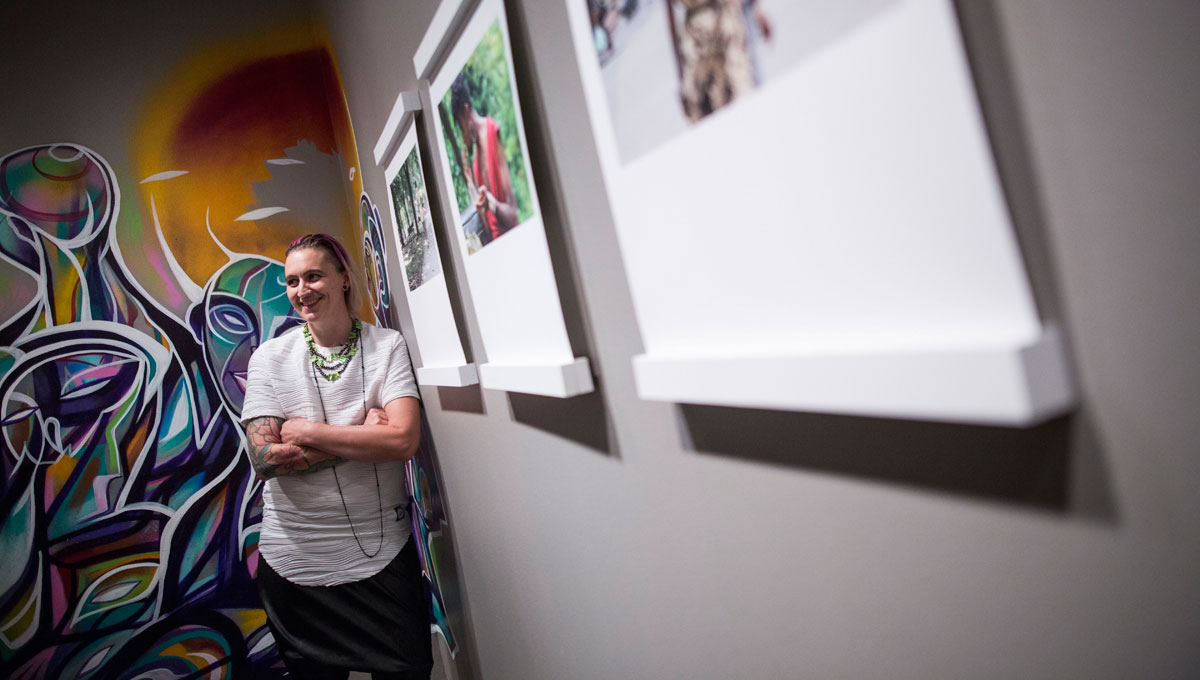 Art gives voice to
individual perspectives
As a child, Tierney didn't see any alternatives to growing up as a female. Making art was a doorway into queer theory, and the idea that people's individual perspectives should be heard.
Tierney didn't think they (the pronoun Tierney prefers to be referred to by) were trans because they didn't want to be a man, but they didn't want to be a woman either. "Now I'm happy being neither — and both — in my own way."
Yearning to make art, Tierney was attracted to performance because it did not require a studio — "just your body, time and space."
They made their living as a practicing artist for about seven years, applying for grants to pay the bills, although the endorsement from organizations such as the Ontario Arts Council was just as important as the financial support.
For one performance, "Prom Dress," Tierney wore their high school prom dress, waxed their bikini line and put the strips on their face to make a mask.
At a dyke march event in 2007, they painted life-sized iconic female and male bathroom symbols with the rainbow stripes, cut the symbols out of their plywood frames and into pieces, attached the pieces to their body like armour (or hockey pads), and then attempted to jump through the body-shaped holes left behind. They didn't make it through — a striking metaphor for trans identity.
Although Tierney describes their early work as "second-wave feminist," reflecting a feminine identity, moving to Ottawa to do a master's in Art History at Carleton was an opportunity to reinvent themselves.
After graduating from Carleton in 2004, Tierney earned an MFA and taught at the University of Ottawa, and now is back at Carleton to start on a PhD that will explore the relationship between performance art, photography and gallery space.
Does performance art reproduced on a gallery wall lose its aura, as the philosopher Walter Benjamin argued? Or, Tierney wonders, can this process of documentation give a photograph an aura?
If the artworks on display in TRANSACTIONS are any indication, the answer is a resounding yes.
Wednesday, October 5, 2016 in Art Gallery, Arts and Social Sciences, Graduate Students
Share: Twitter, Facebook