Canada's landscapes, freshwater and wetlands are an important part of the world's biodiversity and migratory patterns. They are considered part of planet Earth's "natural heritage" and are protected as such.
And yet, the country's globally important ecosystems are not immune to the realities of the Anthropocene. In Canada alone, there are over 700 species at risk of extinction.
To help conserve ecosystems across the country, Biology Prof. Joseph Bennett and his team are leading the development of evidenced-based, decision-support tools that help partner organizations prioritize resources. The project will receive $966,000 from the Natural Sciences and Engineering Research Council of Canada, plus $483,000 cash and $853,500 in-kind from the Nature Conservancy of Canada (NCC) and Environment and Climate Change Canada (ECCC).
Bennett, a cross-appointed professor to the Department of Biology and the Institute of Environmental and Interdisciplinary Science, will develop these tools based on artificial intelligence, computational science and systematic conservation planning approaches over five years. This builds on Bennett and his team's academic research in conservation prioritization that focuses on practical questions for conservation agencies.
"Their ultimate goal is to conserve Canada's nature and biological diversity," says Bennett. "When you've only got a couple of options, the human brain can weigh the risks and benefits. But when you add a lot of potential options, you add a lot of uncertainty, and that's when these artificial intelligence tools can really help out."
The tools will combine an abundance of data, from the many species that live in a geographical area and their estimated population numbers at any given time of the year to the ecosystem types, threats to the area and the estimated effects of climate change. The five-year NSERC Alliance grant will result in user-friendly tools with a web interface and map functions.
It's also a new kind of grant because, up until recently, NSERC only recognized for-profit private-sector organizations as eligible funding partners. In 2019, the agency revamped its partnership programs, and opened the door to public and not-for-profit organizations like NCC, Canada's largest private land conservancy.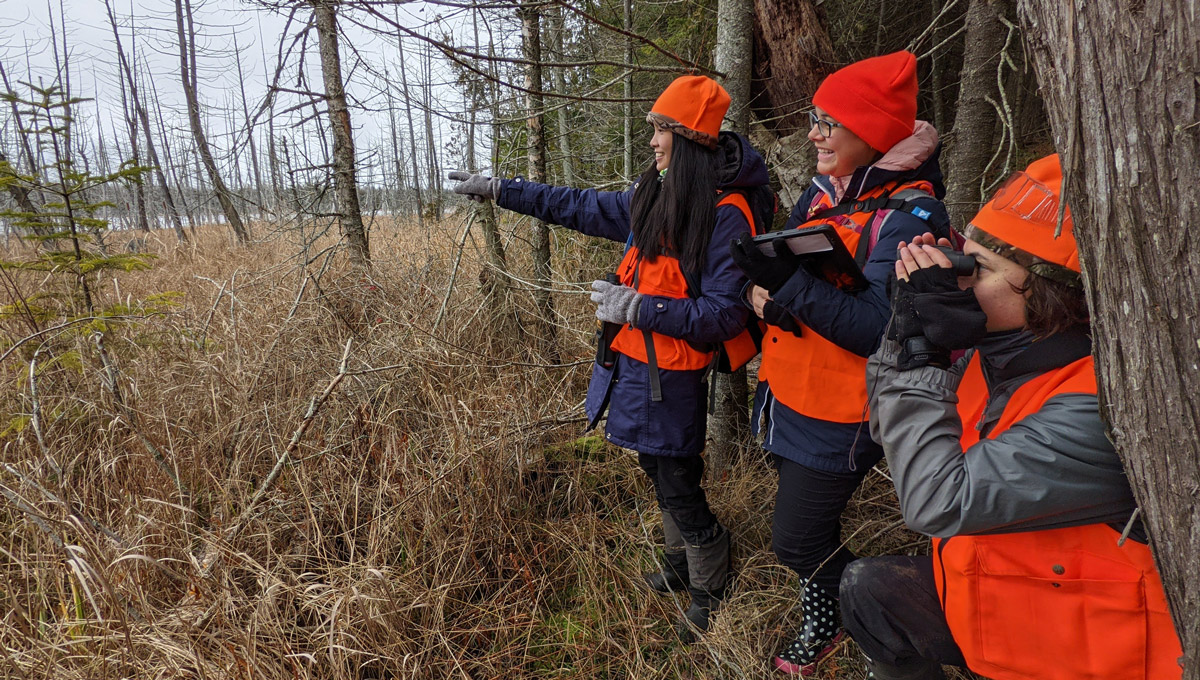 Students Get Real-World Conservation Work
On top of the funding partners are multiple research partners, including Indigenous fisheries scientist Andrea Reid at the University of British Columbia — who will ensure the tools are usable and compatible with Indigenous nations and communities — and Carleton Biology Profs. Lenore Fahrig and Steven Cooke.
Richard Schuster was a research scientist in the Geomatics and Landscape Ecology Research Lab when he first worked with Bennett on modernizing such tools for NCC. This spring, Schuster was hired by NCC as Director of Spatial Planning and Innovation to continue this work.
"I'm really looking forward to continuing the collaboration," says Schuster, "and to expose students more to the practical aspects of on-the-ground conservation."
The project offers real-world conservation work for students, something Schuster considers crucial to their education. In total, the grant will support three PhD students, two MSc students, four post-doctorate fellows, a research scientist and a research manager.
Once NCC's tool has been completed, the next step will be making a public-facing, easy-to-use version. Smaller land trusts and government agencies could use them for making land purchase decisions, and the average person could use them to learn about local protected areas or track how Canada's conservation targets are being met.
The global Convention on Biological Diversity set Canada's targets to conserve at least 17 per cent of its landmass by 2020. Although they fell short of the target (12.1 per cent was conserved by 2019), the federal government has commitment to conserve 25 per cent of Canada's land, freshwater and marine areas by 2025.
According to ECCC research scientist Paul Smith, these tools will be very useful in reaching Canada's ambitious goals.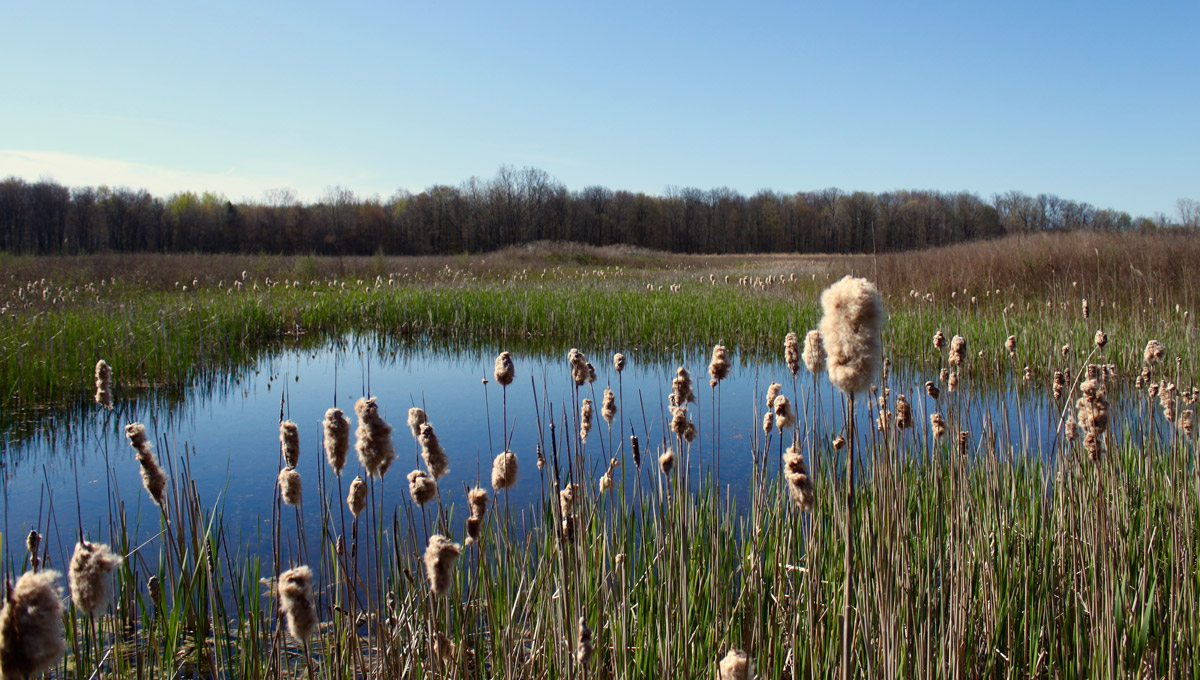 Promoting Biodiversity and the Love of Creatures
"The partnership ensures that we are tackling a challenging issue from a diversity of perspectives, harnessing the best available science to guide decision-making, and focusing our combined efforts on making a difference for conservation in Canada," says Smith.
Bennett says Canada will be able to reach its biodiversity targets if it better partners with Indigenous peoples and encourages biodiversity conservation among private landowners and farmers.
"A lot of landowners really love their land, and they love the creatures on it," says Bennett. "It's a matter of appreciating what they have and showing them how they're part of a broader system that's keeping the species alive."
Bennett grew up on a hobby farm between Smiths Falls and Brockville, Ont. It was a tract of swamp and field, with forests, a stream and a pond. For a budding biologist, it was a kind of heaven: the land and its inhabitants—birds like loggerhead shrike and bobolinks, reptiles like Blanding's turtle and the milk snake—fascinated Bennett. This fascination led to a desire to save rare spaces and species. Today, many of those birds and beasts he knew as a child are much more difficult to find.
"In half a lifetime, there have been very big changes, just around here in Ottawa," he says. "That gives me a lot of motivation to conserve Canada's biodiversity for its own value as something beautiful, the way the Sistine Chapel is beautiful. The creatures in Canada and our environments are, to my thinking, just as beautiful and just as worth preserving."
Photo Details
Lead Image – Blanding's Turtles, an endangered species in a swamp near Point Pelee, Ont.
In-line – Prof. Joseph Bennett, credit Chris Roussakis
First Wide Image – Team surveying for Phragmites, credit Nature Conservancy of Canada
Second Wide Image – A restored wetland near Norfolk, Ontario, credit Nature Conservancy of Canada
Wednesday, April 21, 2021 in Environment and Sustainability
Share: Twitter, Facebook