The future starts now at Carleton.
Following a successful 75th anniversary year in 2017-2018, students, faculty and staff returning for the fall term will come back to a campus that has changed in several significant ways, most notably a new president, new chair of the Board of Governors, new senior administrators, new buildings and new academic programs.
With a stable base and a solid financial footing, Carleton is well positioned to explore new directions and seize new opportunities.
This evolution is part of the university's continued growth from a small institution with strong local roots into a hub of research and teaching excellence that has ever-expanding community, national and international connections.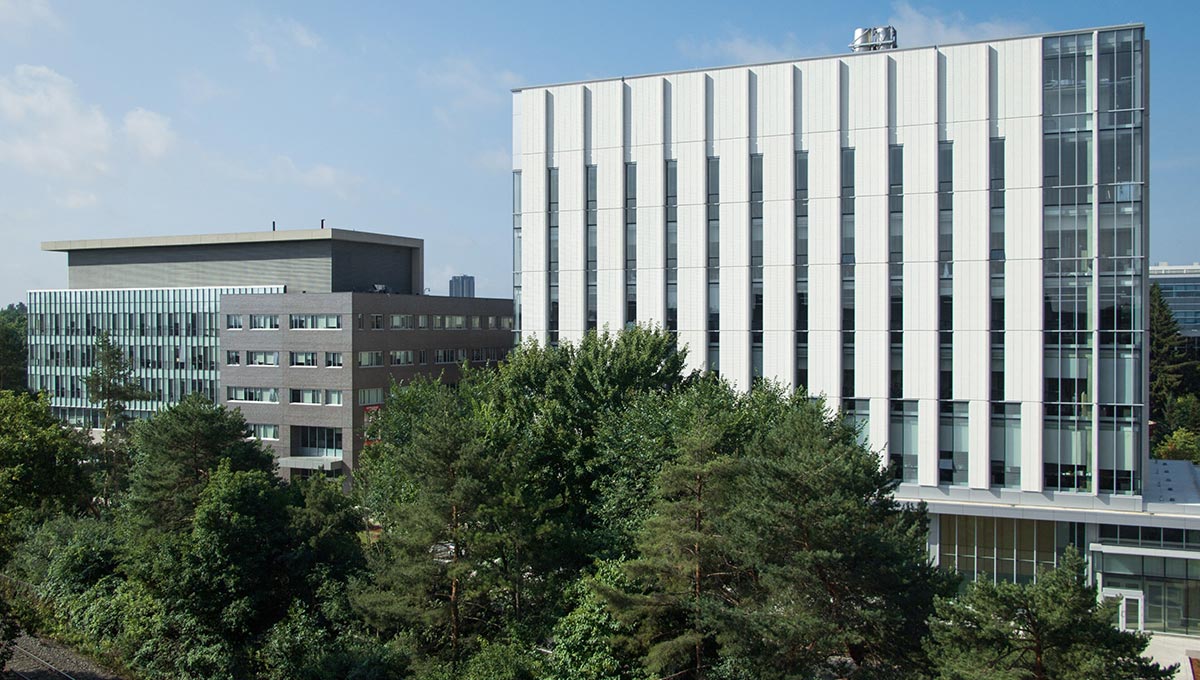 "Carleton is the kind of university that's really going to thrive from now into the middle of the 21st century," Benoit-Antoine Bacon said shortly after becoming Carleton's 15th president and vice-chancellor on July 1.
"It's of considerable size without being overly large, it's young enough to have flexibility and the courage to try new things, it cares deeply about students, it wants to do research that matters, and it's connected locally, but has international ambitions."
Bacon, a former vice-president at Queen's and Concordia universities, took over from Alastair Summerlee, who served as interim president for a year following the departure of Roseann O'Reilly Runte, now the president of the Canada Foundation for Innovation.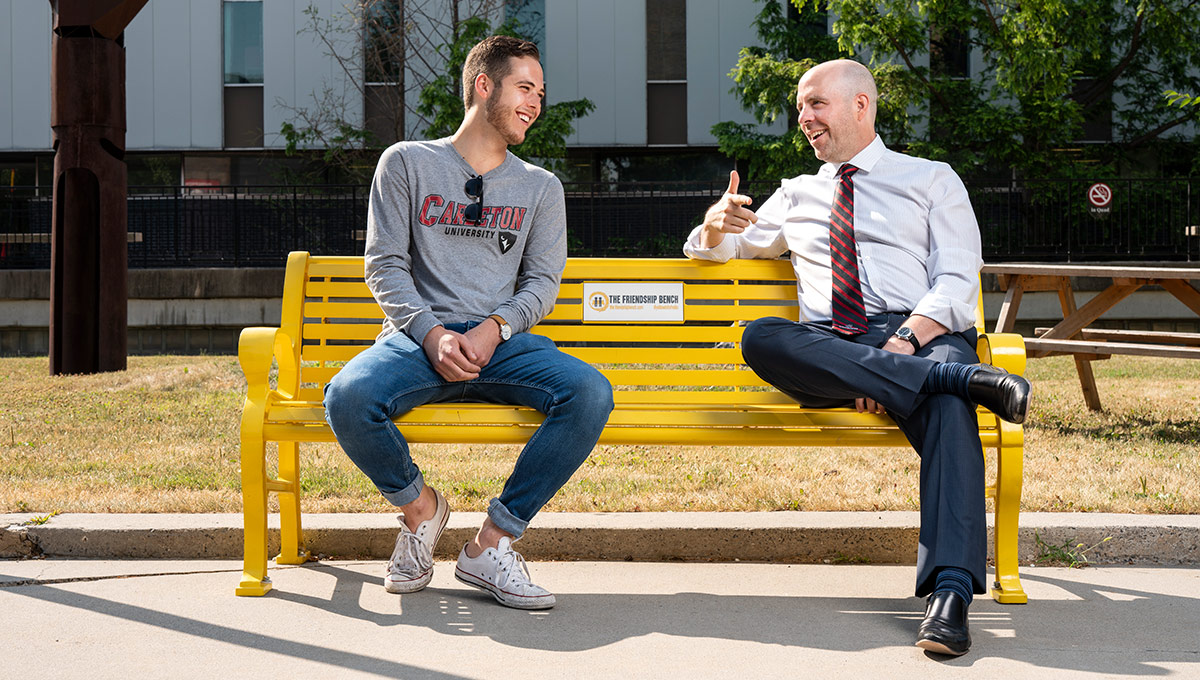 A New President and Board Chair
Bacon will be working closely with Nik Nanos, who began a one-year term as chair of the university's Board of Governors on July 1, with Dan Fortin stepping into the co-chair role previously held by Nanos.
"I admire Carleton because it's a dynamic university that delivers a positively transformational academic and personal experience to its students," said Nanos, a leading corporate business strategist and the founder of Nanos Research, one of Canada's most distinguished research companies.
"I am looking forward to supporting and working with the exceptional students, academics, staff and executive team led by our new president. Our school was founded by passionate community leaders and I am proud to follow in the tradition of being a community-at-large member of the board and being called to serve as the volunteer chair."
That executive team includes political scientist Pauline Rankin, the new dean of Carleton's Faculty of Arts and Social Sciences and former associate vice-president (Research and International), whose five-year term also started on July 1, and Chuck Macdonald, whose five-year term as dean of the Faculty of Science began on August 1.
"I am elated and tremendously thrilled to be joining the Faculty of Science at Carleton during this exciting time of growth and renewal," said Macdonald, who comes to Ottawa from the University of Windsor, where he served as head of the Department of Chemistry and Biochemistry and, from 2015 to 2016, acting science dean.
"I am looking forward very much to getting to know the faculty, staff and students who make the Faculty of Science what it is and to becoming a member of the Carleton community. I am confident that — together — we will do great things."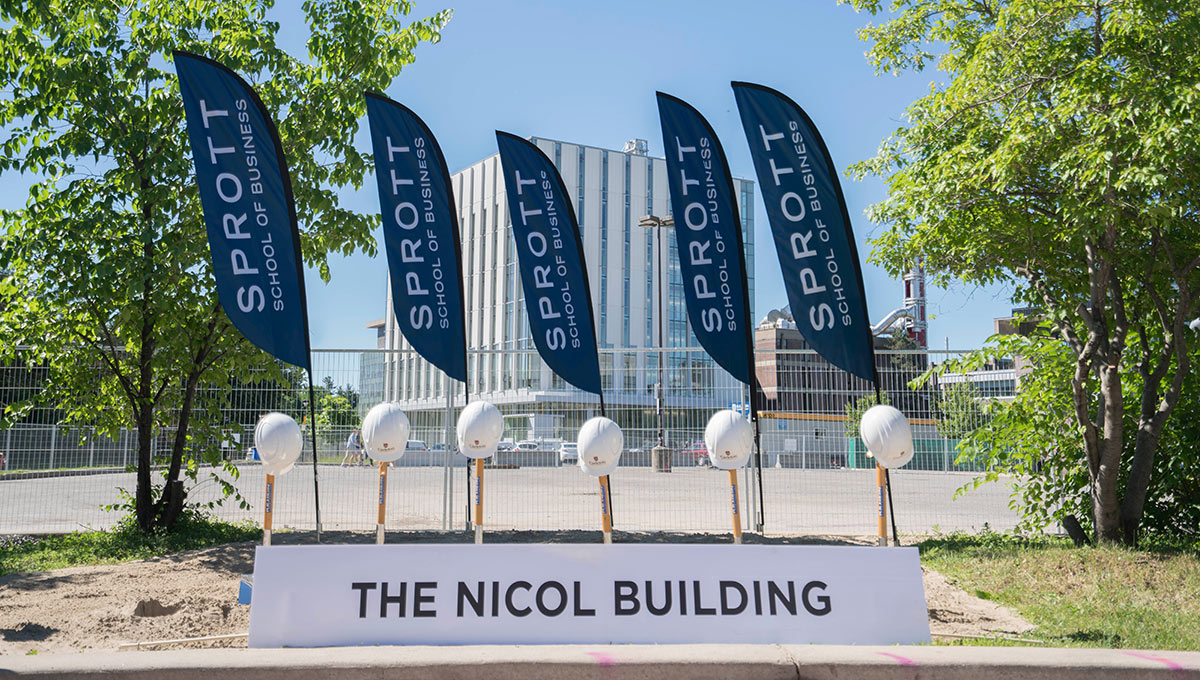 New Buildings Changing the Campus Landscape
Some of those great things will happen in Carleton's new Health Sciences Building.
Science professors from the Health Sciences and Neuroscience departments began moving into the new building and setting up their labs in early 2018 and an official grand opening ceremony is expected soon.
Right next door, construction is underway on the six-storey, 100,000-square-foot Nicol Building, the future home of Carleton's Sprott School of Business.
"All of the things we love about Sprott will be bundled together in one place," Hanna Di Virgilio, president of the Sprott Business Students' Society, said at a groundbreaking ceremony in late June, where Carleton officials thanked the Nicol family for its transformational $10-million gift that kickstarted fundraising for the new building.
---
---
"Whether we're going to a class in a high-tech lecture hall or meeting a classmate or professor in the atrium to discuss an assignment," said Di Virgilio, "this will be a hub that will help us turn our ideas and visions into action and reality."
Around the corner from the Nicol Building site on University Drive, work continues on the Institute for Advanced Research and Innovation in Smart Environments (ARISE) project, which is adding 34,500 square feet to the former Life Sciences Research Building to create a new home for applied research in clean technology, health technology, and information and communication technology.
ARISE, which will also be officially opened soon, will bring together professors and students from five faculties — Science, Engineering and Design, Business, Public Affairs, and Arts and Social Sciences — to collaborate on research and training in areas such as 5G wireless, smart cities and data analytics.
ARISE "will become a true living laboratory that will allow students to obtain marketable skills and become entrepreneurs," Vice-President (Research and International) Rafik Goubran said when the project was announced.
"We will be supporting their startups and facilitating their interactions with small- and medium-sized enterprises, as well as global multinational firms."
Further afield, in downtown Ottawa, Carleton has taken possession of Dominion-Chalmers United Church, which will be transformed into a new cultural and community hub in the heart of the city.
Renovations at the historic church will help Carleton create a multi-purpose performance space for students and faculty. The university has no space on campus that seats more than 400, hindering its ability to host large performances or lectures.
Dominion-Chalmers, which is about 37,000 square feet with a seating capacity of approximately 1,000 in the main hall, will not only provide much-needed room for the university's growing music program and other departments, it will also continue to serve as a community, cultural and artistic space for the broader Ottawa area.
"We all know that arts and culture are an important part of the life of a city," Ottawa Mayor Jim Watson said at a reception at the church in June to thank the Crabtree Foundation's for its $2-million donation in support of the university's purchase.
"Carleton is eager to play a central role in our cultural life, and the acquisition of this church is a big step toward that goal. This is another example of the role Carleton continues to play in our civic life."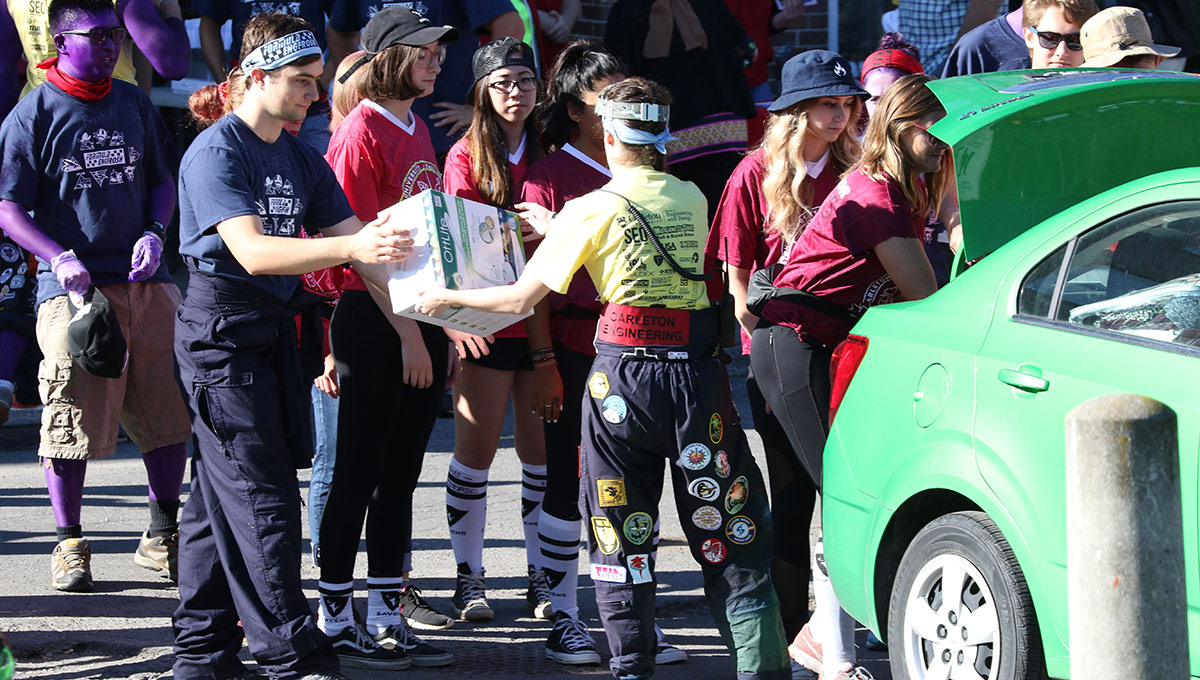 Programs Creating New Opportunities for Students
Back on campus, among the new programs being introduced this fall, Carleton's interdisciplinary Bachelor of Media Production and Design (BMPD) stands out.
Created jointly by the Faculty of Engineering and Design's School of Information Technology and the Faculty of Public Affairs, which is home to the School of Journalism and Communication, the hybrid BMPD is a response to the fact that rapidly evolving online technologies are revolutionizing the way we communicate with one another and how we disseminate information and tell stories.
It will go beyond traditional journalism and give students the skills they need "to leverage web technologies to produce highly visual, compelling and immersive user experiences that bring data and stories to life," according to the BMPD website.
"Graduates will be able to work for any entity that wants to do online storytelling, or for production houses, or for themselves," says Journalism Prof. Christopher Waddell, the program's director.
"In this program, you won't need to learn how to cover a city council meeting or the courts, which journalism students do. But you will be learning how to interview people, how to use video and pictures to show people a story rather than tell it to them, and how to engage an audience in interesting ways."
Other new options at Carleton include a Certificate in Professional Writing from the Department of English Language and Literature, which is designed to be taken concurrently with an honours undergraduate degree in English or Applied Language and Discourse Studies.
The popular Bachelor of Global and International Studies (BGInS) program, meanwhile, has three new specializations: Francophone Studies, Global English and Global Sexualities.
While awaiting its new home, Sprott has added a new research master's degree — Master of Science in Management — which will provide the research foundation to advance to doctoral studies or applied research careers in the public-, private- or not-for-profit sectors.
The program's main research areas of focus are accounting, entrepreneurship, finance, information systems, international business, management, marketing, and supply chain management. It is focused, according to its website, "on applied research about complex management problems in a rapidly changing and globally oriented environment."
Carleton's Institute of European, Russian and Eurasian Studies (EURUS), a hub for research into the complexity of Europe's political and economic integration, is launching a Dual Master's of European Studies program in partnership with Belgium's Université catholique de Louvain and the Université Saint-Louis – Bruxelles (UCL).
EURUS students will have an opportunity to enrich their perspective on the European Union's multifarious institutions by splitting their time between Carleton and UCL's campus in Louvain-la-Neuve, Belgium. They will be granted degrees from both institutions and spend at least two semesters at each one.
The program is one of two dual master's programs launching in September. The other is a partnership in Political Science with Switzerland's University of Lucerne.
Also on the international front, Carleton's Career Services department has partnered with the Faculty of Public Affairs to launch a new university-wide International Internship Program.
The program, which evolved out of the BGInS international internships, will support students through every step of the process, from finding the right opportunities and assisting them in applying for the positions to preparing them for the experience of living and working abroad and helping them market these opportunities to enhance future careers upon their return.
Students will receive academic credits as part of the program, which could send them to places such as Peru, Uganda, Spain, Vietnam and China. They can access between $500 and $2,500 in bursary support to offset the costs associated with international travel.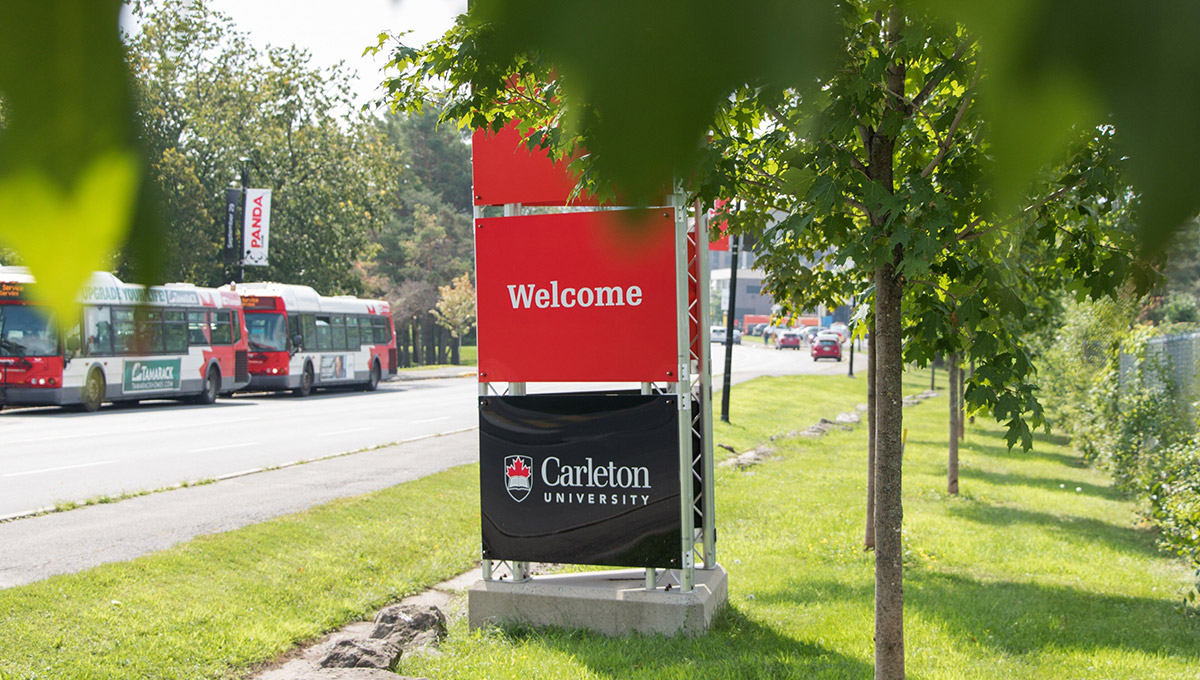 Faculty Members Bring New Expertise
Courses that are part of these programs, and other offerings across the campus, will be taught by Carleton's 1,500-plus faculty members and instructors, including several new professors who are joining the university community this fall.
Among high-profile hires are Carmen Robertson, an Indigenous art scholar who is joining the Faculty of Arts and Social Sciences from the University of Regina, and ethnomusicologist Ellen Waterman, who is joining the Music program from Memorial University.
Also coming to Carleton are Robin Chhabra, director of the Autonomous Space Robotics and Mechatronics (ASRoM) Laboratory in the Department of Mechanical and Aerospace Engineering, and Chemistry Prof. David McMullin.
In addition to these and many other new faces at the front of their classrooms, students will see changes at the MacOdrum Library, where the area inside the main floor entrance is being transformed into an "information hub" so that visitors can receive "triaged" responses to their queries. They'll be given either a quick answer or be directed elsewhere for further information.
The library has other developments underway, such as the creation of a digitization hub to help make more resources accessible online, and there will be a series of exhibits and speakers.
The Carleton University Art Gallery, meanwhile, will launch a pair of exhibitions — a retrospective of the work of Inuit artist Alootook Ipellie, and "Here Be Dragons," an exploration of the relationship between art and social critique — with a party on Sept. 17.
Over in Athletics, several Ravens varsity teams are already in action and getting ready for their upcoming seasons, including the men's basketball squad, which won all five of its August games against American NCAA teams in the annual Can-Am Shootout.
The men's team will be back on home court against Guelph on Oct. 12 at the annual House-Laughton Tournament, and the women's basketball team begins its defence of its first national championship with an exhibition game at the Raven's Nest against McGill on Oct. 5.
Wednesday, August 29, 2018 in Orientation
Share: Twitter, Facebook