By Dan Rubinstein
Photos by Mike Pinder
When Hanna Di Virgilio started studying toward a Bachelor of Commerce degree at Carleton three years ago, the students, faculty and staff at the university's Sprott School of Business welcomed her to campus and almost immediately they began to feel like family.
Now her family is getting a new home.
"All of the things we love about Sprott will be bundled together in one place," Di Virgilio said on June 19 at a groundbreaking ceremony for the six-storey 100,000-square-foot Nicol Building, which is targeted for completion in 2020 and, for the first time, will combine all of the business school's teaching, research and collaboration spaces under the same roof.
"Whether we're going to a class in a high-tech lecture hall or meeting a classmate or professor in the atrium to discuss an assignment, this will be a hub that will help us turn our ideas and visions into action and reality," said Di Virgilio, president of the Sprott Business Students' Society.
"The Nicol Building will be a place of opportunity — the opportunity to make connections beyond our normal boundaries and further enhance the legacy of the Sprott School of Business."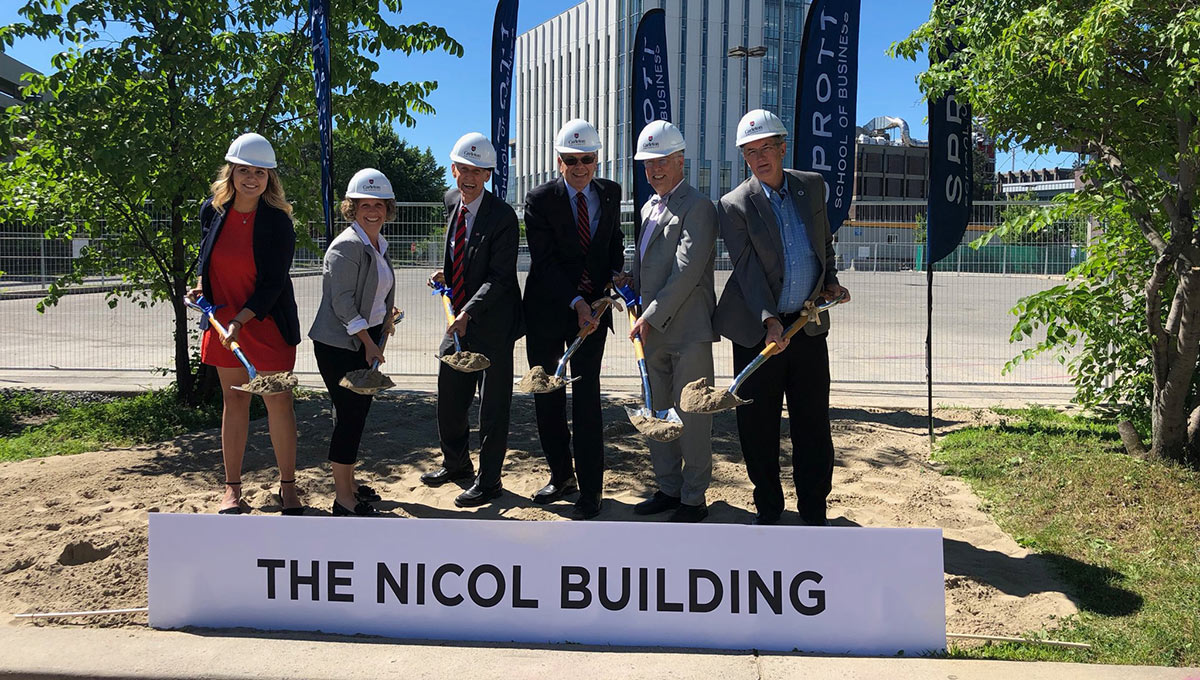 A Transformational Gift
Located on Campus Avenue just east of the University Centre and north of the brand new Health Sciences Building, the Nicol Building is named after the family whose generous $10-million donation in 2014 kick-started fundraising for the project.
Mary and the late Wes Nicol — a Carleton alumnus, member of the Board of Governors and founder of Ottawa's Tartan Homes — supported several entrepreneurship initiatives at the university, among other philanthropic endeavours.
At the groundbreaking ceremony, Board Chair Chris Carruthers, Interim Provost and Vice-President (Academic) Jerry Tomberlin and Interim Sprott Dean Linda Schweitzer thanked the Nicol family for their transformational gift.
"On behalf of my father and on behalf of our family, you're so welcome," said Bruce Nicol, president of Tartan Homes. "It's so wonderful to see this building started. Dad would have been over the moon.
"The gift he gave for this building was the culmination of a lifelong relationship with the university. He was a hardworking and generous man — generous as a father and with the community.
"But he was not a passive donor: he always had his eye on the ball. So, thanks to all of you for taking the ball once it started rolling and making this happen."
After speeches, Nicol, Di Virgilio, Schweitzer, Tomberlin, Carruthers and Carleton Assistant Vice-President Darryl K. Boyce put on hardhats, picked up shovels and lifted the first ceremonial scoops of soil from the ground.
"We have a long road ahead of us," said the university's Chief Advancement Officer Jennifer Conley. "Just as every journey starts with one step, every building starts with one shovelful of soil. Or, in this case, six shovels of soil."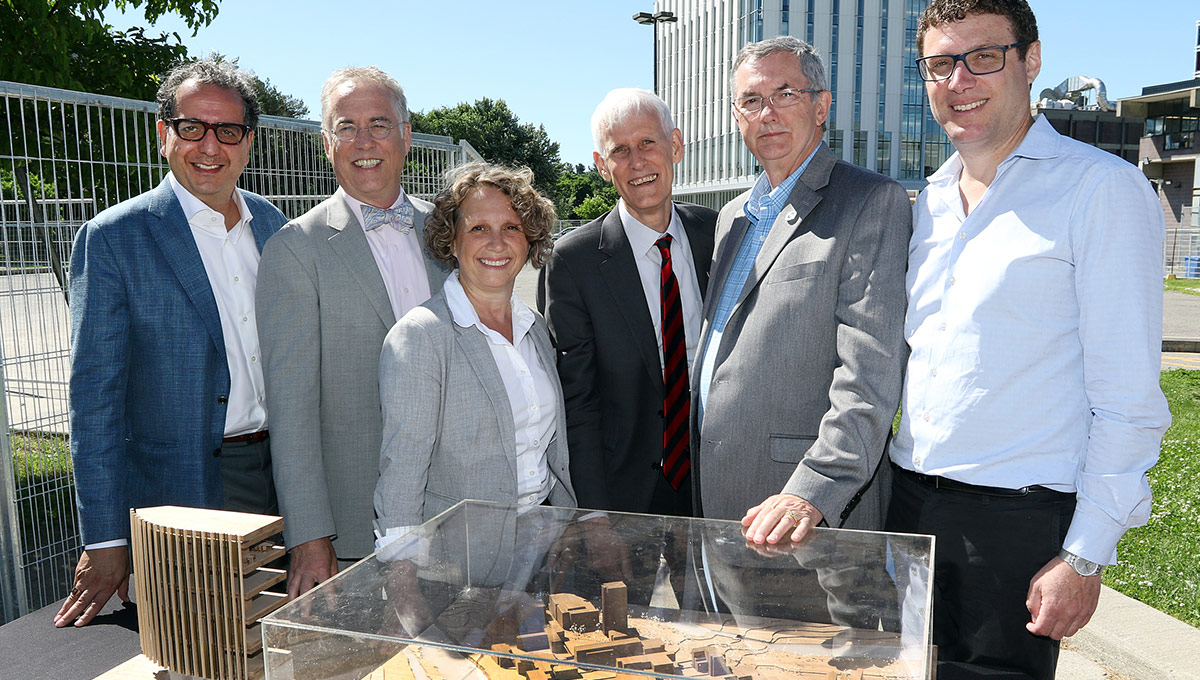 A Flexible Space for Sprott Students
The Nicol Building, a sustainable design produced by Toronto's Hariri Pontarini Architects that's expected to achieve 4.5 Green Globes, will include features such as flexible classrooms with movable furniture and enhanced learning, networking and collaborative spaces for students, faculty and staff.
There will be event and meeting spaces, including public assembly space like the signature three-story atrium with a mezzanine, and space for experiential student initiatives including the Sprott Student Investment Fund and Sprott Competes.
Moreover, the Nicol Building is meant to be an asset for all of Carleton, not just its business school. It will be centrally located steps from the O-Train stop and at the tunnel junction linking the university's academic campus, residences and Athletics — a campus crossroads intended to draw in the broader university community.
"This is a day I always knew would come — I just didn't know how long it would take," Tomberlin said, thinking back 10 years to his appointment as the dean of Sprott, when Sprott Prof. Ian Lee publically announced that the new dean would get a new building for the school.
"All good things take time," said Tomberlin, "and now we've arrived at a very good place and are celebrating a distinctive addition to campus. Inspired by Wes Nicol's vision, this new building will be a centre for learning and discovery and a place for collaboration with community partners."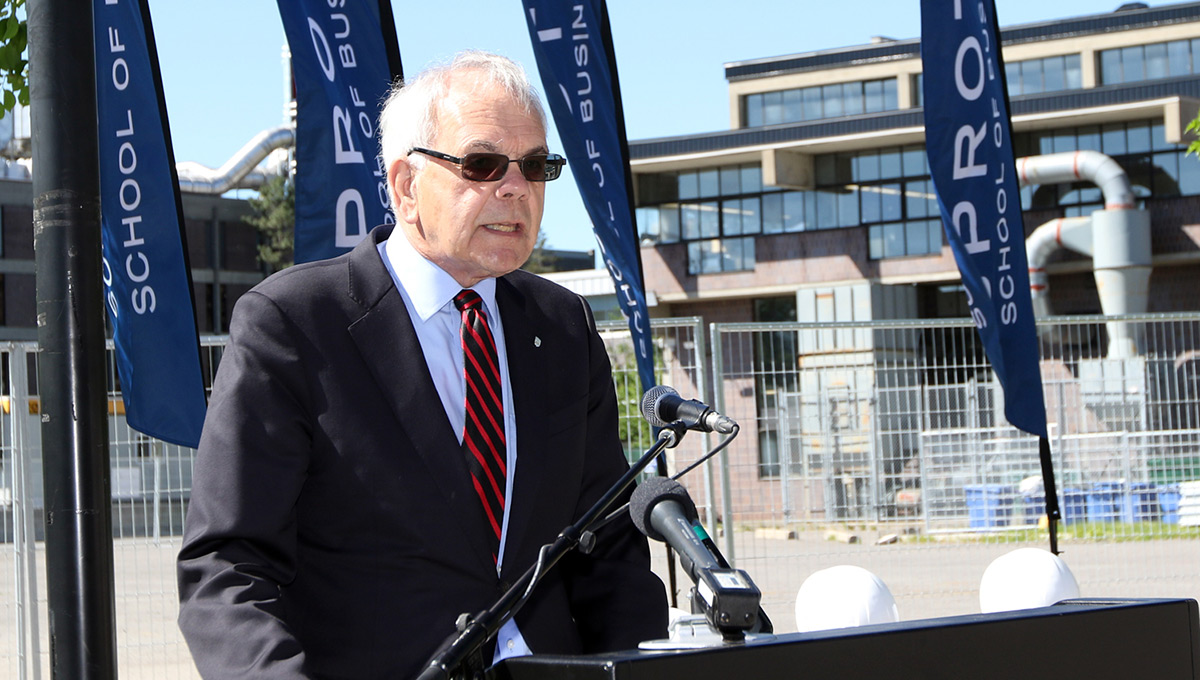 Producing Knowledge for all Faculties at Carleton
Pointing to the new Health Sciences Building behind the Nicol Building site, Carruthers — a retired orthopedic surgeon and former chief of staff at The Ottawa Hospital — noted the importance of business knowledge in all professions, including health care. That's why he went back to school to get an executive MBA.
"The Nicol Building will produce business knowledge for people in all faculties at Carleton," he said.
"It will not only be an important addition to campus, but will also serve as a platform for the Sprott School of Business to make connections by hosting events that allow students and faculty to network with the business community."
"This is a place where Sprott students can pursue their dreams," added Schweitzer. "A place for students to challenge conventional thinking and try new things. A place for greater engagement with the business community and broader community locally, nationally and around the globe.
It will be a physical representation of the creative, connected and caring spirit for which the Sprott School of Business is known."