What do a graduate computer science student and an undergraduate economics student have in common? The desire to close the gender gap in STEM.
Coming from two different fields and stages in their academic careers, Ritika Bhatia a master's student in computer science and Abigail Meloche, a first-year economics student, joined forces to develop PowHerStem: a digital platform that provides information to girls aged 11 to 19 about different careers in science, technology, engineering and mathematics (STEM). Beyond sharing opportunities, the platform crucially connects students with role models with the goal of encouraging more females to choose STEM career paths.
"At its core, the platform is designed to create a micro-community and to be used as an engagement tool where young women can channel their passions and be inspired," explains Bhatia.
The project was brought to life through Carleton's new Innovation Hub's Changemaker Challenge. Students from all fields were provided the opportunity to think outside the box and utilize their unique set of skills to help solve a real-world challenge guided by the UN's sustainability development goals. Bhatia and Meloche chose goal five: gender equality and empower all women and girls.
Paired for their common interest, Bhatia's focus is on coding and the technical aspects of building the platform, whereas Meloche is taking the lead in networking, reaching out to the community and building partnerships.
"When I attended my first mathematics course at university, I was one of three girls," explains Meloche. "I noticed there was less female representation in post-secondary than in high school and wondered if that was the case across all STEM fields."
Using an economics lens, Meloche and Bhatia sought to uncover why women and girls aren't pursuing careers in the STEM fields, despite the salary premium.
What they found was an abundance of talent, constrained by the overarching issue—a lack of visible representation and access to female role models at a young age.
As an international student from India, Bhatia is close to completing her studies and says that more representation in STEM would have been beneficial throughout her educational journey.
"I really wished I had role models at the beginning of my education, because now as master's student I see how many amazing women there are in STEM but until you are in the field, you aren't aware of that," she explains. "I feel more confident now and hope this project brings more visible representation."
"There are extraordinary women in STEM. We're just starting to see them," adds Meloche. "There's a lack of confidence and certainty going into these fields due to that lack of representation. If you can't see yourself represented, it's difficult to have the confidence to make that big career decision. Having this extra support and encouragement at a young age would have been really helpful."
Bhatia and Meloche are now working towards the implementation of their ideas. Next steps include securing resources, partners and funding—all areas where Carleton's Innovation Hub can help.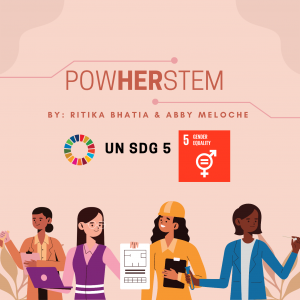 "We want to help students from all corners of Carleton learn about issues, connect them with partners from the private sector or community organizations, and give them a set of tools they can use to transform their ideas into tangible solutions," says Innovation Hub director Harry Sharma. "We want to instill a culture of innovation across the university."
Spanning over a semester, the Changemaker Challenge is open to all Carleton University students. This experiential learning environment provides the real-life tools and skills to stand in front of the work and prove the value of individual ideas.
"This has been a really inspiring experience," says Meloche. "If it weren't for the Changemaker Challenge, Ritika and I would probably have never met. I've learned so much from her and as a first-year student, this experience gave me a great sense of community."
Friday, March 4, 2022 in Experiential Learning, Innovation Hub, International Women's Day, Student Experience
Share: Twitter, Facebook