By Jane van den Dries
Photos by Chris Roussakis
When Tayler Hernandez chose Carleton University for its unique Bachelor of Global and International Studies (BGInS) program, she knew she was in for an experience of a lifetime.
Leaving North America for the first time, Hernandez headed to Uganda to fulfill the international experience requirement of her program by spending three months studying at Makerere University and working for Sawa World, an organization focused on poverty alleviation and empowering local people.
"It was one of the most memorable, exciting and rewarding experiences I've ever had, that also challenged me in new ways," she said.
Hernandez's experience is just one example of many experiential learning opportunities open to Carleton students. Many students are engaging in some form of experiential learning, which inevitably plays a part in shaping their futures.
In fact, Carleton has made experiential learning a strategic priority and has incorporated it into its Strategic Integrated Plan and Teaching and Learning Framework.
"Experiential learning matters to Carleton because it matters to our students," said President Benoit Antoine-Bacon.
"We know it increases student engagement, connects theory to practice, and helps our students to develop important transferable skills. Our leadership in experiential learning is certainly one of the reasons Carleton was recently rated as a Top 10 Canadian university for the employment outcomes of our graduates."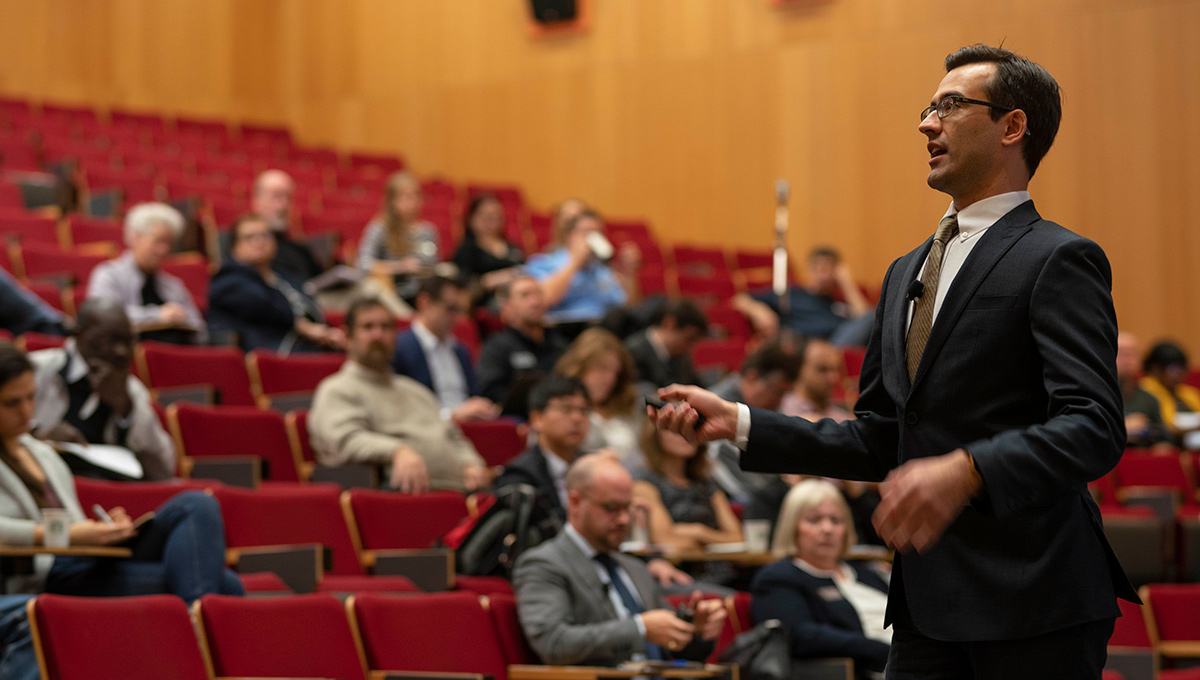 Bringing it All Together
Experiential learning was at the heart of a large symposium co-hosted on campus by Teaching and Learning Services and the Office of the Vice-Provost and Associate Vice-President (Academic) on Tuesday, Oct. 23, 2018. The symposium attracted more than 200 participants for a full day of presentations, demonstrations, workshops and displays that highlighted a broad selection of Carleton's experiential learning activities.
Forty-eight faculty, staff and students eagerly shared their experiences with colleagues through 15 high-energy sessions that explored various types of experiential learning following an inspiring keynote address delivered by Stephen Teske, a research consultant at EAB.
"Participating colleagues shared their experiences and approaches with the hopes of inspiring others to integrate and adopt experiential learning within their learning environments," said David Hornsby, Carleton's associate vice-president (Teaching and Learning). "Given that this is a provincial imperative, working with (our office) gives the symposium real resonance to broader institutional goals and Teaching and Learning Services is grateful for this collaboration."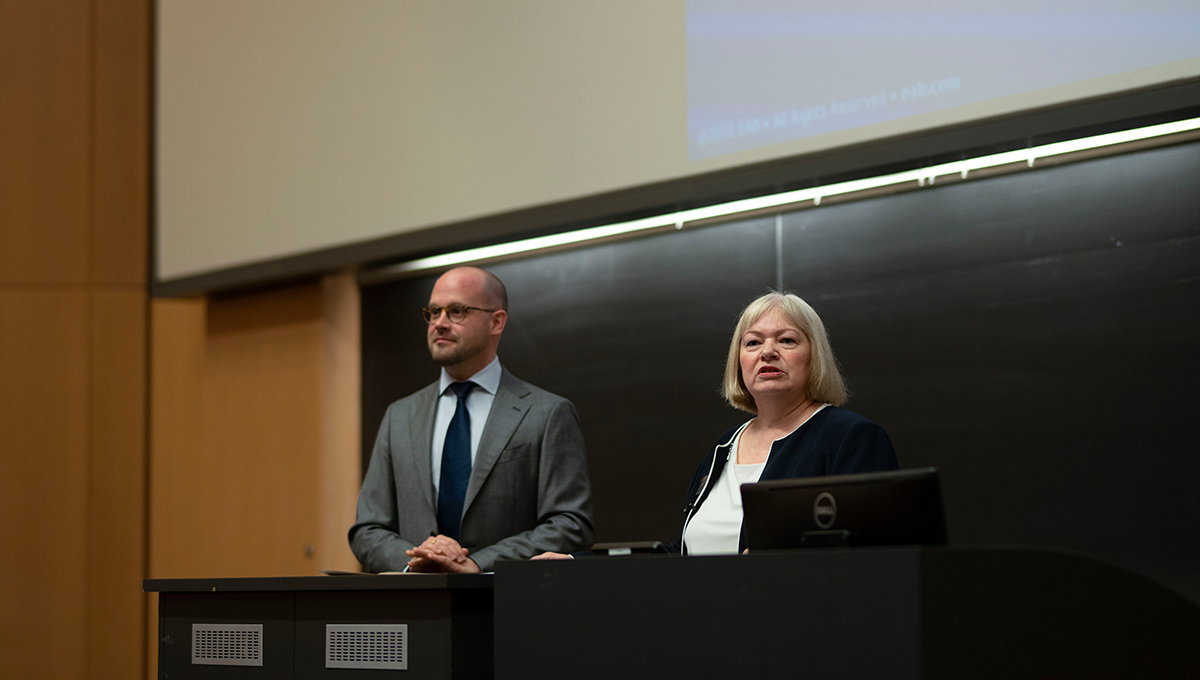 Measuring Experiential Learning Across Carleton
Last September, the Ministry of Training, Colleges and Universities issued guidelines for experiential learning and committed to "ensuring that every student has at least one EL activity by the time they graduate from a publicly funded post-secondary institution."
An initial audit led by Lorraine Dyke, associate vice-president (Academic), showed that 75 per cent of Carleton's programs, along with many elective courses, already include experiential learning in their core requirements.
"Experiential learning is part of Carleton's DNA," said Dyke.
"As an institution, we are a leader in this area and we are working on several initiatives to take our involvement to the next level."
Last year, Carleton's Experiential Learning Steering Committee reviewed what constitutes experiential learning and developed definitions for use across Carleton. Using these definitions, Dyke's office is leading a project to identify each Carleton course that includes an experiential learning component so students can use course calendars to identify where these opportunities exist starting next year. An additional Carleton-specific degree level expectation on experiential learning has been proposed to help map opportunities throughout the academic curriculum.
These initiatives, in addition to the symposium, illustrate the breadth and depth of innovative experiential learning across Carleton faculties and departments.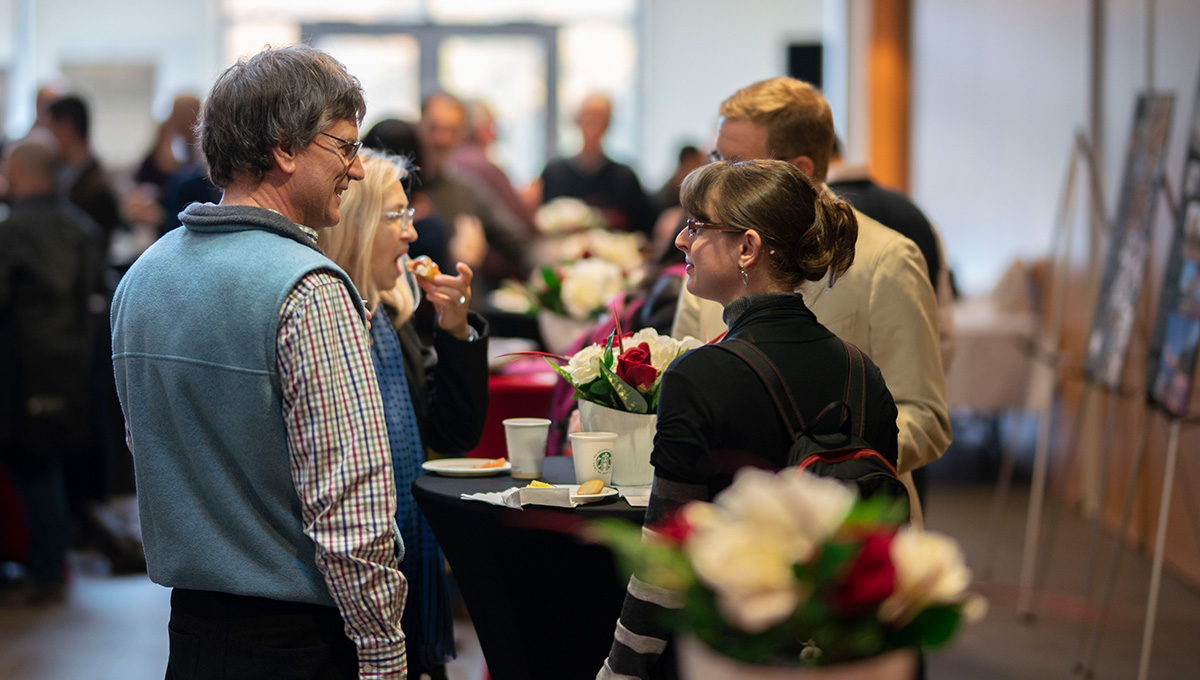 Using Carleton's Buildings to Experience Architecture
Liam O'Brien, an associate professor in Architectural Conservation and Sustainability Engineering, teaches about the building delivery process and did not have to look further than Carleton's new Health Sciences Building for inspiration.
Since 2014, O'Brien has been leading a collaborative effort with external parties, his colleagues and several on-campus departments – including Facilities Management and Planning, Carleton University OnLine and the Educational Development Centre – to gather artifacts from the Health Sciences Building during construction for the benefit of future students.
O'Brien carefully curated a collection of artifacts that includes real building data, blueprints, 3D renderings, time lapse photography and video tours led by specialists, as well as guest lecture recordings by key stakeholders integral to the building process.
He then archived the collection and made it available as an experiential learning resource for his colleagues on CULearn, Carleton's learning management system. The resources help students experience the building delivery process through a practical lens and allows them to better understand how a building's features interact with its surroundings.
"Our former department chair, Paul Van Geel, came up with the idea to give students an inside view of how the building delivery process works," said O'Brien.
"Our vision is that this resource can be integrated widely into courses in the Faculty of Engineering and Design to complement the theoretical components."
O'Brien says that by examining real data about a building they can experience first-hand, students will develop a broader understanding of their future profession and have a greater appreciation for the fact that engineering is interconnected with many other specialties.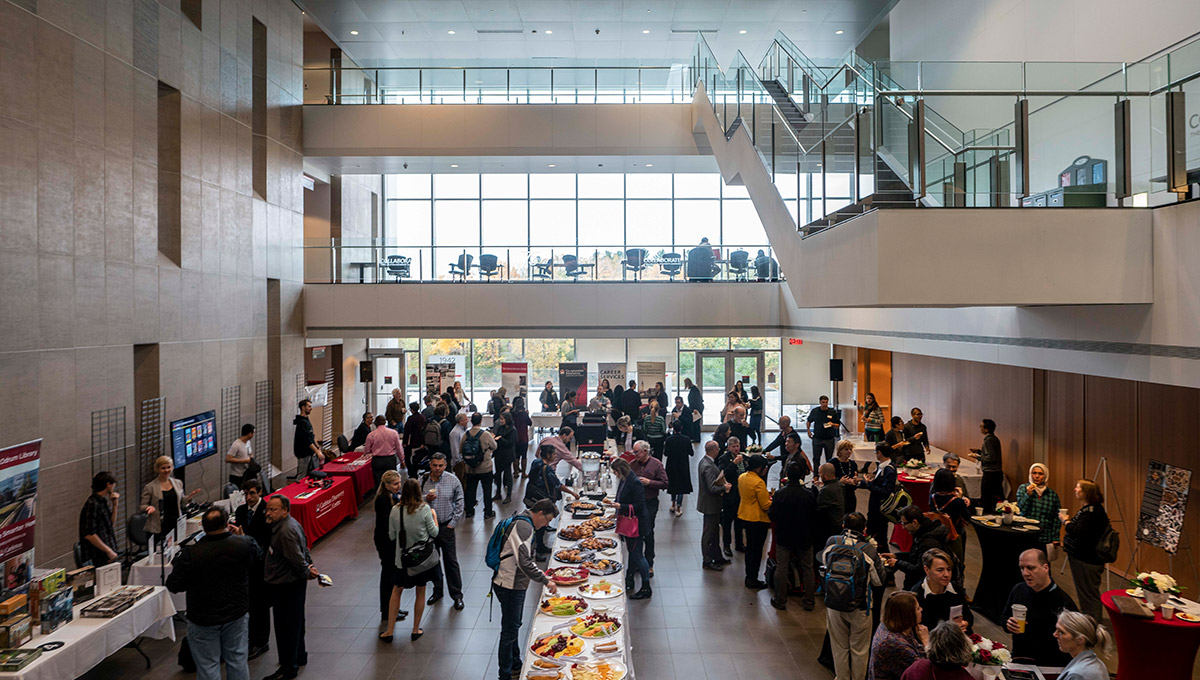 Case Studies Provide Perspective
Martha Mullally, an instructor in Biology and Biochemistry and the Biotechnology program co-ordinator, led a session at the symposium where she revealed that using case studies is the secret sauce to her innovative teaching approach.
Describing her field as inherently multi-disciplinary, Mullally said she is a firm believer that the way students experience course content is much more important than the content itself.
---
---
Using an actual case study about patenting human genes to illustrate her point, Mullally demonstrated how she orchestrates discussion in her second-year biotechnology course.
"I try to create opportunities for students to see how theory connects with practice and using case studies is an excellent way to do that," she said.
Mullally uses complex, topical case studies and gives each group of students information related to a set perspective before asking them to discuss among their groups to gain new perspectives to solidify their position on the issue. She then mixes the groups to require students to discuss and debate with those who have varying viewpoints.
"Students begin with little knowledge of the topic and explore one perspective as if it is the only side of the argument," she said. "The exercise helps students to recognize their peers as a source of information and makes the point that personal opinions matter less in the course than developing skills to gather information and use scientific evidence to build a case for a particular position."
Explaining that an outcome of this approach is that students begin to link theory to real-life situations, Mullally says this form of experiential learning is a way to put science into a bigger context and to help students see the bigger picture.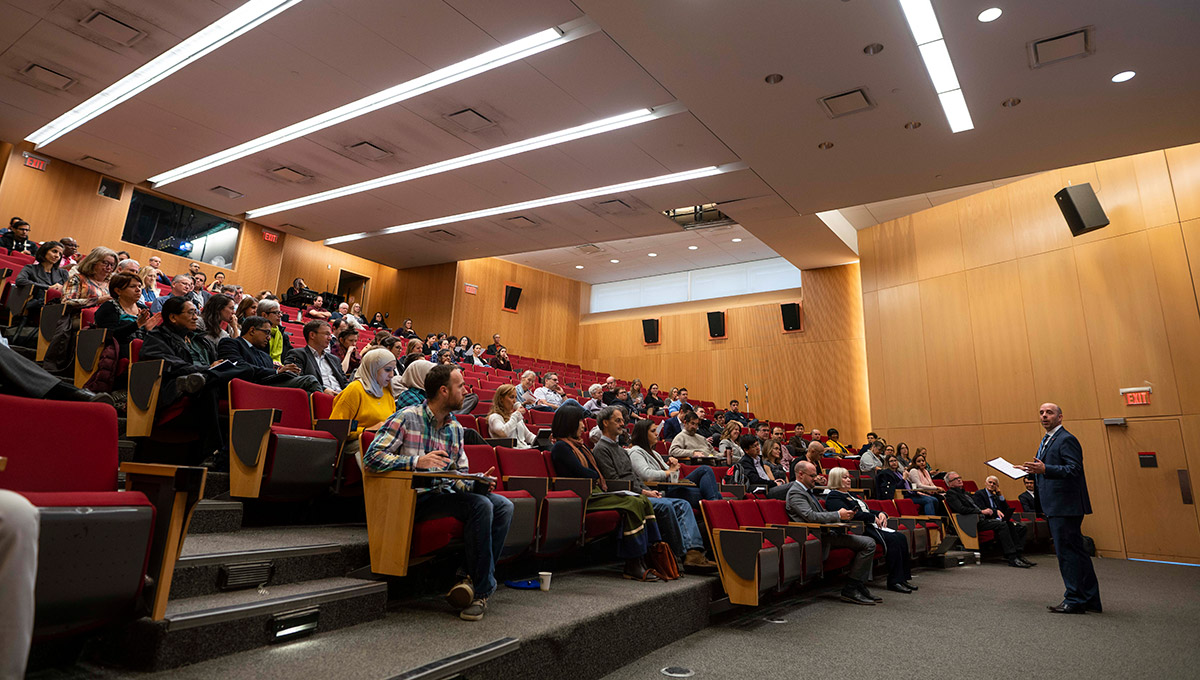 Game-Based Learning Draws in Students
Pamela Walker, a professor in the Department of History, and Martha Attridge Bufton, an interdisciplinary studies librarian in the MacOdrum Library, teamed up in one of the symposium's final sessions to present a unique simulation they manage in a first-year history seminar.
Walker leads game-based learning in "The Long Civil Rights Movement" course by facilitating a Reacting to the Past game throughout the semester with research support from Attridge Bufton.
The Reacting to the Past consortium has developed an intellectually rigorous simulation that gives students an opportunity to assume the role of a historical figure. Students begin with detailed complex readings and fully research their character over several weeks before they act and react in character through class discussions, presentations and papers.
"This type of learning gives students a stake in the game's outcome because they want to win, so suddenly what suffrage women have to say about Marxist theory becomes meaningful and important," said Walker.
"In any career students are likely to enter, being able to understand text and speak and write persuasively are important skills, but if I say it that way to students, it does not have the same influence as when I say: 'In order to win this game, you need to do all these things well and I can help you on your way,' because it suddenly becomes more exciting and engages them emotionally."
Walker says she has found that incorporating game-based learning has strengthened her course to help students more fully grasp the impact of history.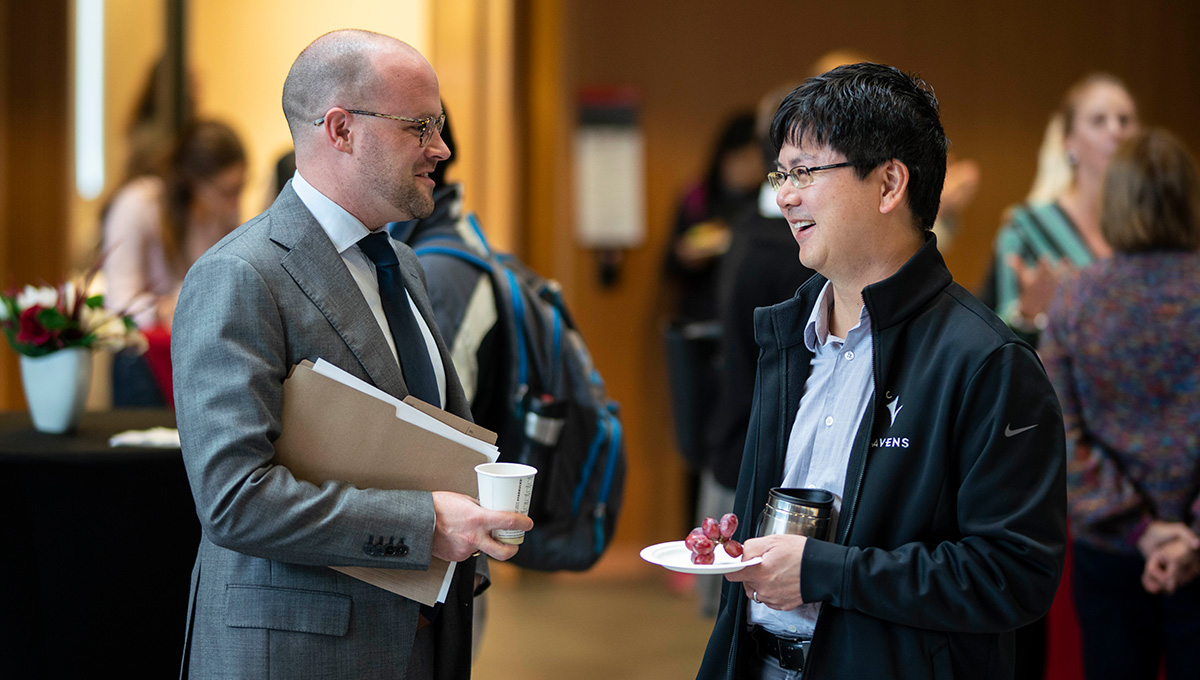 Continued Investment in Experiential Learning
While wrapping up the symposium, Vice-President (Academic) Jerry Tomberlin announced that a new $50,000 fund will provide faculty, instructors and learning support staff with financial support to integrate experiential learning components into academic courses or programs at Carleton.
Proud to announce the establishment of the @Carleton_U Experiential Learning Fund. Carleton is continuing its investment in experiential learning and has set aside $50,000 in financial support to expand opportunities for students: https://t.co/kgF2nJLCt1 @CUnewsroom

— Jerry Tomberlin (@jerrytomberlin) October 23, 2018
"There are clearly a good number of faculty engaging in innovative teaching practices on our campus and many more who want to engage in experiential learning," said Tomberlin.
"We recognize that these types of activities require initial support. That is why I am proud to announce that Carleton is continuing its investment in experiential learning through the establishment of the Carleton University Experiential Learning Fund."
The fund will help to increase the number of experiential learning opportunities available to students and build more awareness of experiential learning activities happening across Carleton.
Tuesday, October 30, 2018 in Experiential Learning, International, Student Experience
Share: Twitter, Facebook