By Lisa Gregoire
Photos by Chris Roussakis
After a week of rallies, music, talks and other events to celebrate Carleton University's past, present and future, it seemed fitting to cap off Throwback 2018 with a nod to the brave visionaries who explore and illuminate our evolving place in society through art.
The Carleton University Art Gallery welcomed about 150 visitors Sept. 17 to celebrate the opening of its fall exhibitions—Alootook Ipellie: Walking Both Sides of an Invisible Border and Here Be Dragons/Attention, dragons!
The Ipellie exhibition—the first-ever retrospective of the Inuk artist's work—includes more than 100 pieces spanning about 30 years of influential drawings, comic illustrations, design work and writings.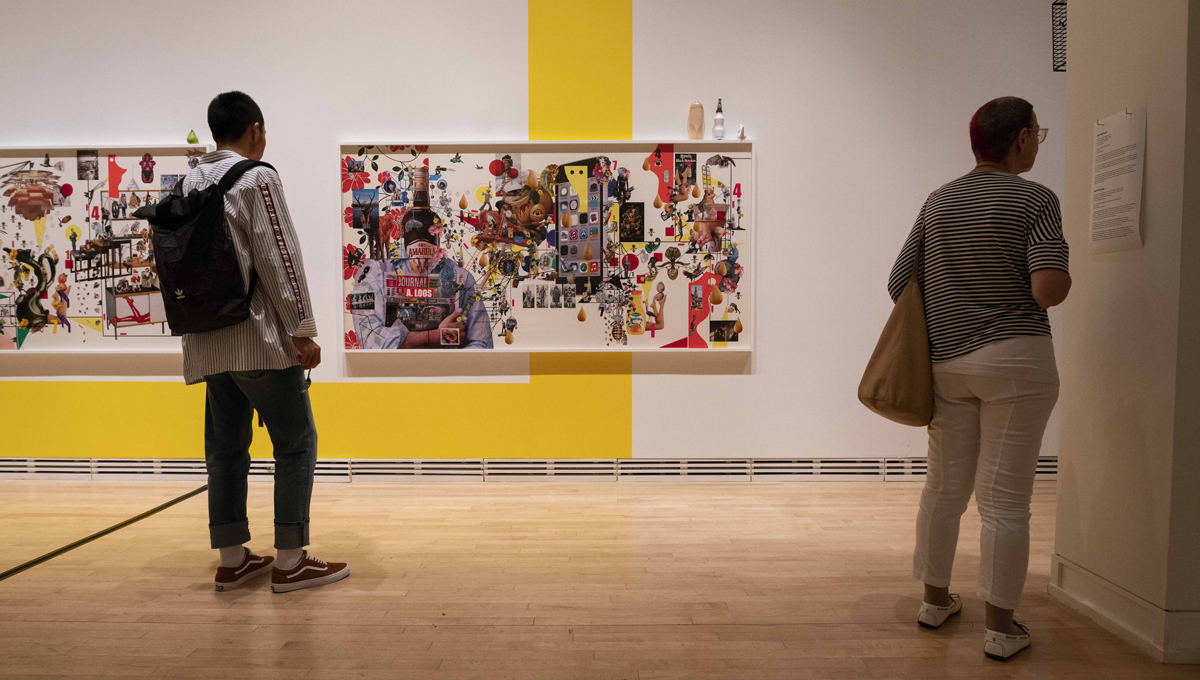 A Wide Breadth of Interpretation
Here Be Dragons showcases the works of seven contemporary artists who, through their symbolic depictions of present and past, engage in a kind of ambiguous social critique that allows the viewer a wide breadth of interpretation.
With a reference to the dragons early cartographers sometimes drew on maps to identify unknown, unexplored places, Here Be Dragons includes provocative collages, sculptures, photographs, paintings and other visual art from Gisele Amantea, Sonny Assu, Rebecca Belmore, Scott Benesiinaabandan, Laurent Craste, Juan Ortiz-Apuy and Sayeh Sarfaraz.
Those works occupy the first floor of the gallery. The upper floor is devoted entirely to the works of Alootook Ipellie, who was born on Baffin Island, raised in Iqaluit and lived most of his adult life in Ottawa before passing away in 2007.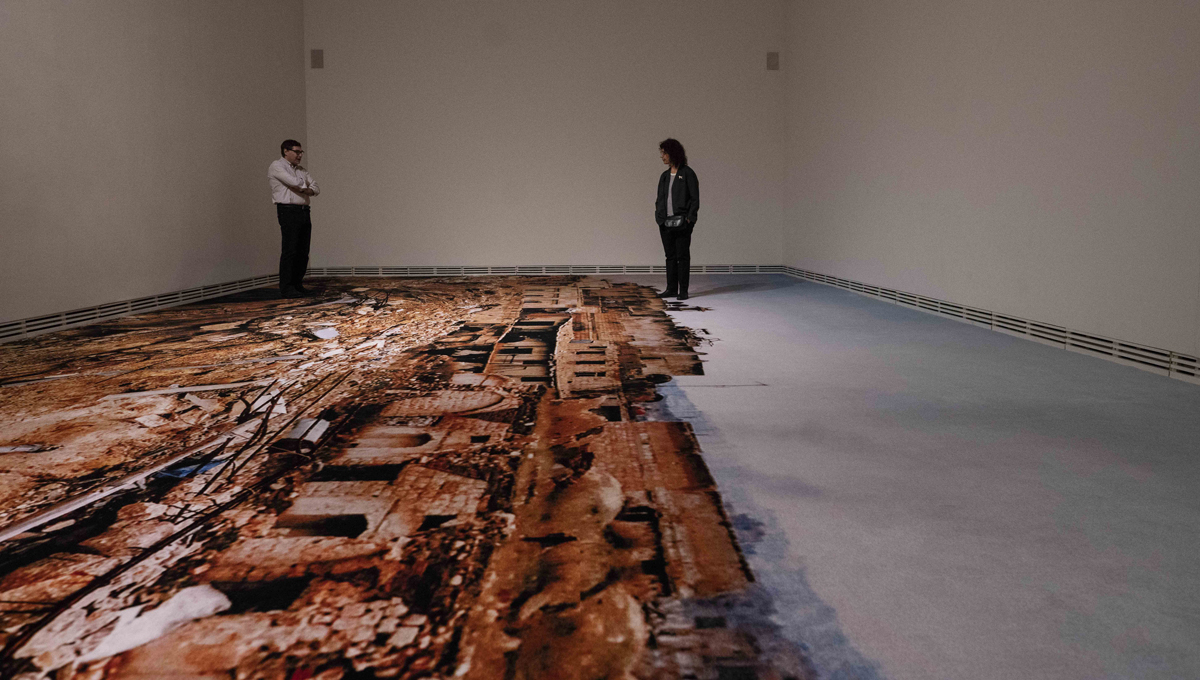 Despite decades of artistic expression and social commentary around such issues as land claims, resource extraction, sexuality, violence, the impacts of colonialism and the evolution of Inuit society, Ipellie did not have a dealer and was never considered part of the recognized "Inuit art world" of master carvers and printmakers.
As a result, said Natan Obed, leader of Canada's national Inuit body, Ipellie was undervalued, especially regarding his prolific contributions to Inuit Today and Inuktitut magazines in the 1970s, a time when Arctic communities were undergoing dramatic social and cultural transformations.
"Whether it was a dystopian future brought about by the changes in colonialism, or whether it was the small joys and the laughter that bring us together… he brought all that to us in a way that no other artist did during that period, and very few have ever since," Obed, president of Inuit Tapiriit Kanatami, told the exhibition launch party.
"His work will open the minds of whoever views this particular exhibition and also his legacy will grow," said Obed, as will "the respect that we all can have about Inuit, Inuit art and the future we can have as a society."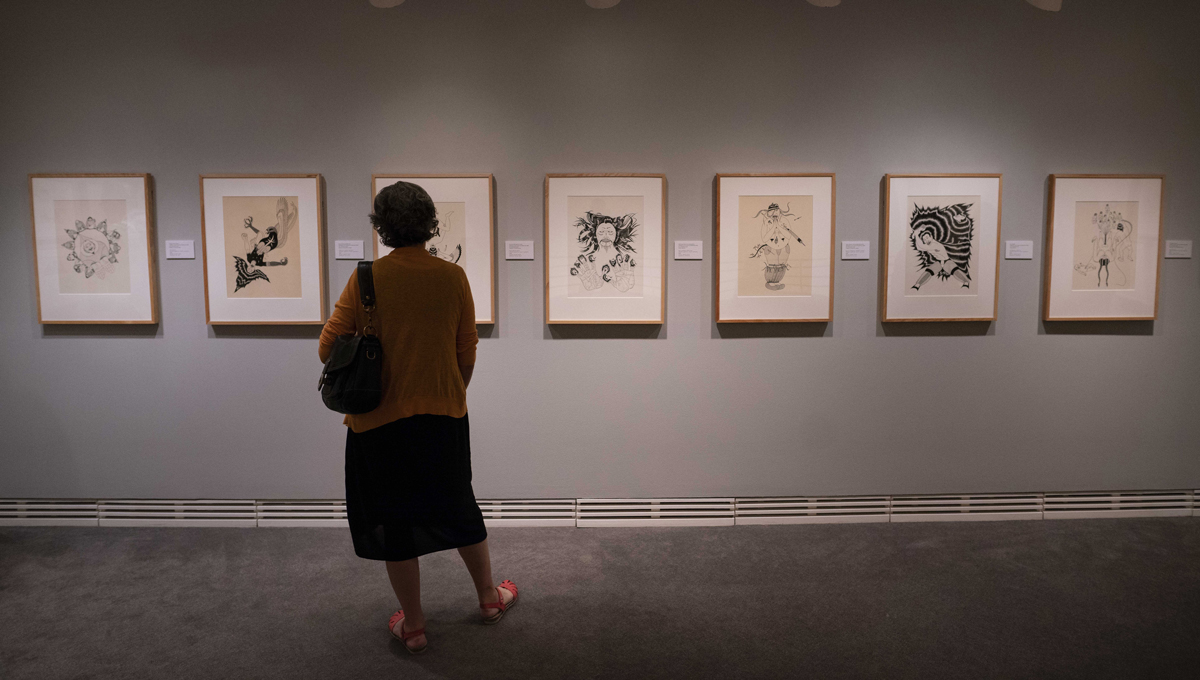 Collection of Indigenous Art a Rare Privilege
Carleton President Benoit-Antoine Bacon, also attended the launch, remarking that it was a rare privilege to have on campus one of the largest university galleries in Canada, and one that has such an extensive permanent collection of Indigenous art, especially Inuit art.
"CUAG is a vital presence on our campus, connecting art, ideas and communities," Bacon said. "It brings people together to explore and activate the ideas shaping contemporary society."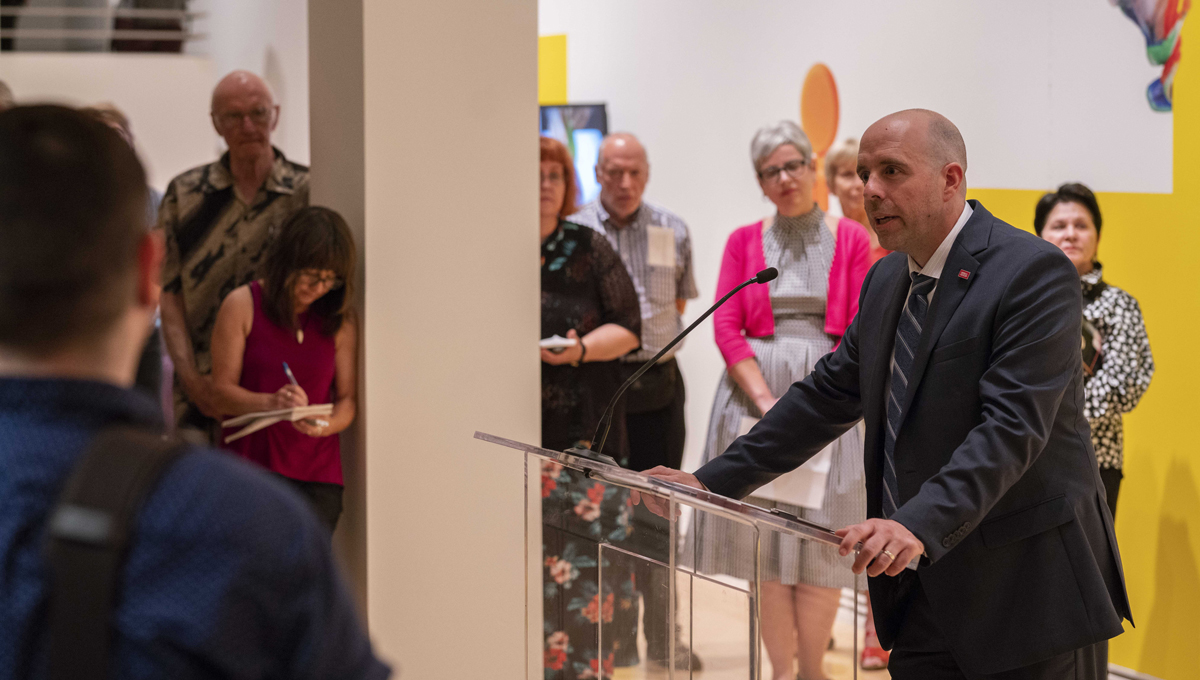 He added that art offers us "different ways of looking at the world," that "focuses our attention."
As someone with a specialty in visual neuroscience, Bacon said he understands the importance of focus in our modern world.
"It brings about awareness, openness to different ideas and viewpoints. It helps us to consider the world with fresh eyes. And life is short. We must always consider the world with fresh eyes."
From the opening prayer, offered by Algonquin First Nation traditional knowledge keeper, Claudette Commanda, to closing remarks and thank-yous to Ipellie co-curators Heather Igloliorte and Christine Lalonde from CUAG Director Sandra Dyck, the Monday launch party simmered with enthusiasm and sparked dozens of conversations around the room long after the speeches were over.
Both CUAG exhibitions run until Dec. 9.
Wednesday, September 19, 2018 in Art Gallery, Indigenous
Share: Twitter, Facebook