Before the Carleton Ravens football team returned to the field in 2013 after a 15-year absence, Head Coach Steve Sumarah made a bold prediction. Within four seasons, he said, the Ravens would host a playoff game and make it to the provincial semi-finals.
Last fall, the Ravens accomplished both goals, beating their crosstown rivals from the University of Ottawa in a quarter-final match at home before being eliminated from the Ontario playoffs by the Western Mustangs.
This success, after losing all eight games in their inaugural season, is a testament not only to the hard work of the players and coaches, but to efforts of the entire community — from alumni, students and staff to the city at large — that has played a role in the team's revival.
"Many people have contributed to the steady progress we've made," says Sumarah, who has a black and white photograph of the first Ravens football team from 1945 on his office wall. "You have to set lofty goals if you want to achieve lofty goals. Now the expectation is that we'll go farther, and there's a lot of work to be done.
"You always want to win, which takes time when you're rebuilding a program from scratch. But we wouldn't have been able to do so well so quickly if we didn't create an environment where what happens on the field, in the classroom and in the community all fit together."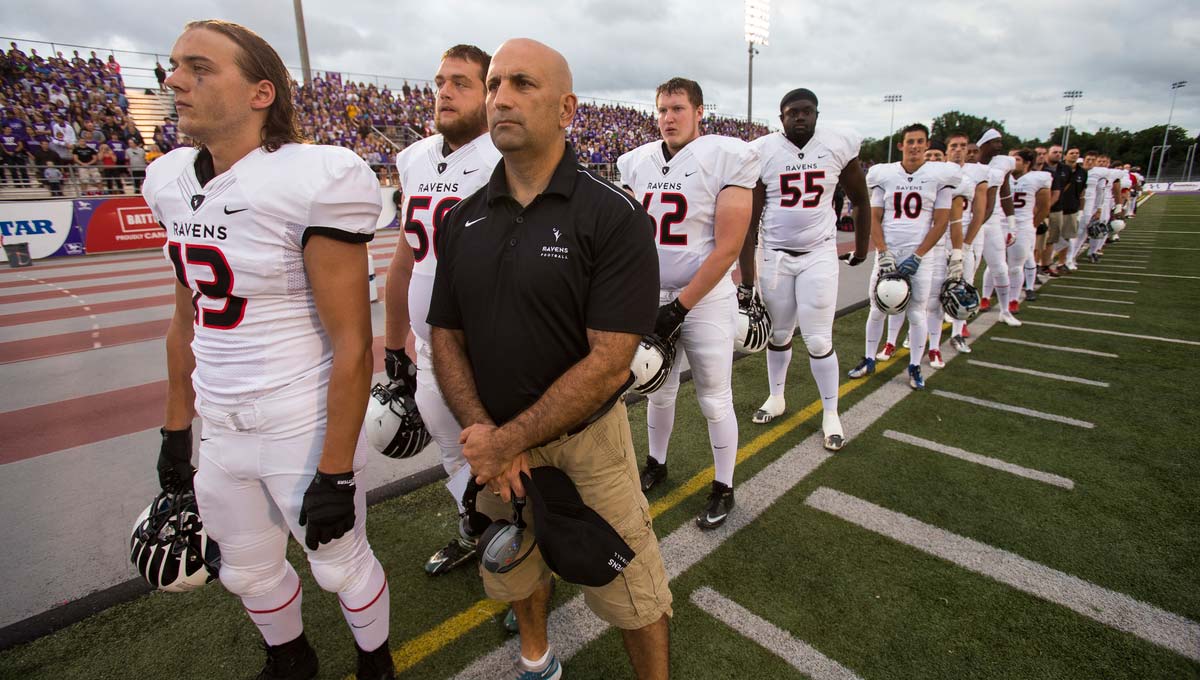 Launching the Carleton Ravens Football Comeback
This multi-pronged approach was instrumental to the return of football at Carleton, which was sparked by former Ravens linebacker John Ruddy's decision in 2008 to start talking to the university about support for a team.
That conversation led to the creation of Old Crows Football Inc., a self-sustaining partnership between the university and a spectrum of football supporters based on a successful model developed at l'Université Laval.
With enthusiastic fundraising efforts from the Old Crow Society of football alumni and a $2.5- million contribution from Ruddy, the president of Ottawa's Trinity Development Group and a partner in Redblacks-owning Ottawa Sports and Entertainment, Carleton could begin to tackle all of the off-field elements that underpin a team.
"We needed a facility development plan, a financial model and a governance structure," says Jennifer Brenning, who became the university's Director of Recreation and Athletics in 2007. "It took an enormous process to get the team launched. But right from the get-go, it brought together and really engaged a lot of people."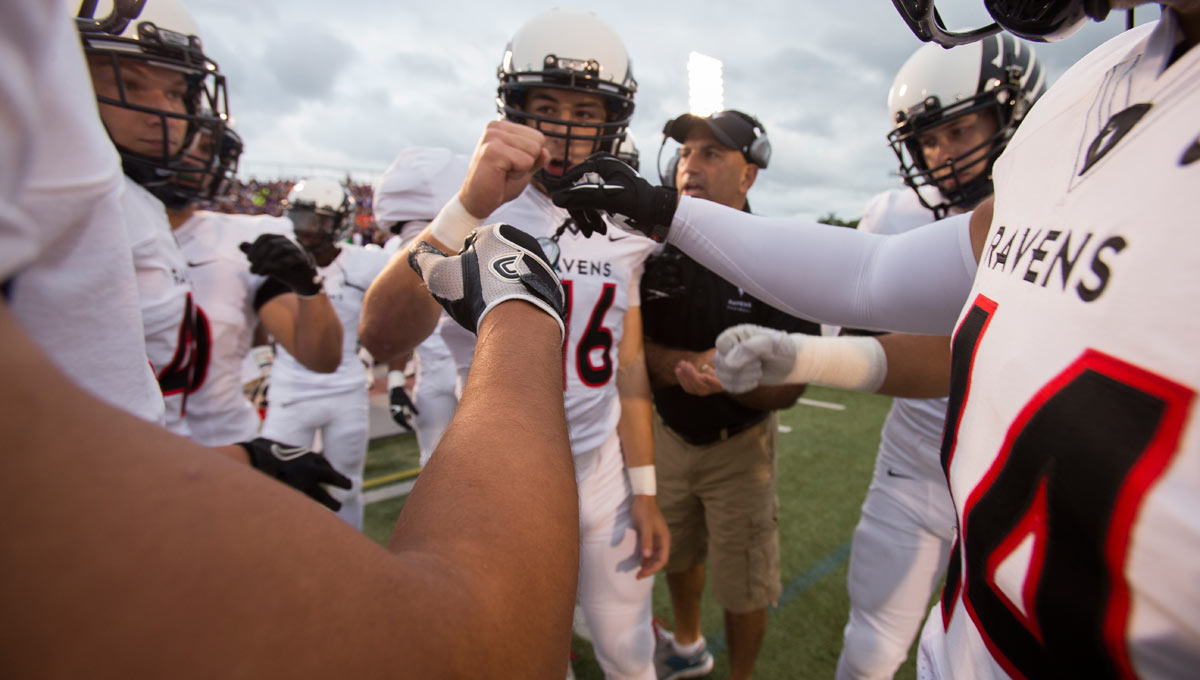 Widespread Support
This group included Carleton's senior leaders, including President Roseann O'Reilly Runte, who presided over the resurrection of the football program at Old Dominion University in Norfolk, Va., when its team resumed play in 2009 after a 53-year hiatus. It also included thousands of Carleton students, more than 80 percent of whom expressed their support for a Carleton Ravens team in a survey.
"A lot of stars aligned for us," says Kevin McKerrow, president of the Old Crow Society, a vice-president of Old Crows Football Inc. and a Ravens offensive guard in the mid-1980s.
"A football program can be a major contributor to school spirit and a very positive on-campus student experience. A program like ours, built on the right fundamental values, helps create new leaders and good citizens."
"The whole atmosphere around the return of the team has been remarkable from the start, when we sold out our first home game," says Brenning, who, as a former University of Ottawa student and staff member, went to many Panda games and knew about the Carleton Ravens football tradition. "It has given us great exposure and an opportunity to showcase our pride."
The football team has become a focus of the university's homecoming celebration, Throwback, each fall, and it attracted the support required to upgrade the stadium shared with the soccer and rugby teams – MNP Park. During Carleton's 75th anniversary year in 2017, it also represents another tie to tradition.
"People had a vision," says Sumarah, "and now it feels like we have an established program that's going to continue for a long time."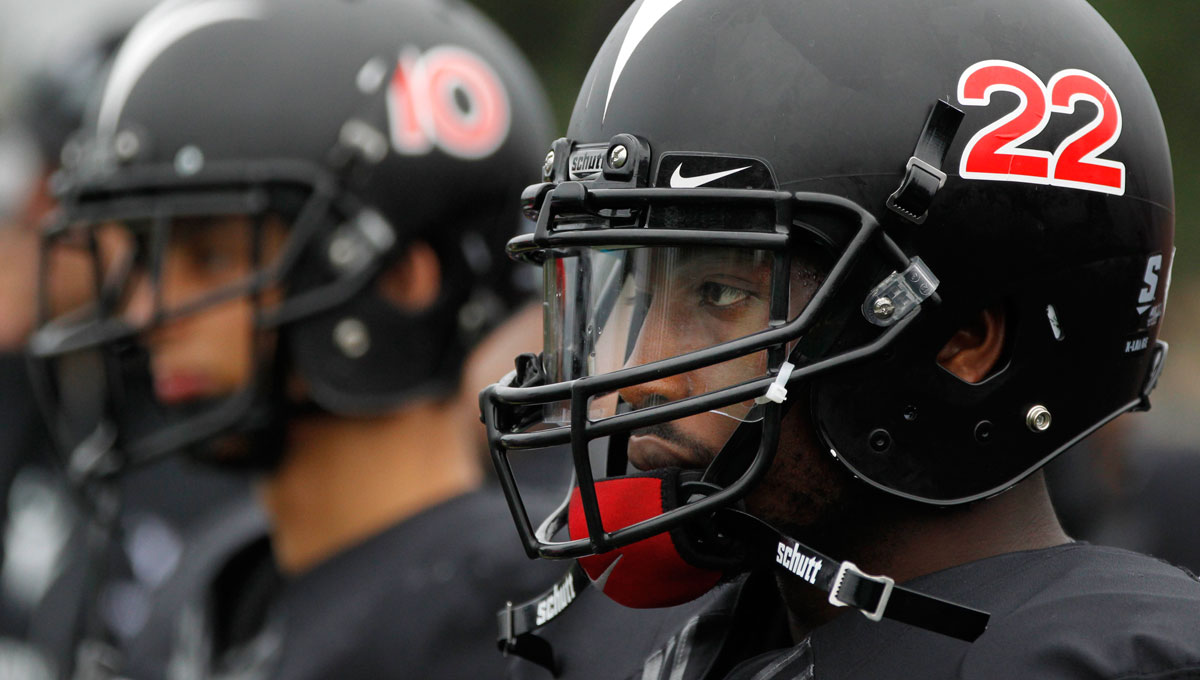 An Established Program
Pat Stoqua, a Ravens star in the late 1970s who went on to play professionally for the Ottawa Rough Riders, joined the rebooted football program in January 2016 as the Senior Development Officer for football in the Department of University Advancement.
His job, which entails reaching out to alumni, corporate sponsors and philanthropists, is about more than fundraising. It revolves around making connections between Carleton and all potential partners — and, as Stoqua says, "our best resource is the players themselves."
From participating in blood donor clinics, building homes with Habitat for Humanity and volunteering at homeless shelters to helping out at Big Brothers Big Sisters, providing free workshops for elementary school students across the region and working with more than 500 kids every year at Junior Ravens football camps, they know that performing on the field is only one of their responsibilities. Moreover, as Sumarah points out, they're "student athletes"— and the word "student" is first in this term for a reason.
"The most important thing for a football player to think about," says Sumarah, "is that you're participating in something bigger than yourself. You're representing this university and all those who have come before."
In turn, higher-year Carleton Ravens are supported by mentoring from Old Crows, who meet regularly with players to share personal and professional advice, with the hope that the current roster of Ravens will give back when their days on the gridiron are finished.
All-star offensive tackle Kwabena Asare, who is set to graduate in April with a degree in communications, choose Carleton over an established football program. The team's locker room was still under construction when he arrived, and the first couple of seasons were a challenge, but the six-foot-eight offensive lineman has made the most of his experience here.
"Being able to start our own thing and grow together as a group, there were no limits to what we could do," says Asare, who is from Brampton, Ont. "We knew the first season would be tough, but we stuck to our systems and things just kept getting better, and we saw that all of our hard work was paying off."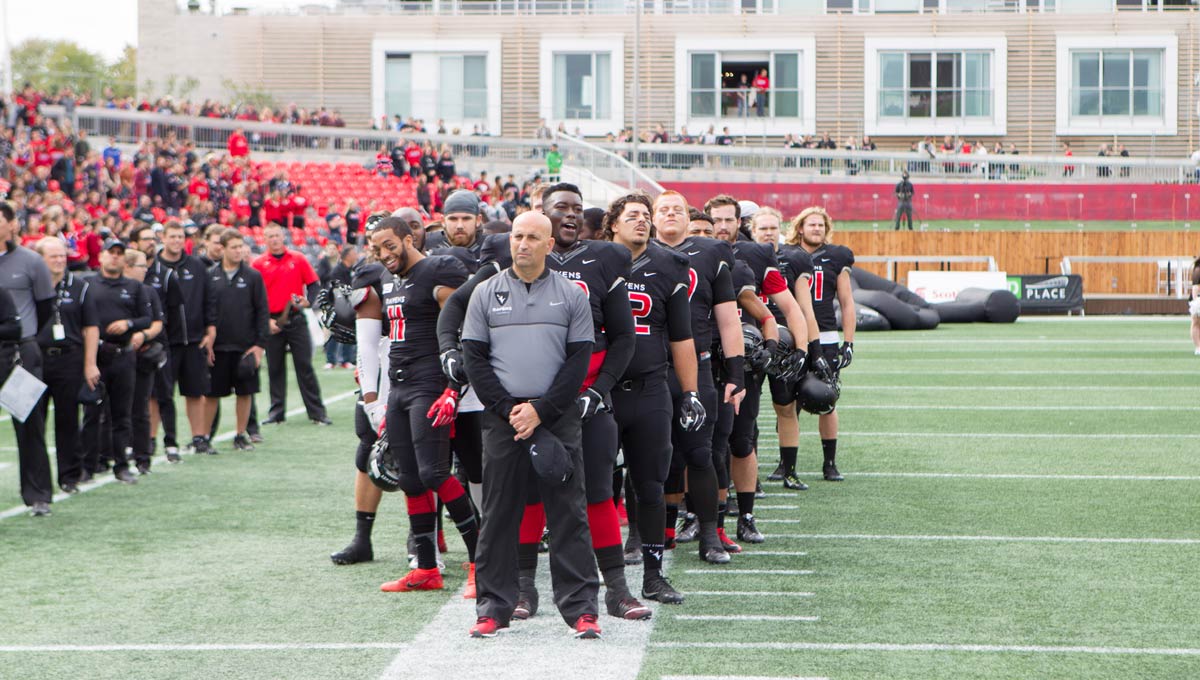 National Recruitment
Coach Sumarah and his staff have been busy since the 2016 season ended, criss-crossing the country on recruiting trips. Their challenge has shifted over the past few years, from puzzling together a roster of young players who would get major minutes on the field to convincing high school seniors to come to Carleton and compete for playing time on a talented squad.
The Ravens have lost some key players to graduation this off-season, including all-star quarterback Jesse Mills. All-star wide receiver Nate Behar is twelfth in the Canadian Football League's draft rankings and will likely be playing professional football next season — which would make him Carleton's first CFL draftee since 1995.
"He took a chance and came here when we had just started," Sumarah says of Behar, "and he's left a legacy in this program."
"I want to see him have a long and successful professional career. As much as we'll miss him, every time he gets on TV, it'll say something about Carleton."
Asare is also hoping to get drafted by a CFL team, ideally the Redblacks — he's been working on the grounds crew at TD Place during home games and would like an opportunity to play on the field that he's been grooming.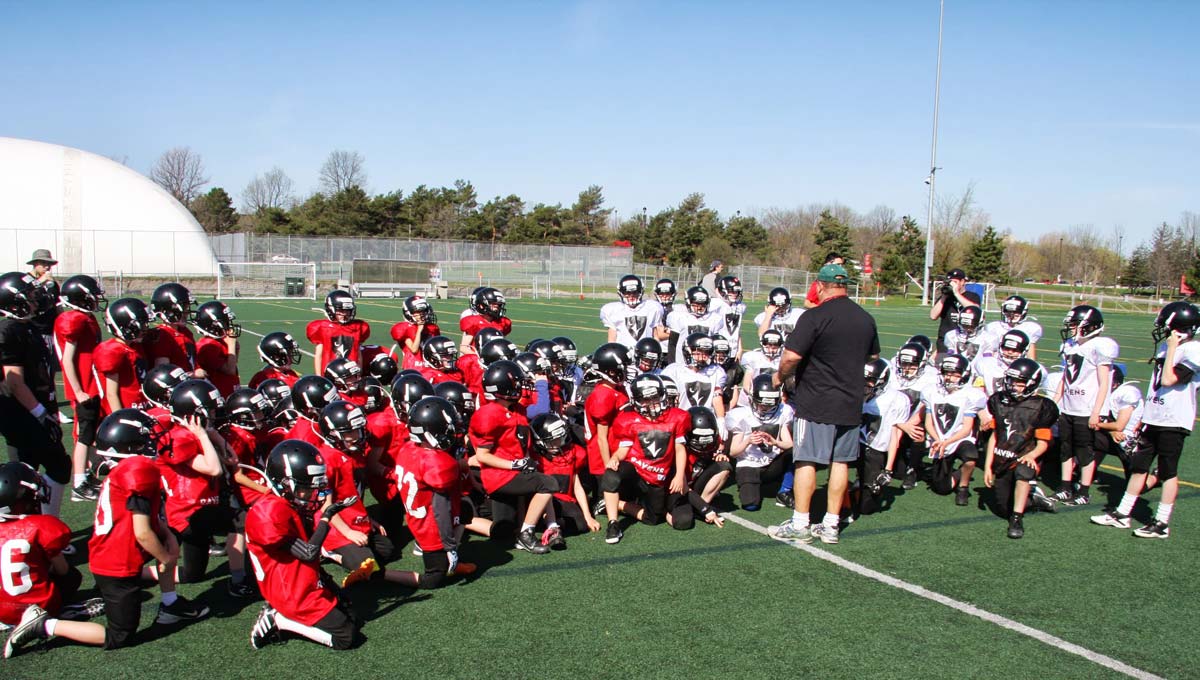 Excitement is Back
"I want to stay in Ottawa," says Asare. "When I first came to the city, there wasn't much interest in football. Now the excitement is back. But wherever I end up, I want to stay involved with the Ravens, because this is the team that allowed me to become who I am."
Like Asare and Behar, who is from London, Ont., the majority of the 70 or so Carleton Ravens football players are from Ontario — about a third of them from the Ottawa area. But Sumarah and the other coaches are travelling across the entire country looking for new recruits.
"Football is a complex sport," Sumarah says. "There are 12 guys on the field — a 12-man offensive unit, a 12-man defensive unit, special teams, you need big guys and fast guys. There are so many different elements to consider when you're recruiting. You can't just go out and get one superstar and expect to win."
Yet Sumarah does expect to win, and his projections for next season go beyond this year's success.
Inspired in part by the success of the Redbacks, who won the Grey Cup in just their third season and are part of the football renaissance in Ottawa along with the Ravens, his eyes are on the national title.
"I truly believe the goal has to be to win the Vanier Cup," says Sumarah, noting that Carleton's football team, despite its long history, has never captured the Canadian championship and is now entering uncharted territory. "I don't want to say it's going to happen next season, but I think we can compete for it and get to the dance, and I'm excited about seeing what happens next."