By Adam Landry
Photos by Fangliang Xu
Cramped cabins and perpetually shrinking legroom have become all too relatable experiences on today's airplanes for those of us travelling in economy class.
While we all may be feeling the pinch, recent industrial design graduate Rob Shudra (BID/18) has learned that, more often than not, it's seniors who have been left up in the air when it comes to modern-day commercial flights.
"Flying can be a stressful experience for any traveller, but older adults in particular often face a variety of added psychological and physiological challenges that complicate their ability to travel," he says.
During his final year at Carleton, Shudra chose to focus his fourth year design project on making air travel more accessible for seniors, leading to the development of ELEVATE, a specialized economy class active seating system that aims to reduce the risk of deep vein thrombosis (DVT) during flight.
With space coming at a premium on today's planes, older passengers in particular are now facing an increased risk of developing DVT, a potentially life-threatening condition in which prolonged periods of sitting results in improper blood circulation and leads to the formation of a blood clot in the lower leg or thigh. While DVT can cause significant pain and swelling, it can also lead to serious health complications such as a pulmonary embolism in cases where the blockage breaks loose and travels to the lung.
As airlines continue to look for new ways to cut costs and remain competitive, legroom in economy class has plummeted for both long and short-haul flights. Multiple studies have shown seat pitch (used to describe the distance from any given point on a seat to the corresponding point of the seat in front of it) has dropped from an average of 34 to 35 inches in the early 2000s to only 30 to 31 inches today. Select low-fare carriers now provide as little as 28 inches of space between rows and the average width of seats has also narrowed from about 18.5 inches to 17 inches over the past two decades.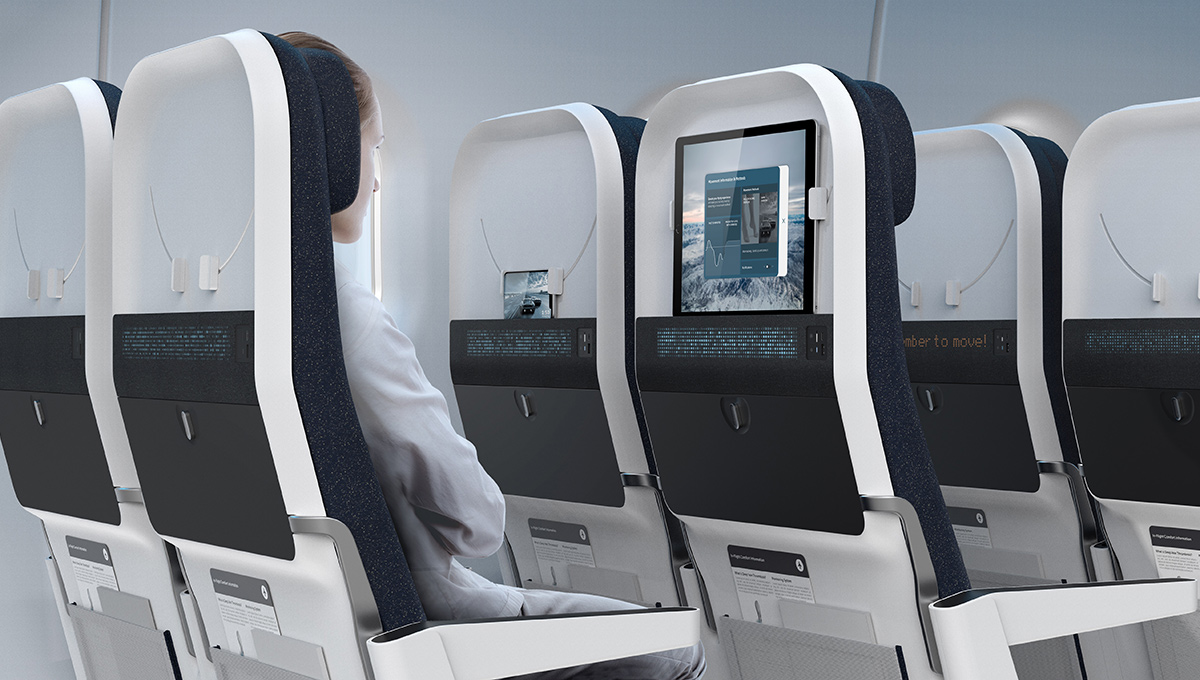 DVT Can Be a Risk on Four-Hour Flights
While the onset of DVT is more prevalent during long-haul flights, the World Health Organization warns that passengers travelling in confined spaces can be at risk after as little as four hours. With the percentage of travellers over the age of 60 expected to rise in line with aging populations worldwide, Shudra understands how the needs of seniors must be better addressed moving forward.
"In many ways the airline industry has gone so far in the direction of efficiency that it's resulted in many populations with more specific needs being overlooked," he says.
"This project not only aims to help seniors who are affected by DVT, but also has the potential to make flying a more enjoyable and healthier experience for all travellers."
Developed as part of a broader group of nine aerospace-focused design projects overseen by professors Chantal Trudel and Lois Frankel, ELEVATE aims to reduce the risk of DVT by tracking user motion, informing them about long periods of inactivity and suggesting exercises ranging from simple stretches to interactive games controlled by a person's leg movements.
Early on in the development cycle, Shudra and his fellow students visited the New Edinburgh Square location of Chartwell Retirement Residences in order to engage with the target demographic for their projects. In hosting focus group discussions at the facility, residents were asked to identify their likes and dislikes regarding various aspects of air travel.
"The results from these focus groups were incredibly revealing," says Shudra.
"It was only by sitting down and talking with residents that the severity and prominence of DVT became apparent. Without this initial outreach, I never would have come to that realization."
Following the consultation process, Trudel helped provide Shudra and his colleagues with access to the National Research Council of Canada (NRC)'s Aerospace Flight Lab while developing prototypes of their designs. Located right beside Ottawa's Macdonald–Cartier International Airport, the facility enabled students to benefit from key support and testing resources, along with a behind-the-scenes look at the industry.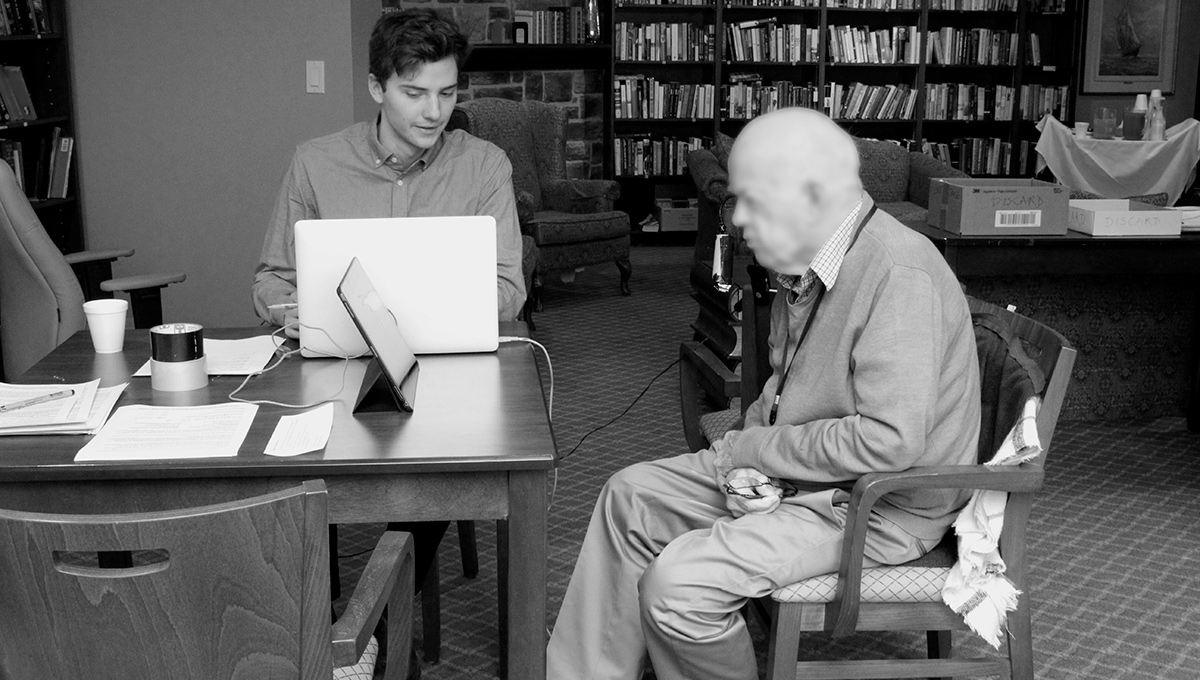 Understanding How Design Works with Users
"Being able to test my design within the NRC's simulation cabin allowed me to get a better sense of how it would realistically interact with users, as well as how that interaction might ultimately affect other passengers in the vicinity," says Shudra.
After constructing prototypes of their designs, Shudra and his classmates returned to Chartwell a second time in order to gather further feedback from prospective users.
"Our follow-up visit to Chartwell was an eye-opening experience that led to some very important refinements in my design," he notes.
"I had originally dedicated a considerable amount of time developing on-screen feedback that would be effective without being overly intrusive, but testing revealed that the residents preferred pop-up alerts over subtle notifications due to their directness."
In learning to engage with older users about their unique needs, Trudel hopes her students can help reduce the prevalence of ageism in design, an issue where seniors are excluded from the development process because they are not viewed as a key demographic.
"When we work with real people, we can break out of our own assumptions and paradigms of how things should be done," she says. "Including everyone in the conversation is a form of advocacy that supports a much-needed movement towards responsible innovation."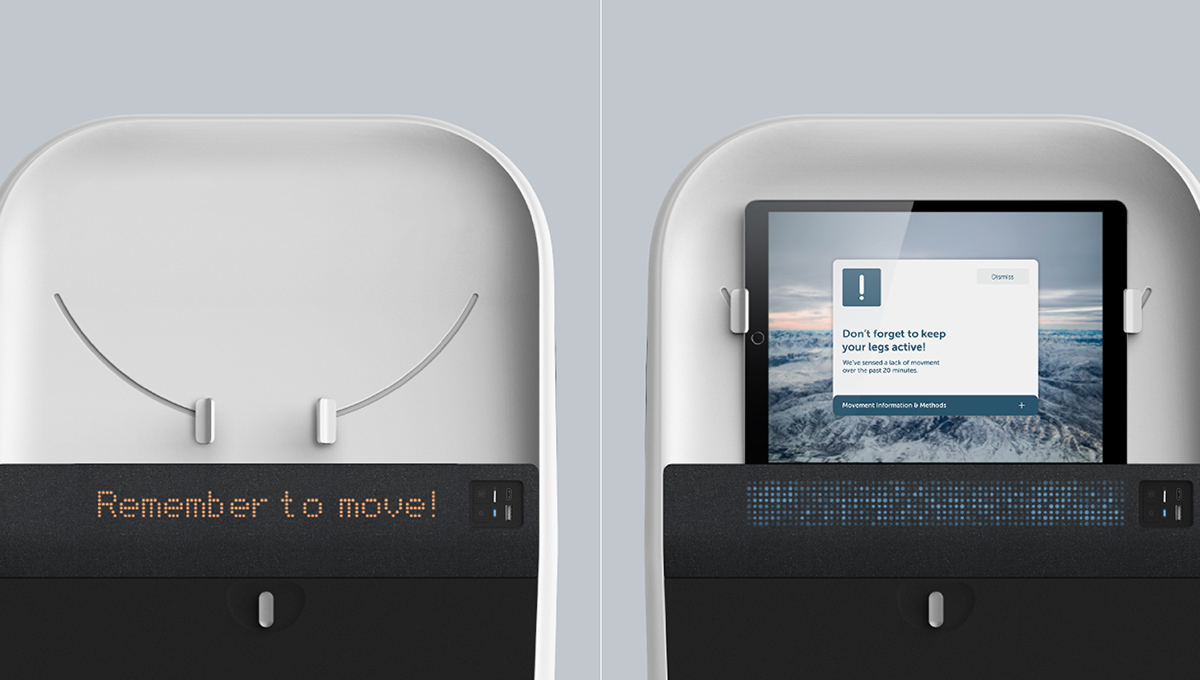 Travel Inclusivity: Seniors Can Contribute a Lot to Design
Sudra echoes his supervisor's remarks on inclusive design, emphasizing how a lack of consultation with end users can make it is easy to lose sight of the big picture.
"Very early on we grounded our work in consulting with the end users, which meant that we were able to identify real problems faced by real people," he says.
"I think design is often seen to take place as a single `ah-ha!' moment, but in reality, meaningful design takes a significant amount of research and collaboration to reach every small breakthrough, which then often presents its own new set of challenges."
With Trudel's newest group of fourth-year students now exploring design solutions relating to cognitive issues such as dementia, she hopes to continue collaborating with Chartwell – an opportunity Leann Halpenny, health and wellness manager at the New Edinburgh Square facility, believes residents would welcome.
"Seniors have so much to contribute to these kinds of projects because they've quite simply experienced so much more than anyone else," says Halpenny. "Their wealth of insights, knowledge and opinions can be an extremely a valuable resource in designing new technologies and it just makes sense for them to be consulted as part of the development process."
This past August, Shudra's ELEVATE rose to international acclaim, winning gold in the student design category at the Industrial Design Society of America (IDSA)'s International Design Excellence Awards.
"It was an incredible honour to have the IDSA recognize the value of my project," he says.
"It was an absolutely amazing experience to travel to Chicago and accept the award – there was a lot of design power in the room and it was very cool to rub elbows with them."
While currently there are no plans on the horizon for a wide-scale deployment of ELEVATE on commercial aircraft, Shudra hopes the project can help demonstrate the possibilities of what can be done to push the boundaries of the economy class and inspire big players in the industry to do the same.
Friday, December 20, 2019 in Faculty of Engineering and Design, Graduate Students, Research
Share: Twitter, Facebook