By Dan Rubinstein
Photos by Mike Pinder
People need buildings to live, work and play in, but educating the next generation of students is also an essential part of community building.
This belief is what inspired the family behind one of Ottawa's leading residential developers to focus their philanthropic attention on Carleton, donating $3 million to an endowment fund used to support scholarships and other special projects at the university.
In recognition of the Singhal family's generosity, and in tribute to their successful Richcraft Group of Companies, Carleton's River Building will be renamed Richcraft Hall, and the 400-seat theatre on the second floor of the building will become the Singhal Family Theatre.
"Throughout our anniversary year and beyond, Richcraft Hall and the Singhal Family Theatre will be campus gathering places, a hub of community engagement and a symbol of the vision we share with our partners," Chris Carruthers, chair of Carleton's Board of Governors, told an announcement ceremony in the Richcraft Hall atrium on Nov. 1, 2016.
"For more than 30 years, Richcraft Homes has had a vision for creating a stronger, more vibrant city. Through development and community investment, Richcraft has worked to make Ottawa a better place to live, work, and play.
"Now they are making a further investment — their first gift to university education, and one that will make our city a better place in which to learn."
The donation, Carruthers added, "will be used to make university more accessible for young people and support the cause of higher education in service of the public good of our community."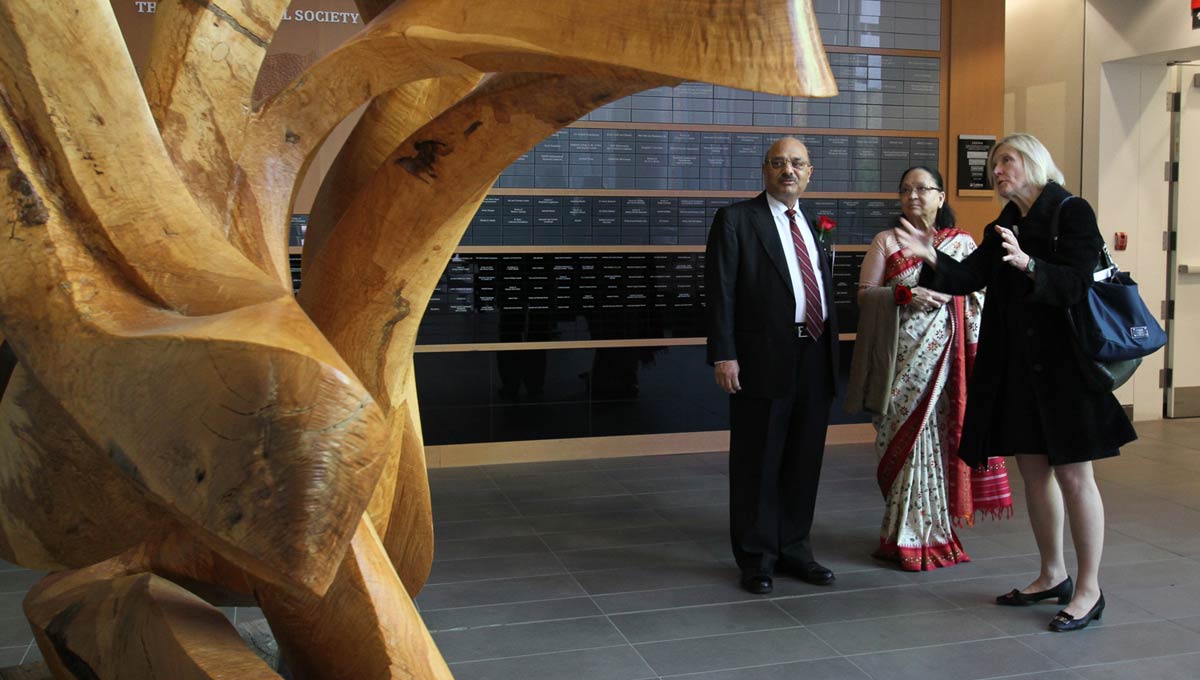 Long history of philanthropy
The Singhal family has a long history of supporting health, recreation, arts and environmental projects. They have worked with Habitat for Humanity and the Ottawa Hospital, and the city's main east-end arena complex bears their company's name, among many other examples. This $3-million donation the single largest in their extensive philanthropic history.
"We are grateful to the Singhals for this generous gift and for their extensive role as community builders," said Carleton President Roseann O'Reilly Runte. "A gift to Carleton is ultimately a gift through Carleton towards a greater good, and this act of generosity furthers our ability to make our community a better place."
Carleton Business Prof. Vinod Kumar, a family friend, said the Singhals wanted to get involved with Carleton not only because of their interest in education, but also because of the university's approach to fostering relationships with India, including the role played by the Canada-India Centre of Excellence, which helps to build trade partnerships, as well as scientific and cultural links between India and Canada.
When Kris and Manju Singhal came to Canada from India in 1974, said Prof. Kumar, they arrived with "four suitcases and little money in an unknown land."
Their journey over the past four decades has featured "many unexpected lows and unimaginable highs," he said. "Their hard work, instinct and faith made their destiny."
After working at Nortel and with Supply and Services (Canada), Kris Singhal launched his first company in 1983.
Manju Singhal has remained "the soul of the Richcraft Group of Companies" as the business grew and thrived, said Prof. Kumar. One of her roles is to identify philanthropic opportunities, and "during the last few years, their significant contributions have supported many significant aspects of civic life and community.
"Today, they have turned their focus to university education, and we are better for it. They have the best of our city in mind at all times."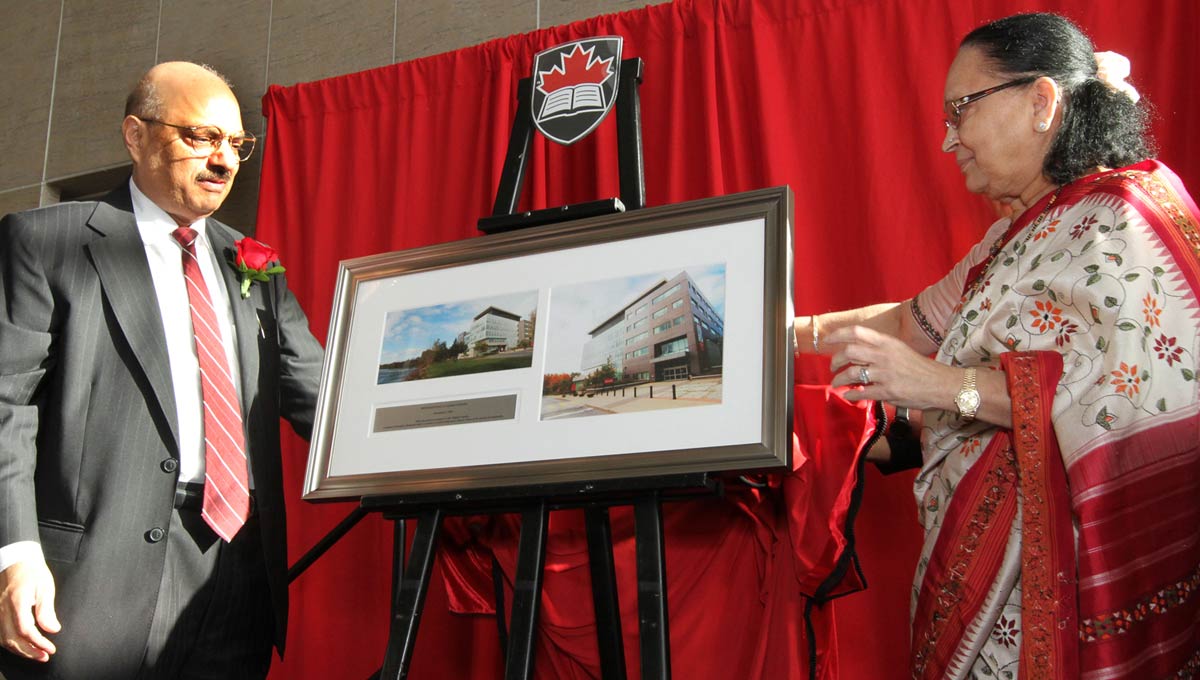 Investing in Education
The couple's daughters, Monica and Angela, now work with the company, tapping into their university experience in marketing and business respectively to help take the organization to the next level.
"Richcraft is one of Ottawa's most prominent real estate companies, and Carleton is a pillar of this city," said Monica Singhal. "Building a great city is our passion, we could not be more excited to give people opportunity through education and this partnership."
"Our parents raised us to appreciate the value of education," added Angela Singhal. "It enriches the mind and feeds the soul. Richcraft Hall is an iconic building on the Carleton campus, and it caught our parents' eyes because of the Gandhi statue outside."
The Singhal family's "community spirit" has helped to make Ottawa a stronger and more vibrant community, noted Nepean MP Chandra Arya. "They are a wonderful example of what can be done with a dream and dedication."
"In my career, I've worked with many entrepreneurs and developers," said Ottawa City Councillor Marianne Wilkinson, who represents Ward 4 Kanata North. "Those that succeed, like Richcraft, recognize that they have an obligation to serve.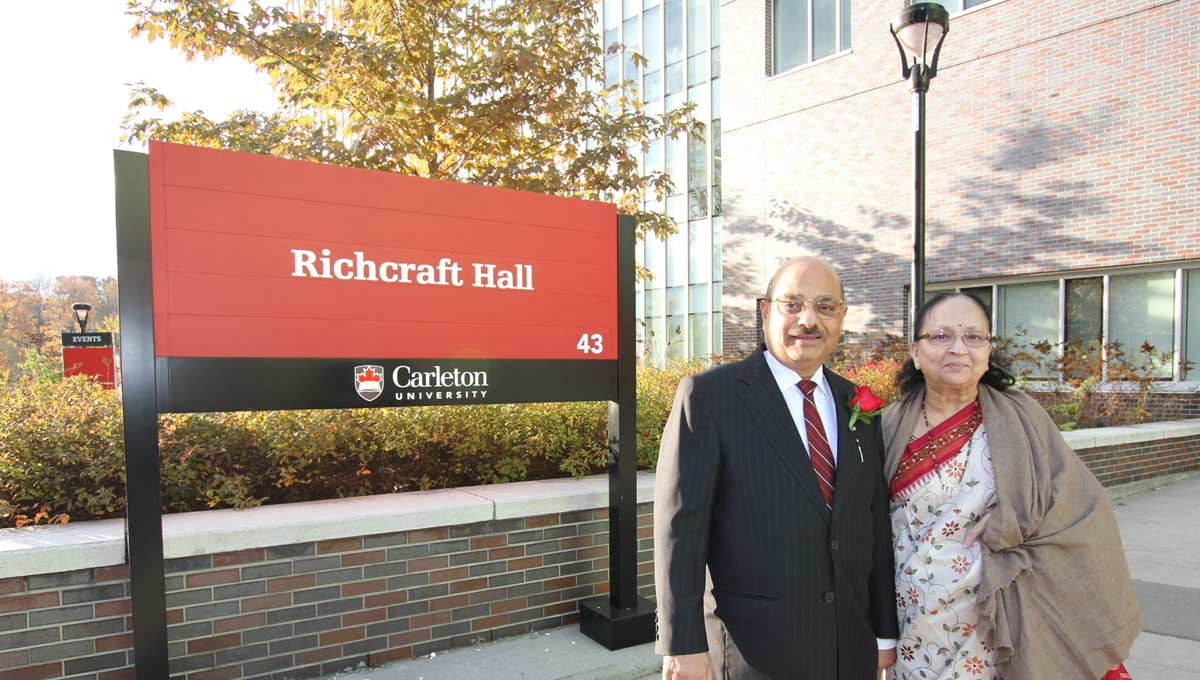 Community service is
in Carleton's roots
"Creating meaningful neighbourhoods is about more than putting up homes. The Singhal family understands that principle."
This donation comes at an important time for Carleton. Leading up to the university's 75th anniversary in 2017, Carleton is in the midst of Collaborate: The Carleton University Campaign, the most ambitious fundraising effort in the school's history.
Currently at more than $200 million of its $300 million goal, the campaign seeks to raise further support for students, faculty and researchers so they can further contribute to the good of society, its economy and institutions, and the health and well-being of people globally.
With the support of the Singhal family and other philanthropists, Carleton can fulfill its founding mandate to be "Here for Good" and bring positive change across the globe.
Moreover, Carruthers noted in his speech, Carleton was established by community members — individual volunteers from the public service, local government and the business sector — who pooled their expertise and resources to enhance the availability of higher education in the city of Ottawa and the National Capital Region.
"We were founded by an act of philanthropy — a gesture of community service and a noble gift toward the greater good of our society," he said. "As we approach our 75th anniversary in 2017, this commitment remains paramount. Through higher education, Carleton strives to make our world a better place.
"We were so pleased to hear the news of this gift, given the company and Singhal family's sterling presence in Ottawa and its history of giving back. They share our conviction that there is much good to be done in this world, and we are honoured to partner with them in this mission."