By Dan Rubinstein
Photos by Chris Roussakis
Over the Christmas holidays, millions of Canadians watched the national junior hockey team beat rivals from around the globe to win gold at the World Junior Hockey Championships.
Most fans were probably not aware that, a couple weeks earlier, Canada's squad of elite young hockey players lost back-to-back games to a group of university athletes from across the country.
Carleton Ravens captain Brett Welychka was part of the U SPORTS Men's Hockey All-Star Team for the second straight year, and to him their success against the national juniors speaks to the high calibre of play at the university level in Canada.
"We've pretty much all played major junior hockey and now we're more experienced and stronger and have heavier shots," says Welychka, a third-year Psychology student who played for his hometown London Knights in the Ontario Hockey League (OHL) before enrolling at Carleton in time for the 2015-'16 season.
"Guys are a lot more physical on the ice in university hockey," says Welychka, a forward who led the team with 27 points in their first 20 games, including a career-best hat trick and three assists in the Ravens' 9-6 win over Laurentian on Jan. 12. 
"They're men, not boys, and are looking to prove themselves again. That puts sparks under everybody's skates."
"The hockey here is faster and tougher than in the OHL," agrees rookie forward Jared Steege, a Criminology major who played for North Bay, Kingston and the Ottawa 67s in the OHL and led the Ravens with 14 goals after 20 games. "It's a nice break from the grind of classes and studying."
Welychka, Steege and many of their teammates are hoping to play professionally after their university eligibility expires, either in Europe or North American leagues such as the American Hockey League (AHL).
But they're also getting an education while advancing their hockey careers. And for the spectators who come out to the Ice House, that means 60 minutes of intense hockey every game, especially in the home stretch toward Ontario University Athletics (OUA) playoffs.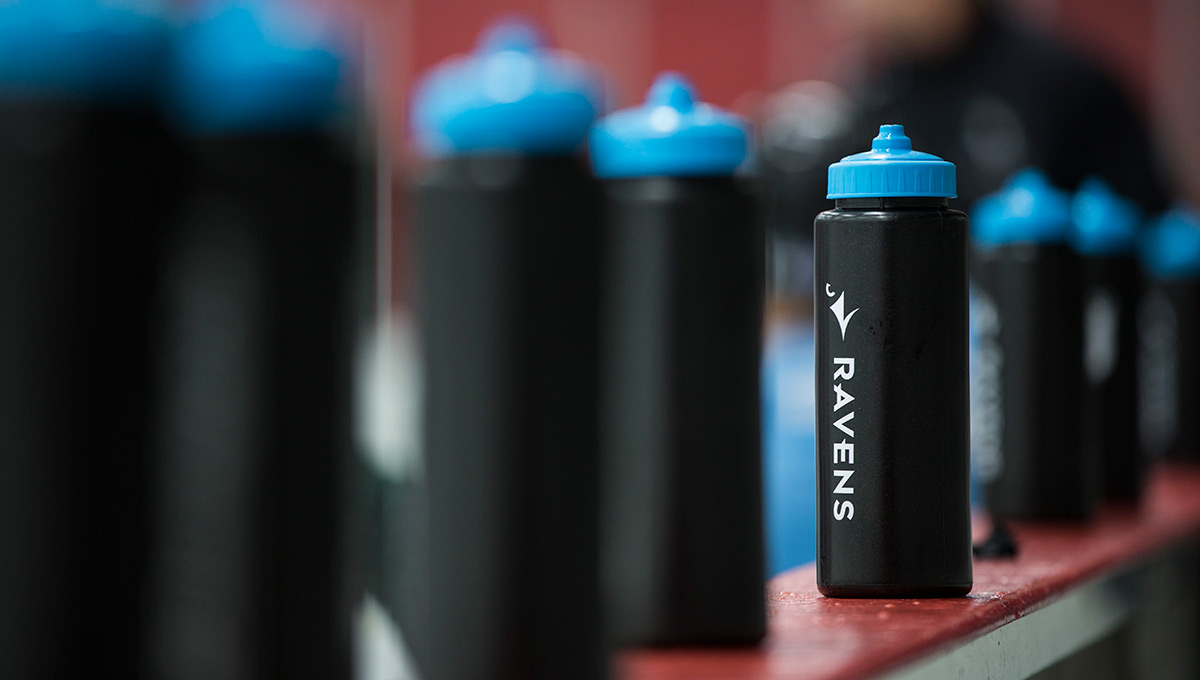 Seeding a New Club
The men's hockey varsity program was established at Carleton in 1950 and disbanded in 1974 when the university deemed it too costly.
Fifteen years later, a group of hockey alumni provided the seed money, coaching and management required to start a club team. Carleton students played in a men's senior league at the RA Centre and in exhibition games against schools such as the University of Ottawa and Algonquin College, securing sponsors so they could travel to take on university teams elsewhere in Ontario and American colleges from northern New York to Boston.
The alumni who helped bring back hockey, as well as students who played from 1989 to 2007, successfully worked to re-establish varsity hockey at Carleton for the 2007-'08 season.
"The return of varsity hockey was a small piece of a large puzzle required to make the university a better place," says hockey alumnus and Ravens Hall of Fame member, Paul Correy, who helped launch the club team and restore varsity status.
"The success of varsity hockey and other varsity sports programs has helped spread the Carleton name across Canada. Today's students looking for a well-rounded quality education are no doubt impressed by the overall excellence of sports and academic programs provided by Carleton."
Hockey is considered Canada's national game and has one of the highest participation rates of any sport in the country, says Jennifer Brenning, the university's Director of Recreation and Athletics.
"When Carleton built the Ice House in 2005, it made sense to add women's and men's hockey programs," she says.
"The sport helps us recruit top-level student athletes and re-engages the Carleton alumni who lost the hockey program in 1974.
"When people come out to catch the Ravens in action, they're amazed at the level of play and at how much fun it is to watch."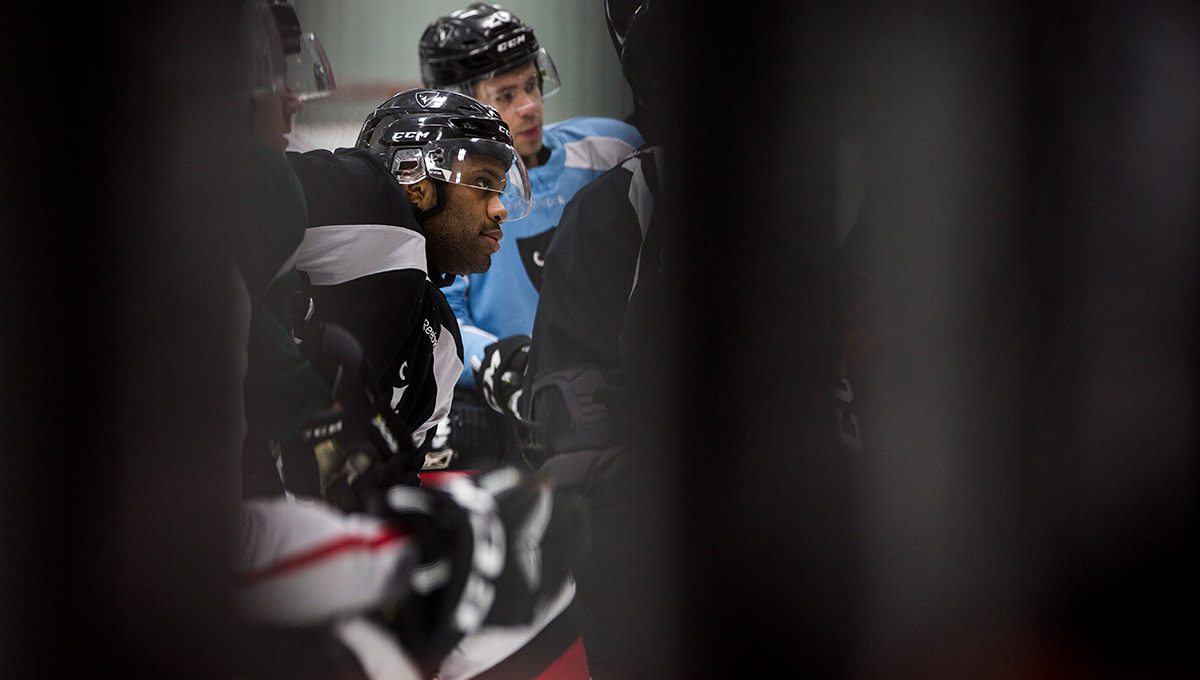 Ravens Hockey Gets Competitive
Part of the fun comes from watching a winning team. And there's a new coach responsible for keeping the Ravens competitive this season.
After serving as an assistant under Marty Johnston since 2010, Shaun Van Allen became the third head coach of the program's modern era over the summer when Johnston left for an assistant coaching position with the AHL's Manitoba Moose.
Johnston had led Carleton to a pair of appearances in the U SPORTS University Cup — in 2014 and 2016 — and Van Allen's squad started the 2017-'18 season strong, posting an 12-5-3 record as of mid-January to sit solidly in the top half of the OUA standings.
"We're trying to preach good habits — you don't win championships by accident," says Van Allen, who spent 13 seasons in the NHL, playing in Edmonton, Anaheim, Dallas, Montreal and six seasons with the Ottawa Senators.
"You need to put in the work."
One of the biggest differences between Ontario university hockey and leagues such as the OHL, according to Van Allen, is the former's short 28-game regular season, with matches usually limited to weekends.
This not only means that every game matters, but also that players are "chomping at the bit to get going" after four or so practices and a couple workouts in the gym during the week.
"It also allows all your bumps and bruises to heal by game time on a Friday night," says Van Allen. "Which is important for our fast, high-energy, hard-hitting style of play."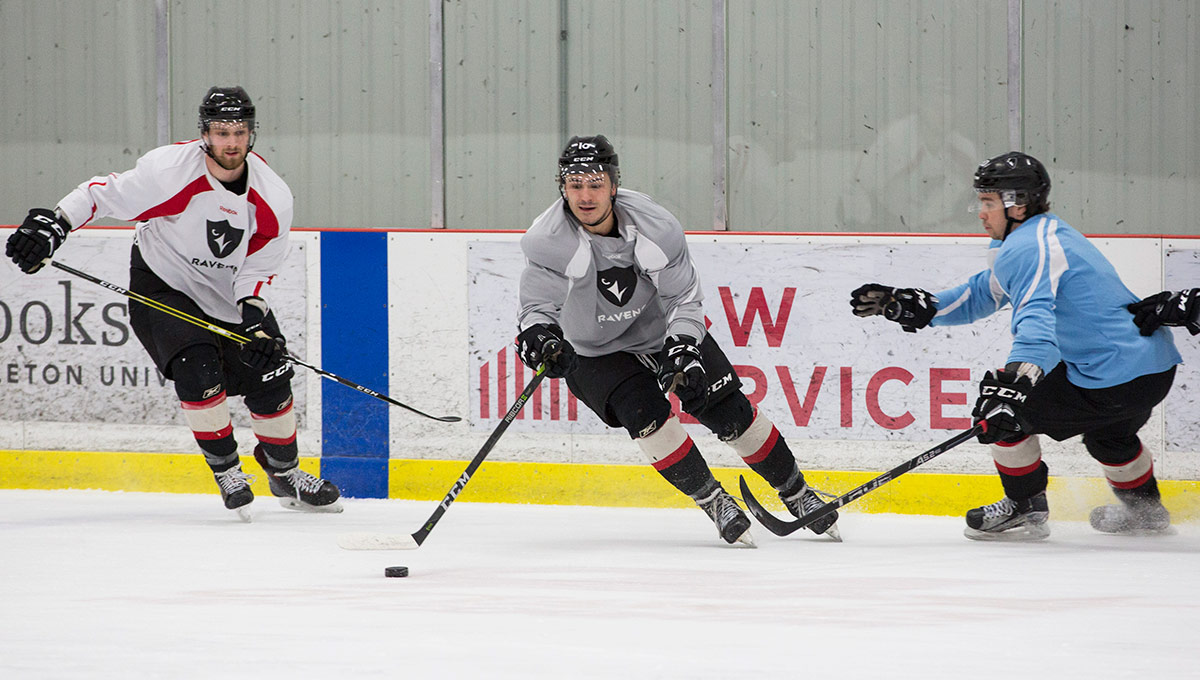 Pursuing Pro Hockey Dreams
That energy is discernable even during practice. The arena rings with the slap of sticks on pucks and skates slicing across the ice during bursts of rapid action.
A coach's whistle blows, the players huddle for a quick strategy session, and then the drills resume. One-on-one battles for the puck. Breakout plays. Skating fast, shooting hard — all to get ready for an upcoming game.
Beyond preparing for the next opponent, Van Allen and his assistants also help players pursue their pro hockey dreams.
They use their contacts and networks to recruit major junior players to the Ravens — and then they use their connections to help them get tryouts and contracts with professional teams once their Carleton days are finished.
The hockey program also works to ensure that players succeed as students, providing academic support, with veterans helping rookies figure out how to balance school and sports.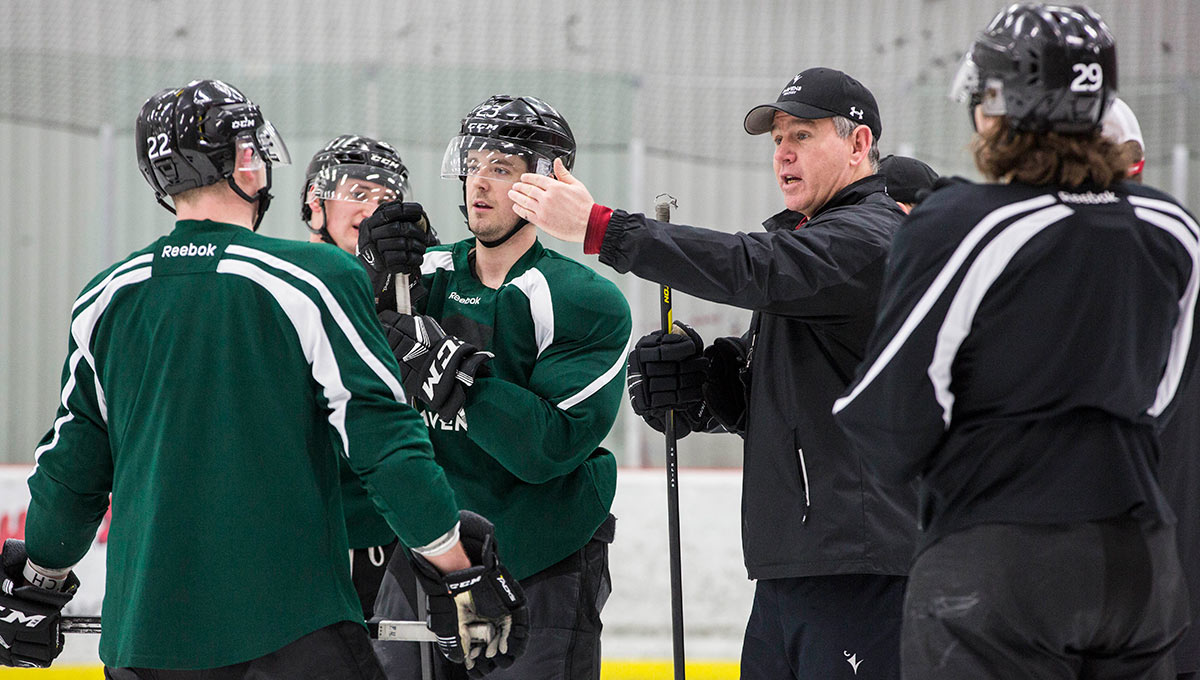 "It's important for all players on the Ravens roster to have the opportunity to complete a university education," says Correy, an Engineering graduate who launched and runs a company, Correy and Associates Inc., offering management services and investment analysis in the oil and gas and precious metal sectors. "For the most part, these student athletes left home at 16 to play major junior hockey, interrupting their high school and post-secondary educations.
"The Carleton program offers students both advanced technical coaching to further their skills for the pro game, as well as a degree of their choosing to backstop their eventual working careers," he continues.
"Carleton certainly opened doors for me, going back to my first day on campus in September 1967. My Engineering classmates, professors and teammates all contributed, giving me experience I needed to establish my own business career."
"It's about time management," adds Welychka. "In first year, it was tough to juggle classes and hockey. But you learn how to handle it — and that's a good skill to have."