By Dan Rubinstein
Photos by Chris Roussakis
In the spring of 1994, during the darkest days of the Rwandan genocide, Allan Thompson was a political reporter for the Toronto Star and found himself in France, covering the 50th anniversary of the D-Day landings.
By that point, Rwanda had slid into the abyss and was nearly at the apex of a 100-day slaughter launched by the April 6 assassination of the country's Hutu president, a cataclysm that led to the massacre of an estimated 800,000 members of the country's Tutsi minority at the hands of Hutu extremists.
In France, most of the western world's leaders were on the beach in Normandy for the Second World War commemoration ceremonies, recalls Thompson, who joined Carleton's Journalism faculty in 2003. But despite the carnage taking place in Rwanda, nobody was talking about it.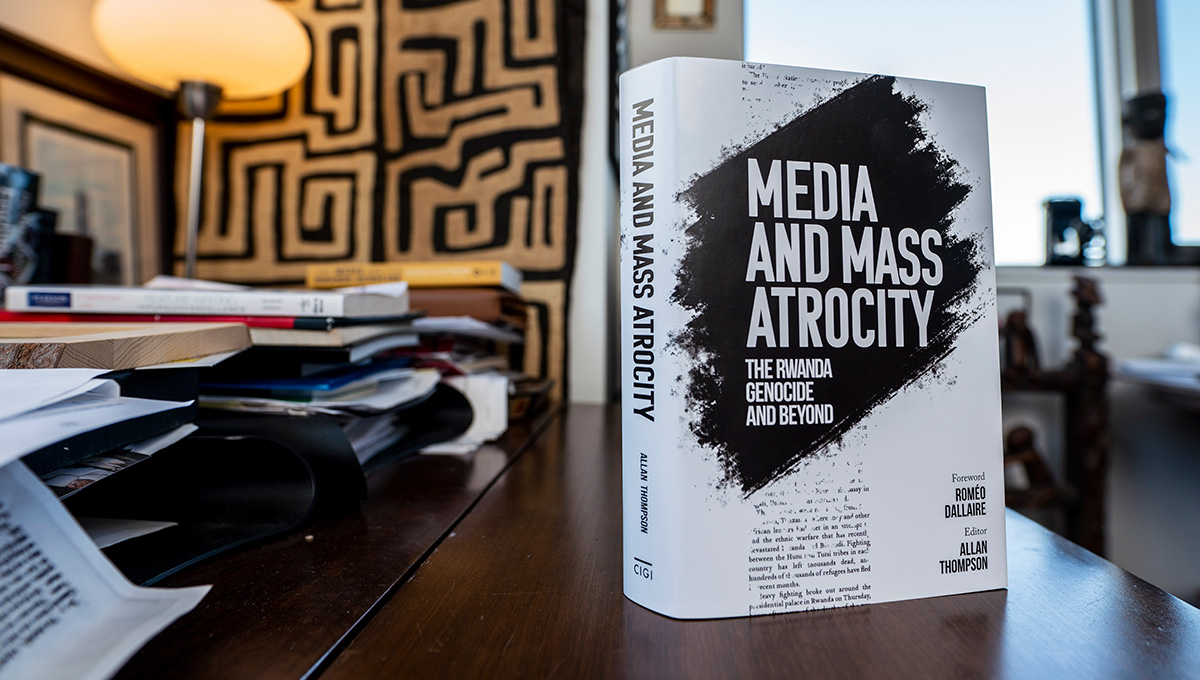 Rwanda didn't feature in any of the speeches, media scrums or talking points. The world had truly turned its back on the tiny East African country.
"It is to my everlasting shame that I did not volunteer to go to Rwanda in 1994," Thompson writes in the introduction to Media and Mass Atrocity: The Rwanda Genocide and Beyond, a new book that explores the "media-genocide nexus" in Rwanda — where so-called hate radio incited the killings, which continued unchecked as the international press turned away — and how social media has changed the way people respond to violence and conflict.
"Rwanda is a case study for where media and mass atrocity intersect," says Thompson.
"Journalists didn't capture what was going on there, and we didn't mobilize the international community to intervene.
"Rwanda is an important jumping off point for looking at these issues, and what we've learned in the past 25 years."
Thompson first visited the country in 1996 to report on the repatriation of Hutu refugees from the Goma region of what was then eastern Zaire. "Rwanda does get inside you," he writes in the book, "and, since then, I think I have been trying to some degree to make amends for not having been there in 1994."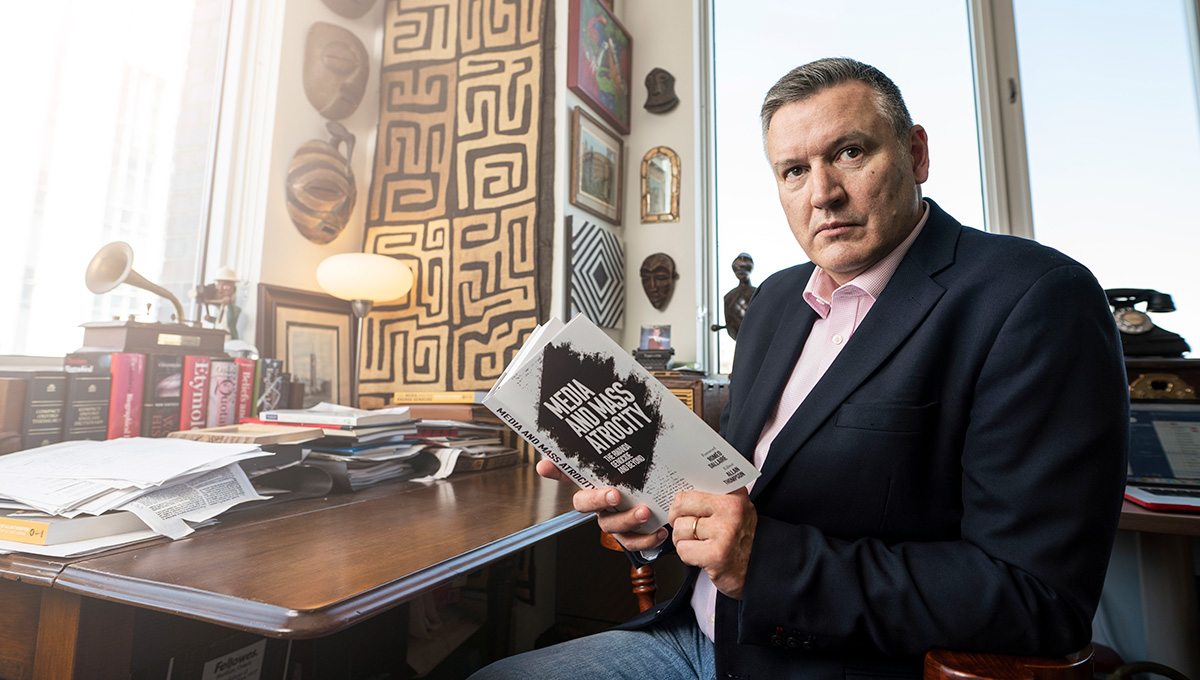 Violence in Rwanda Written Off as "Tribal Warfare"
When the Rwandan genocide was underway, one of the prevailing views in the western media was that the country was too small, too under the radar and "too far away" for the global community to intervene. The violence in Rwanda was written off by many as "tribal warfare" as the massacres spread across the country.
These days, according to Thompson, there are even fewer international journalists covering Africa — the Globe and Mail is the only Canadian media outlet with a full-time correspondent on the continent, he says — and local reporting capacity has not improved significantly.
This translates into inconsistent coverage and limited understanding of complex geopolitical, social, economic and environmental issues, despite the fact that the technology and equipment required to document and share stories has never been better, cheaper or more reliable.
Social media has given us the capacity to cover mass atrocities effectively, says Thompson, but has also given voice to people who perpetrate violence. For example, he cites the sophisticated use of platforms such as Twitter and Facebook by ISIS, and how Facebook was used to dehumanize the Rohingya Muslims in Myanmar.
"There was never really a 'golden age' of journalism and its coverage of conflict," says Thompson, who will be in Rwanda on April 6 and 7 for commemorative events marking the 25th anniversary of the genocide before heading to a book launch in Johannesburg, South Africa, on April 15 and launches in London, Ottawa and Washington, D.C., over the ensuing weeks. "It's just frustrating that it hasn't gotten any better."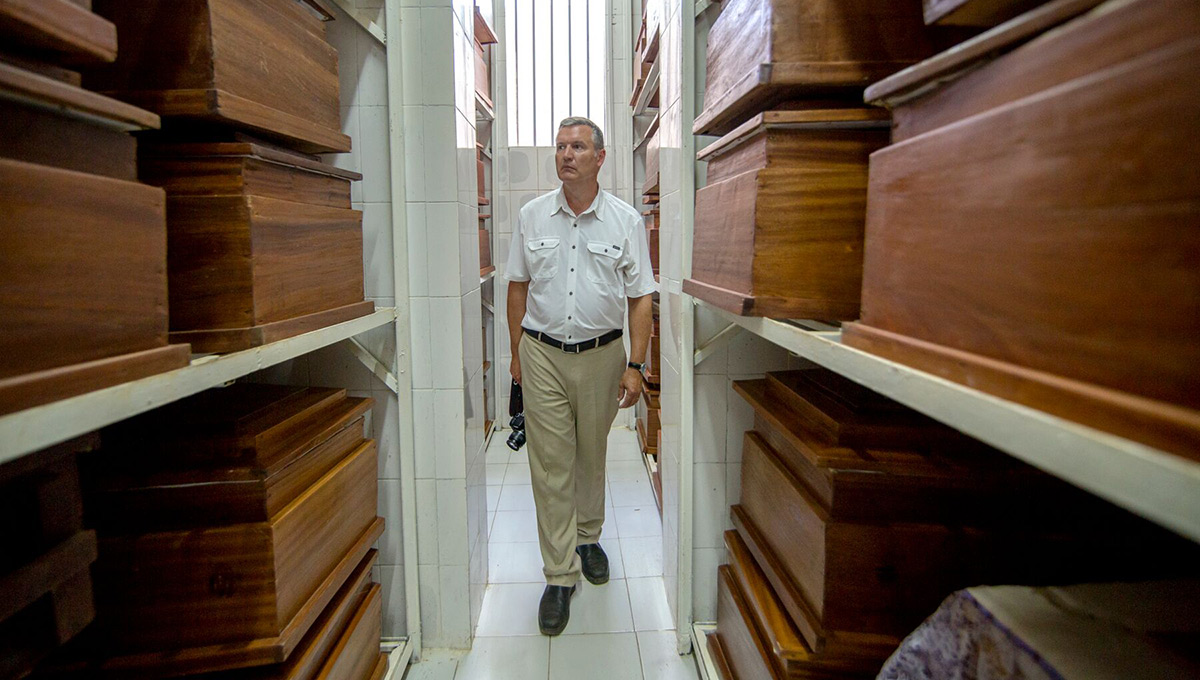 The Media and the Rwanda Genocide
On the 10th anniversary of the Rwanda genocide, in 2004, Thompson organized a major international conference at Carleton called The Media and the Rwanda Genocide, which led to the release of an edited collection of essays with the same name, published in 2007.
In 2006, he helped launch the Rwanda Initiative, a partnership between Carleton's journalism school and its counterpart at the National University of Rwanda. Over the initiative's five-year lifespan, about 100 professional journalists from Canada went to teach in Rwanda, with 125 Carleton journalism students going to work as interns and a dozen Rwandan journalists coming to Canada to study at Carleton or work at media outlets.
And in December 2017, Thompson and the Waterloo-based Centre for International Governance Innovation (CIGI), where he serves as a senior fellow, organized another international symposium at Carleton, Media and Mass Atrocity: the Rwanda Genocide and Beyond, from which the eponymous book — published by CIGI Press — has emerged.
Edited by Thompson, with a foreword and chapter by retired Canadian general Roméo Dallaire, the book features more than two dozen contributions from frontline war correspondents, including Pulitzer Prize winner Paul Watson, and academic researchers, many of whom participated in the symposium at Carleton in December 2017.
The chapters are grouped into sections, such as "Echoes of Rwanda" and "Social Media: The New Actor," and explore subjects ranging from hate radio and a specific video shot during the genocide in Rwanda to the experience of Central African journalists covering their country's war, the Islamic State's media strategy, and a comparison of U.S. news coverage of local and distant suffering.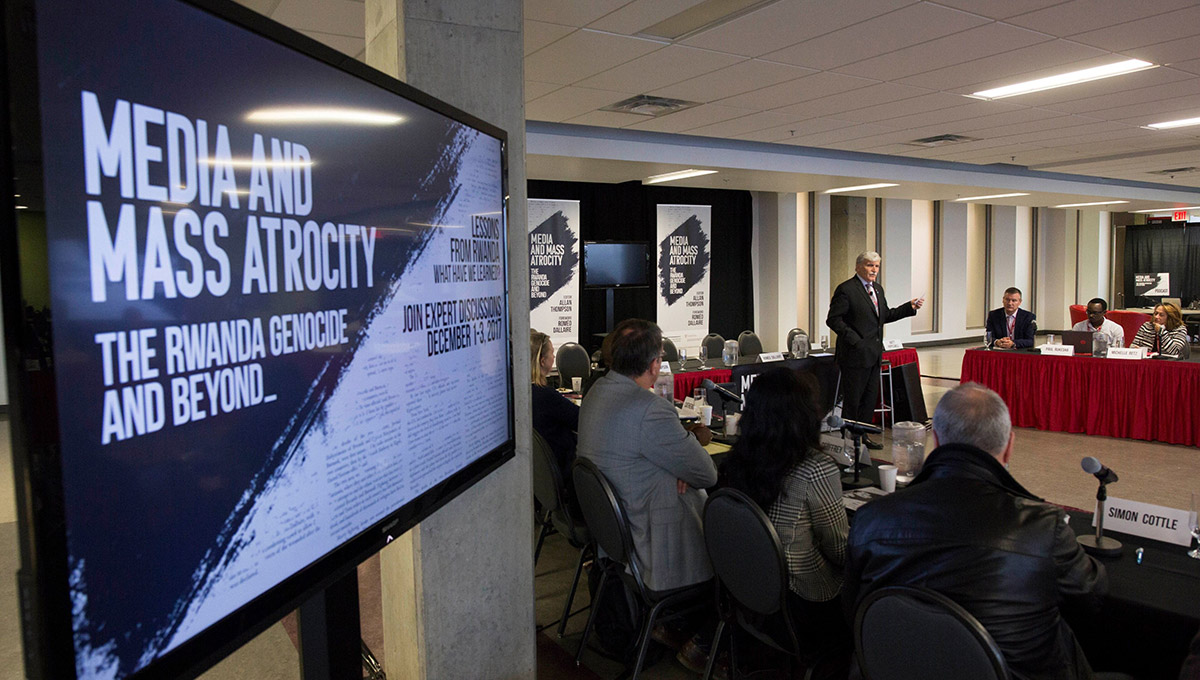 Calculus of When to Intervene Has Not Changed
In the "Prevention" section, in a piece entitled "Advanced Digital Technology and Genocide and Mass Atrocities Prevention," authors Steven Livingston and Alice Musabende — a George Washington University professor and University of Cambridge PhD student, respectively — look at "whether advances in media technology and our ability to document war crimes and human rights abuses have any preventive value.
"We now see, often in close to real-time, atrocities that would have been lost to the world only a handful of years ago," Thompson writes about the chapter.
"But Livingston and Musabende ask whether knowing necessarily translates into doing. Whether such access to information can be directly linked to changes in international policy-making processes remains undecided.
"Indeed, there is plenty of evidence to suggest that changes in the technical capacity to gather evidence has had negligible effect on the willingness of states to intervene in mass atrocity events. It is no longer feasible for leaders to claim ignorance of atrocities. The chapter concludes, however, that the basic calculus of when to intervene to prevent atrocities has not changed."
And in the "Echoes of Rwanda Section, in a chapter called "We Have Failed as a Continent": Covering an African Atrocity for an African Audience, j. (james) Siguru Wahutu, a visiting fellow at Harvard's Berkman Klein Center for Internet and Society, explores the little-examined question of how African media cover atrocities on their own continent.
After interviewing journalists in Kenya, Nigeria and South Africa, mining his own prior work on and African media and in Darfur, and analyzing data, Wahutu shows the "challenges faced by African journalists in their pursuit to maintain control of narratives about atrocity in Africa, while pointing out the role played by African journalists in marginalizing African voices in this construction process."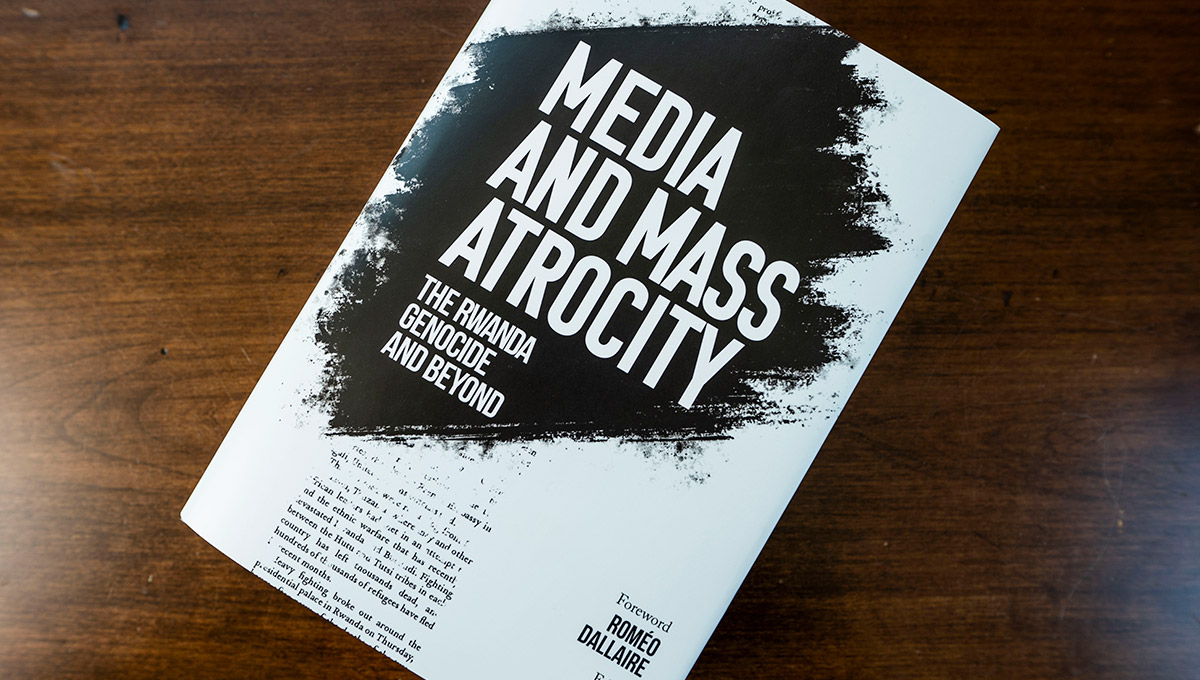 New Book Part of Ongoing Conversation About Media and Mass Atrocity
While it was shattered by the events of 1994, Rwanda is now highly functional, with low crime, good transit and clean streets in Kigali, the capital. There are plenty of radio stations, newspapers and online media outlets, yet they operate in a restrictive environment of self-censorship.
The new book, which is aimed at a general audience, not only academics, is part of an ongoing conversation about media and mass atrocity, says Thompson.
"The book isn't just about Rwanda," he says.
"News consumers should be demanding more, and people should be more aware of the impact that social media has on the way we see the world.
"Surely, after a quarter century, we can draw some lessons from Rwanda."
Wednesday, April 3, 2019 in Faculty of Public Affairs, Research
Share: Twitter, Facebook