By Brenna Mackay
Photos by Anthony Rego
COVID-19 may have changed how Carleton's recruitment staff interact with prospective students, but offering a personalized connection remains at the heart of what they do.
Together, the Undergraduate Recruitment Office and the International Admissions and Recruitment teams have launched a new campus virtual tour, highlighting all the must-see spots and hidden gems on campus.
Users can self-navigate through Carleton's buildings and facilities in stunning 360° photography and get a close-up look at the television studios in Richcraft Hall or the SuperLab in Steacie Building– all from the comfort of their homes.
Jennifer Elliott, director of the Undergraduate Recruitment Office, says this project has been a long-term vision for the team. Each year, recruitment officers travel across Canada and around the world to meet with prospective students. For future students living outside Ottawa, seeing campus in person isn't as simple as hopping on an OC Transpo bus.
"We thought it was really important to showcase the beauty of our campus and facilities in a new way and expand reach to a larger group of prospective students," says Elliott.
The collaborative project involved feedback from campus tour guides, faculties and departments. Together, they compiled a list of the best places to highlight on campus, working together to add descriptions and key information "hotspots."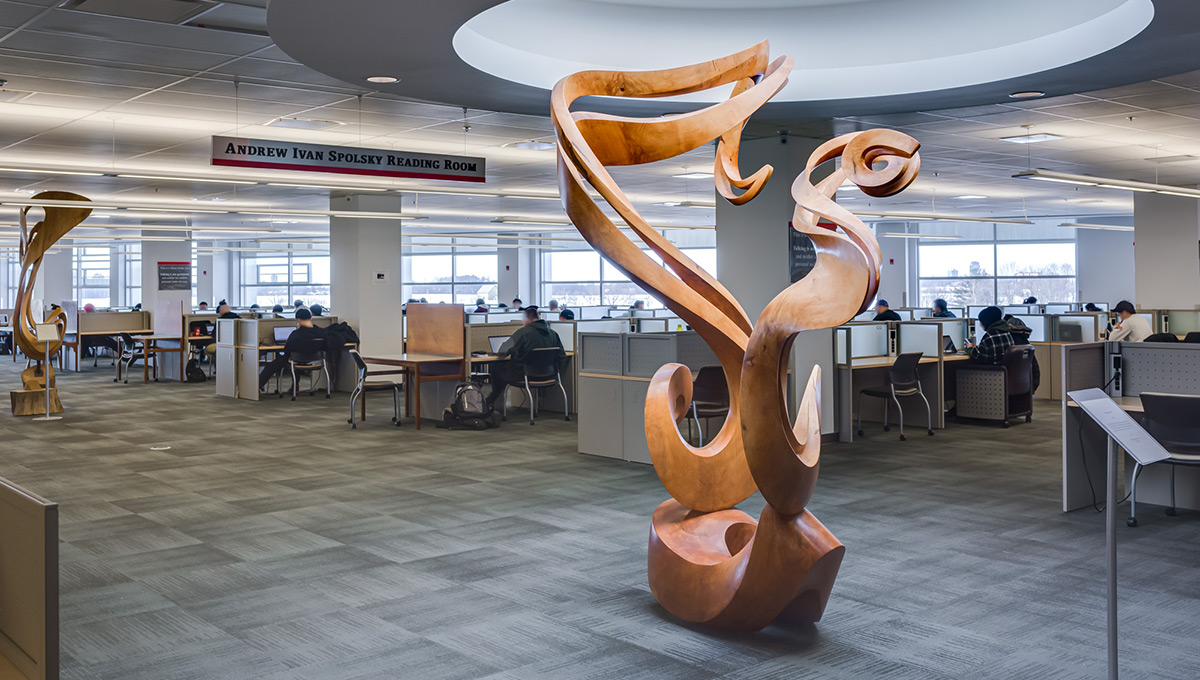 Highlights Tour Gives Quick Impression
Canadian company Beyond Media helped capture the imagery and integrate it into the Admissions website, so it can be updated as campus evolves.
Elliott says Carleton's Recruitment Office is known for its welcoming, friendly and responsive team, as well as hosting amazing in-person events. When developing a virtual tour, they wanted to take a similar approach and provide students with key information about campus that will help them make a decision about studying at Carleton.
"Our main goal was to make a very accessible and user-friendly way to tour our campus, without having to leave your house," says Elliott.
The current version showcases a full range of images of indoor and outdoor spaces, as well as a shorter "highlights" tour that allows for a quick impression. Elliott says this resource will also help prospective students familiarize themselves with campus as they transition into their studies at Carleton.
This is an especially important resource for international students, notes Sarah Ramisch, director of International Admissions and Recruitment.
"Students will get a behind the scenes look at locations on campus that they are interested in, see what those facilities look like and where they will be learning," she adds.
For example, having the opportunity to visualize what a lecture theatre looks like will help prepare students for the experience of being on campus and allow them to show family and friends their future learning environments.
The tour also highlights key aspects of student life, including detailed panoramas of student service offices, Roosters coffeehouse and Carleton's athletic facilities.
When the COVID-19 pandemic required the fall term to be delivered online, the teams were grateful that this project was already underway. Elliott says the tour will be an additional resource to support recruitment initiatives in the long term.