By Dan Rubinstein
Photos by Chris Roussakis
Big Data. STEM. Medicine. Law. Discussions and debates about how universities can help address major societal challenges often focus on technological fields and professional disciplines.
But the humanities — loosely defined as the study of human culture — are also a critical part of this conversation, attendees affirmed at The Future of the PhD in the Humanities Conference in Carleton's River Building from May 16 to 18.
And even if fewer people with humanities PhDs are finding work in academia these days, there is still tremendous value in pursuing graduate studies in this realm, especially if institutions consider new approaches to delivering doctoral programming, and if professors and students at all levels use their training and research skills to engage with the world and the pressing questions of our era.
"The ability of the humanities to foster in-depth and balanced accounts of knowledge about nature, human beings and society has never been more urgently required," co-organizer Paul Keen, an English professor and associate dean of Graduate and Postdoctoral Affairs at Carleton, wrote before the conference began. "The world is showing no signs of becoming a less complicated place any time soon."
The role of the humanities has become a hot topic in North America in recent years. Articles on the subject have been published in mainstream media outlets such as the New York Times and The Atlantic, and it was the focus of "Future Humanities: Transforming Graduate Studies for the Future of Canada," a conference held at McGill University last spring.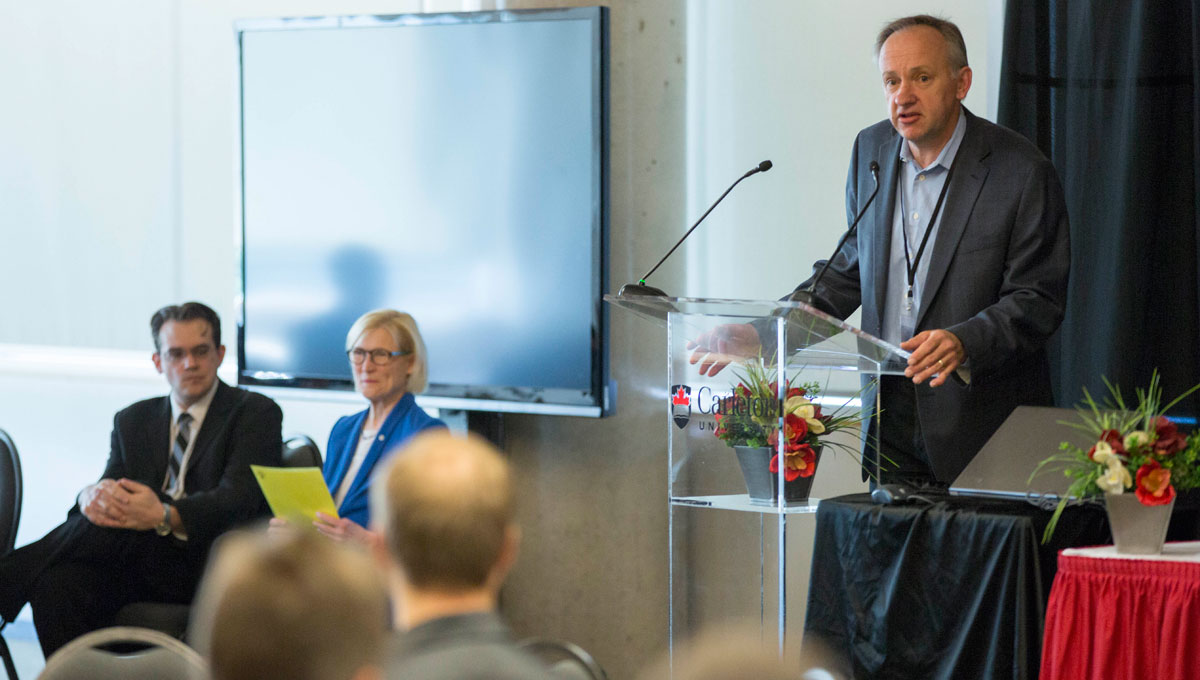 Like the McGill gathering, the Carleton conference began with a day-long meeting of graduate students from across the country. On day two, as a segue into the first full session, four of the students introduced the key concerns they identified: clearer pathways to non-academic careers; more transparent information about the realities of graduate studies and university decision-making; an openness to non-monograph dissertations; and more attention on the three Ws — workload, workflow and work-life balance.
Then the students put the room full of professors and higher education experts to work, dividing them into groups and tasking them with responding to four questions: What would it mean to celebrate the diversity of alumni career paths? What can be done to to improve the quality of information provided to grad students? How can we introduce new models of doctoral training? How can we address the three Ws?
A lively discussion ensued, touching on an array of ideas, among them: the need for a culture change among faculty; a recognition of the fact that most PhDs will not become professors and should be used to do more than typical TA duties such as grading papers; the importance of tapping into alumni networks for mentorship; the possibility of adding applied elements to dissertations as a step toward more effective knowledge transfer; and more interaction between PhD students and undergraduates.
"I think we could reduce everything to two words — relevance and integration," said one participant. "We need to make program requirements more meaningful for students who want to advance within or outside the academy."
The conference's first panel discussion, The Public Value of the Humanities, was moderated by Jill Stoner, director of Carleton's Azrieli School of Architecture and Urbanism.
She opened by declaring that the humanities should be viewed not as a "field," but as "perhaps the most valuable resource of our time." The PhD, she added, can be considered an "infrastructure" for its delivery.
Noting that innovative academic categories are being developed, such as the Narrative Medicine program at Columbia University, Stoner said that "this new infrastructure is needed not to save the humanities as a discipline, but to save the rest of us."
Panelist James Cheetham, a biology professor at Carleton, talked about the university's Bachelor of Humanities and Biology, a program that he helped launch 10 years ago. Canada's assisted dying debate is a good example of why this crossover matters.
"Physicians need a thorough scientific knowledge of medicine, but they also need to be able to appreciate the unique experiences of their patients," said Cheetham. "A doctor who puts molecules before morals is not what we need. The study of the humanities is the broadest possible exercise in empathy.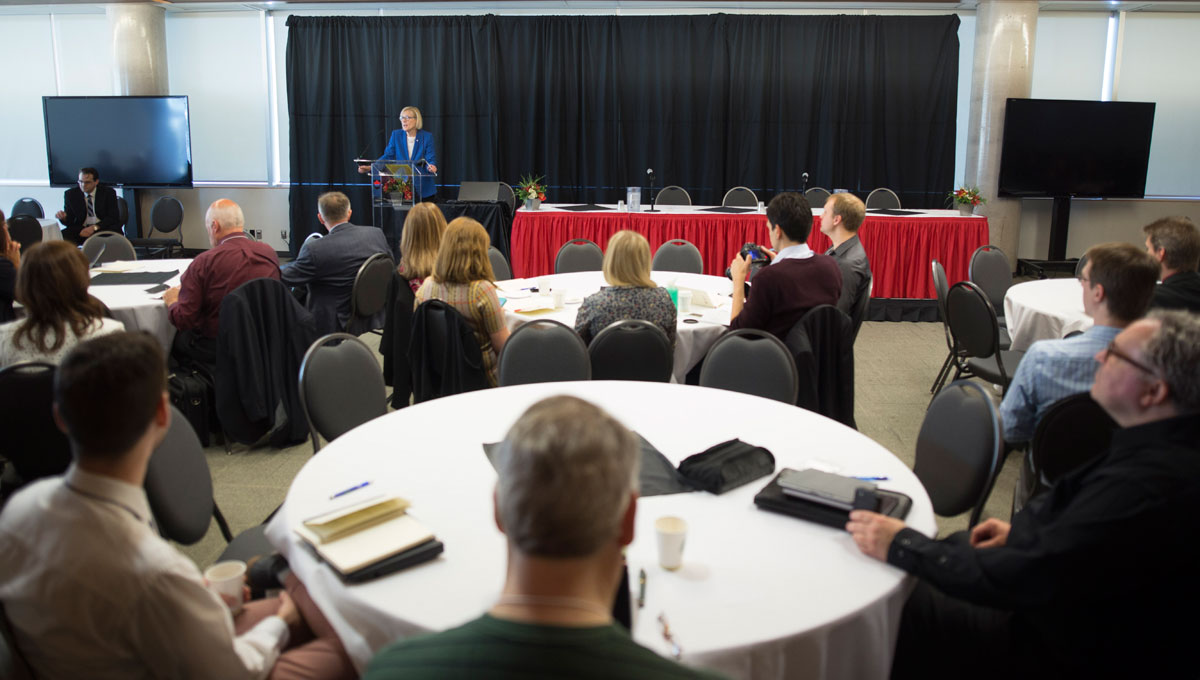 "If you want the public to value the humanities, research in the humanities has to value public engagement," he continued. "Scientists have a long history with this. Science is not just about its applications. It's about curiosity and the human spirit."
Carleton is currently developing a program that will bridge environmental sciences and humanities which acknowledges American environmental lawyer Gus Speth's observation that technological solutions to climate change will go nowhere unless we address the underlying human problems of selfishness, greed and apathy.
"Science and the humanities address the same fundamental questions," said Cheetham. "Who are we, and how ought we to live? The well-being of people and the planet hangs in the balance."
Fellow panelist Robert Gibbs, director of the University of Toronto's Jackman Humanities Institute, argued that universities need to be turned upside down, so that the "flow of inquiry" in areas such as the humanities begins not with faculty but with undergraduates.
The goal of higher education, he said, should not be "replication" — professors teaching the grad students who will one day take on their roles — but "multiplication," so that waves of graduates co-create knowledge with outside communities and conduct "free inquiry into the complex divisions of society."
The session's final speaker, University of Alberta Dean of Arts, Lesley Cormack, put it more succinctly: "For the humanities to be real, we're going to have to engage with the world differently. We're going to have to get our hands dirty."
Humanities and fields like STEM have a common cause, said Cormack. Considering the challenge of climate change, for example, "we're not going to science ourselves out of this," she said. "We're going to need people to think differently, to act differently, to care about different things. This is the work of humanists."
Other panels included a session on innovative programs, which featured Carleton Philosophy Professor Jan Drydyk and the university's new graduate programs in Ethics and Public Affairs, and a session on non-academic career paths with senior representatives from the Conference Board of Canada, the Canadian War Museum, and Library and Archives Canada.
The closing panel, on fixing completion times and changing program structures, brought together Carleton Provost and Vice-President (Academic) Peter Ricketts, University of Alberta Dean of Graduate Studies, Heather Zwicker, and Sandra den Otter, associate dean of Graduate Studies at Queen's.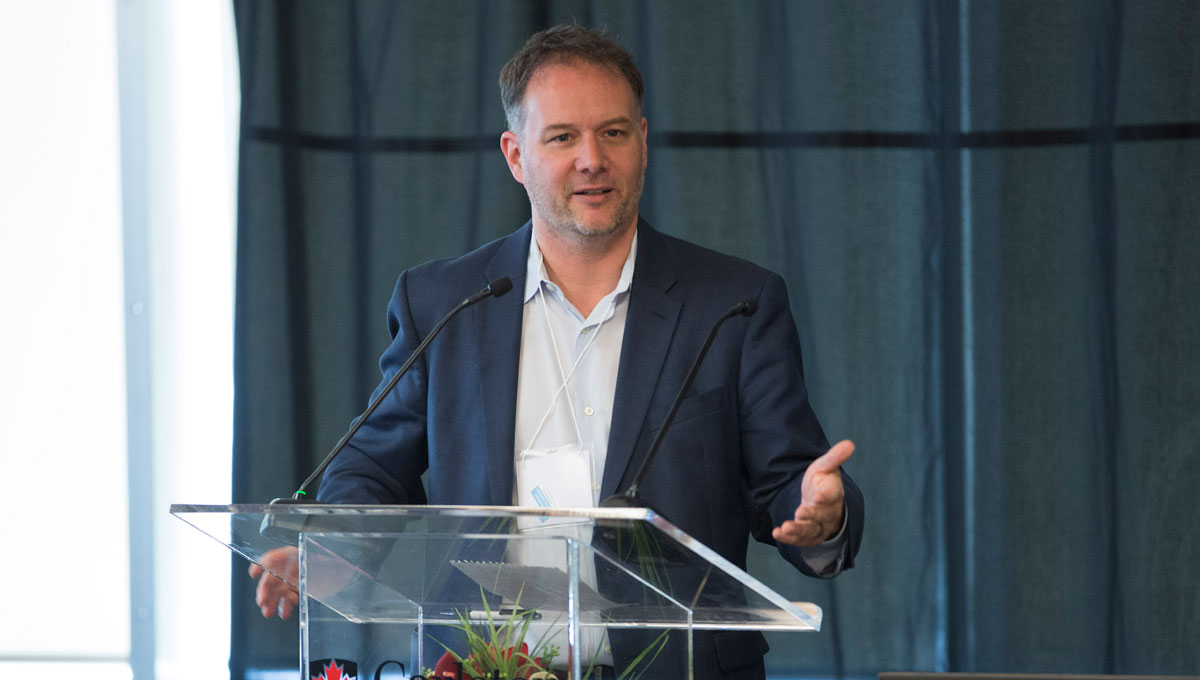 On the whole, said Ricketts, people with PhDs have a tremendous capacity to operate at a very high level of intellectual thought and analysis and are highly mobile — an advantage in today's global economy. "We are not educating students for a single purpose," he said.
Ricketts noted two problems, however — perpetuation of the view that the only job that's worthy for somebody with a PhD is in the professoriat, and the amount of time required to get a PhD. In can take 11 to 15 years to earn a PhD if students go straight from undergraduate studies to a master's degree and then a doctorate. That's a long journey that can become lonely, isolating and self-indulgent.
Ricketts suggested several solutions.
"We need to increase, encourage and reward collaboration in the humanities PhD. I'm not saying that individual work is not valuable, but the pathway does not have to be so isolating.
"We need to expand opportunities for partnerships and incorporate internships and co-ops into PhD programs — to get students out into the workforce when they're developing their research questions."
He also suggested reducing if not eliminating the coursework required for a PhD, making it a shorter process and bringing the focus back to research.
If a consortium of Canadian universities got together to make some of these changes, he said, "perhaps this conference could be the beginning of a new era."