By Dan Rubinstein
Photos by Dwayne Brown, Chris Roussakis and Mike Pinder
Yazmine Laroche, the federal government's first-ever Deputy Minister of Public Service Accessibility, will receive an honorary degree from Carleton University on June 14, 2019.
She is being recognized for her significant contribution to greatly improved accessibility for all Canadians, and for her success in departments such as the Privy Council Office and Treasury Board Secretariat on a wide variety of projects, from facilitating the merger of the national library and national archives into Library and Archives Canada to helping create the Gas Tax Fund to support municipal infrastructure.
Laroche, who received a BA in Mass Communication from Carleton in 1982, is the first woman with a disability to become a deputy minister in Canada, which has fuelled her desire to serve as a champion for people with disabilities.
"Her mandate is to design a strategy to make the Canadian public service the gold standard of accessibility and inclusion," says Larry McCloskey, director of Carleton's Paul Menton Centre for Students with Disabilities (PMC), who will introduce Laroche at the Convocation ceremony in mid-June.
"Yazmine is a trailblazer. She climbed the ranks at a time when the corporate culture of the public service was not favourable for a woman with a disability. Yazmine is also a door opener, creating opportunities for other public servants, especially those with disabilities, to contribute to their fullest potential in service of Canadians."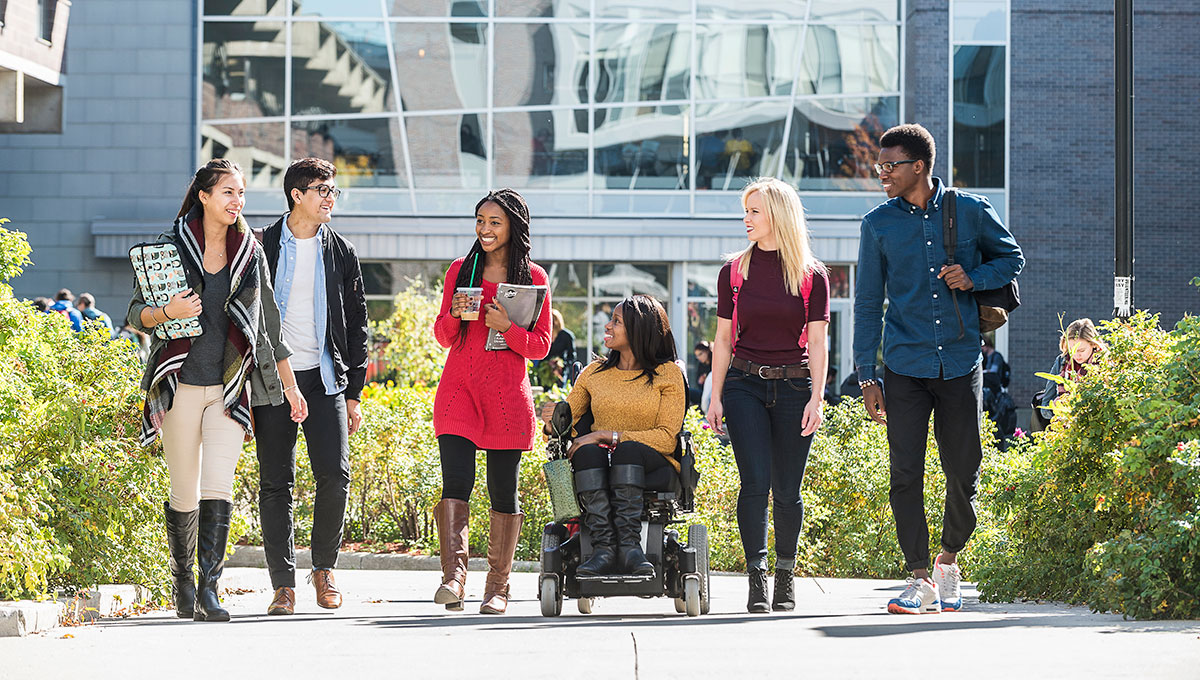 Changing the Conversation about Disability
It's fitting that Laroche will be celebrated by her alma mater on the heels of National AccessAbility Week — an annual event, from May 26 to June 1 this year, that recognizes the efforts of Canadians "who are actively removing barriers and ensuring persons with disabilities have an equal chance to participate in all aspects of Canadian society."
One of her highest priorities as deputy minister will be implementing the federal government's brand new and first-ever accessibility strategy for the public service, which was launched on May 27 with five key objectives: "Improving recruitment, retention and promotion of persons with disabilities; enhancing the accessibility of the built environment; making communications technology usable by all; equipping public servants to design and deliver accessible programs and services; and building public service that is confidently accessible."
"It's a strategy that reflects the true diversity of the people it serves," Minister of Public Services and Procurement and Accessibility, Carla Qualtrough, said in a release, "and one that will help us achieve our ultimate goal: a barrier-free Canada where everyone is fully included."
It's also fitting that Laroche will be honoured at Carleton, which is taking tremendous strides to enhance its reputation as the most accessible university in the country and possibly the world.
Carleton's leadership in this area, from student support services and research to collaborative projects with government and industry, has roots in the university's birth after the Second World War as an educational springboard for returning soldiers.
But Carleton's work on and around accessibility has become increasingly sophisticated and ambitious over the years, and now encompasses a very wide range of unique programs and services that are changing the conversation about disability — or, more accurately, ability — in Canada and beyond.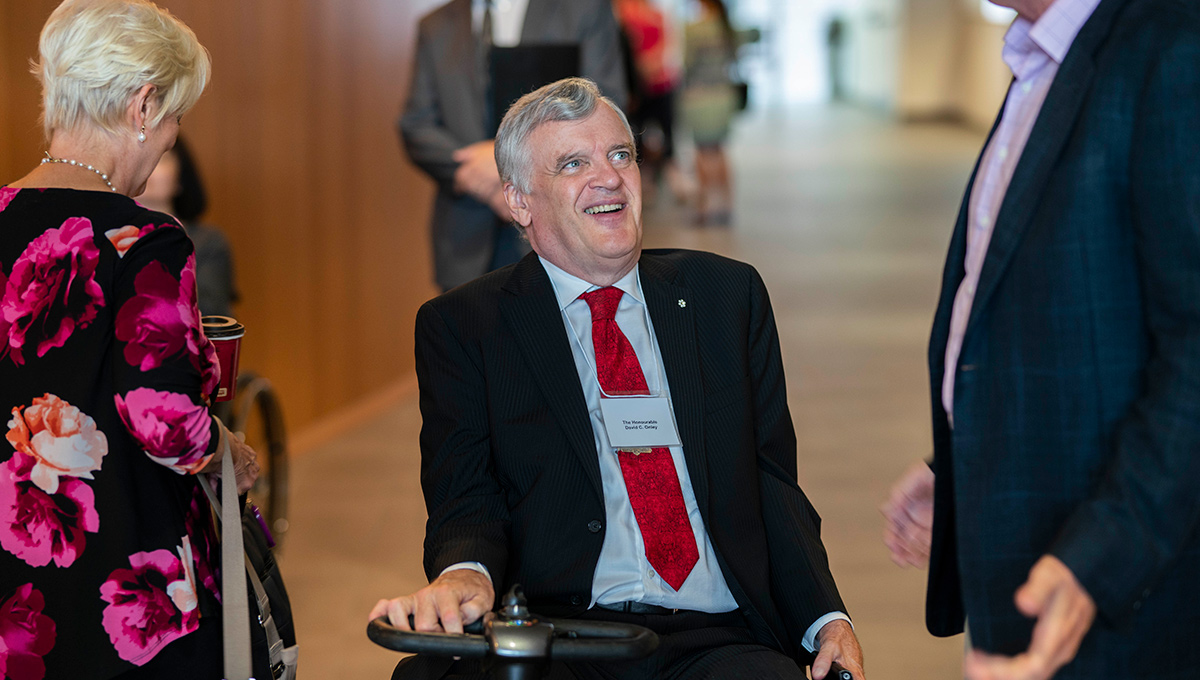 Showcasing Research During National AccessAbility Week
The entire Carleton community, including faculty, students, staff and alumni, has played a role in building the university's reputation in accessibility.
Systems and Computer Engineering Prof. Adrian Chan, a biomedical engineering researcher with expertise in sensor systems and assistive devices, is a key contributor as director of Carleton's Research and Education in Accessibility, Design, and Innovation (READi) training program.
Launched in 2017 with a $1.65-million grant from the Natural Sciences and Engineering Research Council's CREATE program, READi is the first interdisciplinary post-secondary accessibility training program offered in Canada.
The READi program provides professional training primarily for students in information and communications technology, and engineering and design to prepare for markets expanding around accessibility requirements.
"We're looking at this not only as knowledge and skills development, but also an authentic learning opportunity," says Chan.
"We want it to be a collaborative and integrated approach that involves community stakeholders. There's this sentiment that when we're designing, it should not be just for someone, it should be designed with them. All good design should be like that."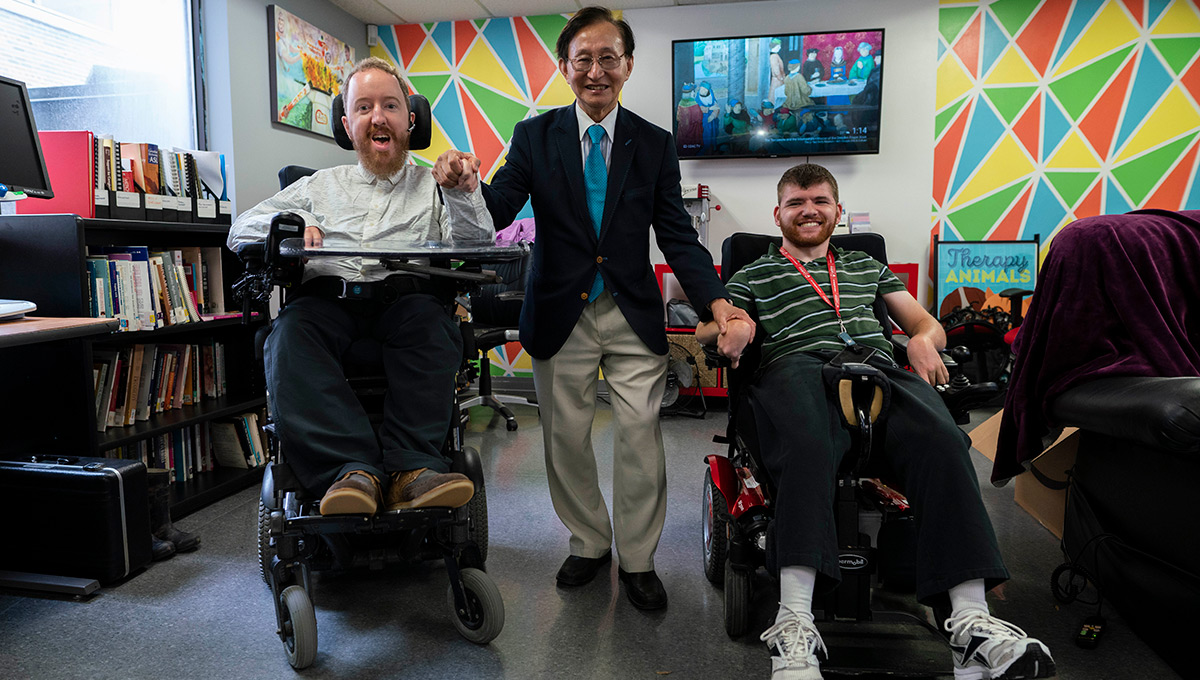 Creating an Inclusive Environment and Culture
The PMC remains a central part of Carleton's longstanding effort to create an inclusive and supportive environment and culture.
Since the early days of accessibility at the university, when underground tunnels made it easier for people with physical disabilities to travel between buildings during the winter, and the unique 24/7 Attendant Services program was launched in residence, the PMC has expanded into a hub of some 1,800 volunteers who serve twice that number of students, performing duties such as notetaking, tutoring and transcribing audio.
Raymond Cho, Ontario's minister for Seniors and Accessibility, praised PMC volunteers and the university's efforts more broadly at a campus event in April, calling Carleton "Canada's number one accessible university."
The culture of accessibility at Carleton goes far beyond the tunnels and PMC, of course, and includes flagship programs such as the READ (Research, Education, Accessibility and Design) Initiative and the David C. Onley Initiative for Employment and Enterprise Development.
The READ Initiative was established to highlight, celebrate and cultivate Carleton's expertise, leadership and collaboration with the community to create greater accessibility and a more inclusive world.
It supports increased program emphasis and facilitates academic programs, course offerings and training expertise in accessibility, disabilities and inclusion, and advances research to inform applied development and design in accessibility across disciplines and sector.
The $5-million Onley Initiative — a product of the READ Initiative — is an Ontario government-funded partnership between four post-secondary institutions in Ottawa to develop knowledge, resources and tools to support students with disabilities in their employment readiness and career aspirations.
"Accessibility is one of the key strategic goals for Carleton," says Boris Vukovic, director of the READ Initiative. "It is also a priority for many other post-secondary institutions, community partners, provincial jurisdictions and, with the passing of the Accessible Canada Act, the federal government.
"The number of Canadians identifying with a disability is now at 22.3 per cent, due to a more inclusive representation of different disabilities, including non-visible categories, and the progress in our society toward greater understanding and reduced stigma to self-disclose," he continues.
"Our aging population experiences even higher degree of disability, at 45 per cent for those over 75 years of age. At all age levels, persons with disabilities benefit from advances in accessibility of built environments, products and services."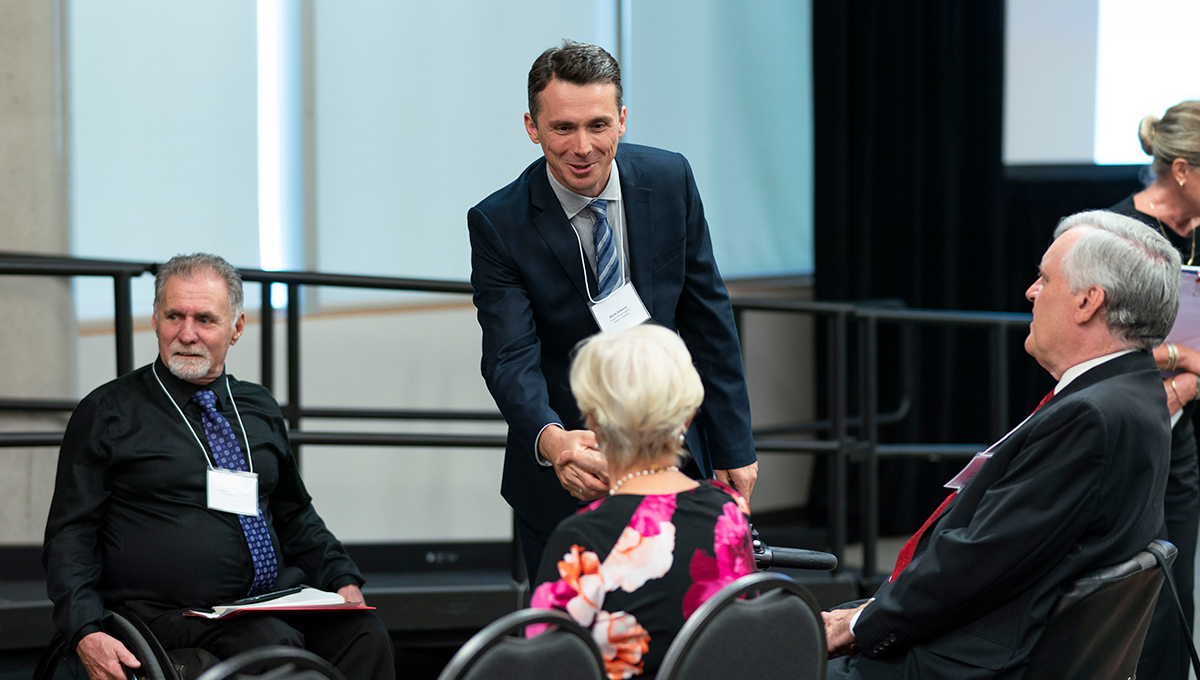 Providing Solutions to Barriers
On the research front, Carleton faculty and students provide solutions to barriers and create opportunities for full participation through the design of spaces, technologies, products and transportation, explains Vukovic.
In terms of policy, institutions and businesses can benefit from Carleton's expert guidance to further embed accessibility in their organizational and accessibility-related policies and procedures.
"The greatest challenge to accessibility are still the negative attitudes, stigma, lack of understanding and expertise," adds Vukovic.
But by working with a wide range of partners, Carleton is developing and co-ordinating education and training in accessibility, from the perspectives of the built environment, health sciences, engineering and design, mental health, disability studies, policy and law, teaching and learning, and other areas.
Moreover, "addressing the persistent and significant gap in employment rates between Canadians with and without disabilities is a national priority," says Vukovic. "There are many employment initiatives at the provincial and federal level that can benefit from collaboration and create more co-ordinated services, which in turn will be used to build up a movement to promote employment of persons with disabilities in Canada.
"Now is the time to address employment gap, because at Carleton, we've done the research to determine that our students with disabilities graduate on par with general population.
"Accessibility crosses disciplines and industries as an integral thread to the fabric of our society. Carleton can help bridge the divide between bastions of knowledge and our community by connecting post-secondary institutions with organizations at the municipal, regional, provincial, national and international level to serve collectively as a catalyst for societal change."
Tuesday, May 28, 2019 in Accessibility, Onley Initiative, Paul Menton Centre, READi
Share: Twitter, Facebook