By Elizabeth Howell
Photos by Justin Tang
The Department of Mechanical and Aerospace Engineering's annual Design Forum at Carleton University showcased projects of hundreds of students on April 7, 2019, with presentations of their projects in the Tory Building – a short walk away on campus – to tell delegates and judges the goals of their design and how they achieved it.
Often considered the hallmark of an undergraduate engineering degree, capstone design projects provide fourth-year students with a platform to implement the theory, practice and skills they have developed over the course of their program.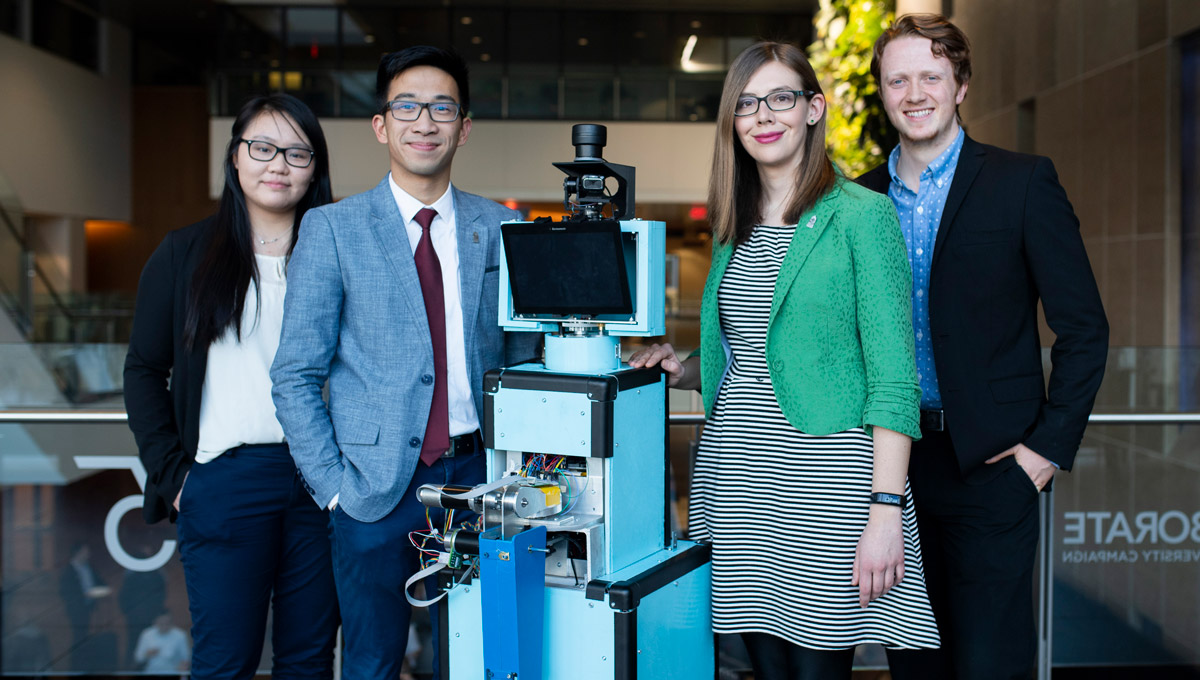 Learning by Doing
"This is a truly big day for all of you," Fred Afagh, interim dean of the Faculty of Engineering and Design, told participants. He said that the projects will help them with "their development and growth as an engineer," including skills such as problem-solving and creativity.
Carleton President Benoit-Antoine Bacon said that the forum is an example of experiential learning – taking lessons learned in the classroom and applying them to real-life problems. Students learn best "by doing, and reflecting on that experience," he said, and that there is even more value in teamwork since it involves interdisciplinary collaborations.
"[The projects] also serve," he said in a speech, "as the beginning of your resume and the launch of your engineering degrees."
The event was followed by a reception for students, faculty, staff and industry representatives, some of whom participated in the event as judges and advisers for the day's projects and presentations.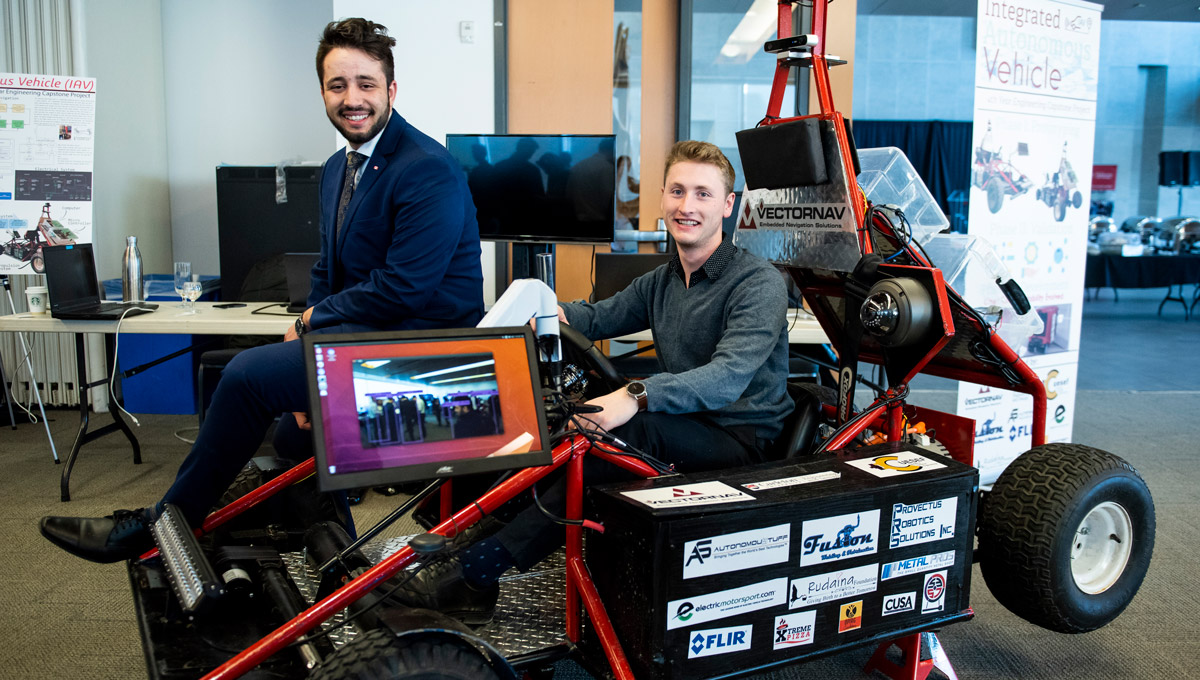 A Pioneering Forum in the Field of Mechanical and Aerospace Engineering
The forum is a pioneering effort by Carleton that started in 1991. At the time, it was the only forum of its type in the country. This year's efforts included 11 projects and more than 300 participating students across several engineering programs. In a couple of years, these type of projects will be showcased in a new student design centre at the Mackenzie Building, where many engineering classes take place.
Here is the full project design listing – including project managers and lead engineers:
Fixed and Rotary Wing Aircraft Design (Jeremy Laliberté, Joana Rocha, Carmelo Scaini, Alan Steele, John Bauer)
Satellite Design Project (Bruce Burlton, Steve Ulrich, Tarik Kaya, Fred Schultz, Wolfram Lunscher, J.F. Thibault)
Blended Wing Body Unmanned Aerial Vehicle (Mostafa El Sayed, Fidel Khouli, Fred Nitzsche)
Formula SAE (Glen Clarke, Andrei Artemev, Abu Kabir)
Carleton University Simulator Project (John Hayes, Rob Langlois, Rishad Irani)
Carleton University Brayton Cycle Loop – Gas Turbine (Henry Saari, Steen Sjolander, Junji Gu)
Integrated Autonomous Vehicle (Jurek Sasiadek, Xiao Huang)
Carleton University Crash Dummy (Andrew Speirs, Hanspeter Frei, Oren Petel)
Intelligent Telepresence and Assistive Devices (Ala Qadi, Peter Liu, Rong Liu)
Small, Modular, Advanced Reactor Thermal-hydraulics Simulator (Glenn McRae, John Gaydos)
Building-Integrated Thermal Energy Systems (Ian Beausoleil-Morrison, Jean Duquette, Cynthia Cruickshank)