By Dan Rubinstein
Photos by Chris Roussakis
Carleton University is woven into the fabric of Ottawa, and in today's age of partnerships, the university's collaborations with government, industry and non-profit institutions will play a key role in its ability to successfully navigate the fast pace of societal change.
These ideas, the central theme of a speech delivered by Carleton President Benoit-Antoine Bacon at the Mayor's Breakfast Series at City Hall on Feb. 12, 2019 drew vigorous applause from a council chamber packed with nearly 300 local business, political and community leaders.
The event was co-hosted by Ottawa Business Journal publisher Michael Curran and Ian Faris, president and CEO of the Ottawa Board of Trade.
Bacon was introduced by Ottawa Mayor Jim Watson, a Carleton alumnus, who noted that extra seats had to be set up to accommodate the large audience. Watson also welcomed two other post-secondary leaders — Algonquin College President Cheryl Jensen and University of Ottawa President Jacques Frémont — who were seated beside Bacon.
"This shows the importance of post-secondary institutions to the ecosystem of the city," said Watson.
"A big part of Carleton's success is due to being in this great city," said Bacon. "A city that matters. The national capital. We leverage the strengths of our city as much as we can, and we try to be as open and accessible as possible so that the city can leverage us."
Carleton was recently ranked as one of the top 10 universities in Canada for graduate career success, Bacon said, and one of the top 200 internationally — well within the top one percent of more than 20,000 universities worldwide.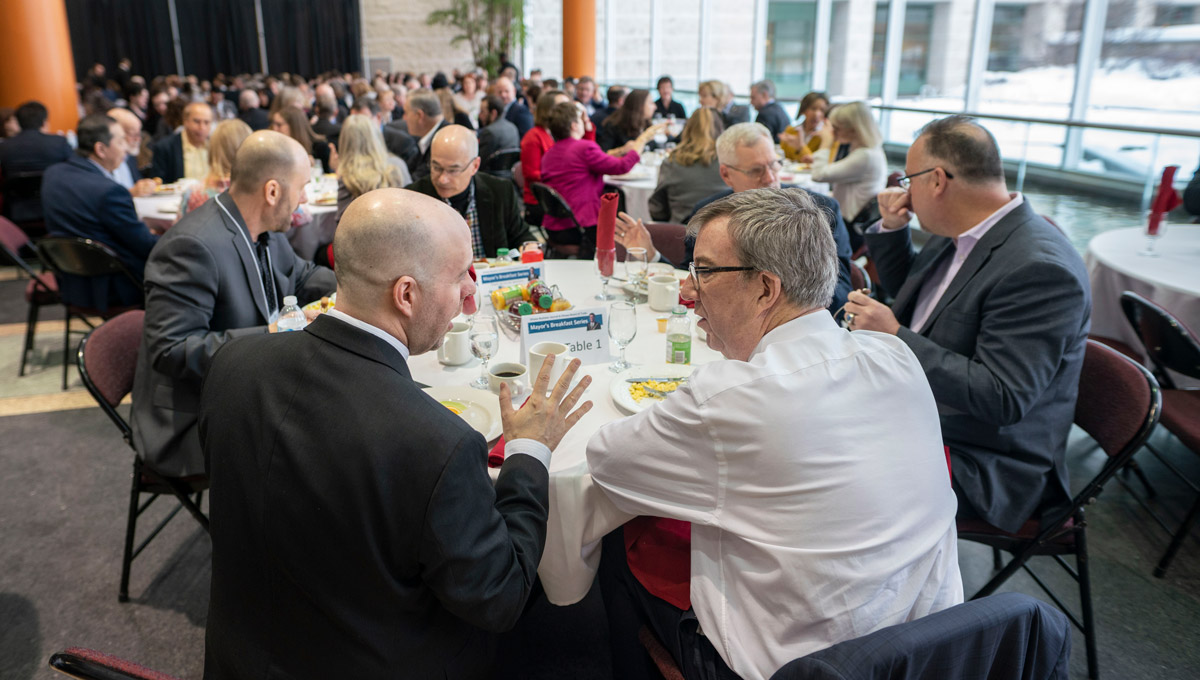 Core Elements of a Smart City
Moreover, Carleton has an economic impact as an institution estimated at well over $3 billion annually, with an overwhelming proportion spent in Ottawa. The university will receive about $70 million in research funds this year, supporting projects in areas such as telecommunications, public policy, energy efficiency, accessibility and autonomous vehicles.
"Take them together," said Bacon, "and they are the core elements of a smart city."
He also delivered some news: Carleton officially surpassed the $300-million goal of its "Here for Good" fundraising campaign.
"This has been the most ambitious fundraising initiative in the university's history, and it is a success because of what 'Here for Good' embodies," said Bacon. "It speaks to our commitment to enhance social, economic and the common good — that's our purpose. Everyone wants to contribute. You cannot have meaning in your life if you don't feel that you're contributing to the greater good."
This is an exciting time to be at Carleton, Bacon said, but also a challenging time.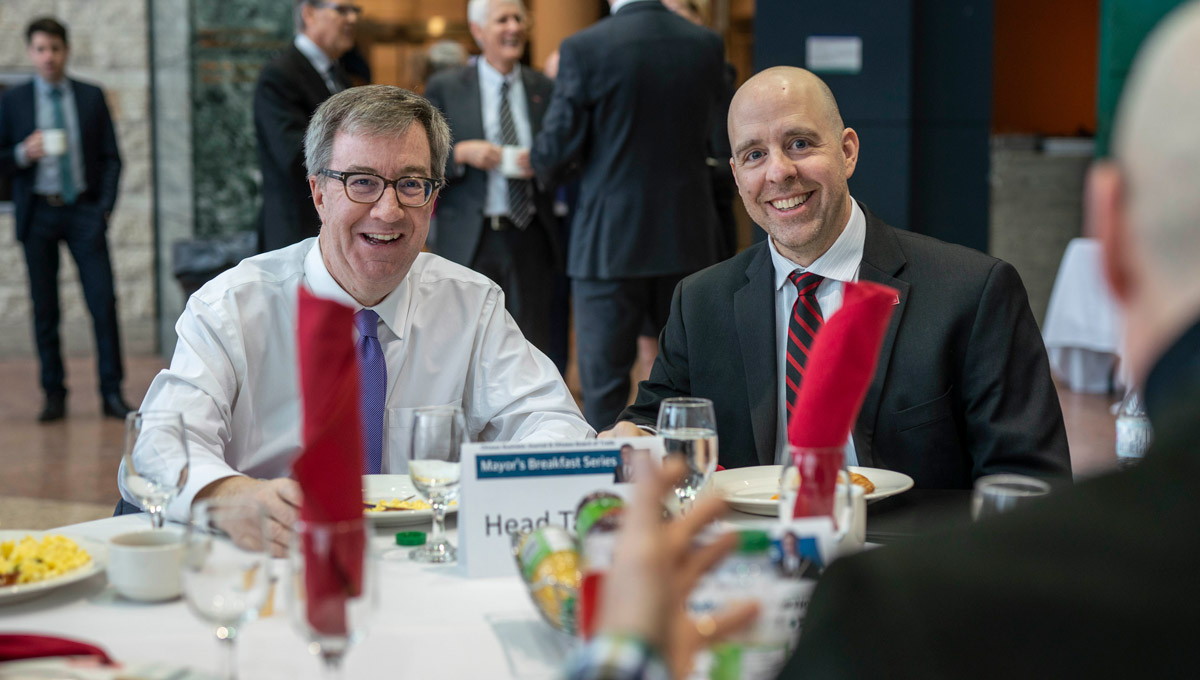 "As a sector, higher education faces a number of challenges. The most pressing one could be the dramatic paradigm shift for all content-based businesses brought about by technological evolution.
"It has hit the media and music industries hard and they had to adapt. Universities have followed a fairly fixed approach for decades and now we must adapt — and adapt quickly — to remain viable and sustainable.
"To face these challenges, we can't operate independently. No one person, or institution, is an island. We live in an age of partnerships, and we could not achieve any of our ambitious goals at Carleton without collaborating with our many partners in the government, industry and non-profit sectors. Together, we are stronger and more resilient.
"One of the ways that we're adapting is by incorporating much more experiential learning — learning by doing — into our programs. But we have to do this in a smart way."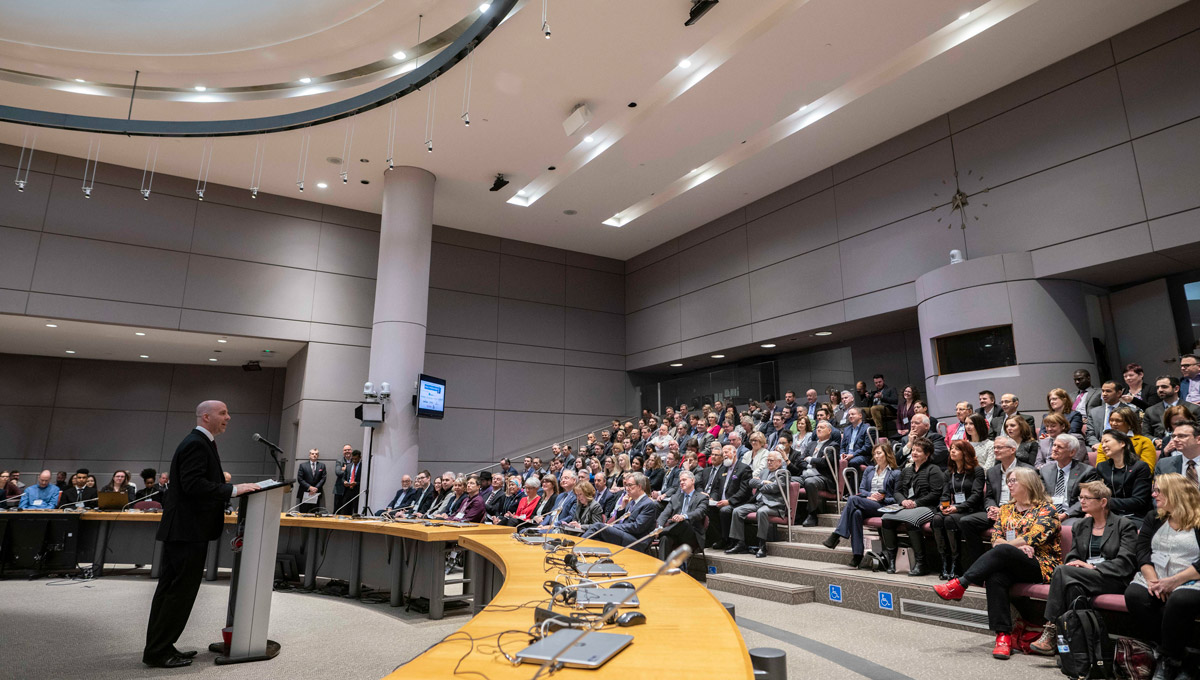 Creating More Learning Opportunities for Students
In terms of specific partnerships, Bacon highlighted Carleton's Dev Degree collaboration with Shopify and the Education City initiative, where Carleton, the University of Ottawa, Algonquin College and La Cité Collégiale work together to create more learning opportunities for students so they better meet workforce demands.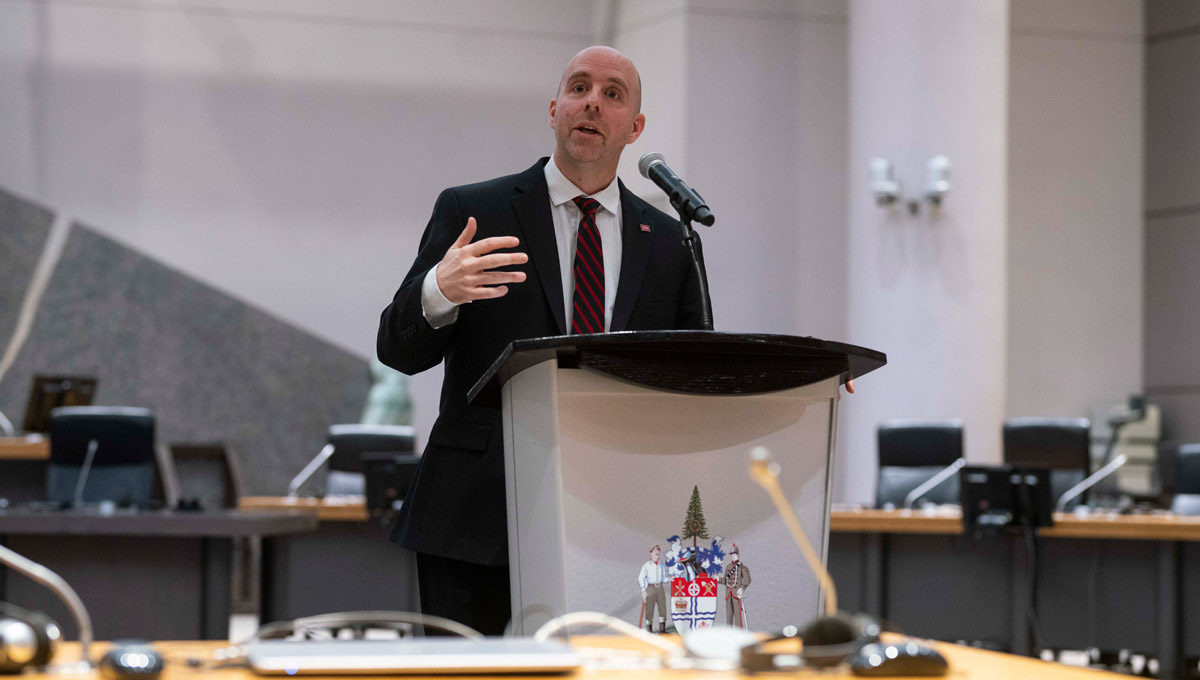 "We're working with our post-secondary partners on autonomous vehicle research and development," Bacon added. "This work is supported by Invest Ottawa and includes the City of Ottawa, BlackBerry QNX and the National Capital Commission. We're building on Ottawa's strength in communications technologies and cybersecurity and will help the city to lead in the autonomous vehicle sector."
The speech also covered Carleton's efforts on the sustainability front, including its recent move to join the Carbon 613 green economy hub, the fact that Efficiency Canada has established its headquarters on campus, and the university's new co-generation energy plant which will provide 40 per cent of all campus electricity.
"Hydro Ottawa provided a $5.2-million incentive for this project — about a quarter of the total budget — so thank you very much to the city for its support!"
Tuesday, February 12, 2019 in President
Share: Twitter, Facebook