Since the dawn of the digital age, technology has altered the classroom learning experience. Few 21st century teachers would consider working without digital tools to effectively engage and support their students.
Now, during the global public health crisis that has ended face-to-face classes, software that once added value to lessons has become indispensable.
"Some schools and some programs were further ahead than others, but now everybody needs an online component," says Fred Dixon, CEO of Blindside Networks and project manager of BigBlueButton.
To say that a shift to online learning has sped up in recent weeks is an understatement. But the push to create virtual classrooms has been in development at Carleton University since the late 2000s, when BigBlueButton was created in the Technology Innovation Management (TIM) program.
"BigBlueButton enables online education all over the world," says Steven Muegge, professor of Entrepreneurship at the Sprott School of Business and director of the TIM program.
"It originated at Carleton, with the professors and graduate students of the TIM program as its first users, and it has remained central to our operations. We have 11 years of experience with online learning."
Developed as free, open-source software, BigBlueButton is an online education platform for real-time classes, seminars and office hours. While many of its features were created through a community of developers, its system architecture and core capabilities were created by the original developers.
Richard Alam, now CTO of Blindside Networks, completed his Bachelor of Electrical Engineering at Carleton in 1996. A decade later, as an experienced software developer and aspiring entrepreneur working toward his master's degree in the TIM program, Alam was challenged by then-director Tony Bailetti to create an open-source web conferencing tool.
That year, serial entrepreneur Dixon was networking on campus to find student entrepreneurs to mentor. Alam and Dixon connected and decided to build a company.
Starting a web conference for online learning should be as simple as pushing a big blue button, they thought.
Virtual Classrooms Go Global
In 2009, they co-founded Blindside Networks to provide hosting, technical support and additional services with BigBlueButton. As an alternative to operating and maintaining their own BigBlueButton servers, schools could contract with Blindside Networks to provide them such services.
Over its 11 years, BigBlueButton became a global, go-to for open source virtual classroom software. It has been adopted at all school levels—from elementary to vocational—and integrated into the leading learning management systems—including Moodle, Canvas, Schoology, Jenzabar and D2L.
"As an instructor, I use BigBlueButton differently in different settings," says Muegge.
"With 20 students online, we can all use webcams and microphones, and discuss the course material interactively together in a seminar or workshop."
Students can present remotely in a BigBlueButton classroom, just as they would in a physical classroom.
With 60 or more students online, Muegge manages the session more like a webinar with one person at a time in control of documents and video while others interact over text chat and polling features. These large sessions are interspersed with group work where students split off—each group in its own online conference room for the duration of the activity—and then rejoin the main session.
"Course delivery online is not just about using BigBlueButton from home, it is about innovating to ensure that students understand what you are teaching and provide evidence of this understanding," says Muegge.
"The latter is the difficult part. You must innovate for your students to learn."
BigBlueButton can record and play back lectures, conduct polls and quizzes, and offer breakout rooms for group activities. Learners can collaborate around documents, such as slides or class notes prepared in advance by an instructor, sketch out ideas together on an interactive multi-user whiteboard, or write together in shared notes. Students don't need to download software, they simply join through a web browser on a computer, mobile phone or tablet. Carleton's learning management system, cuLearn, includes all of BigBlueButton's capabilities and functions. To help instructors and professors navigate the change from classroom to online learning, the Education Development Centre is offering BigBlueButton training sessions online through April.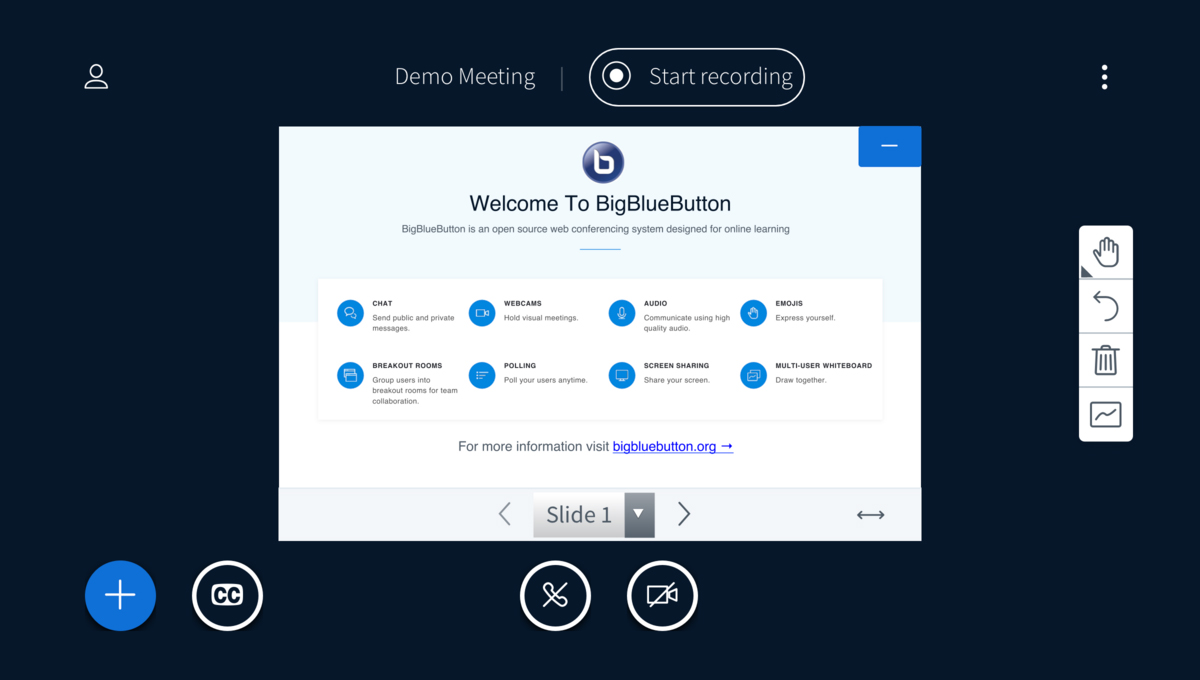 Big Increase in Downloads
Even before March 11, 2020, when COVID-19 was declared a pandemic by the World Health Organization (WHO), BigBlueButton was seeing a dramatic increase in downloads.
"About a month and a half ago, we were working with schools in China to create scalable solutions that they could run," says Dixon.
The Xi'an Jiaotong-Liverpool University (XJTLU) campus in Suzhou, China closed in early February. To complete its semester, the university created a BigBlueButton-based remote online teaching platform that can simultaneously accommodate 6,000 to 8,000 students. For this massive amount of synchronous sessions, Blindside Networks released a load balancer tool for BigBlueButton called Scalelite.
The day COVID-19 was classified a pandemic, BigBlueButton released its newest version in two years. As the coronavirus spread, the BigBlueButton forums and Twitter feed exploded with hundreds of messages. In the first week of April, the software was downloaded 17,000 times within 48 hours.
The philosophy of open source is to improve software collectively and transparently, and to share the results with everyone. The lack of financial and proprietary barriers allows entrepreneurs and small companies to build onto open source software to create products and services that meet specific needs. Today, the need met by BigBlueButton exists everywhere.
"The community has been fantastic," says Dixon. Through the online community forums, people experienced with BigBlueButton helped new first-time users to set up their own servers for schools all over the world.
From its prototype in 2007, BigBlueButton has been improved by a community of international developers. In 2019, developers at Seneca College prototyped audio-to-text machine learning software Mozilla Deep Speech to allow automatic, real-time closed captioning to sessions. It is now available in more than 35 languages, including the recent addition of Catalan, Estonian, Latvian and Lithuanian.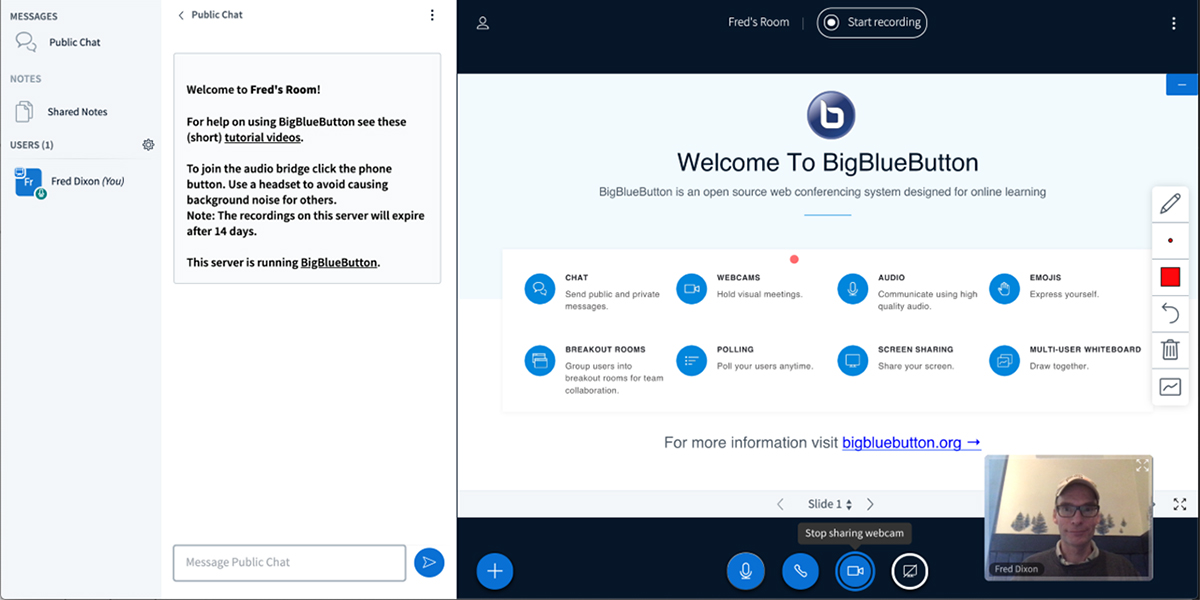 Delivering Presentations Online
"Entrepreneurs need to be effective communicators," says Muegge, "so TIM students have many opportunities to deliver presentations in their courses. Like everything else in the COVID-19 pandemic, those presentations have all moved online."
Over the past weeks, Muegge has had more than 50 student presentations delivered online—some by individuals and some by groups of students, with each person joining from a different physical location.
One such graduate student is Sam Brand, the chief of Revenue and Product Management of the International Civil Aviation Organization. She lives and works in Montreal, and normally commutes to Ottawa for evening classes at Carleton. During the COVID-19 pandemic, she joined classes remotely.
"It's been very accommodating for me, because I really did have to pivot when COVID-19 came along," says Brand.
"From a work perspective, my workload just went up exponentially, which meant that the commute from here to Ottawa for my studies was not even remotely possible."
The TIM program has long advocated adaptability and accessibility with its graduate students.
"I'm a full-time, federal government employee," says Regina Sosing, a TIM graduate student and entrepreneur. "I travel all the time. This semester, I was away for one month and BigBlueButton allowed me to join the class from wherever I was, or review the class when I missed it." Sosing, a partner and vice-president of Social Media and Marketing at Links Bridges and the marketing director of Dune Science Group, continued her master's in entrepreneurship uninterrupted on BigBlueButton even before COVID-19.
TIM professors used BigBlueButton inside the classroom to extend their reach online. Most students were physically present with the instructor in the Carleton classroom, with some joining online from hotel rooms or remote offices when their careers demanded travel.
According to Sosing: "I credit the TIM program's flexibility and innovative use of technology, especially BigBlueButton, as one of my big reasons for joining."
Tuesday, April 21, 2020 in Sprott School of Business
Share: Twitter, Facebook