By Tyrone Burke
Photos by Josh Hotz
Inuit oral history has been etched into stone and bathed in the soft light of Canada's National Gallery of Art.
But it wasn't always this way. The popularization and commercialization of Inuit sculpture only began in the mid-20th century and, even then, it was largely driven by government policies introduced as Inuit were forced from the land to permanent settlements.
As with many Indigenous policies, there were lasting consequences. Each year, art sales bring tens of millions of dollars to the North, but artists are still up to twice as heavily concentrated in jurisdictions where that early arts funding was directed.
"In the late 1940s and early 1950s, there was a program that was going to focus on Inuit selling to southern Canadians or international markets," said Natan Obed, president of Inuit Tapiriit Kanatami (ITK), a multi-layered Inuit democratic organization that serves as a voice for Inuit throughout Canada.
Obed gave the 2018 Katherine Graham Lecture on Reimagining Canada's Relationship with the Inuit, at Carleton University on June 6.
"Nunatsiavut (Labrador) was not a part of that program, and if you think about Inuit art, you think about the Cape Dorset print shop in Nunavut or the amazing soapstone work from Nunavik  . . .  but not Nunatsiavut.
"All of that has a public policy base. Inuit in Nunatsiavut were excluded from public funding and did not have access to the money, administration and resources in the way other regions did.  We still have artists, and we're pushing to be included in policy conversations about art funding, but it's an example of the practical consequences of not imagining Inuit Nunangat, and not imagining how funds go into this space."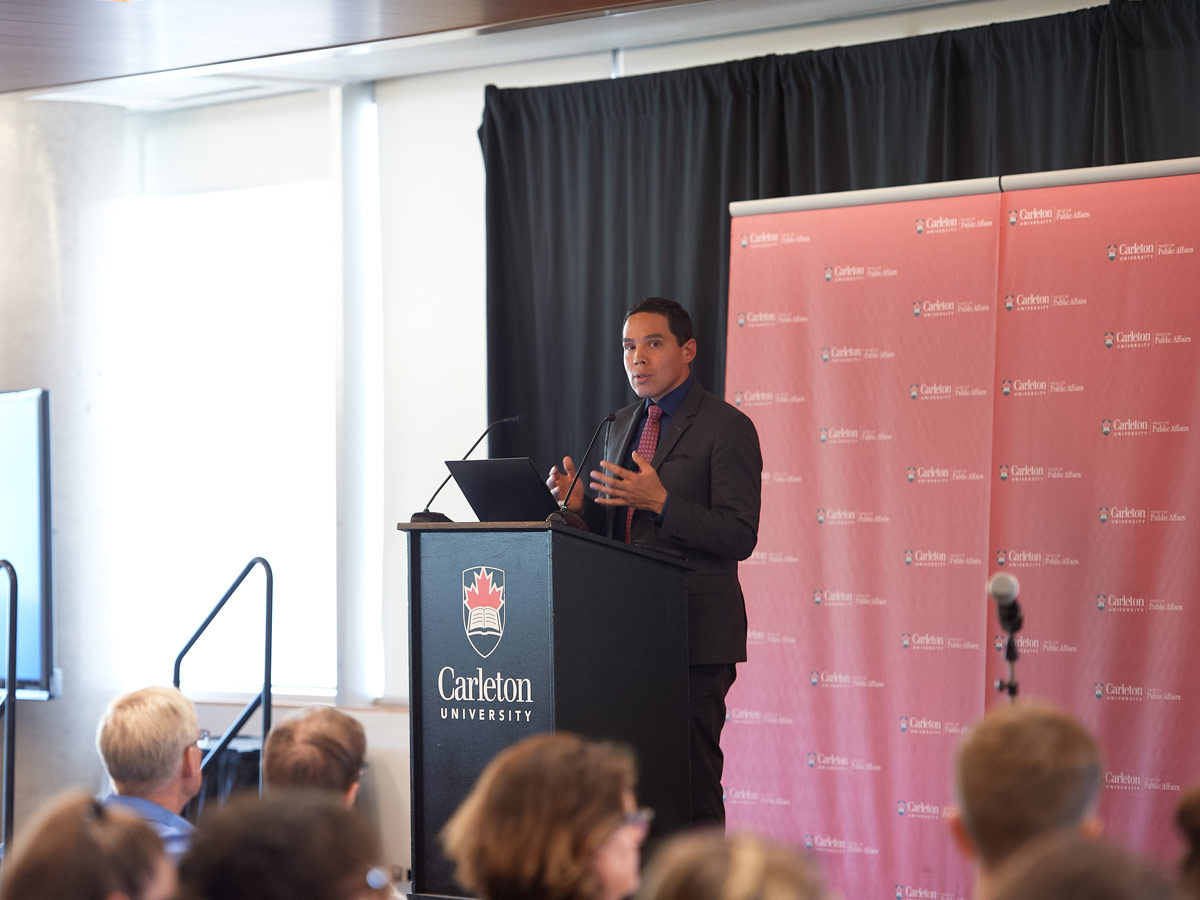 Understanding Inuit Nunangat
That concept – Inuit Nunangat — is key to understanding the work that ITK and Obed are doing to reimagine the Canada-Inuit relationship and advance self-determination. Inuit Nunangat is the land, water and ice of the Inuit's homeland. Stretching across Canada's North – from Labrador in the east to the Beaufort Sea in the west – it comprises 36 per cent of Canada's land and half its coastline.
Simple enough in theory, but below the surface there is considerable complexity.
Inuit Nunangat's geography is epic in scale, but the population is sparse: 65,000 people in 53 communities in Nunavut, Inuvialuit (Northwest Territories), Nunavik (Quebec), and Nunatsiavut. Each of the four regions has its own land claims agreement, and each elects a representative to the ITK board. Obed himself is also elected, but the president is a non-voting member of the board. The president runs without a platform, and instead implements the board's vision.
Then there are the provincial and territorial jurisdictions. Each comes with its own set of challenges.
"All four are vastly different spaces," Obed says.
"Newfoundland and Labrador only joined Confederation in 1949, so our ancestors were aligned more with Britain and Germany than with Canada. That's because of Moravian missionaries, who had orders in council from the British to occupy large chunks of Labrador, and provide missionary services and trade with Inuit. The attitudes Quebec brings to national conversations are often very different than the policy responses that Inuit in the province would have."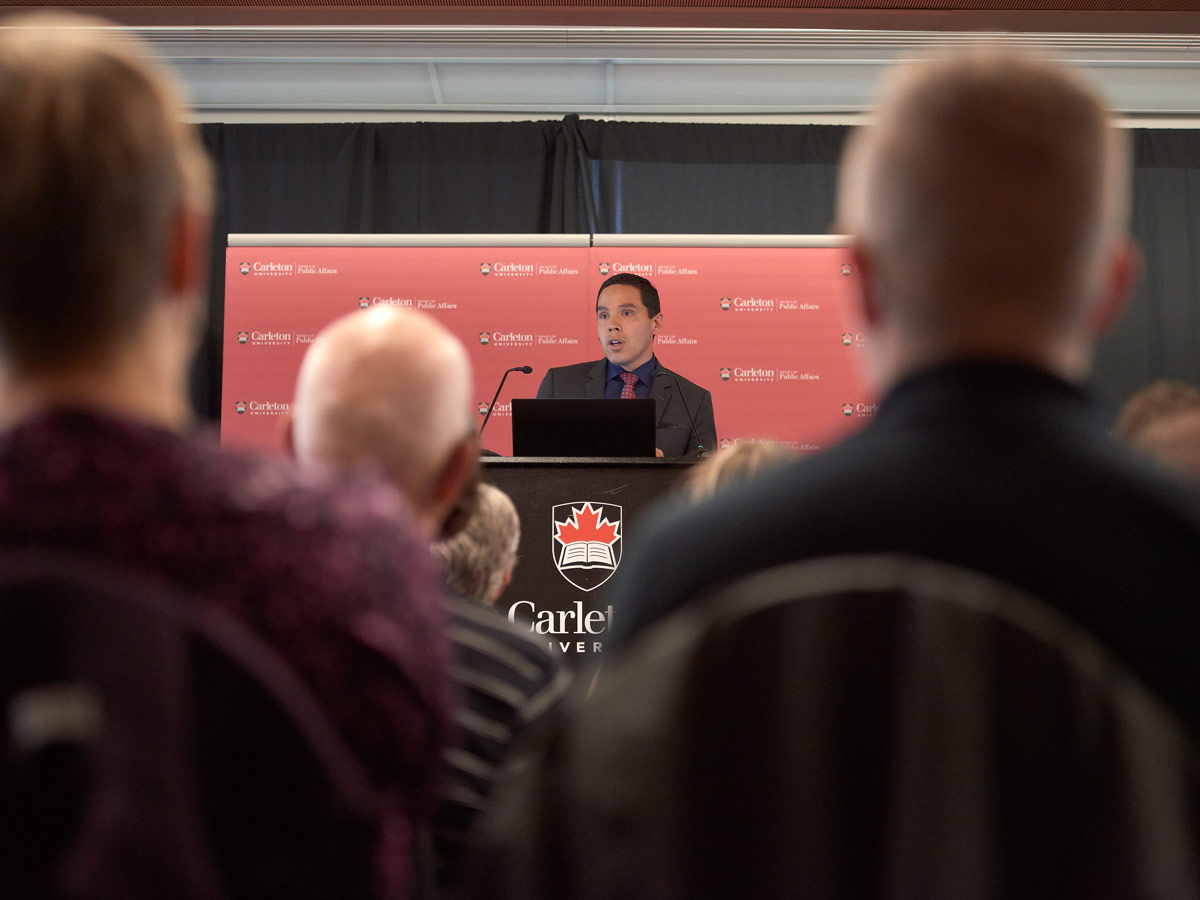 A Power Imbalance
The two territories have fewer powers than do provinces, so funding can be even more difficult to maintain.
"In the Northwest Territories, there are a number of different Indigenous peoples, and the 1984 land claim agreement was predicated on the Mackenzie Valley gas pipeline. It was another deal that Inuit had to take – or strategically took at that time, to protect their interest in the project.
"In Nunavut, the idea that this country had created an Inuit homeland complicates matters. It's a huge opportunity and one that Inuit have been very proud to achieve, but it also has little revenue, in comparison to Quebec or Labrador."
The situation is unique, and there's no real roadmap for how self-determinantion in an area like Inuit Nunangat should work, but some of the problems Inuit leaders encounter are familiar to indigenous peoples in Canada's south.
"On contentious issues, we always get immediate pushback from the Canadian public and government," Obed says.
After 10 difficult years for Indigenous representation organizations like ITK under Stephen Harper's governments, there have been fewer setbacks in recent years. The organization has been frustrated with federal uptake on policy plans like its National Youth Suicide Prevention Strategy, but Inuit leadership has also had unprecedented access to federal ministers and the prime minister.
In December 2017, an Inuit-Crown partnership was launched to identify shared priorities and solutions. Already, it's yielding dividends. The latest federal budget committed $400 million to northern housing.
"Inuit are first Canadians, and Canadians first," says Obed, crediting the poignant thought to his late mentor Josie Kusugak.
"We don't have a lot of the same angst around our place within Canada, as perhaps First Nations or Metis do. That isn't to say that there aren't Inuit who want to see a different relationship, or aren't bitter about the relationship between Inuit and Canada.
"But it is to say that the way we have mobilized is to say that we are Canadians and we deserve the services that all Canadians receive and share the same hopes and dreams that Canadians have for the country."
Tuesday, June 12, 2018 in Indigenous
Share: Twitter, Facebook