By Lisa Gregoire
Photos by Lisa Gregoire and Josh Hotz
Wearing a shirt she'd made the previous day—an arrow snapping against a target and destroying a gun—and sitting in front of Revolution of Love, a painting by Michif artist Christi Belcourt, kahntinetha Horn told a crowded room of mostly non-Indigenous people that she never wanted to be the Indian Princess of Canada.
But since she was a young, attractive model, the National Indian Council, precursor to the Assembly of First Nations, gave her the princess title and put her on the board of directors. The problem was, she didn't act like a princess.
"I'd say: 'Look, I want to know what we're going to do about our situation, about our land, our resources, our economic situation, how bad it was.' They didn't want to hear about that. All they could talk about was the money they were going to get from the government," Horn told about 100 people gathered at the Carleton University Art Gallery (CUAG) on Feb. 11, 2019, including Carleton President Benoit-Antoine Bacon.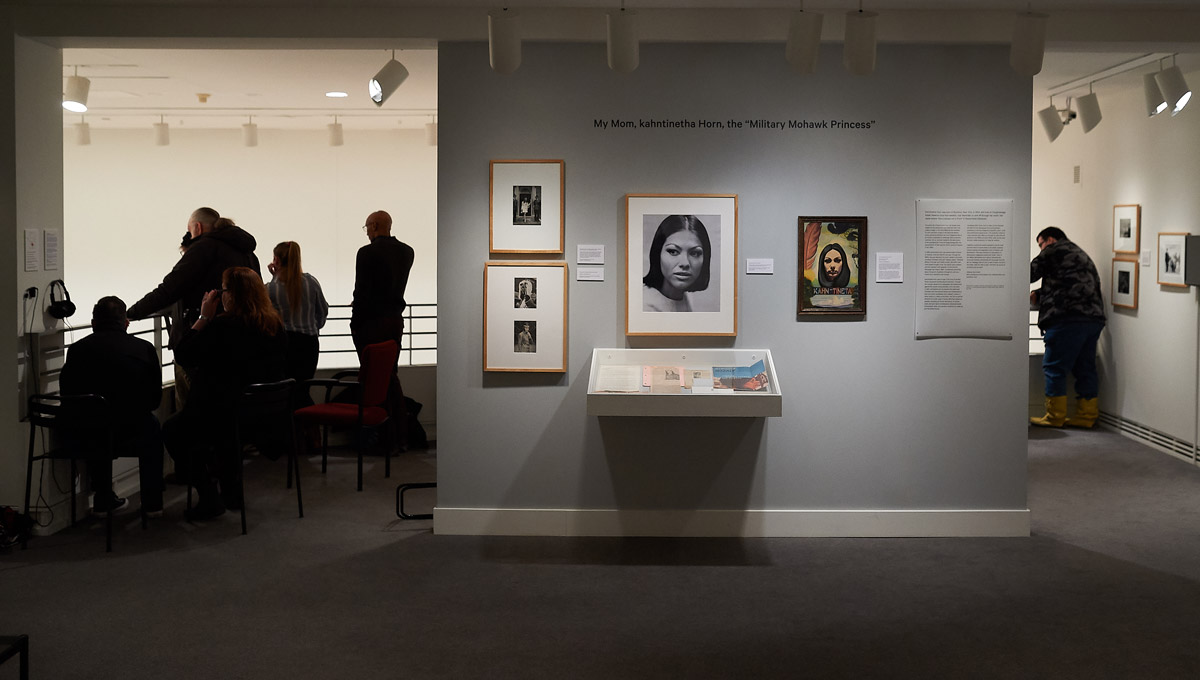 "Then they invited me to another meeting, and it was all staged, and they embarrassed me and humiliated me by saying: 'We're taking away your crown!' I said: 'Thank goodness.'"
Horn and her daughter Kahente Horn-Miller, an assistant professor with Carleton's School of Indigenous and Canadian Studies, appeared together at the gallery as part of a speaker's series moderated by Carmen Robertson, Canada Research Chair in North American Art and Material Culture.
The event coincided with an exhibit on Horn's activism, curated by her daughter and on display at the CUAG until Apr. 28.
Horn was a successful fashion model in the 1960s, but it wasn't enough. She used her fame and political clout to overturn just about every well-set colonial table of oppression she came across.
Now a living legend and arguably one of the first Indigenous celebrities in Canada, Horn, 79, was breezy and irreverent, sitting between Robertson and her daughter in that striking shirt she had titled "disenchantment."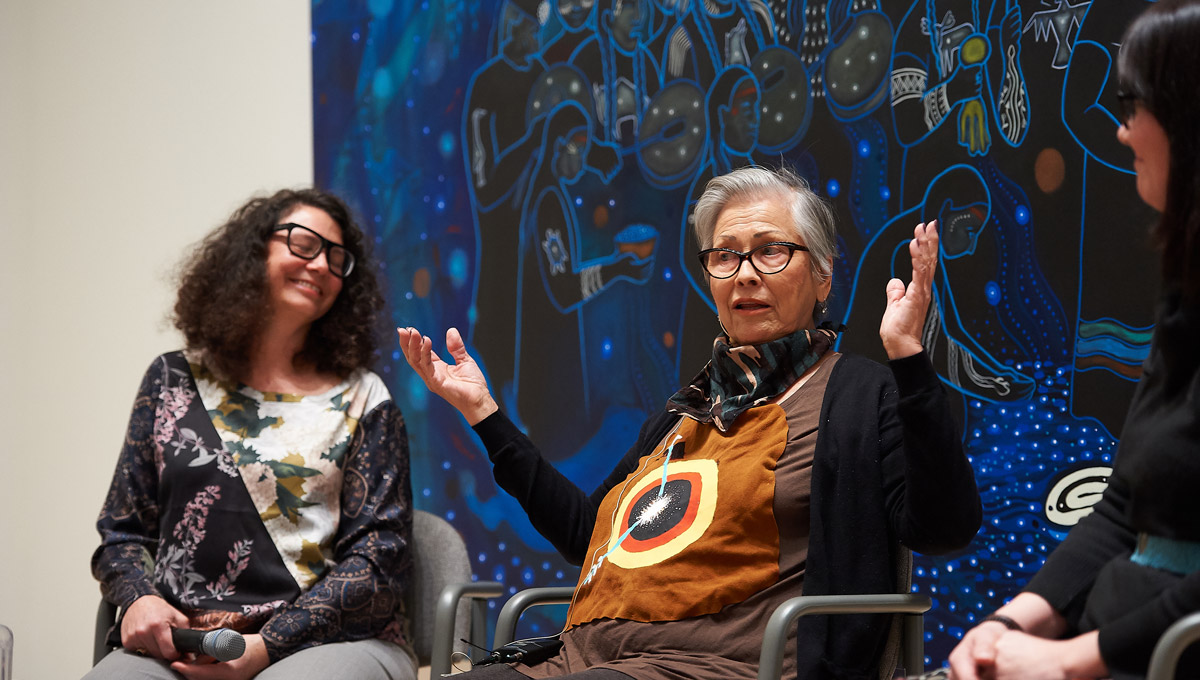 Defiance in the Face of Derision
Audience members laughed, gasped and sometimes shook their heads as she told stories of defiance in the face of derision and harassment—not only from government officials but also her Indigenous brethren of the day, most of whom saw her strength and feared it.
She became a thorn in the side of anyone who tried to bar her from the halls of power and decision-making, and that included corrupt chiefs and leaders of the National Indian Council which became the National Indian Brotherhood and, eventually, today's Assembly of First Nations which, she says, "is still run the same way."
As a result of her media profile, and the rise of the American Indian and the Red Power movements, the young Mohawk from the Caughnawaga Indian Reserve was soon appearing on The Today Show and earning audiences with American civil rights leaders such as Robert David Abernathy.
She talked about attending the funeral of John F. Kennedy in 1963, at the request of the Kennedy family, and visiting London, England on her own dime to deliver a letter to the Queen demanding the 1794 Jay Treaty be upheld so Indigenous peoples could move freely over the border between Canada and the United States as promised.
But she told her rapt audience that she never courted fame. She said she was just upholding the traditions of her ancestors—most of whom were massacred by European explorers over the centuries—and of First Nations peoples today, who continue to be censored, undermined, excluded, arrested and murdered.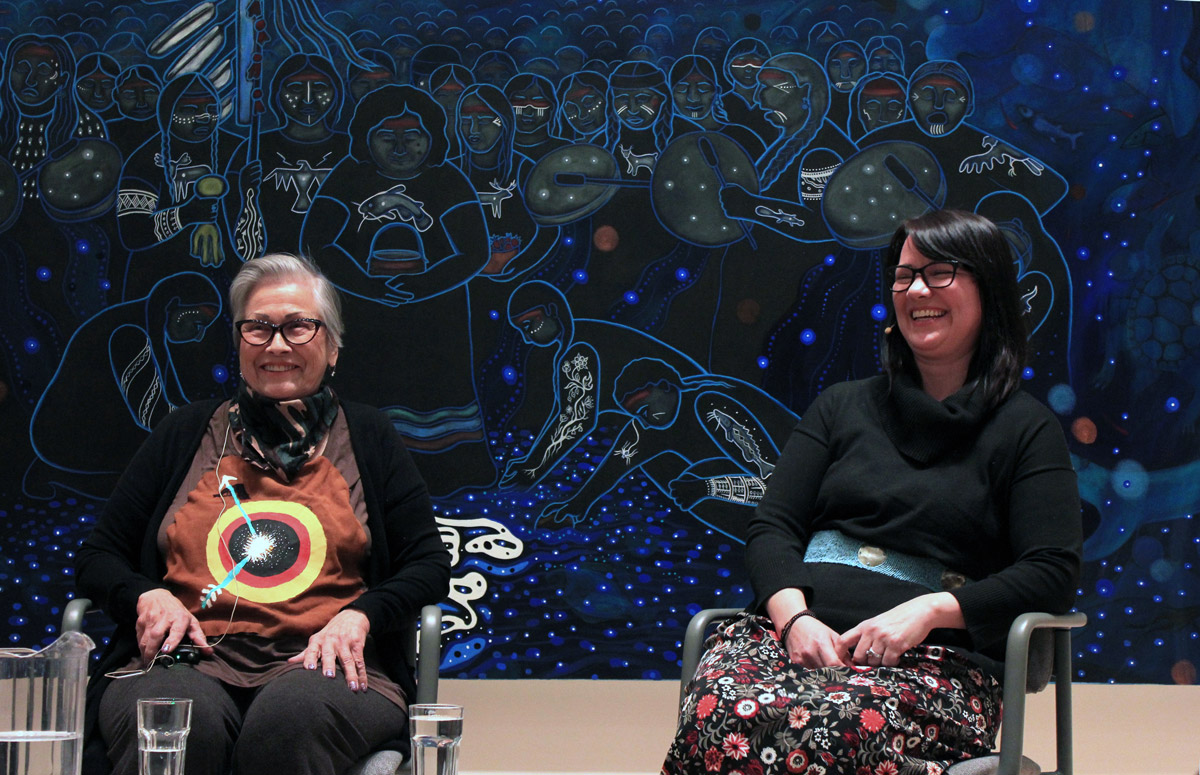 Learning Perseverance from Mohawk Mentors
Horn said she learned perseverance from Mohawk mentors, including her father, one of the famous Caughnawaga steelworkers of the 1920s.
When confused at school by history lessons that excluded her people's stories, her father told her to question everything and then ask for proof.
The Mohawk people are the enforcers of the Great Peace, Horn said. It's their job to make sure the Earth is protected and preserved so that's why they fight for the land, as they did at the 1990 standoff at Oka, the first modern-day violent confrontation between First Nations and the federal government that resulted in the death of a Quebec police officer.
Horn, who was working for the Department of Indian Affairs at the time—and later fired because of it—joined the standoff with her daughters. Her eldest daughter Waneek Horn-Miller, then 14, was stabbed by an army soldier's bayonet in the final days of the protest while Waneek held her sister Kaniehtiio, then four.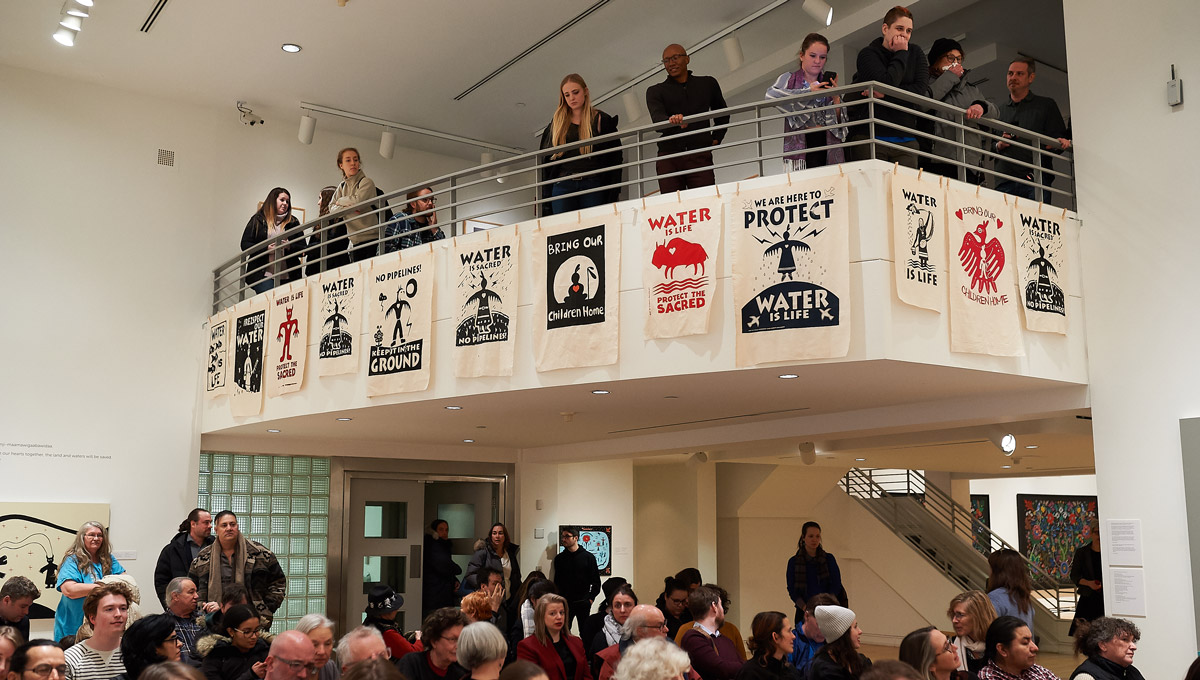 A photograph of Waneek, screaming in pain, clutching her sister, ran on front pages the next day as the standoff was ending and became a lasting symbol of Indigenous struggle and oppression. But, like their mother, the girls seemed to be forged by adversity. Waneek (Carleton alumnus 2000) become an Olympic athlete and sportscaster and Kaniehtiio became an award-winning actor. The eldest of the daughters, Ojistah Horn, is a family doctor practicing in Caughnawaga.
After the talk was over, an audience member asked what sustains her people after 500 years of persecution. She said it was like pine needles that fall, become part of the soil and help other things grow—her ancestors keep sending messages of hope.
"We see their faces under the ground and they come back to us. We don't die."
Tuesday, March 5, 2019 in Art Gallery, Indigenous
Share: Twitter, Facebook