By Dan Rubinstein
Photos by Chris Roussakis
Ottawa's Inspiration Village, a temporary exhibit and entertainment hub built out of shipping containers in the heart of the ByWard Market, gives locals and visitors another place to gather and celebrate Canada's 150th birthday.
But students in the third-year design studio run by Carleton University Architecture Prof. Benjamin Gianni are already looking ahead to how a stretch of York Street that's usually used for parking could be reimagined when the sesquicentennial site is disassembled in early September.
Their thoughtful and eye-catching proposals — 10 of which are on display inside an Inspiration Village container — represent a sustainable and social approach to revamping public space and could influence the city's plans for the market's future.
"These types of ideas need to be considered and applied," says Gianni, an expert in housing and urban development who collaborated on the project with Carleton Architecture instructors Tom Leung, Honorata Pienkowska and Jay Lim. "We want to help transform the city into something better. This is what architects do, and the students love projects like this.
"There was a period when the practice of architecture was rather hermetic," he continues.
"This generation is different, and urban design and transportation issues are becoming much more important for environmental and social reasons. When people live in close proximity, design can make the difference between being able to live together or not."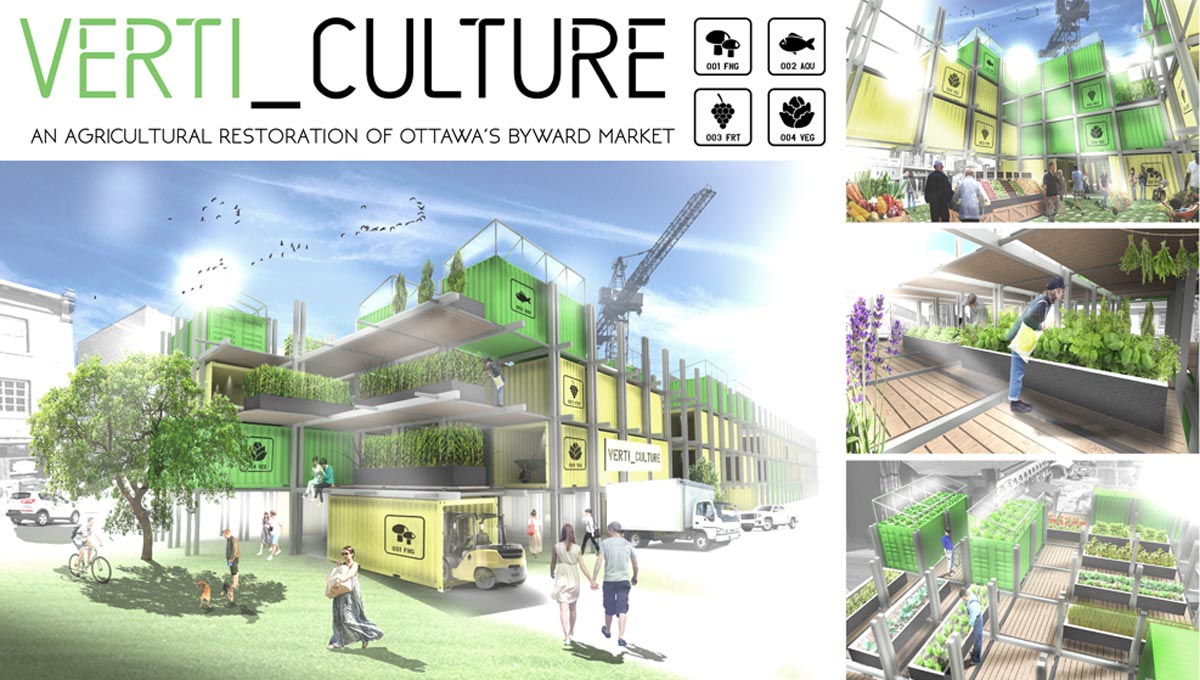 Repurposing the Space
for Inspiration Village
The 41 shipping containers that comprise Inspiration Village have been repurposed into a stage for free performances, a sound studio for sharing stories, dress-up and animal cut-out photo booths, and showcases for attractions from across the country.
"Inspiration Village will animate the ByWard Market like never before and will be a gathering point for the millions of visitors who will come to Ottawa this summer," Mayor Jim Watson said in a news release.
"It will showcase the beauty of Canada's regions and the diversity of Ottawa 2017 partners, while entertaining and educating passersby about the people and places that make this country so great."
The location — York Street, between Sussex Drive and ByWard Market Square — had been home to 92 parking spaces. Some nearby shopkeepers are concerned about potential loss of business with less parking, even though studies consistently show that retail sales remain steady and even increase when there's more foot and bicycle traffic in an area.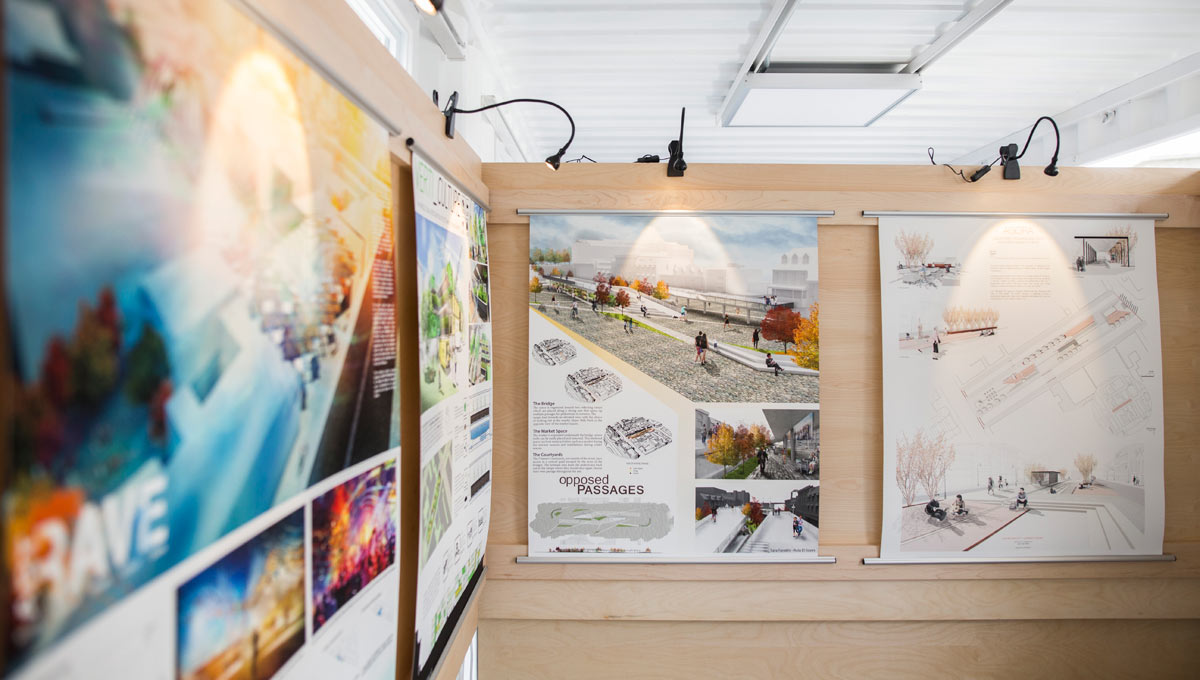 And though they don't shy away from practical realities such as cost and parking, the Carleton proposals are focused on connecting the green space of Major's Hill Park and the Parliamentary Precinct — just up the grand staircase from Sussex — to the bustling pedestrian-oriented market.
"We wanted to create something that would be comfortable and interactive, not just a big open space," says Eric Goldstein, whose design, "The Jungle," created with classmate Dhruv Patel, includes a pair of green-roofed shelters that don't quite meet, leaving an opening in the middle for small-stage performances.
"But we didn't want to ignore parking," adds Patel, "so we put space for cars underground."
People can walk atop the angled structures in "The Jungle," which provide elevated views of the site, and the black angled columns scattered throughout will light up at night, drawing more visitors to the area.
Kathryn Dekraker's "Cut Shift Curl," with arcing protrusions inspired by the way a piece of paper can be manipulated, features zones for sitting and eating, performances and a reflecting pool.
"Everything around here is rectangular," she says, looking around a busy Inspiration Village on a sunny and warm weekday afternoon.
"I wanted to create something with curves, and spaces that people can interact with. I know people complain about the lack of parking, but this is Canada's capital — is a parking lot really the best way to show off our city?"
Architecture is also one of the most impactful ways to address sustainability challenges, says Dekraker, whose proposed design encourages active (cycling, walking) and public transit.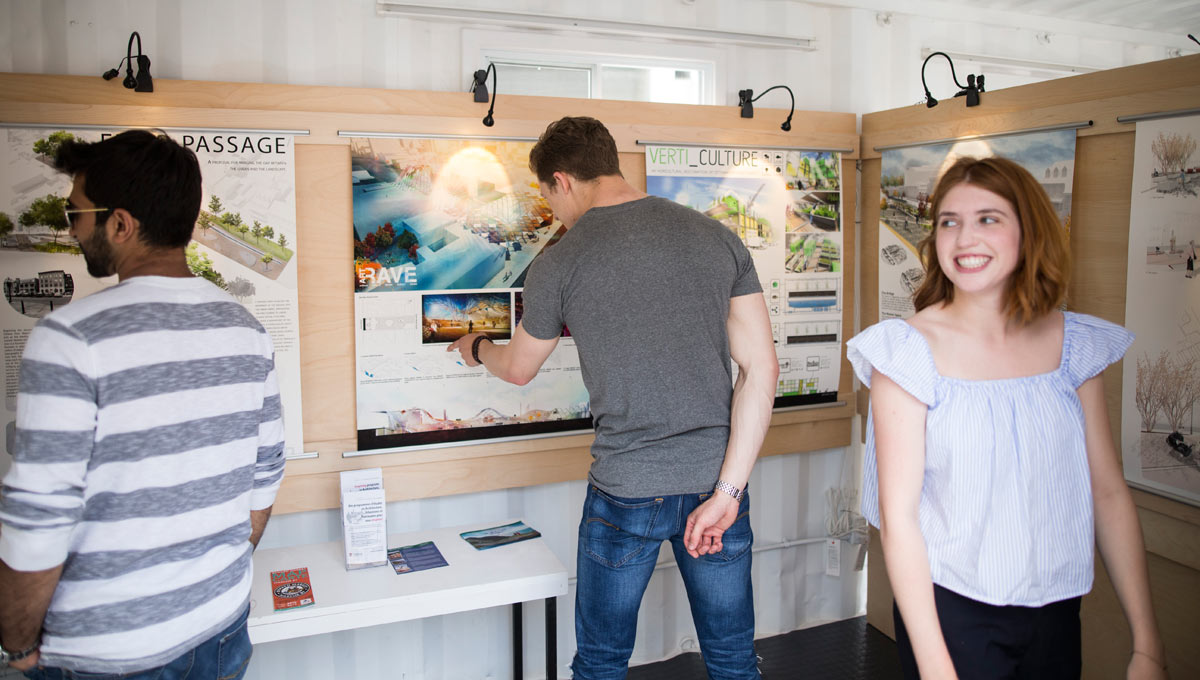 "We always put time and energy into our classroom projects," she adds, "but it's exciting that there's a possibility that these ideas could be incorporated into whatever the city does after this summer."
Heather Norcott and Clarisse Cheung created "Agora," with columns, wall stones and paved open areas that evoke an ancient Greek marketplace. The design project's public-facing component, says Norcott, pushed her out of her comfort zone.
"Our idea is fairly practical," she says, "but it could help create a more spectacular vibe in Ottawa."
Potential of the Space
Yet to be Realized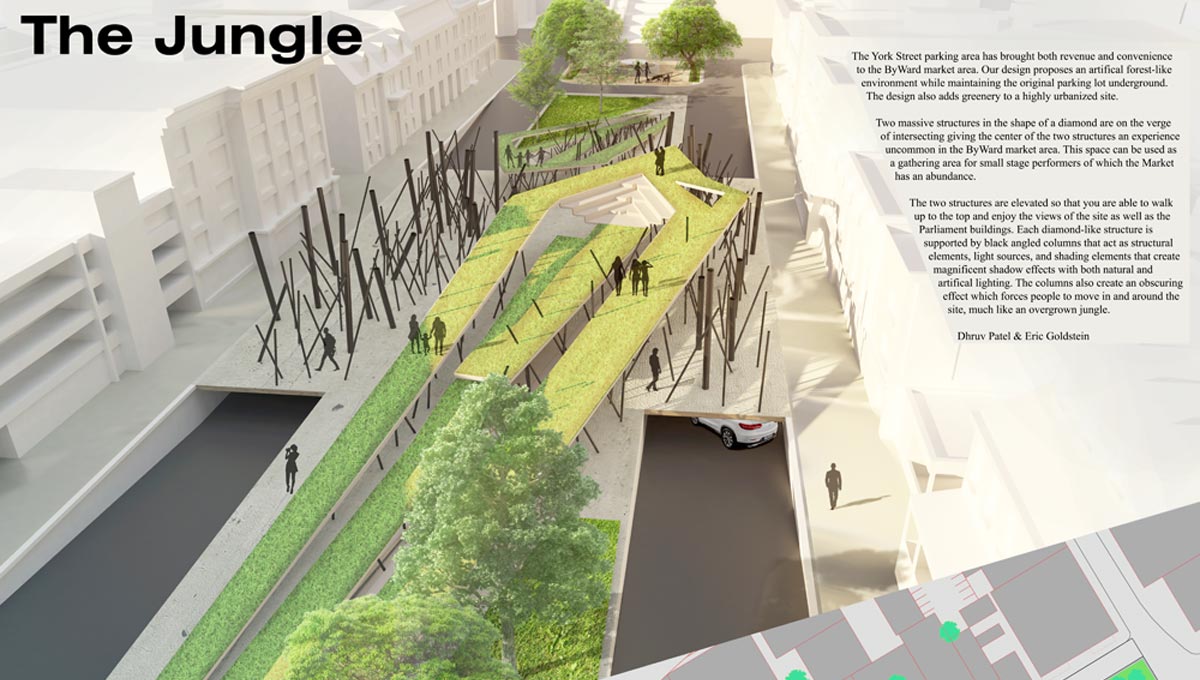 Fifty students spent some time observing York Street in January — the strip has been used by Gianni and his colleagues for years as an example of an urban space whose potential has yet to be realized — and completed their projects in just three weeks.
Working mostly in pairs, the students developed 27 proposals. Along with faculty, they selected 12 for display at Inspiration Village, which opened during the Victoria Day long weekend and was designed and built by Greely's Dymech Engineering, a company that's run by Carleton graduate Tom Van Humbeck and has several other Carleton alumni on staff.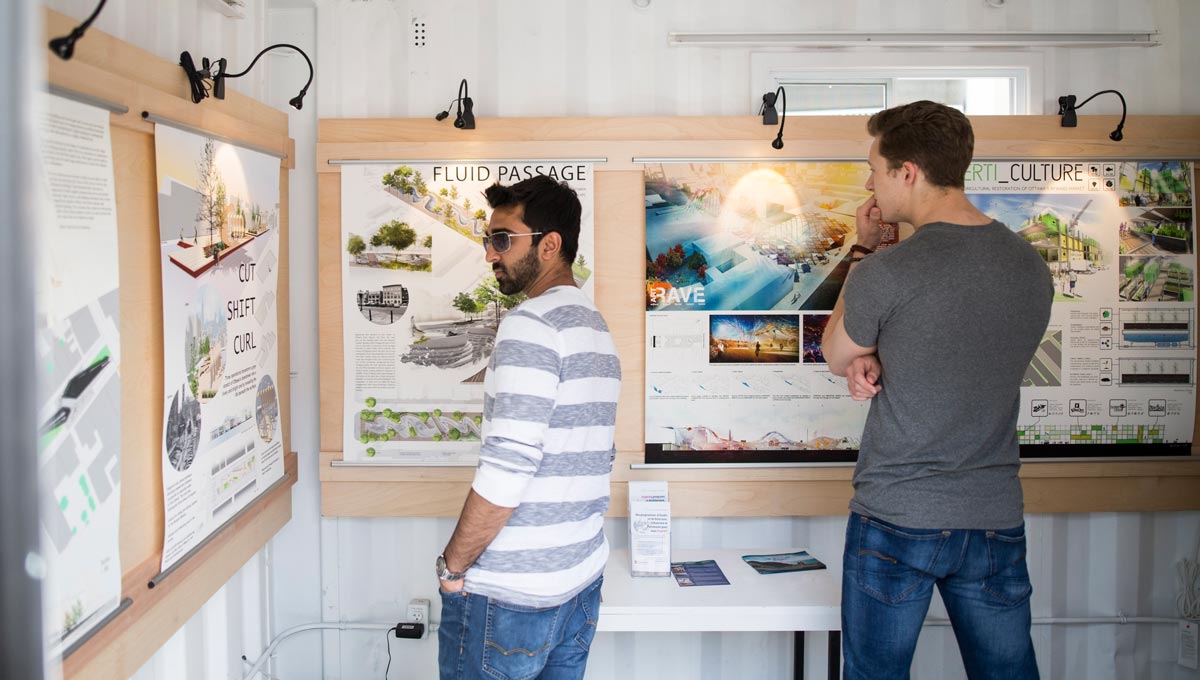 The proposals have been shared with members of the ByWard Market Business Improvement Association, and Gianni hopes the city keeps these ideas in mind in conversations about what he sees as an overdue evolution of York Street.
"In current urban thinking, if you tell people you're going to remove parking, they'll panic," he says.
"But if you say it's temporary, they get used to it and get more comfortable with the idea of a reconfigured space."
Manhattan's Times Square is an excellent example. Several lanes of traffic were transformed into a temporary pedestrian plaza in 2009, and the new public space was so popular that the changes became permanent last year and a new civic plaza was born.
"This is an opportunity to think about what York Street could become without parking," says Gianni, "and how the ByWard Market could be even stronger with spaces like this."