By Joseph Mathieu
Photos by Chris Roussakis
This Canada Day, Parliament's Peace Tower is turning 90 as the country turns 150. To mark the two national occasions, Dominion Carillonneur Andrea McCrady, a performance instructor at Carleton University, will premiere a new piece written by a Canadian composer.
Toronto's Scott Allan Orr won the open category of the nationwide Chime In, Canada! composition competition, launched last summer by the House of Commons, with a piece called Festive Rondo.
"It's a very good piece, but it's hard," said McCrady. "I've been practicing my buns off."
Orr, also the first guest artist of this year's carillon summer program on Parliament Hill, played a variety of his arrangements – from Joni Mitchell to Leonard Cohen – on June 6.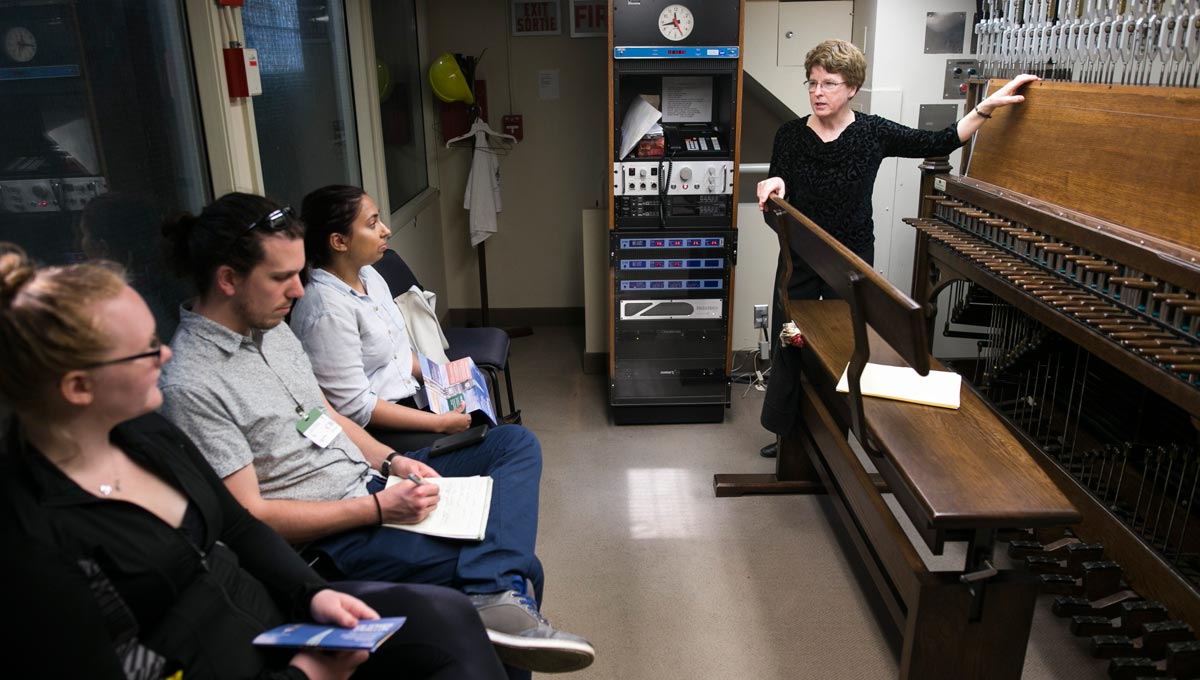 Carillon Bells Weight as much as 10,000 Kilograms
About two-thirds of the way up the Peace Tower, the carillon playing room is embedded in the belfry. Surrounded by 53 bells over four and a half octaves, an original 1927 keyboard built in England has handles meant to be pushed with a closed hand, like a drummer without sticks. The lowest 29 bells are also coupled to pedals to play the heaviest bells with feet. The largest bell, the bourdon, weighs more than 10,000 kilograms.
McCrady dons jazz dance shoes with thin soles and flexible fabric to play.
"I'm like a marionette," she said. "I'm moving all four limbs but I'm making the instrument do the work. It does not take brute strength to play this thing. I dance on the bells."
An identical practice keyboard resides in McCrady's East Block office, where students can practise without sounding bells for all the Hill to hear.
Since 2011, McCrady has taught Carillon Studies at Carleton – Canada's only program. The two-year program allows students to learn the unique instrument as part of their performance studies requirement or as an independent certificate.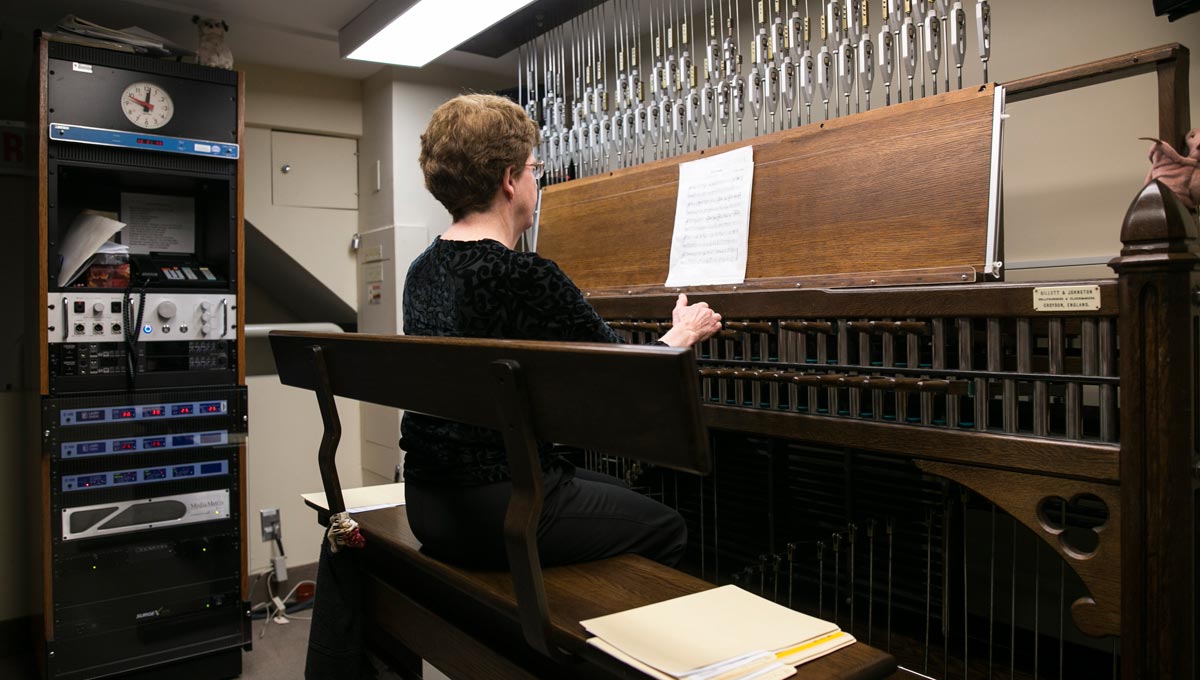 Canada Day Carillon Performances in Ottawa and Beyond
The youth category winner of Chime In, Canada! will also make his debut on Canada Day, but at the University of Toronto's Soldier's Tower. Fifteen Decades by Lucas Oickle will eventually make its way to the Peace Tower carillon during the October 2017 Percival Price Symposium, which gathers carillonneurs to perform, teach and learn about carillon culture from around the world.
Ninety years ago, the first Dominion Carillonneur's office resided within the Tower. Percival Price played O Canada and God Save the King for the first coast-to-coast Canadian radio broadcast on July 1, 1927. In 1936, Price was a founding member of the Guild of Carillonneurs in North America (GCNA), where he served as honorary president from 1947 to 1949.
McCrady, who also served as president of the GCNA from 1987 to '88, began playing in 1971 at Trinity College in Connecticut. She plays at more than 200 recitals a year. From September to June, she plays each weekday at noon for about 15 to 20 minutes. Her playlist ranges from the national anthem to modern classical pieces, Oscar Peterson and Gordon Lightfoot, among other pop musicians.
Unofficially, the carillon is also played regularly by McCrady's predecessor, Gordon Slater.
"He was Dominion Carillonneur for 31 years," she said. "We figure that when Gordon wants to play that's fine."
Slater, the fourth Dominion Carillonneur from 1977 until 2008, will also be a summer guest artist on July 18, among an all-Canadian lineup.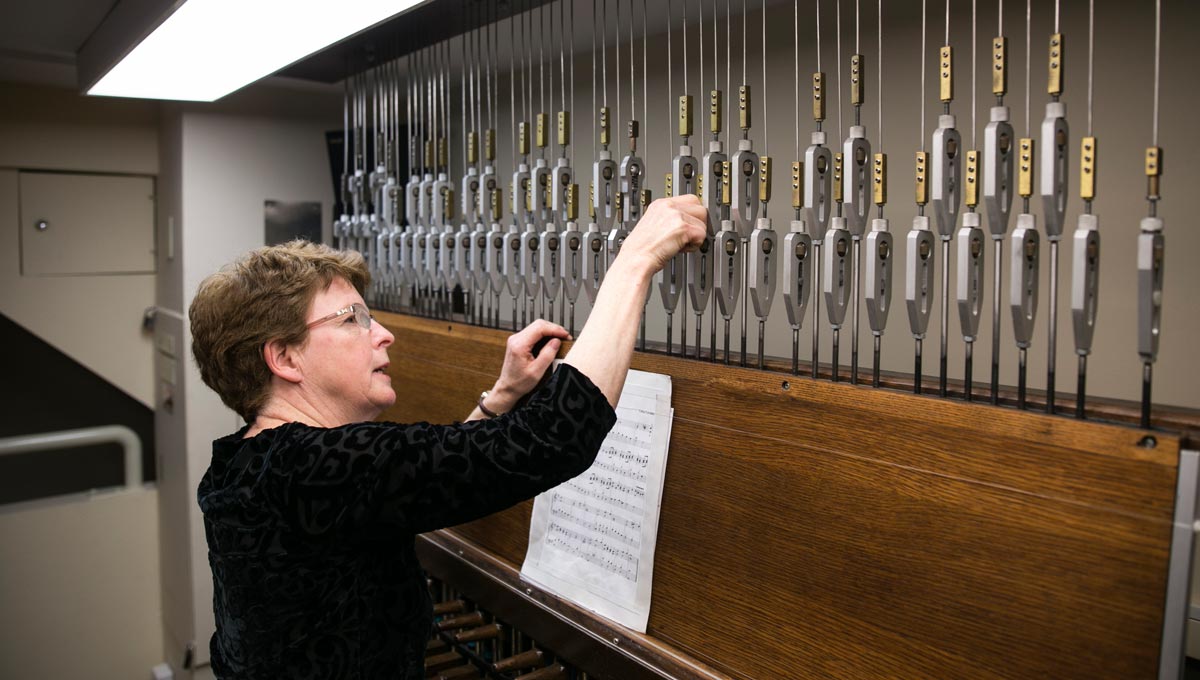 Playing a Mobile Carillon
This summer, McCrady will play the Shakespeare Festival in Stratford, Ont. During a program of both Elizabethan and 20th century songs, she'll play a massive mobile instrument called the Chime Master Millenium Carillon. Mounted on a flatbed truck, she and several of her Carleton students played the "roving musical ambassador" last summer while it travelled to Parliament Hill and various Ottawa parks for Chamberfest. It also stopped by Carleton, which is celebrating its 75th anniversary this year.
"There are no two carillons alike," said McCrady, describing the 62 bells of Victoria's Netherlands Centennial Carillon and the carillon of Saint Joseph's Oratory in Montreal, with a top octave "that truly sings."
"To become a proficient carillonneur, you need to be able to play many kinds."
Andrea McCrady will be playing from 9:30 a.m. to 10 a.m. on Canada Day.