In 1951, a 31-year-old Black mother of five named Henrietta Lacks was in medical distress and went to Baltimore's Johns Hopkins Hospital, where she was diagnosed with terminal cervical cancer.
Despite treatment, she passed away eight months later. Unbeknownst to Lacks or her family, cells retrieved during a biopsy were sent to a tissue lab, where researchers made a remarkable discovery: unlike similar cell samples, which died quickly, Henrietta's cells doubled every day.
Over the past seven decades, these so called "HeLa cells" have continued to multiply. They've been used in more than 75,000 studies around the world, helping scientists "study the effects of toxins, drugs, hormones and viruses on the growth of cancer cells without experimenting on humans," says the Johns Hopkins website.
"They have been used to test the effects of radiation and poisons, to study the human genome, to learn more about how viruses work, and played a crucial role in the development of the polio vaccine." They have also been part of the effort to develop COVID-19 vaccines.
Lacks' family didn't learn about this legacy for more than 20 years after she died — a story that spawned a bestselling non-fiction book and a film featuring Oprah Winfrey. They have received no compensation for the millions of dollars the cells have generated or the approximately 17,000 resulting patents.
HeLa cells have also been used in a pair of upper-year cell biology courses at Carleton University for the past 10 years, which is one of the reasons why Nadeea Rahim, a fourth-year Biology and Human Rights student, launched the Carleton HeLa initiative.
With the support of the Lacks family, it aims to raise awareness about the contribution Henrietta Lacks has made to modern science by renaming the biology lab where HeLa cells are used in her honour, sharing her story on a plaque outside the lab, and establishing a bursary for undergraduate Biology students at the university.
All three of these plans were approved by Carleton's Board of Governors at its meeting on April 29, 2021. A first-floor lab in the Tory Building will be renamed the Lacks Lab, a plaque will be installed outside the lab, and the Henrietta Lacks Award will be created for a second-year Biology student who is Black and identifies as a woman.
"We can't change history — it's a matter of going forward and acknowledging her contributions," says Rahim, whose honours research thesis explores reproductive violence against Black women in the United States, and who worked on this initiative with a small team of her fellow Carleton students: Emily Scott, Oreoluwa Idowu, Isabelle Hoddinott, Maha Ali and Marwa Zoubeidi.
"We wanted to acknowledge Henrietta Lacks because she is an example of what Black women have experienced in health care throughout history and continue to experience today."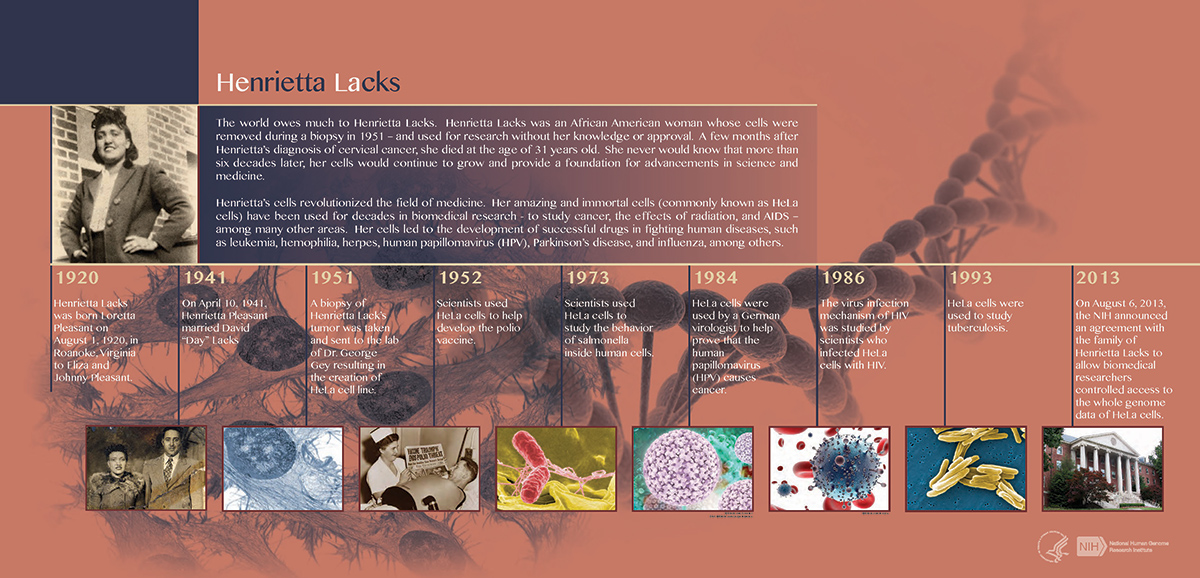 Biology and Human Rights
Rahim, who is from Ottawa, was encouraged to pursue higher education by her Bengali mother, who wanted her daughters to have opportunities that she didn't get while growing up amid the sexism and gender inequities of Bangladesh.
She attributes her decision to study biology to the freedom of choice instilled by her family, and by the successful female scientist role models she was exposed to from a young age.
Rahim initially wanted to become a doctor, but she wasn't enjoying the clinical side of her early university classes. She shifted her focus to include human rights and is now planning to apply for a master's degree rooted in refugee issues, perhaps within Carleton's Migration and Diaspora Studies program.
Seeking acknowledgment for Henrietta Lacks reflects Rahim's intertwined interest in biology and human rights.
"This initiative represents a set of meaningful actions that will help address the social context of science on campus," says Biology Prof. Roslyn Dakin, "and what's really impressive is that this whole endeavour has been led by, and strongly supported by, our students."
"I wanted to acknowledge Henrietta Lacks because she is an example of what Black women have experienced throughout history and continue to experience today," says Rahim.
"At the end of the day, they are human, and we need to acknowledge and understand the intersectionality of race and gender in their everyday experiences."
"But we can't homogenize every woman's experience into one symbol. This is just one story, and there are so many more stories that we can look to and learn from."
Friday, April 30, 2021 in Biology, Buildings, Faculty of Science
Share: Twitter, Facebook