A group of Carleton students has developed an app that is now available for download in the IOS and Android app stores called iContribute, which connects students with volunteer opportunities.
HaoHao Du, a third-year computer science student at Carleton, came up with the concept after an internship last summer fell through due to COVID-19.
"I knew I wanted to work on something. One thing I really landed on was fostering the next generation of youth," says Du.
"I worked as a tutor at Kumon (math and reading program) throughout high school, and seeing that light flicker on in students' eyes as they came to a realization was a big passion of mine."
His first big break on the project came when he interviewed at a startup accelerator that liked the idea and offered to take him on and provide him with a team of interns. Over the summer, the team of seven developed the idea into an app and launched into the IOS app store.
"I might have started it off, but it was really the team that carried the ambition forward," says Du, noting two of his fellow computer science students at Carleton, Umai Balendra and James Ying, became his co-founders.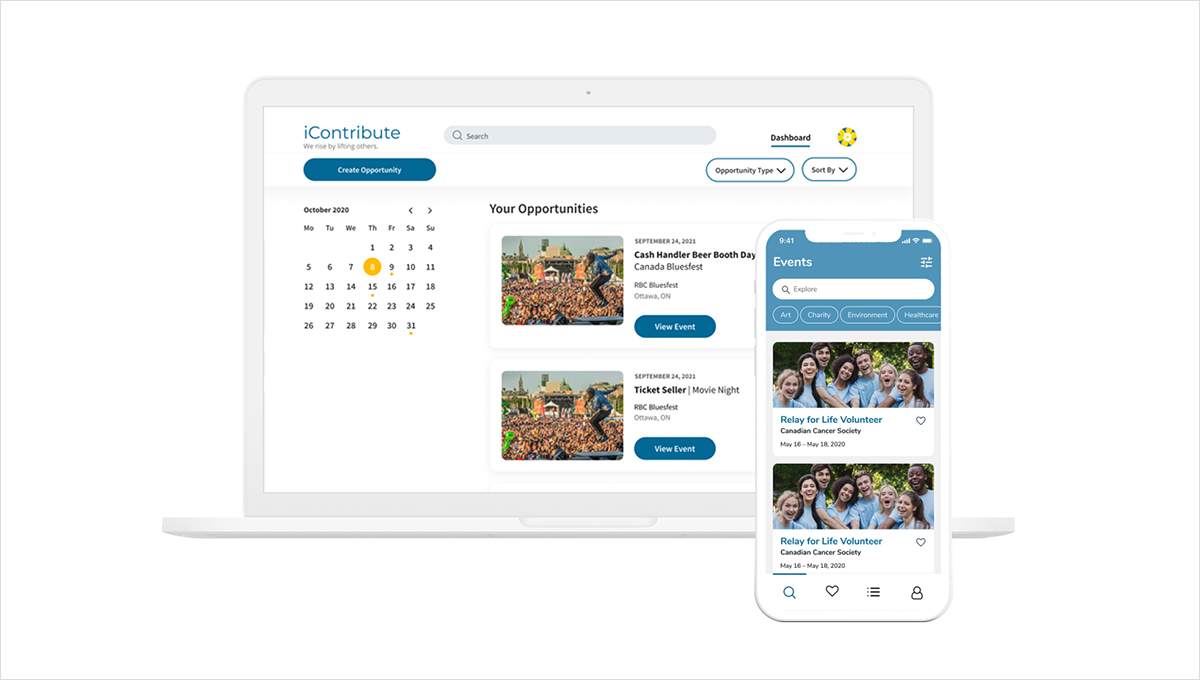 Continuing the Momentum
After the summer term ended, Du began reaching out to Carleton organizations, hoping to continue the momentum. The team soon began working with Enactus Carleton and CUSA Hatch, two student-led clubs, which provided them with resources and connections to industry professionals.
The group sent hundreds of emails to organizations and schools. Soon 25 organizations were signed up to participate, including the Ottawa Food Bank, the Salvation Army and Habitat for Humanity.
The iContribute team has now grown from seven to 30. Many of them work on the app in addition to holding full-time positions with other companies and organizations.
The founders would like to continue development of the app and see where it goes.
"We want to give back to the community we grew up in," says Du.
"The dream is to hopefully expand into other cities across Canada."
Du credits his Carleton education with helping him begin app development, specifically a course on Human-Computer Interaction.
"I actually looked at my notes from the course to build the beginnings of the project," says Du. "The course taught the importance of connecting with end-users. I literally looked at my exam study notes."
The iContribute team is currently looking to connect on-campus clubs with volunteers. If you are a student-led club, please reach out to iContribute on LinkedIn, or by email at icontribute.founder@gmail.com.
"When I was in high school, I was so afraid of starting anything new, worried about the judgment of others," says Du.
"But if you are passionate about something—go for it! When you are truly passionate about what you do, it doesn't feel like work."
Monday, April 19, 2021 in Community, Computer Science, Entrepreneurship
Share: Twitter, Facebook