By Elizabeth Howell
Photos by Mike Pinder
Gilles Vigneault – a celebrated poet and singer-songwriter whose music focuses on Quebec culture – received a Doctor of Literature, honoris causa, from Carleton University on Wednesday, June 7.
The prolific artist continues to tour at age 88, after decades of writing music that resonated with Canadians and people in other countries. He has created 31 albums so far and continues to write.
Vigneault published his first poetry collection, Étraves, in 1959. He penned his best-known song, Mon pays, in 1964 for a Québécois film. The next year, he won the Governor General's Award for his collection of poems Quand les bateaux s'en vont.
In 1985, he was named both chevalier de l'Ordre national du Québec and chevalier de l'Ordre national de la légion d'honneur, one of France's highest honours. Later, he was promoted to Grand officier de l'Ordre du Québec, an award given once a decade to a Québécois who encapsulates the spirit of the province.
But it was an award in 1988 that had particular resonance for Carleton President Roseann O'Reilly Runte. In a speech at the Carleton University Art Gallery, she recalled that in that year – when Vigneault received a prize for music from the French Academy – she received a prize for poetry from the same group.
"He was surrounded by media," Runte said in French, joking that for the two of them it was a bit of a historic moment.
However, Vigneault remained cognizant of his fellow awardee, she added: "In the middle of it, he welcomed me and said hello."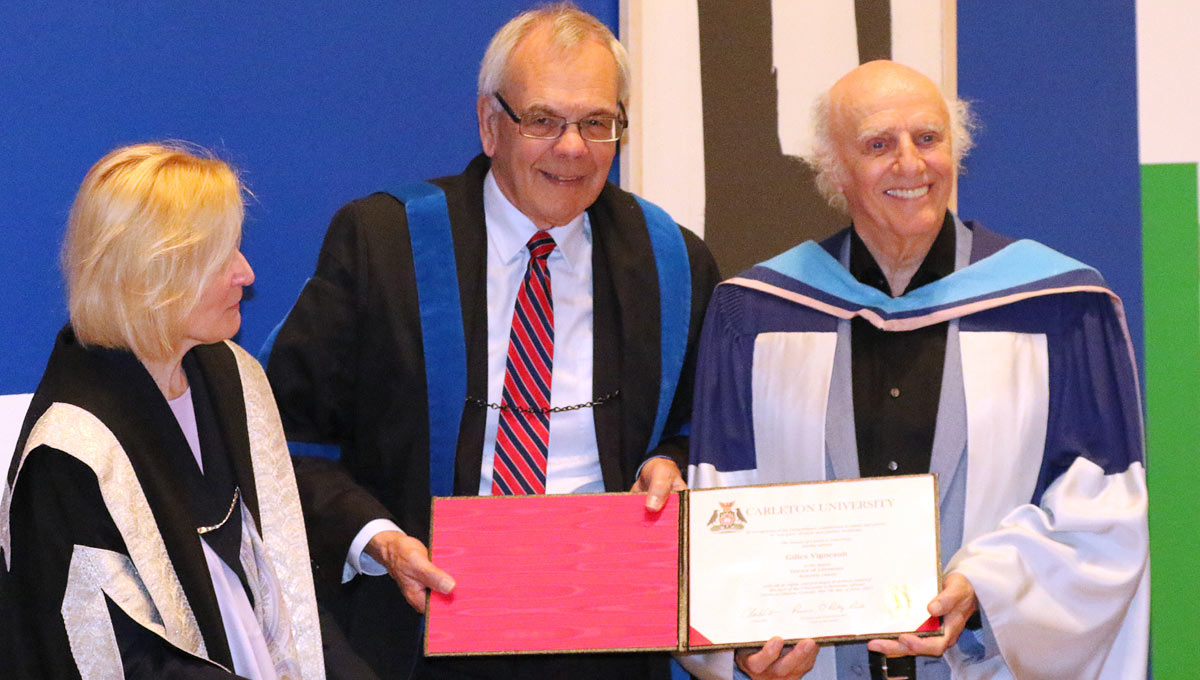 Gilles Vigneault: Capturing the Spirit of Quebec and Beyond
Patricia Smart, a Distinguished Research Professor and Chancellor's Professor Emerita, whose research includes Quebec cultural history, gave a bilingual speech outlining Vigneault's many contributions. She said he has expressed the "heart and soul" of Quebec in poetry, song and dance for more than 50 years. Smart also noted that she saw him perform in 1961, before he was famous.
While Vigneault is usually hailed as capturing the spirit of Quebec, Smart noted that all Canadians appreciate his music.
"They're about all of us," she said of his songs. "Love, tragedy, courage, solidarity."
Vigneault was welcomed to Carleton by fourth-year Music student Rommel Ribeiro, who will commence a master's program shortly at the Berklee College of Music in Valencia, Spain. Ribeiro performed Vigneault's 1976 song J'ai planté un chêne ("I planted an oak tree") on guitar while accompanied by saxophone performer Steve Patterson.
Vigneault himself then took the podium to praise the performance by the two much younger men.
"For me . . . something that was as important as the doctorate was to see and listen to young people interpret a song that I wrote decades ago," he said in French.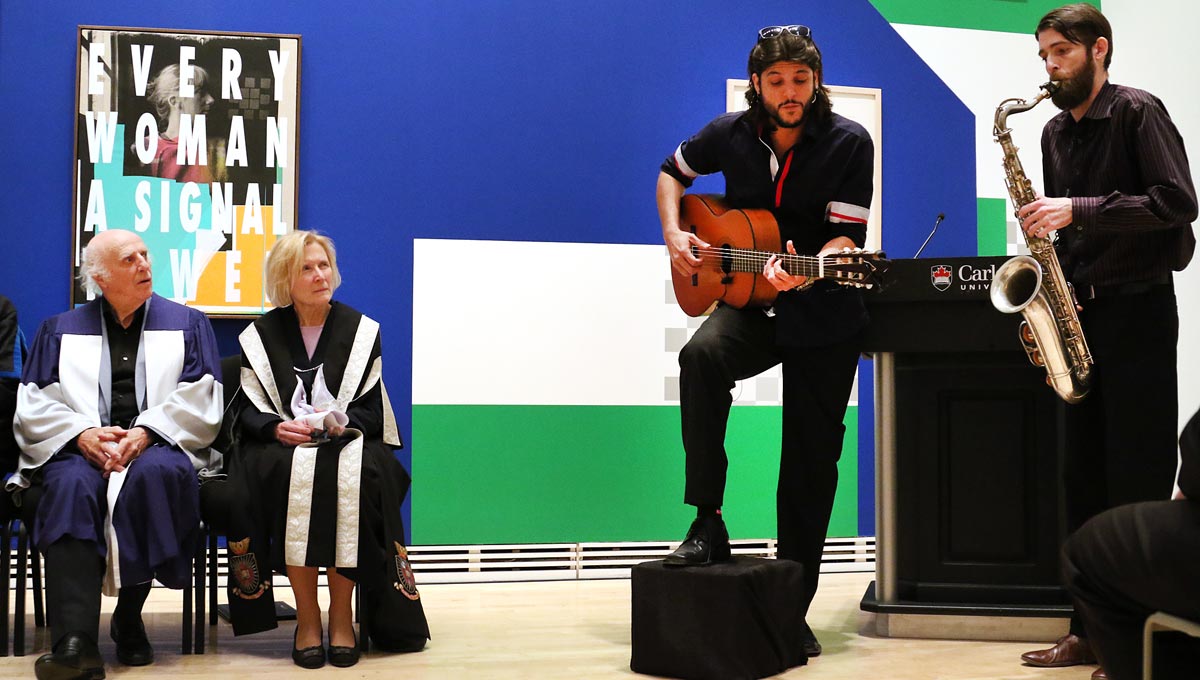 Interpreting Songs From Other Generations
Vigneault spoke of the importance of youth not only learning an art, but being able to interpret songs from other generations. He said that in the end, what we pass down to younger people is a collection of thoughts and words, no matter what language we happen to use.
And words can carry on, he said, because language not only constructs our lives, but also the lives of the people that came before us.
"It allows us to live [on], in a certain way," he said.
After Vigneault's speech, Runte ascended to the podium one last time to summarize his words in English for those who may not have understood French. But she added that for most of the speech, she felt she couldn't adequately do a summary, joking that the French Academy should have also given him the prize for poetry all those years ago.