Lead image by THE CANADIAN PRESS/Handout: @SnoopDogg (Instagram)
By Liam Cole Young
This article is republished from The Conversation under a Creative Commons licence. All photos provided by The Conversation from various sources.
---
A bidding war has erupted over the NHL's Ottawa Senators, and fans are as starstruck by the names involved as they are sticker-shocked by the price.
Four groups submitted final bids on May 15 and at least one reached US$1 billion. Two remaining groups boast major stars.
Hip hop icon Snoop Dogg is part of Hollywood producer Neko Sparks's bid. Toronto superstar The Weeknd was folded in by Harlo Capital's Jeffrey and Michael Kimel. Canadian actor Ryan Reynolds was in the mix until he and his partners, real estate moguls the Remington Group, pulled out at the last minute.
Most observers are mildly surprised that a small-market Canadian hockey club has captured global headlines but absolutely astonished that it could fetch a billion dollars.
We shouldn't be surprised. Pro sports franchises are some of the hottest commodities on the market, with billionaires from tech and finance pouncing on almost every premier franchise that's become available.
These are high-profile, scarce assets with escalating valuations that offer entry into a hyper-exclusive club. They also carry deep emotional and historical ties to local communities and fan bases distributed around the globe.
Benefits of ownership
But status, scarcity and emotion aren't the only reasons sports ownership is suddenly so appealing. Over the last 25 years, franchises have transformed from live entertainment holdings serving local populations to global, financialized assets.
They provide avenues for forms of investment and financial engineering not traditionally the purview of pro sports. They are leveraged for real estate and land development and provide "creative" tax scenarios. They garner good will with local citizens and governments to the benefit of the owners' other business interests. They provide robust transmedia brands and intellectual property that can be monetized elsewhere.
These speculative forms of valuing franchises have been historically overlooked, but they are at the centre of the Senators sale. The purchaser will acquire the team, its current arena and 70 acres of land in Kanata on which the Canadian Tire Centre rests.
They will also acquire the opportunity to negotiate exclusive development rights at LeBreton Flats, 7.5 acres of prime real estate on the edge of Ottawa's downtown. The Sens were selected last year by the National Capital Commission as its preferred development bid for this parcel of Crown land, which has tantalized developers for two decades.
Hence the many real estate magnates figuring prominently in the Senators sale. Reports suggest Reynolds and Remington, when still involved, planned to build a downtown arena district while redeveloping the Kanata land.
Most other bids appear keen to follow a similar path.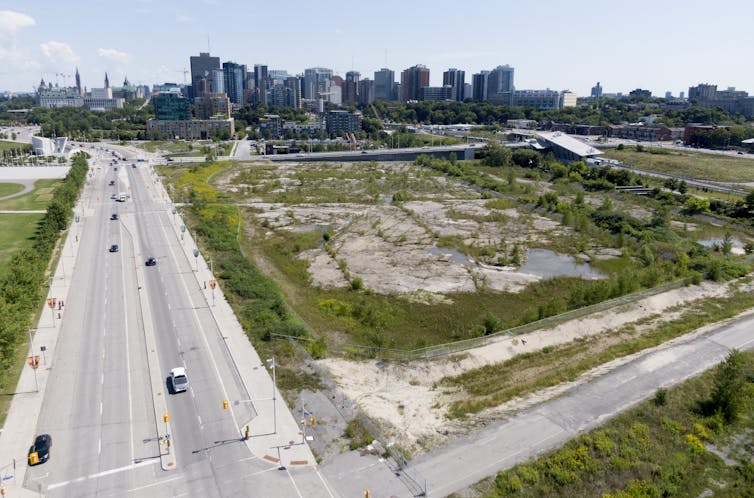 Potential rewards are massive
These projects are inherently speculative. Despite no binding agreements with the city or the National Capital Commission, the bet is they will lead to revenue, land and franchise value increases that will justify a billion-dollar investment.
Such projections are based on examples like Edmonton's ICE District, which has rewarded Oilers owner Daryl Katz handsomely for his 2008 purchase of the team. Katz is co-developer of the district, where blocks of restaurants, bars, condos and transit infrastructure were built around Rogers Place arena.
It typifies a new norm of stadium development that sees developers and policymakers mobilize public speculation to garner support. They assert that these projects will catalyze further development and economic activity in areas that are deemed in need of "regeneration" — although whether they actually do is endlessly debated.
These lucrative development plays contribute to rising franchise values, but real estate is only part of the story. A second and relatively novel form of speculation is increasingly important: leveraging sports teams as "IP," the buzzword now used to describe intellectual property.
After purchasing the Welsh football club Wrexham AFC in 2021, Reynolds and his partner Rob McElhenney produced a docu-series, Welcome to Wrexham, that has been a streaming smash. Reynolds integrated the club with his other business interests through ad campaigns and other brand "synergies" to lucrative results.
The actors have used their star power to push the Wrexham AFC into areas not usually available to lower-tier soccer clubs, such as EA Sports' FIFA video game franchise and a high-profile partnership with TikTok. Given their success, it was not surprising to see Reynolds trying to break into a major North American sports league.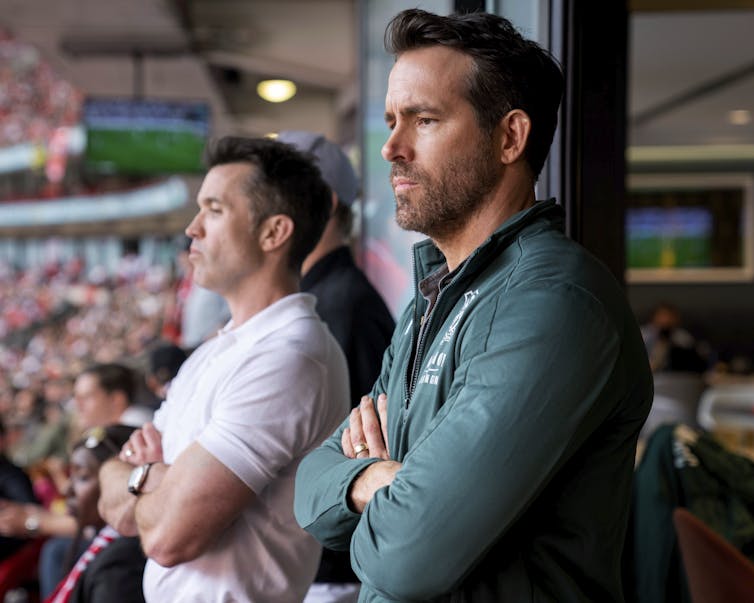 Betting on future outcomes
Sports and business pundits have been slow to consider these speculative modes of valuing franchises, but financial markets and fans have not. It's no coincidence that the influx of investors from finance and tech has overlapped with the rise of sports gambling.
Betting apps like FanDuel and DraftKings break sporting events down into ever smaller units — derivatives — that fan-users can bet on at every moment of an event.
Wagering on outcomes in this way is inherently speculative, mirroring activities that structure most financial markets in 2023. Arbitrage and futures trading, derivative markets and speculative real estate plays are about leveraging and monetizing uncertainty. They are less about reacting to past events than gaming scenarios and betting on probabilities. They seek to project and engineer future outcomes.
We should therefore understand the Senators sale not just in terms of recent transformations in sports business, but as symptomatic of these broader trends in which every aspect of culture and economy bends toward financialization and speculation.

Wednesday, May 17, 2023 in The Conversation
Share: Twitter, Facebook