By Tyrone Burke
Photos by Chris Roussakis
What's the difference between the European Council, the Council of the European Union and the Council of Europe?
The European Council sets political priorities at quarterly summits, the Council of the European Union brings together government ministers to discuss, amend and co-ordinate policy, and the Council of Europe isn't an EU body at all. It's a human rights organization.
Sound complicated? That's because it is.
Carleton's Institute of European, Russian and Eurasian Studies (EURUS) is a hub for research into the complexity of Europe's political and economic integration. With the launch of the Dual Master's of European Studies program in partnership with Belgium's Université catholique de Louvain (UCL) and the Université Saint-Louis – Bruxelles, EURUS students will have an opportunity to enrich their perspective on the European Union's (EU) multifarious institutions by splitting their time between Carleton and UCL's campus in Louvain-la-Neuve, Belgium.
"Many students who have a scholarly interest in European Studies would be asking themselves, do I go to Europe to study, or do I stay in Canada?" says EURUS Director Achim Hurrelmann.
"That's often a difficult decision, and what we can offer them is that you can do both."
Studying at the Centre of the European Union
Students in the Dual Master's in European Studies program are granted degrees from both Carleton and UCL, just 30 kilometres from Brussels and its major EU institutions.
They'll spend at least two semesters at each institution. Carleton will also welcome UCL students, who will develop a North American perspective on the EU. During the two-year program, students at Carleton and UCL retain their home schools. While studying in Belgium, Carleton students pay Carleton fees, and vice versa.
The program is one of two Dual Master's programs that will launch at Carleton in September. The other is a partnership in Political Science with Switzerland's University of Lucerne. They are the first of their kind at Carleton, but they likely won't be the last.
EURUS already offers opportunities for students to travel abroad. For example, MA candidate Nadiya Safonova is currently on an EU study tour, which has taken her to Brussels, the Netherlands and Germany.
Study Abroad Programs for Whole Cohorts
Now, Carleton has adopted a dual master's policy that allows any master's program to partner with a program abroad. It's a model that draws from cotutelle doctoral programs, which allow PhD students to study at two institutions, with two supervisors, and obtain two PhDs. Unlike cotutelles, dual master's programs facilitate study abroad for whole cohorts rather than individual students.
Jason Crann, now a Carleton assistant professor, was the first Carleton cotutelle student. He spent a year at the University of Lille 1: Science and Technology and  visited several different nearby regions and countries.
The Master's of European Studies program was a natural fit for the dual master's model because of the proximity to the EU that UCL offers. Carleton had a very supportive partner in UCL's European Studies program, and in Raoul Delcorde, Belgium's ambassador to Canada, who helped get the project off the ground.
When he arrived in Ottawa, Delcorde noticed that while there were numerous agreements in place between French-speaking universities in Belgium and Canada, this was not the case with Canada's English-language institutions. He took it upon himself to facilitate one.
"I'm very happy and thankful that our friends in Louvain-la-Neuve reacted positively," said Delcorde.
"If there was no human response – no human connection with Carleton – this project would probably not have been able to take off."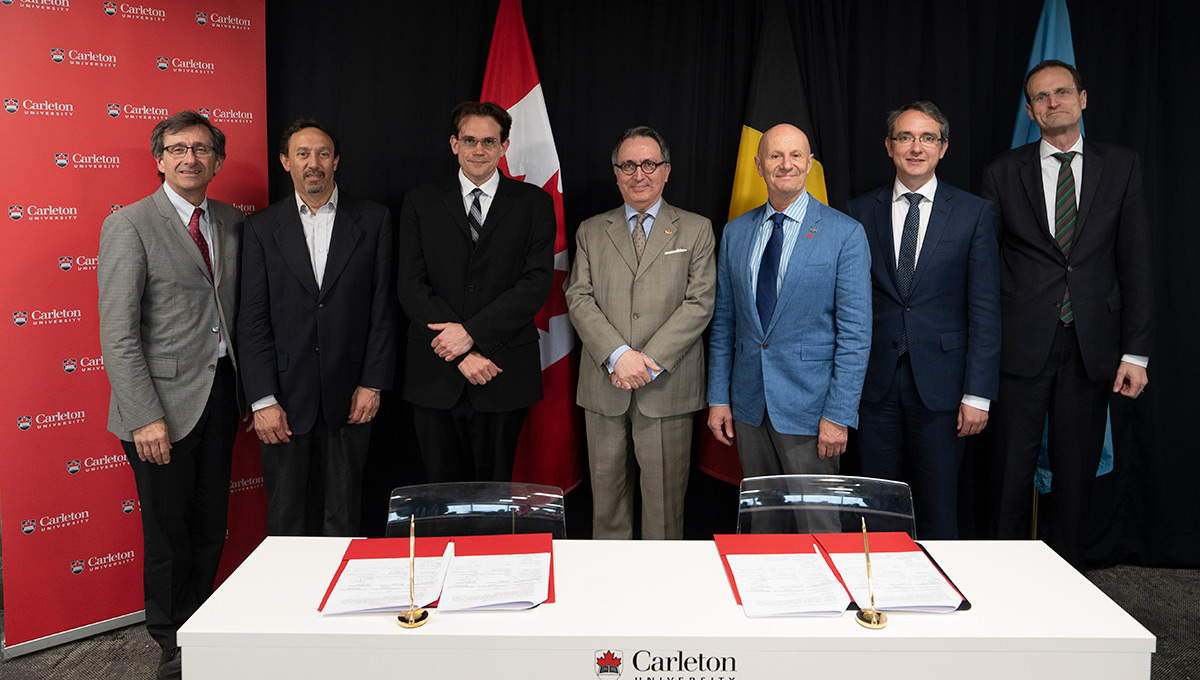 Collegiality Between Institutions
The collegiality between the two institutions was on display during a gift exchange at the program launch on May 22, when UCL Dean Sébastien Van Bellegem presented Carleton Interim President Alastair Summerlee with a gift of a checkered toy rocket modeled on the one that cherub-faced explorer Tintin used to reach the moon in Belgium's famous literary export.
For Van Bellegem, student exchange is not only an educational asset, but part of the spirit that the EU embodies.
"Mobility, student exchanges, dual degrees, joint degrees . . . all of these have a very long tradition in Europe," he says.
"They're a key element of our strategic expansion and education at UCL, and are rooted in the dynamics inspired by the European Commission itself. We believe that mobility is positive for students' outcomes, for learning languages, culture, for intellectual development. Carleton will provide a meaningful external view of Europe for our students. It bridges together two strong research groups and provides a strong guarantee of excellence in the training for the students."
The Dual Master's of European Studies heralds the beginning of a new era at EURUS, but there remains much to be done to give life to the program.
Reflecting on the road the two universities have travelled to get to the program launch – and the road ahead – Dean of the Faculty of Graduate and Postdoctoral Affairs, Matthias Neufang, quoted famous Belgian artist Jacques Brel.
" 'Avoir envie de réaliser un rêve, c'est le talent. Le reste, c'est de la sueur,' " Neufang said.
"In other words, 'having the desire to realize a dream, is talent. The rest is hard work.' And I would add: if you have both, that's success. As we did have both, today, we have reason to celebrate."
Thursday, May 24, 2018 in Graduate Students, International
Share: Twitter, Facebook