Antibiotic resistance poses a significant global threat to health, food security, and development. As the effectiveness of antibiotics diminish, it is becoming increasingly challenging to treat infections like pneumonia, tuberculosis, and salmonellosis. This crisis not only results in extended hospital stays and higher medical expenses, it is also contributing to an overall rise in mortality rates.
Carleton University health sciences students are looking for answers. Working with the Tiny Earth Initiative, a class led by instructor Laura Pickell and lab coordinator Anil Gollapudi is investigating soil as a potential source of new antibiotics.
"Soil is an untapped resource," Pickell says. "There are so many antibiotic-producing microorganisms that we haven't discovered yet."
Soil as Antibiotic Resistance Ammunition
By isolating bacteria from soil samples, the hope is that one or more of the isolates will be producers of an antibiotic. Students in Pickell's course collect samples from all over Ottawa, focusing on places where bacteria are dense and diverse, such as public dog parks. They then move to the lab, where they spend three hours per week conducting research on the soil samples.
To start, they must isolate the bacteria, which they do by diluting the soil samples and growing it on nutrient agar that encourages bacteria to grow. The sample is incubated in this environment allowing colonies of bacteria to grow until there is enough bacteria for students to collect. After which, students try growing the isolates in different conditions, run tests, examine its characteristics, and document their findings.
"They test the bacteria to see if it could produce an antibiotic," explains Pickell.
"They conduct biochemical testing to see what proteins they are making, and DNA sequencing to examine what kind of genes they have. Then they put all the pieces together to decipher the bacteria species."
The class' findings are inputted into the Tiny Earth Initiative's international database. The database contains findings from thousands of students from over 30 countries, from which a number of potential strains have already been drawn for further new antibiotic development.
"Big pharma has abandoned antibiotic discovery because it's too costly," says Pickell. "But here we have thousands of students across the world, collecting tens of thousands of soil samples for no cost at all. This is giving us a very good chance at finding a solution to the problem of antibiotic resistance."
Aside from being part of this groundbreaking international student research project, those who take part in the Tiny Earth Initiative have the opportunity to attend a virtual or in-person symposium. Last year, Carleton students Carlee Pearn and Ainsley Lewis, were afforded the chance to travel to the in-person Tiny Earth Symposium in Wisconsin where they presented their research and heard from experts from around the world.
"Travelling to Wisconsin for the symposium was the absolute best way to wrap up our efforts," recalls Pearn, a third-year health sciences student.
"Not only did we get to celebrate our research among students completing similar projects, but we got to hear from the founder of the Tiny Earth project, Dr. Jo Handelsman."
Pearn and Lewis were chosen to attend the symposium by winning a poster competition. Pickell plans to run the competition again this year, and to send another pair of students.

Attracting and Retaining Underrepresented Scientists
Pickell began teaching for Tiny Earth Initiative at Carleton in 2022, making her among only 12 Canadian instructors trained as Tiny Earth Partner Instructors (TEPIs). Her interest in the project came from her desire to provide students with authentic, hands-on learning experiences. Instead of students taking part in cookie-cutter experiments with only one outcome, she wanted students to get their hands dirty – both literally and figuratively.
"Providing these authentic experiences has been demonstrated to have a particular impact on those underrepresented populations in science," Pickell explains.
"It builds their sense of belonging, identity, resilience and self-efficacy. It shows them that they really can be scientists."
Pearn, recalling on her time in the lab last year, expressed her sincere appreciation for the research experience the course provided.
"The Tiny Earth initiative has a clear purpose – to promote novel antibiotic discovery to combat the increasingly concerning crisis of antibiotic resistance," she explains. "We, as students who had no prior experience in this type of work, demonstrated how simple, inexpensive, and abundant antibiotic-producing bacteria are to isolate and cultivate from soil."
In addition to their work with the Tiny Earth Initiative, Pickell's class also collaborated with Let's Talk Science, which provides STEM education to underprivileged youth across Canada. Students were tasked with designing and running microbiology activities for marginalized elementary students in Ottawa. This involvement was particularly inspiring to Lewis, who is in her third year of her health sciences degree at Carleton.
"That experience was another example of Laura going above and beyond to help us expand our real-world experience and practice our science education skills," says Lewis. "It's something I loved as someone who hopes to become a professor someday."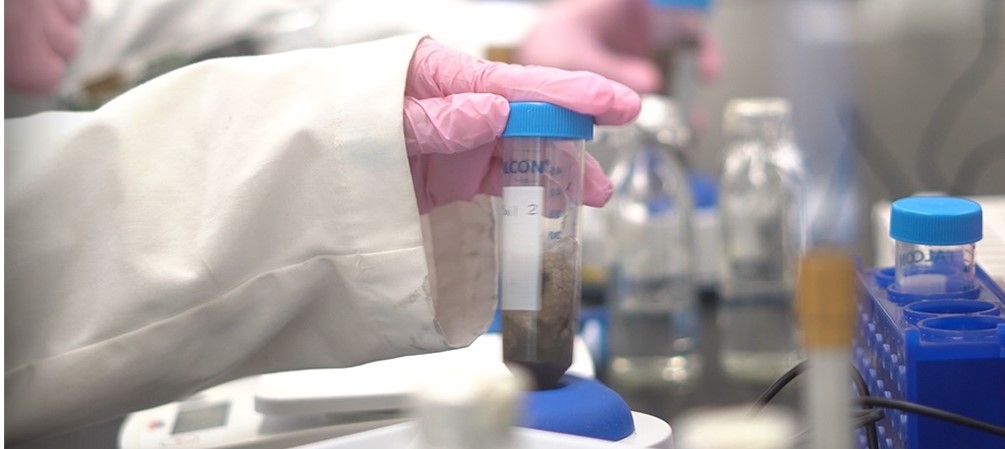 The Value of Experiential Learning
Both Pearn and Lewis said the hands-on experience they received in Pickell's class was invaluable.
"To anyone considering a degree in science, I think it is an incredible community of people who are constantly collaborating and learning and growing, and it is always open to new minds," Pearn says. "I am so grateful to have been granted the opportunities I have at Carleton."
Lewis echoed this sentiment.
"This experience has further solidified my belief that experiential learning is invaluable," says Lewis. "Not only did I learn and retain more from this course than any other, but I also developed life-long memories and career skills that can only come from hands-on experiences."
"Students who are motivated and led by thoughtful instructors have the potential to make positive changes in our world."
Wednesday, November 8, 2023 in Health, Science, Student Experience
Share: Twitter, Facebook