By Elizabeth Murphy
Photos by Chris Roussakis
Carleton University's annual Orientation Week – this year from Sept. 1 to 7 – had an otherworldly theme, CU in Another Dimension – a hint to thousands of new students that the days ahead would help them navigate the start of something new and prepare them for success.
During two days of residence move-in, energetic Ravens helped hoist their new classmates' belongings into Carleton's residences. Carleton University President Benoit-Antoine Bacon and Suzanne Blanchard, vice-president (Students and Enrolment) were on hand to greet new students as they arrived on campus.
"It was fantastic to welcome new undergraduate and graduate students from across the country and all over the world to our beautiful campus", says Bacon. "They chose Carleton for our great academic and research programs, student experience, experiential learning opportunities and sense of community. The energy on campus was amazing and we should expect great things from the incoming class."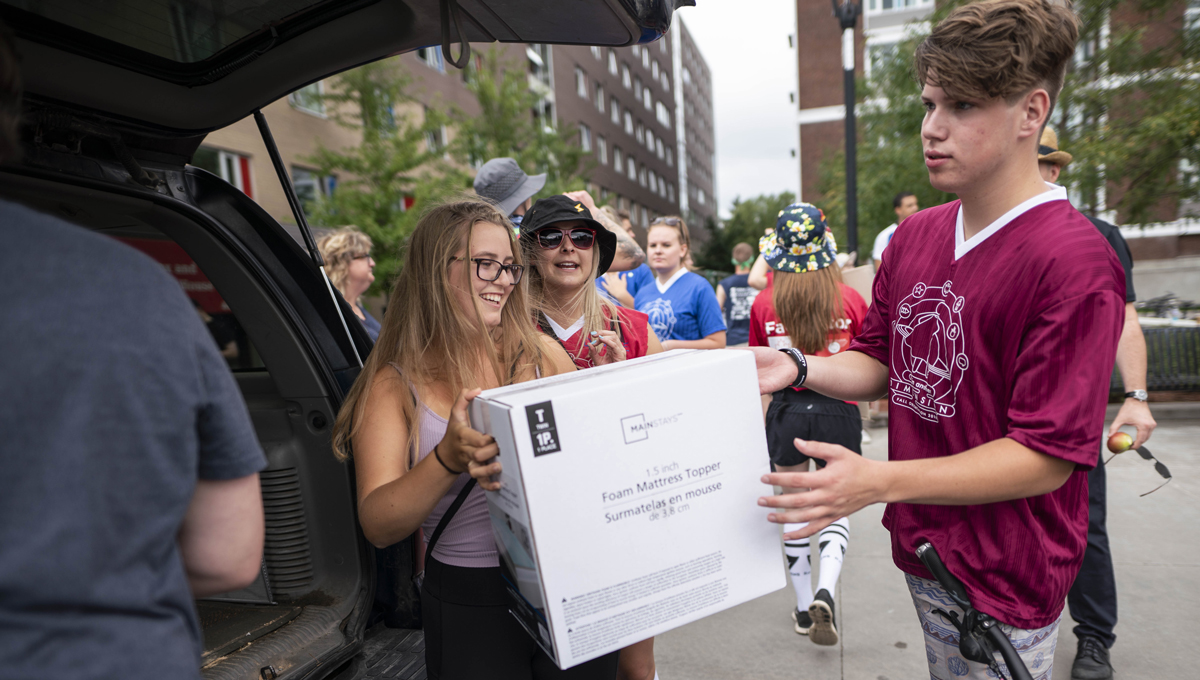 Welcoming New Ravens
The week's festivities began with a Sept. 2 welcome event in the Ravens' Nest. Afterwards, new students were treated to a performance by mentalist Christopher Carter and a dance party.
The next day, official opening ceremonies featured a welcome from the president, also a newcomer to Carleton who started in his post July 1.
The day continued with a series of events to assist students with the transition to university life, including icebreakers, student success workshops and games by the historic Rideau Canal – an official UNESCO World Heritage site. The evening featured a performance by hypnotist Richard Cole followed by the Night in Another Dimension event – which included epic bingo, salsa lessons, movies, karaoke and more.
Academic Orientation on Sept. 4 provided a wealth of information about hitting the books. Later in the day, Expo Carleton showcased campus clubs, societies and services.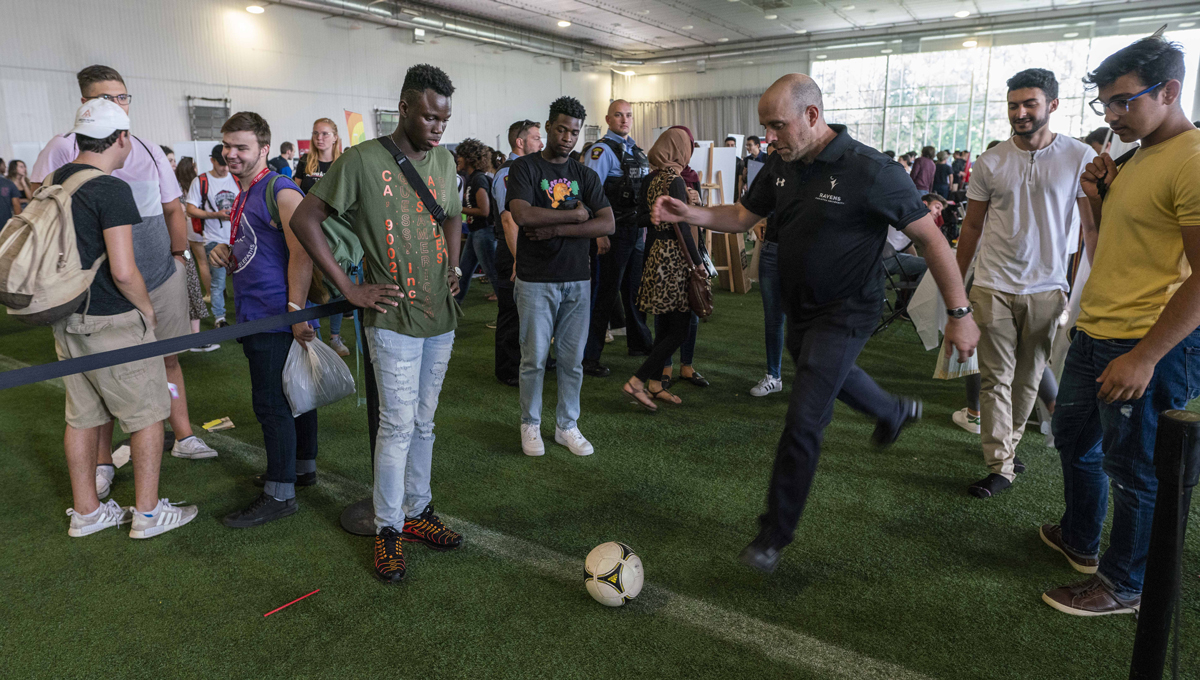 Volunteers Lead the Way
Pulling off all the events required a lot of hard work from many volunteers.
"Our team of student volunteers are committed to supporting our new students' transition into their new community here at Carleton," says Jeremy Brzozowski, manager of student experience and student life at Carleton's Student Experience Office. "Research shows the first six weeks are the most essential in a student's transition and our goal is to provide academic, cultural and social supports to our new students to get them started in a positive trajectory."
Fall classes began Wednesday, Sept. 5. Healthy habits, including regular exercise, are an essential part of a positive transition. To let new Ravens know their options, an information fair of athletic programs was held on Sept. 6, where students could pick from a variety of new hobbies, including Zumba, recreational soccer and basketball. Following that, students cheered on the Ravens women's hockey team as it faced off against the University of Ottawa.
On Friday, Sept. 7, student fundraising teams spread out across Ottawa for the annual Shinerama cystic fibrosis fundraiser. The nation-wide fundraiser has been a fixture of Carleton Orientation week for years.  Student groups raised money to help reach this year's goal of $50,000.
A concert headlined by artists Scott Helman and Kardinal Offishall, as well as closing ceremonies, signaled an end to the festivities.
Monday, September 10, 2018 in Orientation
Share: Twitter, Facebook