Photos by Josh Hotz and June Creighton Payne
Carleton University is devastated by the sudden death of Prof. Pius Adesanmi, director of our Institute of African Studies and a remarkable writer, poet and political commentator who was celebrated for his eloquence and fearlessness in speaking truth to power.
He was among 18 Canadians killed in the crash of an Ethiopian Airlines jet at the Addis Ababa airport.
His award-winning book – You're Not a Country Africa: A Personal History of the African Present – was groundbreaking. One of the most important minds of the African diaspora, he inspired his Carleton colleagues with his brilliance and cemented his close ties to faculty, staff and students with his kindness, thoughtfulness, enthusiasm and unforgettable laugh.
"Pius Adesanmi was a towering figure in African and post-colonial scholarship and his sudden loss is a tragedy," said Benoit-Antoine Bacon, president and vice-chancellor.
"Our thoughts and prayers are with his family and all those who knew and loved him, and with everyone who suffered loss in the tragic crash in Ethiopia."
"The contributions of Pius Adesanmi to Carleton are immeasurable," said Pauline Rankin, dean of the Faculty of Arts and Social Sciences (FASS).
"He worked tirelessly to build the Institute of African Studies, to share his boundless passion for African literature and to connect with and support students. He was a scholar and teacher of the highest calibre who leaves a deep imprint on Carleton."
Rankin told FASS colleagues that Carleton will hold tributes "to chronicle his pivotal role in building African Studies, his reputation as a global public intellectual, his celebrated scholarship and his mentorship of students.
"Today, however, I am remembering his warmth and friendliness, his booming laugh, his enthusiasm for his work and his deep dedication to Carleton. He is irreplaceable in our faculty and in our hearts."
---
Institute of African Studies
The Institute of African Studies, where Adesanmi was both a director and professor of African Literature, has set up a book of condolence at 439 Paterson Hall and is collecting memories and tributes that they are publishing on their website. Please click here to submit a tribute. The Department of English Language and Literature is also inviting people to pay their respects through an online comment box.
---
Adesanmi joined Carleton in 2006 after rejecting offers from Princeton and a number of other American universities. He quickly made his mark on the campus and was an integral part of the groundswell that led to founding the Institute of African Studies.
"But what was truly amazing was the impact he had in Africa," said former FASS dean John Osborne.
"Through his writing and blogging, he reached an audience . . . in the millions in his native Nigeria and beyond, becoming one of the most avidly read commentators on contemporary life and politics on the continent."
His first book, Wayfarer and Other Poems published in 2001, won the Association of Nigerian Authors prize for poetry. His 2010 book, You're Not a Country Africa, won the Penguin Prize for African Literature. The remarkable collection of essays tried to unravel what Africa meant to him as an African and pull apart the enigma that is the continent.
A subsequent celebrated book of essays on Nigerian politics and culture, Naija No Dey Carry Last: Thoughts on a Nation in Progress, was named to Channels Book Club's prestigious list of the best 15 Nigerian books of 2015.
Adesanmi's work concentrated on the hope for a Pan-African future.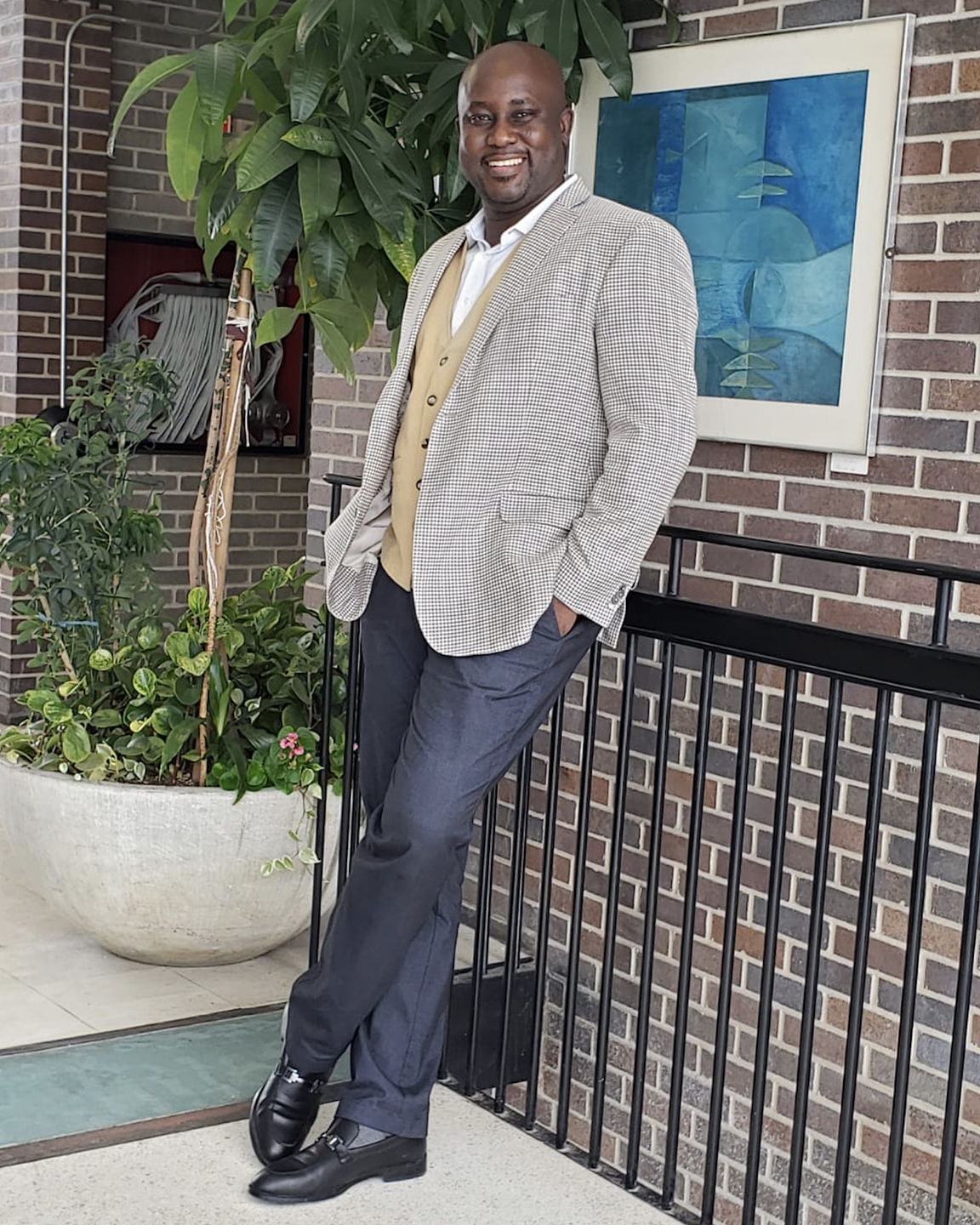 At Carleton, he felt he had a mandate to facilitate strategic links between Canadian institutions organizing Africa-focused initiatives and to shift narratives. And while he grappled with being part of the African diaspora, he argued that social media engagement has blurred boundaries, shrinking distances between people on the continent and around the word.
In an interview for the London of School of Economics (LSE) Centre for Africa in 2016, Adesanmi impressed with his positive outlook.
"One thing that remains with you after talking to Pius Adesanmi for any period of time is his optimism," wrote Justin Villamil and Yossie Olaleye.
"Throughout the interview, and while reading Adesanmi's books, I sense a real undercurrent of hope. He recognizes the Nigerian—and wider African—problems, but through it all, he sees things changing, however small."
Carleton's flag has been lowered to half-mast in his honour and details of a memorial service on campus, as well as funeral arrangements, will be announced when they are finalized.
Carleton community members will have an opportunity to sign a condolence book which is located in the Tory Building lobby on the third floor.
---
Counselling Support
Students who require counselling support can phone Health and Counselling Services at 613-520-6674 or come in person between 8:30 a.m. and 4:30 p.m., Monday to Friday, at the CTTC Building, Suite 2600. Beginning at 10:45 a.m., they can check in for same-day counselling hours each afternoon.
Carleton employees can access the after-hours Employee Assistance Program (EAP) by calling 800-668-9920. EAP can be contacted during regular business hours at (613) 725-5676.
---
Adesanmi obtained a first class honours degree in French Studies from the University of Ilorin, Nigeria, a master's degree in French Studies from the University of Ibadan, Nigeria, and a PhD in French Studies from the University of British Columbia.
He was a specialist of francophone and anglophone African and Black Diasporic literatures, politics and cultures.
His portfolio of keynote lectures included appearances on such prestigious platforms as the Stanford Forum for African Studies, the Africa Talks Series of the London School of Economics, the Obafemi Awolowo Foundation's annual lecture series, the Vanderbilt History Seminar, the International Leadership Platform of the University of Johannesburg, the African Unity for Renaissance Series of the Africa Institute of South Africa, and the annual talk series of the Academy of Science of South Africa.
He was a member of the Diaspora Consultation series of the African Union's Agenda 2063 in New York. In 2013-2014, he was a Carnegie Diaspora Visiting Professor of African Studies, University of Ghana, Legon, where he designed the African Thinkers' Program of UG-Ghana's Institute of African Studies. He had since remained an annual facilitator of seminars at the University of Ghana's Pan-African Doctoral Academy.
He was a foundation faculty member of the Abiola Irele School of Theory and Criticism at Kwara State University, Nigeria.
Adesanmi received the 2017 Board of Director's Leadership Award by the Canadian Bureau for International Education in 2017 for demonstrating exceptional leadership in internationalizing Canadian education and/or advancing the international education profession at the national or international level.
---
To celebrate the life of our beloved colleague, mentor, teacher, and friend, Prof. Pius Adesanmi, the family hosted a service at The Metropolitan Bible Church, Ottawa:
Monday, March 11, 2019 in Faculty of Arts and Social Sciences, In Memoriam
Share: Twitter, Facebook