Global Group Looks at Carleton Research
A select group of international journalists on a tour of Canadian aerospace hubs visited Carleton on March 8 to learn about the leading-edge research being conducted by Carleton Aerospace faculty and students and the university's contribution to the expanding role of the industry in the National Capital Region.
"This international interest speaks to the growth of the aerospace sector in the Ottawa area," said Sandra Crocker, the university's Associate Vice-President (Strategic Partnerships and Operations), who officially welcomed the guests. "Because of the very significant aerospace research program we have at Carleton, we're well positioned to support this growth.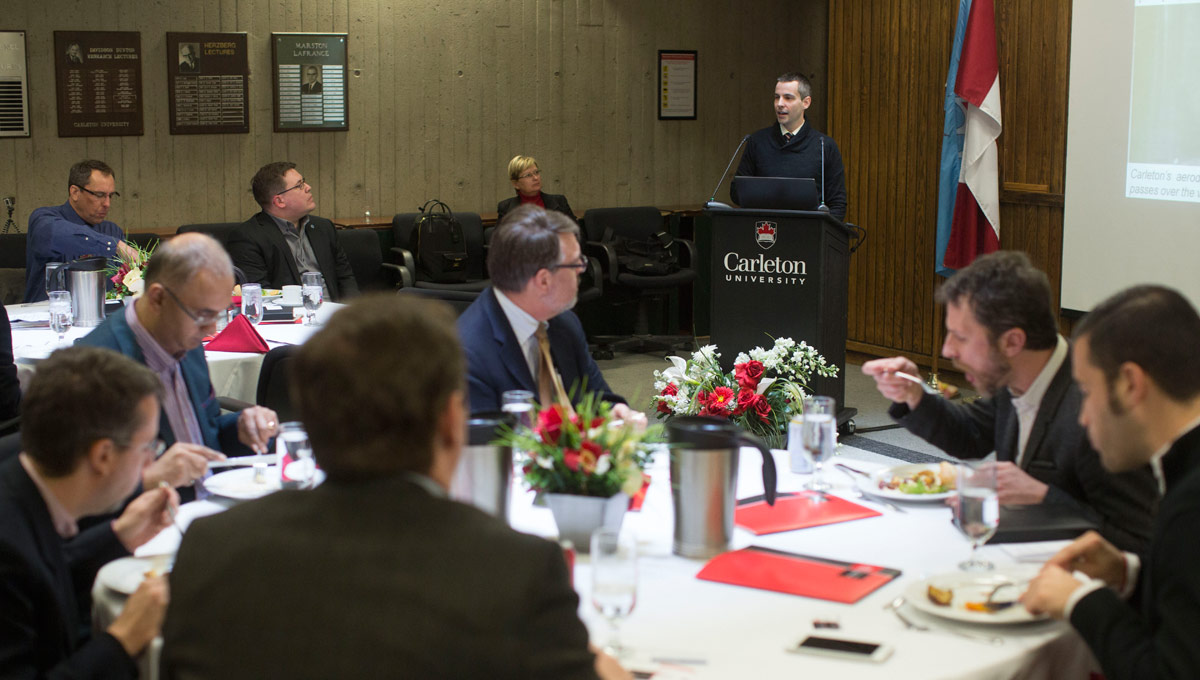 "Aerospace has always been a sector that relies on innovation," she continued, "and innovation relies on people and partnerships. Carleton is located on a single campus, which allows for significant collaboration across all faculties."
Engineers, computer scientists, economists, biologists, psychologists and professors from other fields work together at Carleton to address aerospace challenges, and they collaborate with researchers from external companies and government agencies in the Ottawa region and beyond.
The 10 journalists, who work for publications in Japan, Italy, Belgium, Austria, the United States and the United Kingdom, visited aerospace research institutions and companies in four cities — Ottawa, Toronto, Montreal and Winnipeg — on a tour organized by Global Affairs Canada.
"It's a really good opportunity to showcase this sector to these highly specialized journalists," said Alexandra Pugh, manager of Communications, Investment and Trade at Invest Ottawa, which facilitated the local stop.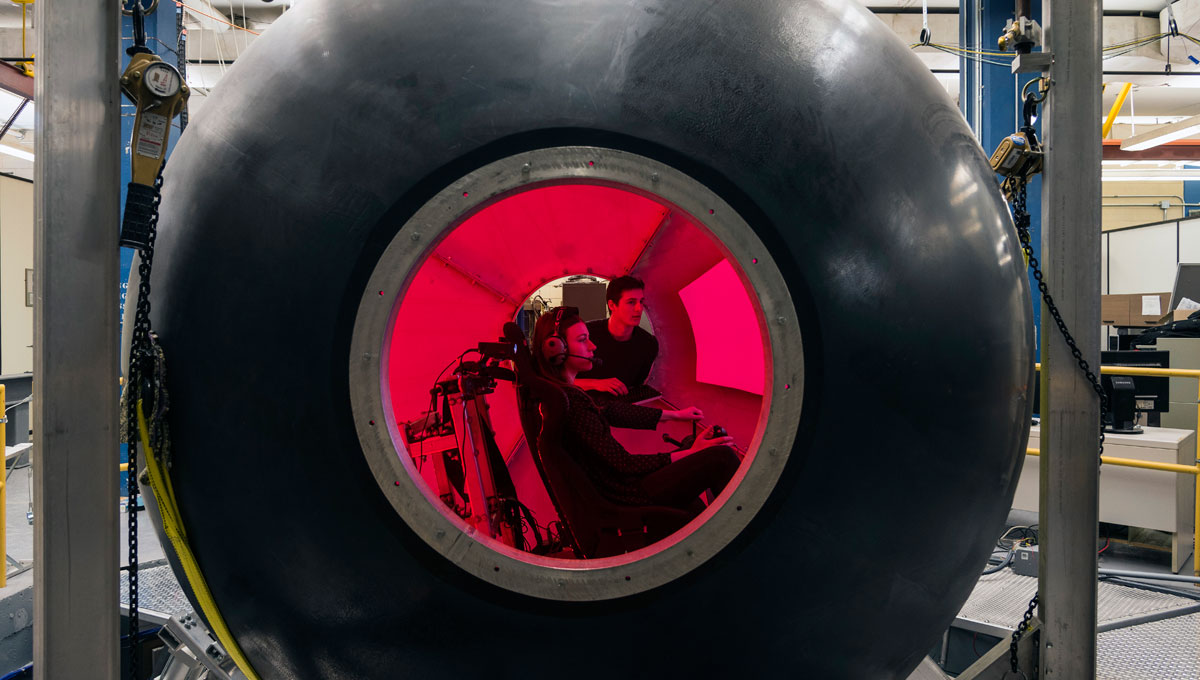 The media coverage that results will reach aerospace industry leaders and government officials around the world — a targeted approach that could lead to partnerships and other opportunities that benefit both Carleton and the regional aerospace cluster.
"We have a strong knowledge-based tech industry in the Ottawa area — a lot of talent development and R&D happens here," said Pugh. "There are some great aerospace companies, a mix of multinationals and innovative small companies, with access to key federal government departments and decision-makers. We picked Carleton because it is renowned for its world-class aerospace program."
The Ottawa portion of the tour also included visits to ING Robotic Aviation, the National Research Council's test facilities near the Ottawa airport, and Lixar IT.
The Carleton stop focused on unmanned aerial vehicles (UAVs), passenger experience and flight simulation.
Three professors, Steve Ulrich, Robert Langlois and Carleton Aerospace Director Jeremy Laliberté, delivered short presentations.
Ulrich covered the history and evolution of Carleton's aerospace program, highlighting the fact that the university has the largest undergraduate aerospace program in Canada and the largest group of graduate students.
Laliberté talked about UAVs, his specialty as a researcher. He mentioned a recent Carleton project that explored the use of low-cost UAVs to do crop surveys. "It's a low-cost solution so farmers can monitor crops on demand, without requiring more costly technologies."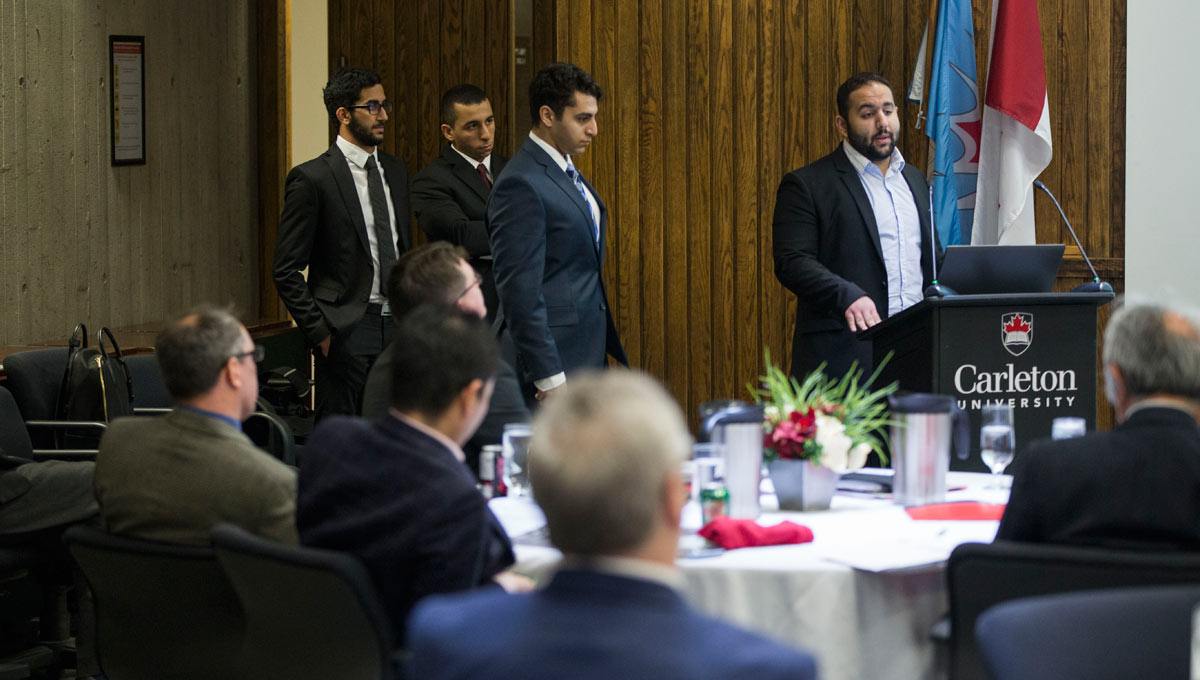 Langlois began his presentation by holding up a cardboard coffee cup cut into strips to resemble a rotorcraft. After he threw the cup into the air and it slowly descended, he talked about Carleton's work toward developing cost-effective flight simulation tools.
The Carleton Flyboys, four undergraduate students who developed an automated smart system that uses biometrics for airport check-in/check-out instead of conventional boarding documents, delivered the afternoon's final presentation.
The Flyboys — Mostafa Abdelfattah, Abdelrahman Awad, Ahmed Shabaan and Mohamed Shabaan — were the only Canadian team to make it to the finals of the Airbus "Fly Your Ideas" video competition last year.
"Carleton is very strong in aerospace and this visit will help make people aware of the broad range of activities that our program is involved in," said Rafik Goubran, Dean of the research-intensive Faculty of Engineering and Design.
"We have expertise in sensors, data analytics, software engineering, human fatigue and many more areas, and many of these disciplines are integrated with one another. Aerospace is much more than aerodynamics and propulsion."
Wednesday, March 9, 2016 in Aerospace, Innovation, Research
Share: Twitter, Facebook