By Dan Rubinstein
Photos by Chris Roussakis
Young people are not the leaders of tomorrow. They need to be leaders today.
That was one of the main messages shared by Prime Minister Justin Trudeau at the first-ever Canada Youth Summit, a gathering that brought 300 young leaders from coast to coast to coast to Carleton University on May 2 and 3, 2019.
"Empowering young people is not some nice thing to do on the side," Trudeau said at the opening plenary of the summit, which was convened to celebrate the launch of Canada's first youth policy, discuss key issues identified by youth, share youth experiences with service and what it means to them, and inspire more youth to serve their communities. "It's core to ensuring that government is functioning the right way."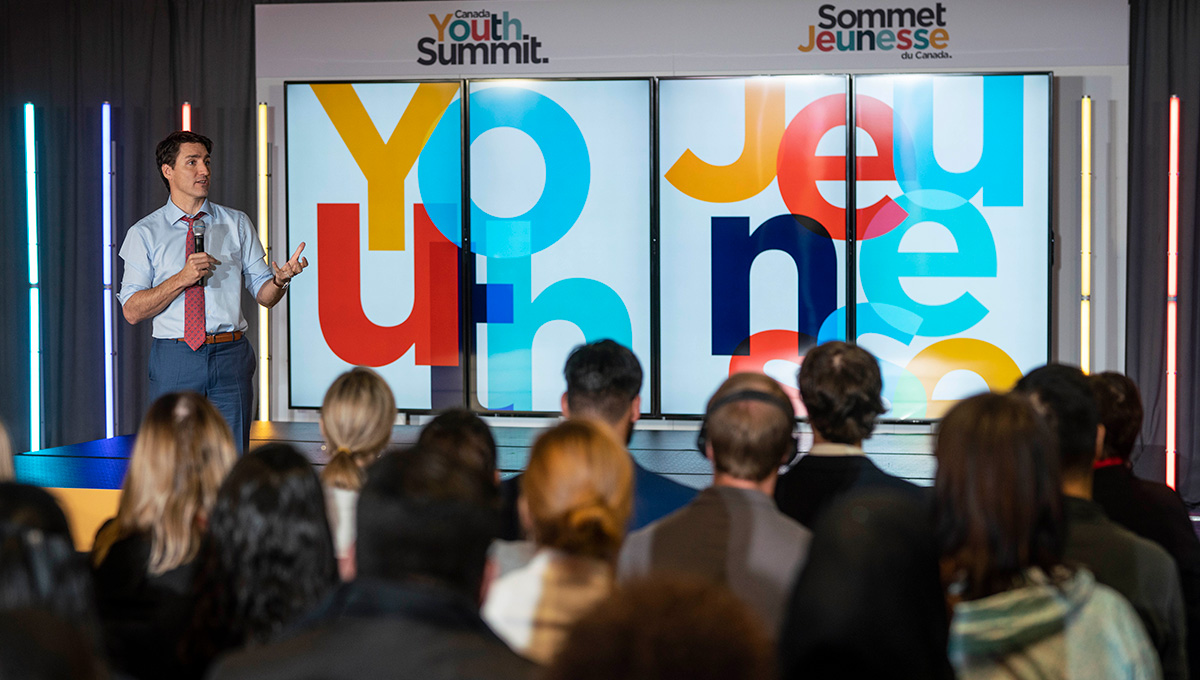 Governments are in office for short periods of time, Trudeau continued, while youth think about challenges — such as climate change, human rights, racism and poverty — that they and their peers will face for the rest of their lives.
"It's essential to address these things at a national and societal level," said Trudeau.
"That's why your voices are so important."
Youth should be encouraged to join boards and advisory councils, he said, so they really have an opportunity to weigh in on issues. Filters between youth and power need to be removed so youth voices are legitimized and heard.
Moreover, service can be a powerful path to change, said Trudeau. Not only does it benefit the communities where youth volunteer, it also transforms the lives of those who participate.
"You believe you have the capacity to shape the world around you for the better," he said, "and we as a government need to empower you. Unless we hear from everybody, we will not be able to build the kind of world that you expect."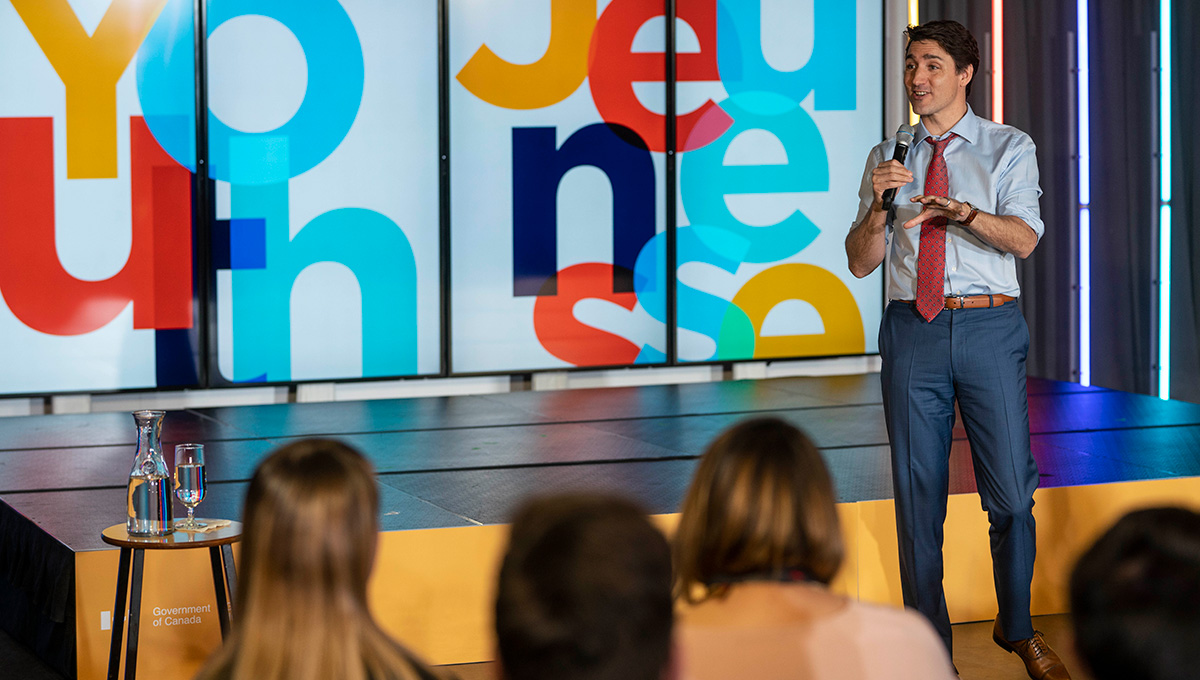 Prime Minister Trudeau Engages with Student Groups
Before delivering his remarks at the summit, Trudeau met with Carleton President Benoit-Antoine Bacon and Lily Akagbosu, who has just started her term as president of the Carleton University Students' Association (CUSA) after serving as the association's vice-president of student issues this past academic year.
"We're honoured to host the Canada Youth Summit 2019 at Carleton," said Bacon. "Education is a very important part of the equation when it comes to societal change, and empowering the ideas and energy of the next generation, the leaders of today and tomorrow, is what we are all about."
"I feel very fortunate to be able to share my input at the summit," said Daniel Patterson, a delegate graduating with a sociology degree this year from Carleton.
"This government is doing a good job of trying to engage youth and people from other often marginalized communities."
Beyond speeches, breakout sessions and a marketplace showcasing work and volunteer opportunities for youth with government agencies and non-profit organizations, the summit included performances and visits from other leaders and prominent Canadians.
"Government officials do want to make change," said Patterson. "It may come slowly, but they're in it for the long haul. And these types of events can really spark people."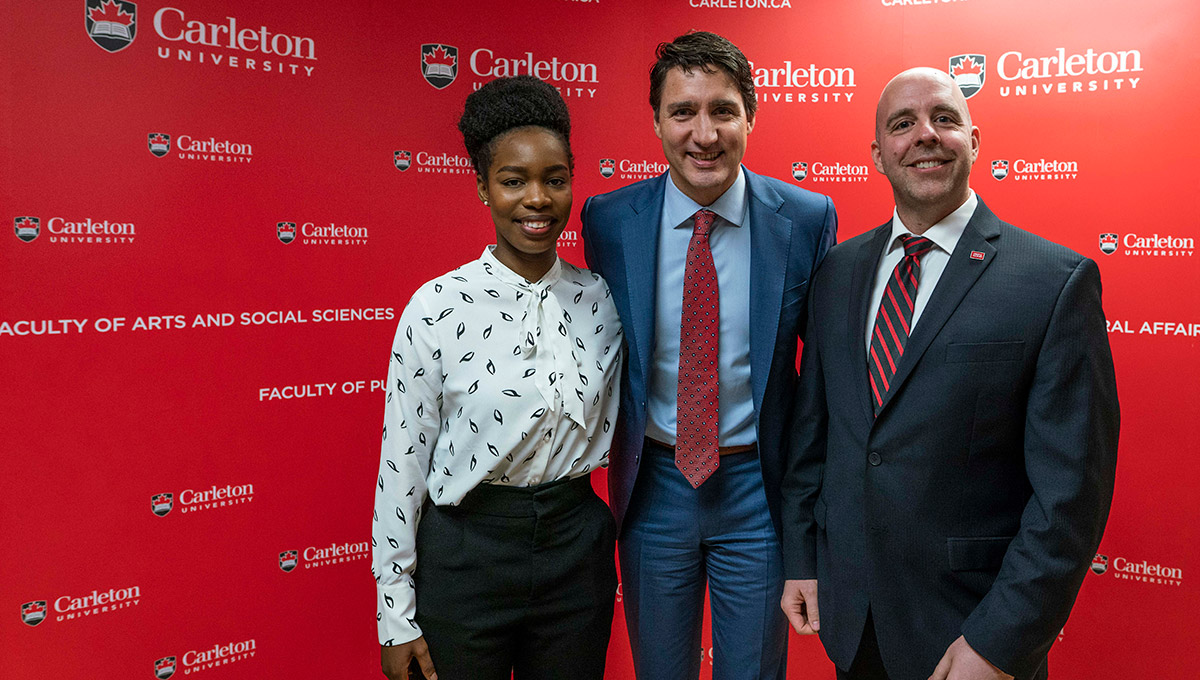 The Importance of a Free Press
On the second day of the summit, Trudeau participated in a town hall Q&A with delegates and then met with staff from The Charlatan, Carleton's independent newspaper, to mark World Press Freedom Day.
"The digital age has made sharing information easier than ever before," he said in a release.
"But it has also given way to online spaces that peddle disinformation and reduce complex issues into oversimplified, toxic us-versus-them narratives.
"Journalists increasingly find themselves competing in these online spaces against malicious foreign agents and opinion makers who would rather manipulate people and foment division than inform the public and create a common set of facts. Independent, fact-based reporting is vital. Few professions have the power — and responsibility — to enrich conversations, open people to new ideas and perspectives, and widen the lens on the challenges we face."
Friday, May 3, 2019 in Student Experience
Share: Twitter, Facebook