By Matt Gergyek
Photos by Mike Pinder
Above a sea of roaring family members and friends, students from Carleton's Faculty of Public Affairs flew through the final leg of their journey as Ravens during Carleton University's Spring Convocation on June 13, 2018.
Some of the undergraduate programs sending their students off to graduate included Journalism, Communication and Media Studies, Public Affairs and Policy Management (PAPM), Law and Legal Studies and Criminology and Criminal Justice.
Meanwhile, some of the graduate programs included Infrastructure Protection and International Security, Philanthropy and Nonprofit Leadership, Public Policy and Administration and Indigenous Policy and Administration
Jayne Stoyles, executive director of Amnesty International Canada, was awarded an honorary degree from Carleton at the morning ceremony for her outstanding contributions to international issues of human rights.
"No one ever looks back and says I should have done something less fulfilling," Stoyles said in her address. "I should have chosen a job I didn't care about. I wish I had focused on accumulating more stuff. Nobody says that."
At the afternoon ceremony, Catherine Frazee, professor emerita at Ryerson University, received an honorary degree for her leadership as a writer, educator, activist and advocate for promoting disability studies, art, culture and action in Canada.
"Tomorrow, plant a tree, or at least begin the enterprise," and "under your careful stewardship, nourish and protect something outside of yourself, something that may live on," Frazee said in her address.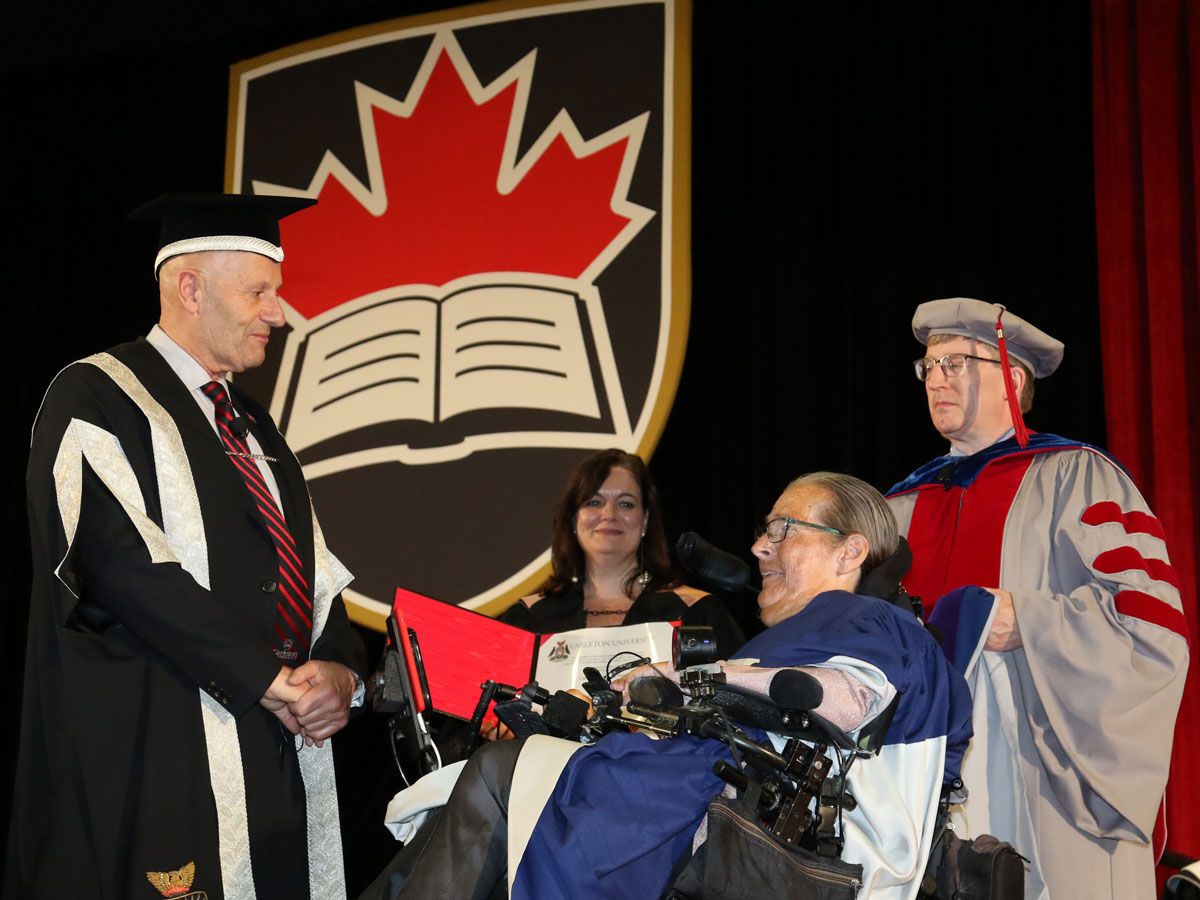 A Time for Reflection
Many graduating students saw the day as not only a time for celebration, but reflection.
"The campus itself, it's almost like a family," said Will Bradley, a graduate of Carleton's Law program. "I'm sure a lot of [other] schools are like that, but Carleton's top-notch."
Esteban Sanchez-Maya and Dale Wilson graduated from the Law program, but their friendship extends far beyond classes.
The pair formed a band in first-year, where Sanchez-Maya plays the bass guitar and Wilson the drums.
"We jammed out once and stuck together [ever since]," Wilson said.
International student Jiuhong Wu, originally from China, admitted that being from so far away does pose its challenges, but said the International Student Services Office (ISSO) helped him succeed at Carleton.
"We can share our difficulties [in the ISSO]" Wu said. "The papers are hard but the life is good . . .  Canadians are so nice."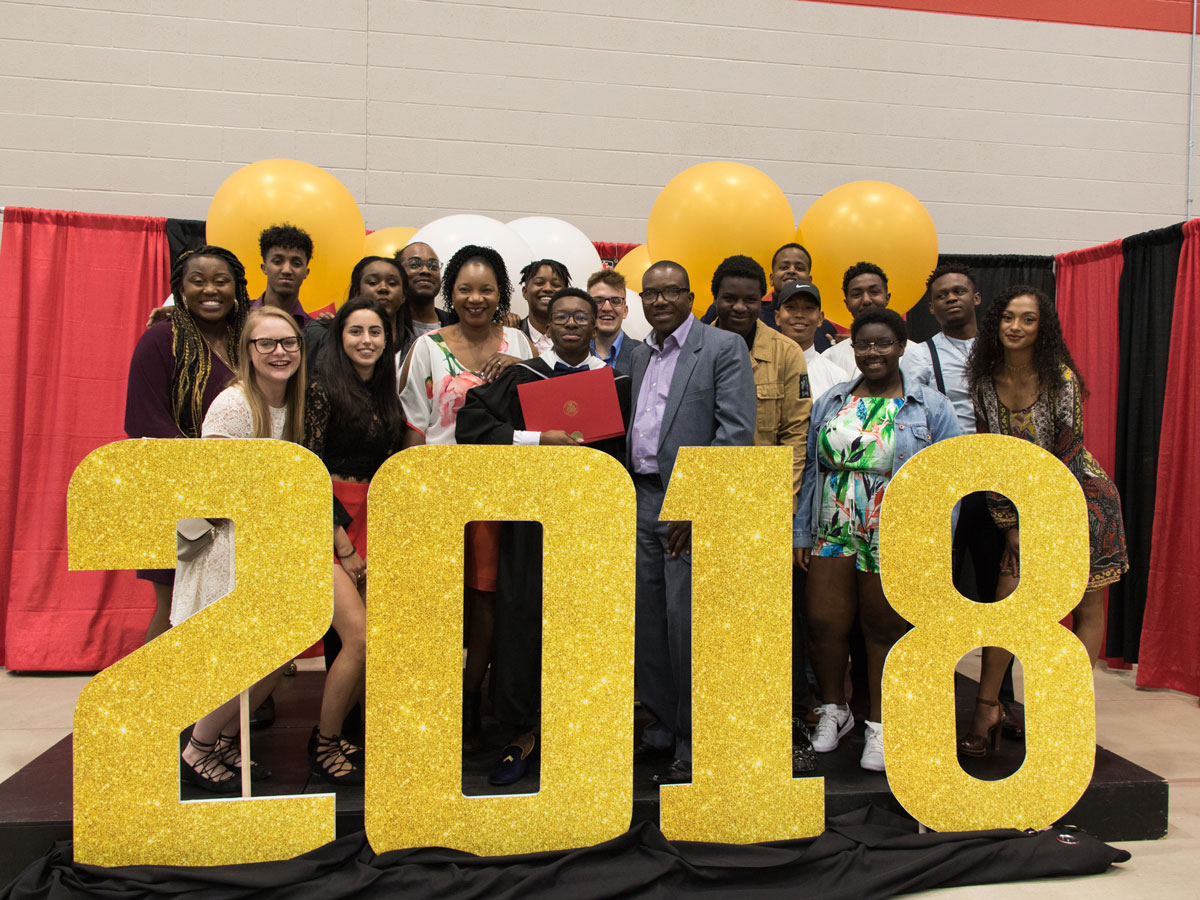 A New Way of Seeing the World
Ally Larkin, Kelly Boudreau and Taylor Sulpher graduated from Carleton's Bachelor of Communications and Media Studies. The trio credit the program for opening their eyes to the world and helping them develop a close bond.
"Everything we learned was so different . . .  it's a new way of seeing the world," Larkin said.
Three musical performers at the ceremonies were also to receive their degrees.
Michelle Gendron, who sand a powerful rendition of the national anthem, is graduating with a Bachelor of Music degree.
"It's one of the only programs in Canada where you can focus on any genre [of music], so you meet so many diverse musicians," Gendron said.
Kyle Jordan and Dennis Bass, who were part of the three-piece band at Convocation, are also graduating from the Music program.
The duo praised Carleton's recent purchase of Dominion-Chalmers United Church in downtown Ottawa, which will become a new community and cultural hub for the city and will include a multi-purpose performance space for students and faculty.
"We played in there a couple weeks ago and the acoustics are great," Jordan said.
One unique graduate was Nick Anderson from the Political Science program. He was working as a staff member at Convocation for the remainder of the week to ensure everything runs smoothly.
"It's nice to see my friends on their special day," he said.
Anderson will continue his time at the university this fall by entering a joint program between Carleton's Norman Paterson School of International Affairs (NPSIA) and the University of Ottawa's Faculty of Law (Common Law).
Thursday, June 14, 2018 in Convocation
Share: Twitter, Facebook