By Ainslie Coghill
Photos by Ainslie Coghill, Lee Jones and Open Style Lab
Fashion and function can co-exist, especially when you start from square one.
A Digital Media PhD student at Carleton University is working to expand the range of accessible clothing, facilitating a co-design approach that aims to break down the physical and social barriers of existing assistive technologies and smart clothing, and place more power in the hands of users.
Co-design allows for the user to be a partner in research, which can be complicated in the specialized field of wearable e-textiles. Lee Jones' PhD thesis project, Wearable Bits, helps position individuals with mobility disabilities in the design process early on at the prototyping stage.
"I want the wearers of e-textiles to design for themselves," says Jones.
"It's about expression, and creating fashionable garments that provide support while reducing the stigma that often leads people to abandon their assistive devices."
Wearable Bits: Smart and Accessible Fashion Solutions
Wearable Bits – the name for Jones' toolkit developed for prototyping wearable e-textiles – does not require any sewing or electronics knowledge.
Though it's appropriate for any beginner audience, the toolkit can also assist e-textile practitioners and adaptive fashion designers wishing to prototype garments alongside people with disabilities.
So what's in the kit? Primarily, a series of laser cut felt squares that can interlock. These modular bits allow for flexibility when producing garments for many different body shapes and assistive devices. Electronic components unique to the wearer's needs or requests are then machine-embroidered on to the felt pieces, and because of their modular design, the prototype garments can change over time, become other garments, and be adapted to different functions.
"You can think of them like textile puzzle pieces," she explains. "Each piece has its own function such as lighting up, heating up, or changing colour, but when you put them together you create an interactive garment."
So far, Jones says test participants have engaged with Wearable Bits' prototyping tools in unique, unexpected ways.
"Essentially, my job is to be the facilitator," she says.
"The idea is that I help scaffold creativity. I'm not designing what the outcome will be. Instead, the participants with their life experience are the ones who are designing the end result, and we're just providing the tools."
At the end of her thesis, she plans for her Wearable Bits toolkit to be available online for anyone hoping to create their own e-textile garments.
"We can put out patterns, and anyone who has access to a makerspace can make whatever they want," she says.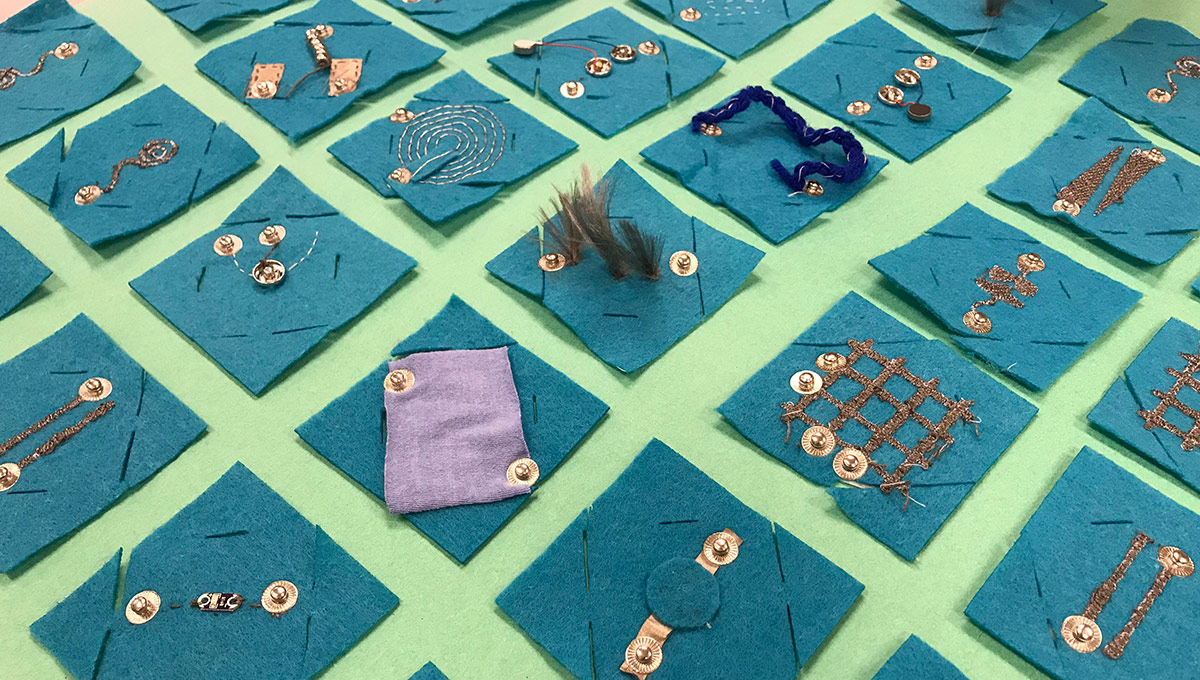 Make-Your-Own Pockets
A natural extension of Jones' thesis research, she recently took part in a fellowship at the non-profit accessible fashion organization Open Style Lab in New York City under the supervision of Prof. Grace Jun from the Parsons School of Art and Design.
The fellowship was an opportunity to learn more about the field of adaptive fashion. The co-design project linked Jones with fashion designers and occupational therapists to create wearable solutions in collaboration with clients from the NYU Langone's Initiative for Women with Disabilities (IWD).
"We worked with young women who have cerebral palsy," she says.
"Most adaptive clothing is pretty expensive, and even if you can get it, it's not always in your style. We worked on a toolkit so people can alter their own clothes, and do it accessibly."
The process allowed teams to explore the client's physical and social contexts, and ultimately meet the client's needs. Her team's end product: make-your-own pockets.
"A lot of people we worked with [from IWD] felt it was easier to have their belongings close to them, and didn't want to have to ask others to get stuff for them," says Jones. "So we developed various stitchless pocket hacks using laser cutting and 3D printing for stencils, fabric tape solutions instead of sewing, and came up with accessible tools to go with the pockets."
"Working with people directly is where the innovation comes from. If you had asked me for accessible clothing ideas, or what the priorities are, I wouldn't have thought pockets," she adds.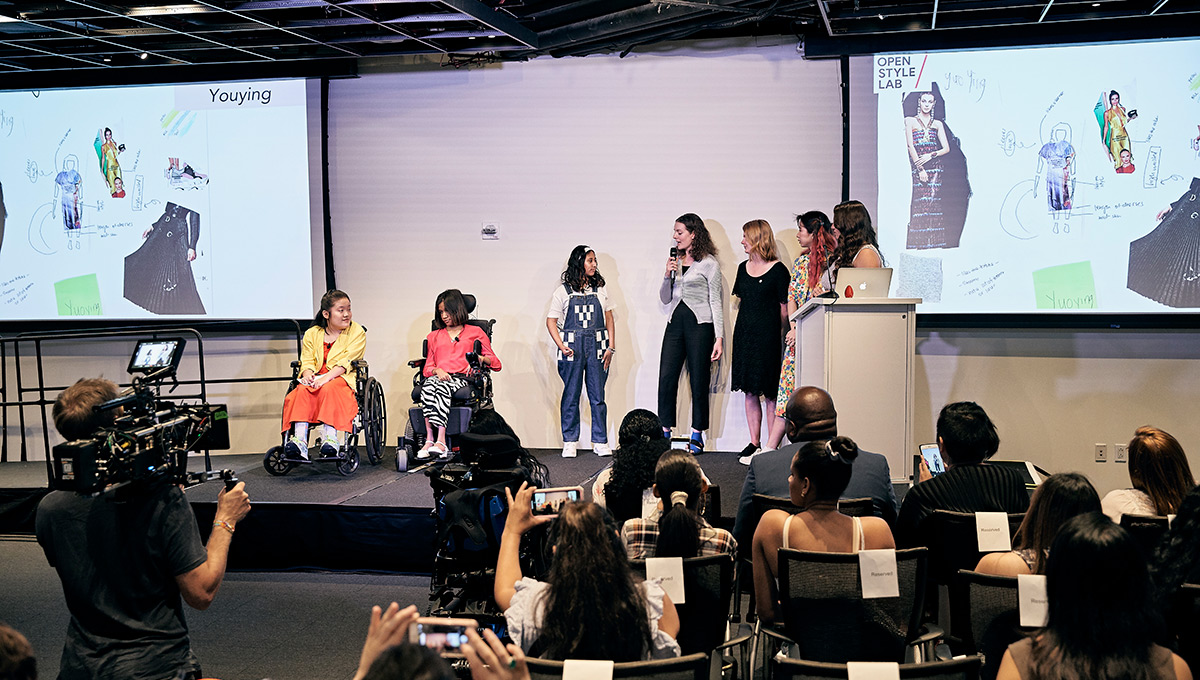 Building Wearable Technology
Jones' passion for wearable technology stems from an early interest in digital art during her bachelor's degree in art history and theory. Instead of writing about it, she wanted to make it.
Before Carleton, she completed a master's in Digital Futures at OCAD University in Toronto.
"When I started at OCAD, I was learning about code and about electronics in an artistic environment," she says.
Jones is now a member of the Creative Interactions Lab (CIL) at Carleton, led by Prof. Audrey Girouard in the School of Information Technology.
Pursuing her PhD project at Carleton and working with the CIL team has taken Jones' knowledge of electronics, wearable technology and accessibility practices even further.
Girouard, Jones' PhD supervisor, worked with her to find the perfect project for her skill set and their collective interests.
"Lee is passionate about working with textiles and making soft sensors, so she designed this project that has the potential to help people, especially those with accessibility needs, to design and adapt their own clothes," says Girouard.
"She's driven and thriving, and it's wonderful to see her progress."
Along with her colleagues in the CIL, Jones names Hannah Perner-Wilson and Mika Satomi, the handmade wearable technology pioneers behind Berlin's KOBAKANT collective as great inspirations on the work she's producing.
"They're the first ones who started using handcrafted textiles, and I appreciate that they're open source about it," says Jones.
In September 2019, Jones attended the International Symposium on Wearable Computers in London, U.K., where she shared her project's progress with a global network of peers and leaders in her field.
Jones says researchers were excited about the concept of using e-textiles to adapt and alter clothes that individuals already own.
"Today, there's a greater awareness of the amount of waste that fast fashion produces, so people are thinking of ways that we can be more sustainable," she says.
"When creating any new technology, it's important to think about the lifecycle of what you're creating."
Friday, December 20, 2019 in Accessibility, Information Technology, Innovation
Share: Twitter, Facebook