By Alysha Cunningham
Photos by Chris Roussakis
More than 30 students, faculty, staff and alumni sat down together on Oct. 30 to discuss Carleton University's community impact and its force for good at the Board of Governors Talk Exchange.
"Today is about facilitating open and honest dialogue with our community," Jay Nordenstrom, chair of the Community Relations and Advancement committee said during opening remarks. "There's undeniable value in bringing together such diverse perspectives and voices in this kind of forum. We want to hear your stories, thoughts and concerns."
Hosted by the Board of Governors Community Relations and Advancement (CRA) committee, which has a mandate to build relationships, protect and enhance Carleton's reputation and encourage a culture of philanthropy, the Talk Exchange provides a unique setting for community stakeholders to discuss the university.
This was the committee's third time hosting the exchange, with past events focusing on questions like "what do we want Carleton to be known for?" and "what do the next 75 years look like?"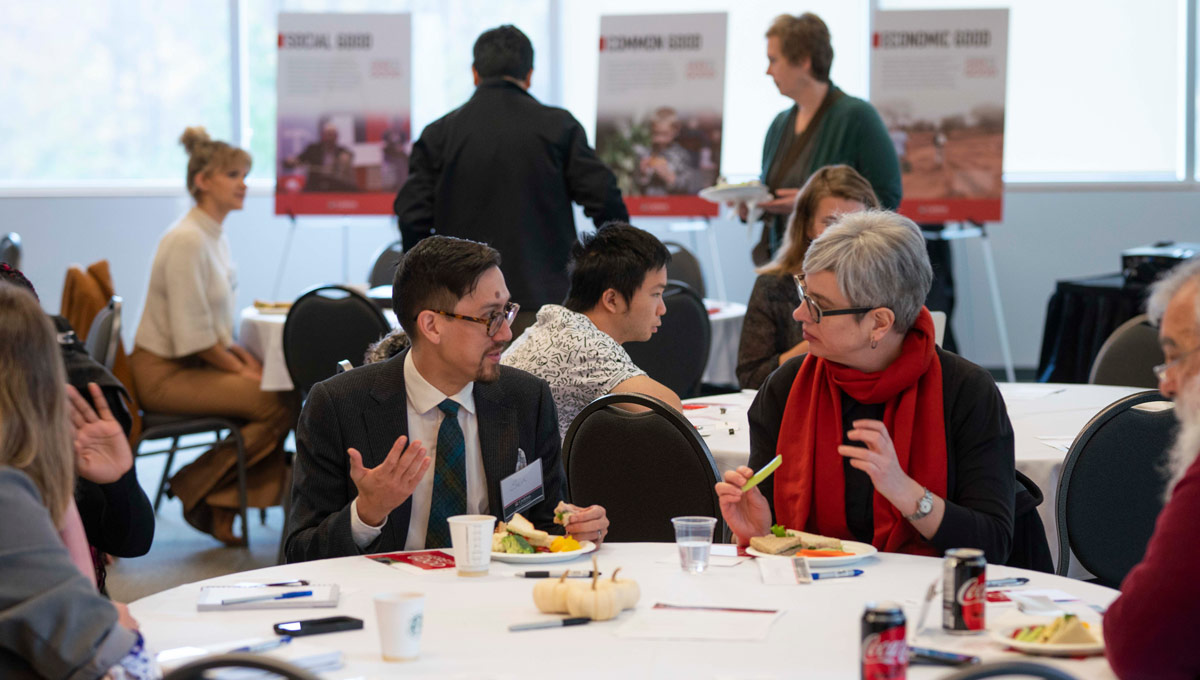 Here for Good
The Oct. 30 session looked at Carleton's future while digging deeper into University Advancement's Here for Good ethos statement, originally grounded in fundraising and Carleton's Collaborate campaign. It has since gained traction and has come to represent the everyday "good" in the Carleton community.
The session was facilitated by Derrick Feldmann, a social movement adviser, author and consultant on Here for Good.
"This idea of Here for Good is a powerful one," said Feldmann. "It speaks to Carleton's permanence – that we're here to stay. It also speaks to our shared values – that we're here to serve the greater good of society."
Participants broke into four small groups comprised of members from various constituencies. Group discussions focused on a series of questions that touched upon the identity of Here for Good, including examples seen on campus.
The theme of interdisciplinary strength dominated conversation about the university's impact.
"It's about social innovation, humanity, pursuing knowledge and so much more," said one participant.
Another explained how the Here for Good message is part of the chain reaction from professor to student. "When a professor is clearly passionate about what they are teaching, it transfers to the students who then feel empowered and excited."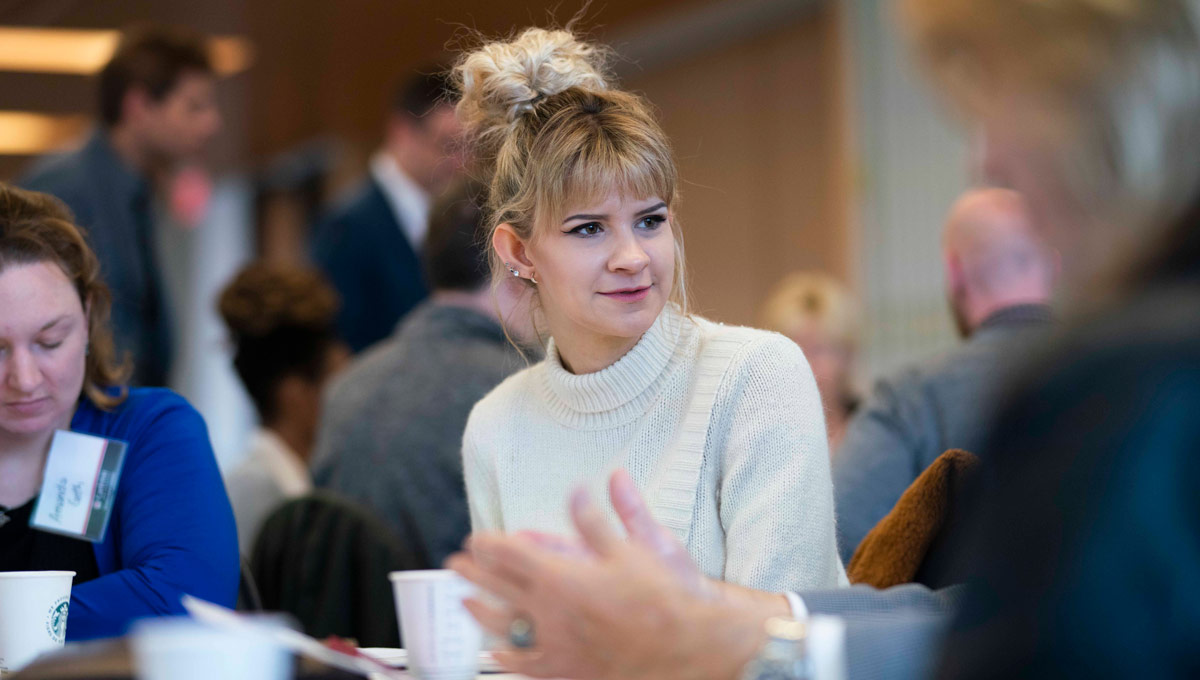 Talk Exchange Focuses on Leading Change
Many examples were shared of how the Carleton community is leading change in the world through their skills, knowledge and time, including the International Student Services Office Thanksgiving program in which Carleton community members host international students for dinner and share Canadian traditions, creating a sense of community they might not have had during the holidays.
Another example was a professor who organized a conference with the goal of ending and preventing youth homelessness in Ontario, Canada and beyond. The conference opened the door to homeless youth to share their experiences with policy-makers and shelter co-ordinators.
"We are spoiled with examples of Here for Good," said one participant. "The trouble we have now is to determine how we get all the stories out there."
Notes were taken at the tables and will be compiled into a report that will be posted on the Board of Governors website.
"Today was filled with thoughtful, engaging and honest conversations," Nordenstrom said in his closing remarks. "Hearing your stories matters. It gives us support in navigating the future, which needs to reflect us as a collective."
Wednesday, October 31, 2018 in Board of Governors, Community, International
Share: Twitter, Facebook