By Ellen Tsaprailis
Photos by Justin Tang
Meet Roxy, Cooper, Penny, Zak, Murphy and Dozer.
They're friends of Blue—Carleton University's first therapy dog and most famous pet on campus—and they're here to spread canine love to keep student spirits up.
The new in-house Carleton Therapy Dogs program has officially launched as a campus-wide student mental health initiative.
Six of the seven dogs in the program are the personal dogs of faculty and staff who volunteered to be a part of the program. They have been put through a rigorous training process all summer to be prepared to foster a welcoming, supportive environment to address mild to moderate mental health needs.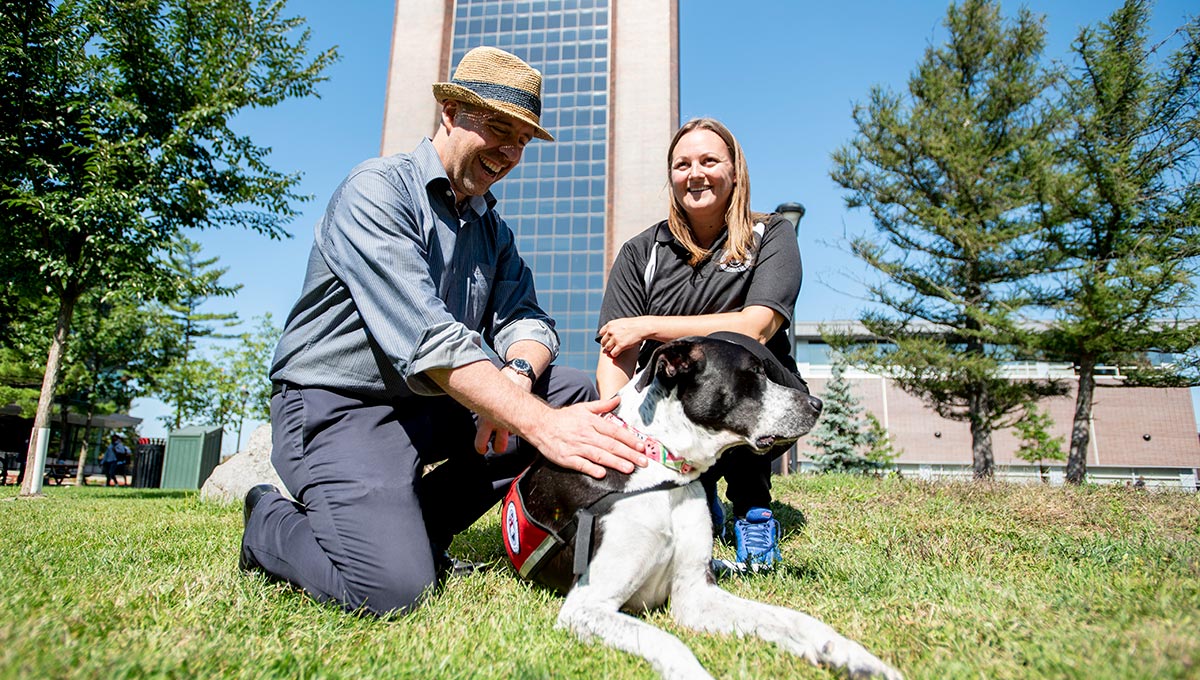 A Mental Health Initiative Driven by Faculty and Staff
The innovative idea of recruiting and training Carleton employees as therapy dog handlers with their own family dogs struck a chord with President Benoit-Antoine Bacon.
"We are excited to expand our therapy dog program as part of all we do to support our students and their mental health and well-being," says Bacon. "So proud that six of our amazing faculty and staff volunteered with their own dogs for this program, which involved lots of training, to help our students. You make Carleton great."
---
---
All seven dogs assembled together to complete their final test at the official launch held in the quad on Thursday, Sept. 13, 2018, to the delight of many students and staff.
The program is run by Shannon Noonan, special project officer for the Office of the Vice-President (Students and Enrolment).
"We did a pilot with Blue to show that it helps with student retention, stress, anxiety and depression and from that we decided it would move to my new office now as a mental health initiative and it has become a full Carleton program," says Noonan.
Blue's popularity grew quickly, but it wasn't always easy for students to visit during his specific hours and in one location.
"The end result is that there will be other dogs around in different corners of campus so that we can hopefully reach different students," says Noonan. "Maybe one dog and one handler might be more approachable to someone than someone else."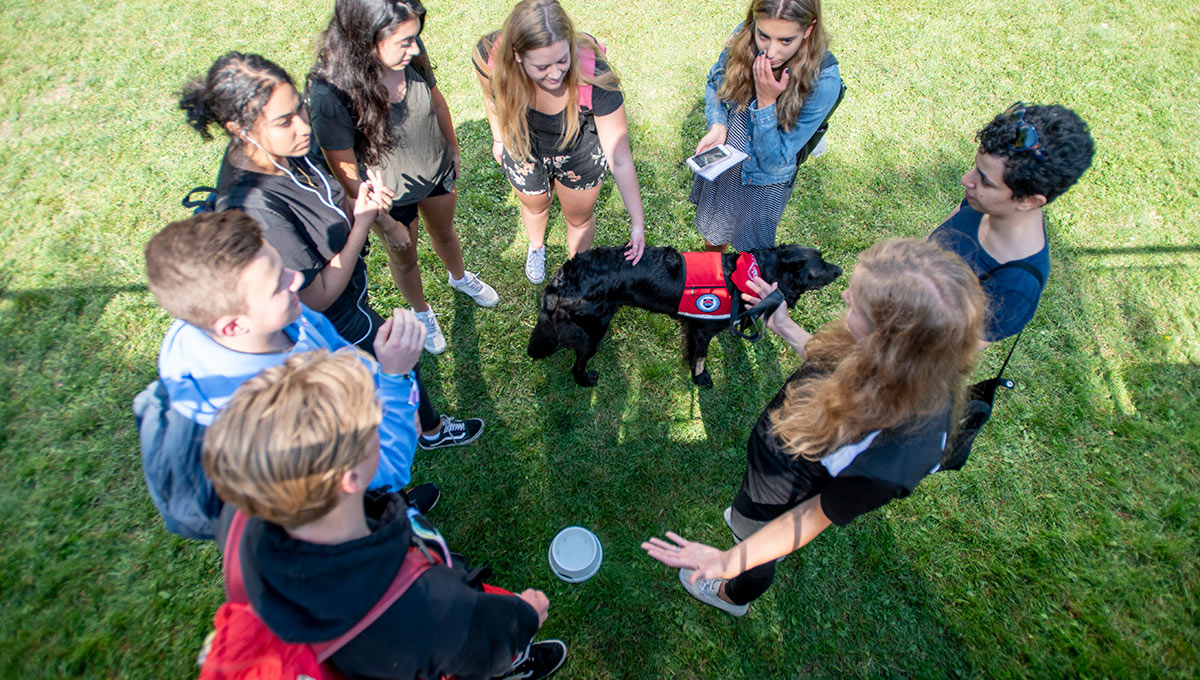 Therapy Dog Program Provides
a Safe Space for Students
To qualify as a therapy dog, obedient dogs who are calm with good temperaments are required character traits.
"They have to be very reliable and non-reactive," says Noonan. "They get tested to see how they react to props and wheelchairs and other dogs."
Noonan describes a typical visit to a therapy dog as students entering a safe space where they can pet the dog and receive some love. Sometimes the dogs will do a few tricks for them.
She has seen first-hand the reaction students have with Blue.
"They get an instant sense of calm. For the most part, they are coming in because they are stressed, and they have three mid-terms that week and five projects due in x amount of time and they just take a break. That's such an important piece of trying to have balance in your life," says Noonan. "Most people are dog people who miss their dogs at home and they just need a little interaction to get them through."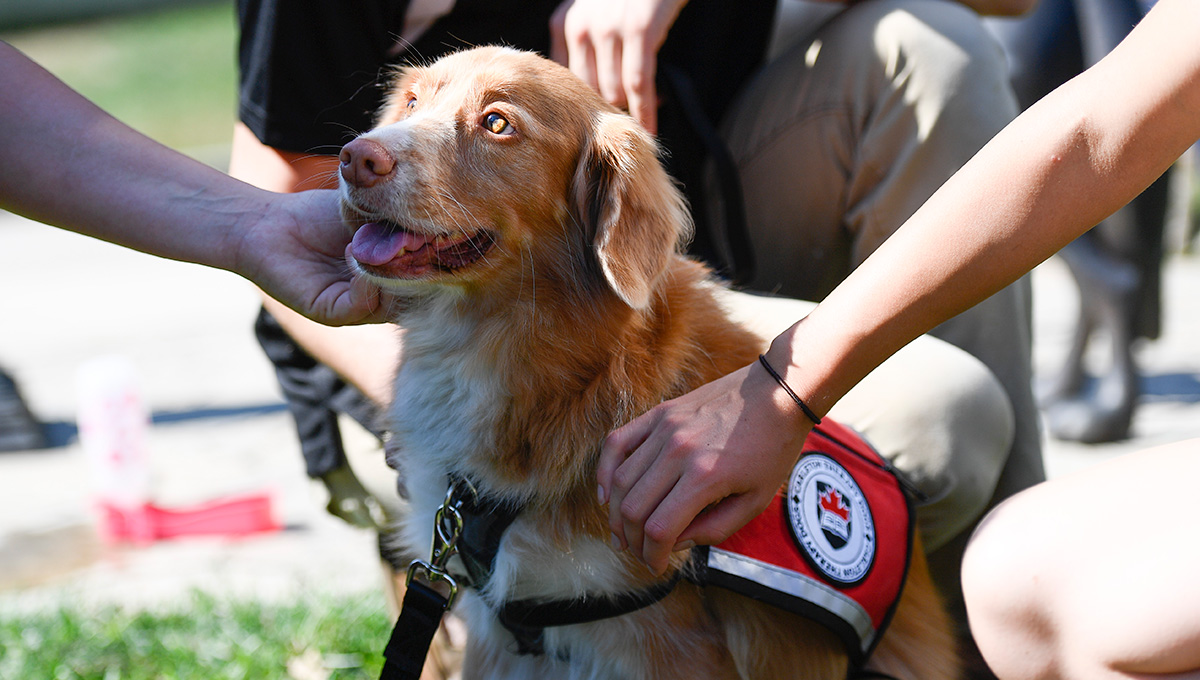 Balancing the Demands of University Life
Biology Prof. Kyle Biggar is Roxy's owner. As a faculty member, he interacts constantly with undergraduate and graduate students.
"Over the two years that I have worked here, it has become clear that the demands of university (including a new lifestyle away from home, exams, etc.) can create a stressful environment for any student," says Biggar. "This is true of my own experiences as a university student at various campuses across Canada. My involvement with this program is to help provide a new stress relief outlet for students, and my experiences so far have reinforced this ideal."
Biggar says the training he signed up for was very thorough. Roxy had to be evaluated by the Ottawa Therapy Dogs (OTD) program and the Canine Good Neighbour program, which meant six weeks of formal training and a lot of practice at home to prepare.
Elise Laviolette is a community volunteer with OTD and has joined Carleton staff and faculty with her English Bulldog, Dozer, as the seventh addition to the therapy team.
"We were looking for the right fit," says Laviolette. "I heard about Blue through a student and reached out to Shannon. (Dozer) loved being on campus and interacting with students so OTD and Shannon co-ordinated our volunteer placement/assignment."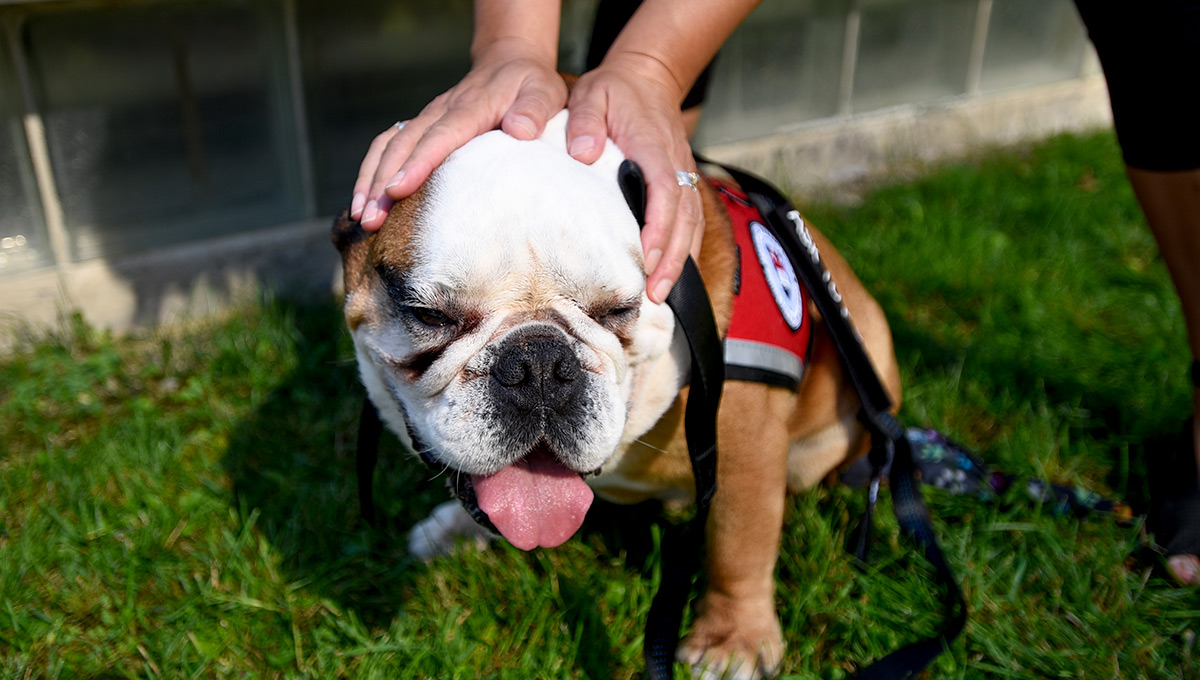 Supporting Student Well-Being
Dozer will be on campus at least once a week for an hour or two. All the dogs will keep office hours and their locations will be updated on the website.
"Many universities recruit therapy dogs in response to higher stress events such as exam week," says Laviolette. "Carleton's approach is different because this initiative involves staff and seeks to support student well-being and mental health on an ongoing basis."
Noonan concurs.
"The differentiating piece is that we're not just bringing in dogs randomly (or) haphazard—we are having them integrate and identify as part of the community," says Noonan. "I think having that reliability and availability more consistently throughout the term as opposed to just during exams is more beneficial.
"Scientific studies have shown that spending time with an animal, dogs in particular—the act of petting an animal can bring down your bad stress hormones and increases your ability to fight off stress," says Noonan. "There's lots of other studies with students in Canada that have shown it reduces homesickness and isolation."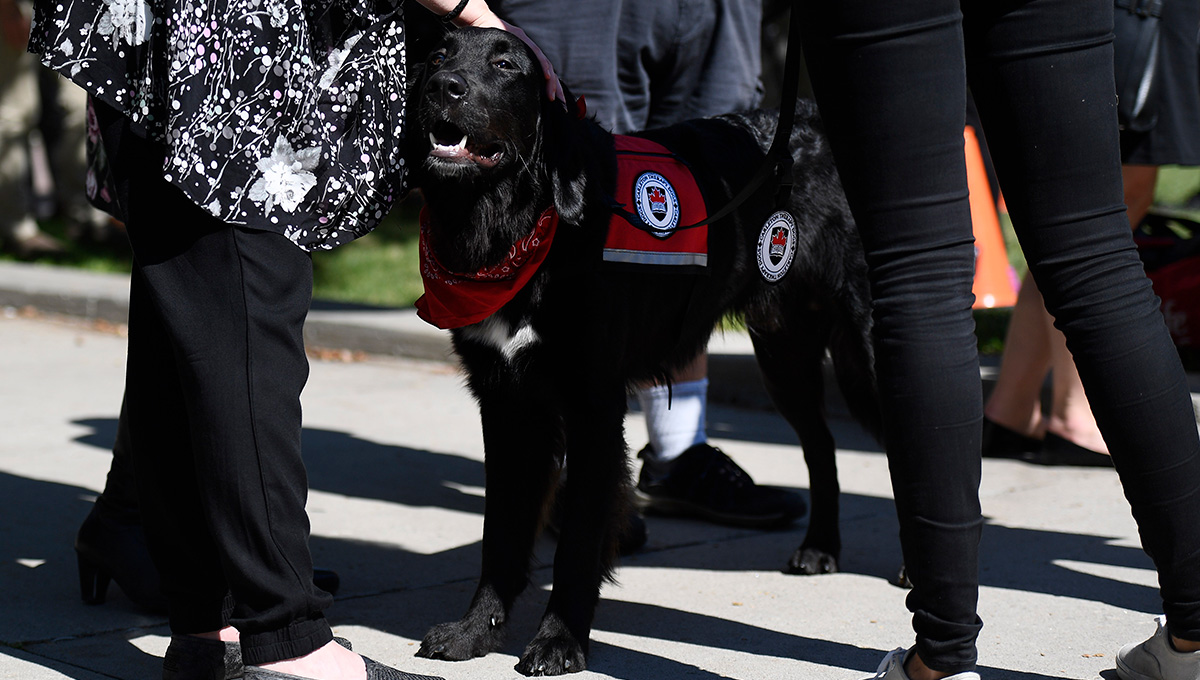 A Powerful Experience
Noonan remembers one experience she had with Blue that was particularly powerful.
"I had someone come in, and a couple of other students were there, and as soon as (the student) saw the dog, she . . . fell to her knees in tears. I was getting ready to play that support role, but I didn't even have to because the other students that were sitting there all of a sudden started saying: 'It's ok. Where are you from? What's going on?' They started bonding with her right in front of my eyes.
"It was actually winter break at the time and so it was an especially lonely time and she started talking about how she wished she could have gone home for the break. Another person in the room was also from Alberta and could not go home. The bond was over the connection with the dog—they wouldn't have otherwise talked to each other if they just saw each other—it was just that they were there in that moment together and there was no judgment in that space. They just understood each other without having to explain anything. It was really beautiful to see."
Biggar looks forward to the positive impact Roxy can make.
"My hope is that Roxy can help provide students with a novel mechanism to relieve their stresses," says Biggar. "We have been working on campus for only one day, and I have had countless students positively engage with her and comment on how excited they are for the initiative to begin."