A fascination with all things Chinese and a strong interest in business startups were the two factors that ultimately led to Carleton University student Ahmad Tamimi holding onto a scooter as its driver wove through the notoriously chaotic traffic of the city of Wuhan.
"It was an interesting look at part of China's transportation system," Tamimi reports with a grin. "And the adrenalin rush was great."
His adventure was one sparkling facet of a gem of an experience: Carleton's China Study Tour. This past spring saw the fifth iteration of the annual study tour, with 17 students in programs ranging from Biology to Political Science enjoying a two-week introduction to one of the world's superpowers.
The study tour is the result of a partnership among Carleton and Central China Normal University (CCNU). Carleton students on the tour participate in the China scholarship program provided by the CI headquarters in Beijing, which significantly reduces the cost of all travel, accommodation and meals.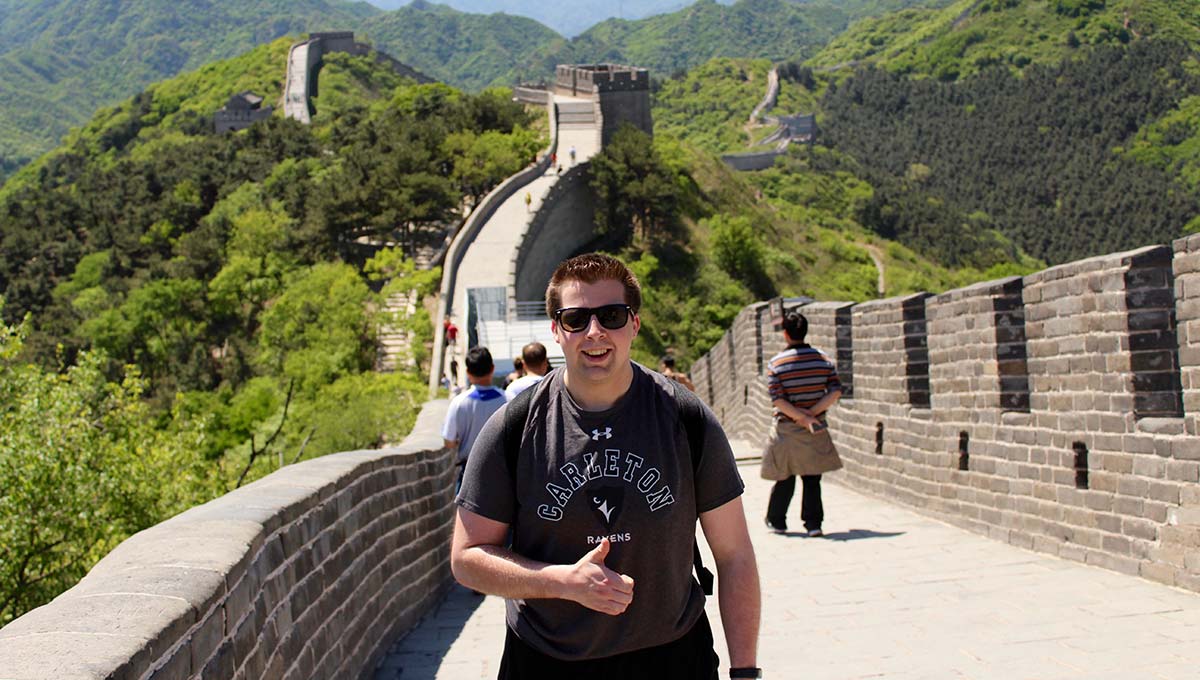 China Study Tour Gives Students First-Hand Experience
"The purpose of the study tour is simple," says Justin Li, one of the trip's chaperones. "China is profoundly different from Canada, and we want to give students a first-hand experience so they can gain a sense of familiarity with the country. Otherwise, it's very open what each student will take away from their time there. The goal really is just to be there."
Much planning goes into enabling students to be there. Before the tour begins, participants attend language classes and cultural sessions, and one of the first stops in China is a cultural orientation session at the Beijing headquarters.
For the last three years, the tour has been structured around cultural attractions and academic institutions in three cities: Beijing, Shanghai and Wuhan, a major educational and research hub in central China where CCNU is situated.
"The Great Wall, Tiananmen Square and the Forbidden City are fixtures in the itinerary," says John Nelson, co-chaperone and international outreach manager at Carleton International, an office that facilitates international collaboration.
"Other activities change yearly, depending on the students participating and what will benefit them. For example, we might visit the campus of an exchange partner or arrange for graduate students and researchers to visit professors in their field."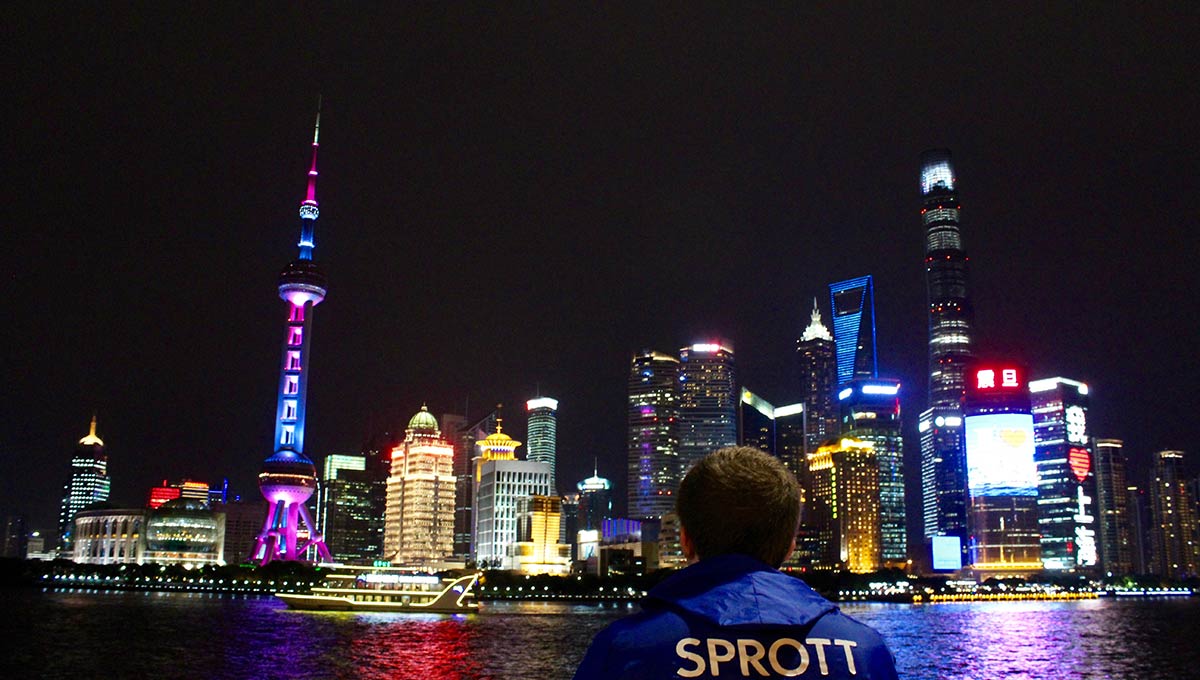 Entrepreneurship and Innovation Key Elements of China Study Tour
New to 2017 were visits to entrepreneurship hubs and innovation centres at Optics Valley, a development zone in Wuhan.
Tamimi, who has just finished his Bachelor of Engineering in the Communications Engineering program, is involved with an Ottawa startup. "It was eye-opening to see the incubators and their different ways of doing things. I learned a huge amount and brought back new ideas."
Matt Smith, who is entering the second year of a Bachelor of Commerce program with an International Business concentration, was another appreciative participant.
"The business aspects of the tour tied right into my program at Carleton. The experience has expanded how I view my studies, and I feel that it's given me a leg up in my courses."
Both Tamimi and Smith came away with contacts they can draw on in the future – despite having little Mandarin.
"Usually about half of the students have taken some intensive Mandarin courses and are taking the opportunity to practice their language skills," Nelson reports. "I used to worry that the rest of the students wouldn't be able to communicate, but now just about everyone has a smartphone with a translation app, and even the students who don't have a good grasp of the language are able to function very well. They're supported by technology, and they're just more fearless."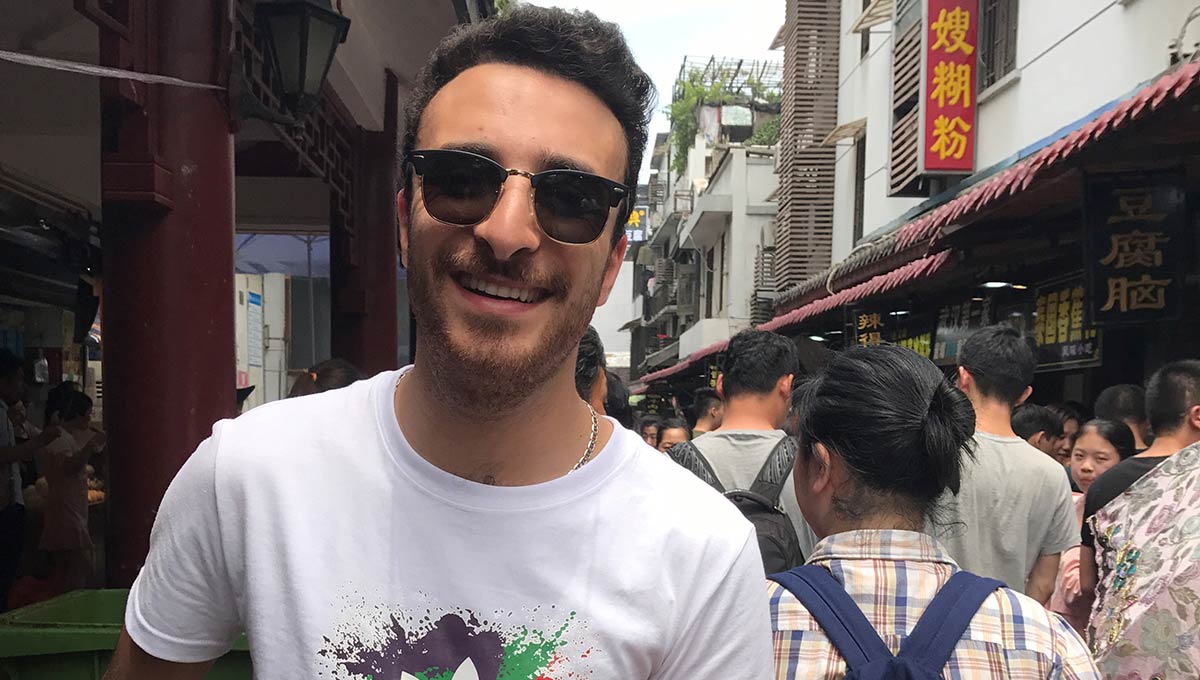 Students Return to Study and Work
Of the 86 students who have taken the China study tour since 2013, more than a dozen have already returned to China to study or to work.
Stephaine Lawrence, who took the tour in 2013 in her final year at Carleton, now works at a high school in Suzhou as an international co-ordinator of academics. "The tour was a hands-on opportunity to learn about different aspects of Chinese culture, including food, education and tourism. It confirmed my interest in moving there."
"It's really something to see the students immerse themselves in the culture," Nelson reflects, "even when it takes them a little outside their comfort zones. The best moments for me were watching the students just go. In Shanghai, the hotel was close to the Bund – the city's famous waterfront promenade – and at the end of the day, the students would head out again to shop and walk around. They didn't want to be in the hotel. They wanted to be out there, taking it all in."