By Matt Gergyek
Photos by Josh Hotz
On Sept. 6, Etienne Coon-Come Masiringi officially begins his second day as a third-year Social Work student at Carleton University.
A year ago to the date, he was in dramatically different circumstances.
On Sept. 6, 2017 Coon-Come Masiringi was in a hospital bed, preparing to take the final step of a nearly 10-month recovery process from a traumatic brain injury, which meant undergoing reconstructive surgery to have a portion of a 3D printed skull built into his head.
Accounts of how the injury actually happened on the night of Nov. 27, 2016 are conflicting and difficult to verify, but each begins with the onset of a sudden psychotic episode, induced by a number of stressors which all hit Coon-Come Masiringi on the same day, including the loss of a job placement and rising rent costs.
The symptom of mental illness affects about three per cent of people in their lifetime, according to the Canadian Mental Health Association (CMHA).
"I get really paranoid, I start hallucinating, I start believing things that are not reality," he says.
Coon-Come Masiringi quickly called 911 after realizing he was in distress and was transported to the Ottawa Hospital's Civic Campus via ambulance.
While he was in the waiting room, he became overwhelmed with anxious and paranoid thoughts and fled the hospital to trek five kilometres through the frigid night back to his apartment.
From there, everything goes blank.
Coon-Come Masiringi's personal theory is that he harmed himself in the midst of his psychotic episode.
Some at the hospital said he fell off a balcony, causing major trauma to his head. Others said it was a physical assault, the fallout of a major blow to the skull.
Either way, Coon-Come Masiringi woke up in the hospital, draped in wires and tubes with a third of his skull missing and his dreadlocks shaved to a stubble, marking the beginning of a tedious recovery process.
"I was angry, I was so confused," he says.
The injury resulted in major swelling to Coon-Come Masiringi's brain, forcing surgeons at the hospital to remove a portion of his skull to allow the brain to swell and return to its normal size safely.
To protect his healing brain, Coon-Come Masiringi was outfitted with a bicycle helmet.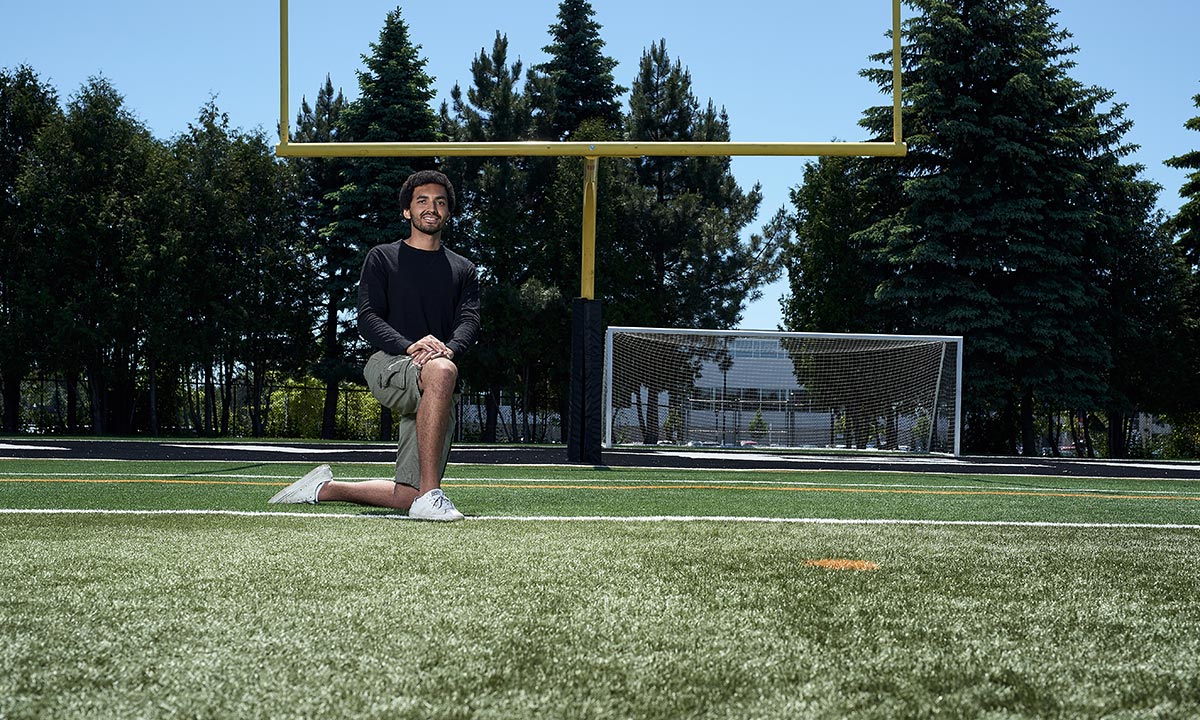 Coping with the Brain Injury
But even at the beginning of his recovery, it was clear that Coon-Come Masiringi's characteristic perseverance and high spirits were unwavering.
If you happened to stay in Coon-Come Masiringi's ward during his first month at the hospital, chances are you're quite familiar with his signing voice.
"I would wake up and I would walk the halls . . . singing Christmas songs, whatever song came into my head," he says.
"It was close to Christmas time so . . .  I hope I brightened some of the patient's spirits."
Coon-Come Masiringi ended up spending several months at the hospital in various rehabilitation programs, participating in physiotherapy, speech therapy and counselling sessions.
He finally returned home in spring 2017, but that didn't mean the injury wasn't still taking a serious physical and psychological toll.
"When you have a piece of your skull missing it's a constant reminder of what happened," he says.
Coon-Come Masiringi was plagued by bouts of intense fatigue and intense mood swings.
Leaving the house was especially tough.
"As soon as you enter a store or a public place right away people see the helmet and it's the only questions they have," Coon-Come Masiringi says.
---
---
He turned to volunteering at the Ottawa Hospital to begin to come to terms with the injury.
"It really helped with my recovery because I knew exactly what the patients [were] going through," he says. "You're talking to people, getting to know them. It reminded me a lot of social work."
When September 2017 came around and Coon-Come Masiringi was finally able to undergo reconstructive surgery, everything fell into place – he was able to go to the gym again and leave the house without being the centre of attention.
"My mood was a lot better, I knew better days were coming," he says.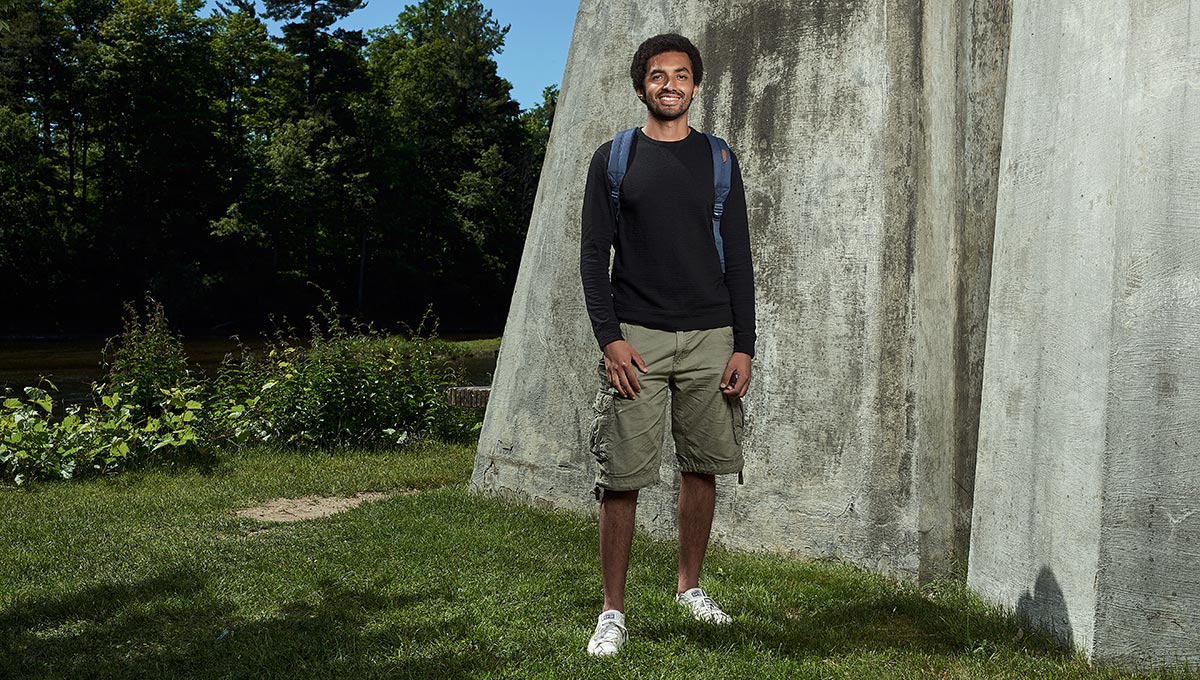 Inspiring Others
These days, Coon-Come Masiringi is ready to continue his education to help others. If anything, he says the trauma and difficult times have only made him a stronger and more devoted social worker.
"When you have a brain injury you have no choice; you have to become an advocate . . .  it's your duty" he says. "I feel like my story has the potential to be a gift for somebody else."
Specifically, Coon-Come Masiringi hopes to use his Cree background (he comes from Mistissini, Quebec, which means "big rock") along with his degree to help Indigenous people throughout Canada who continue to face disproportionate rates of discrimination and unsatisfactory living conditions.
For example, according to the 2016 census, median incomes at four of five Indigenous reserves in Canada fell below the low-income measure of $22,133 for one person.
Meanwhile, while only seven per cent of children in Canada are Indigenous, they make up nearly half of all the entire foster care population in the country, says Statistics Canada.
Coon-Come Masiringi has some important advice on how to work and interact with people with disabilities.
"It's an invisible disability . . . People with brain injuries don't have a sign on their head that says: `I have a brain injury, be patient with me and don't put me down.' Try to be understanding and put yourself in . . . their shoes. Empathize and be compassionate."
When it comes to coping with mental illness, Coon-Come Masiringi says acceptance and openness is key to recovery.
"You've got to get vulnerable and show people you're not 100 per cent and need help," he says. He added getting connected with resources and allies is extremely important.
"The worst thing [for] mental health is trying to keep it to yourself and being the only one dealing with it," he says. "It's a really big burden to carry [alone]."
To this day, Coon-Come Masiringi is still dealing with some impacts of that fateful November night. His short-term memory, energy levels, processing speed and navigation skills aren't quite where they used to be, but he's not giving up on doing what he loves.
"I find when I'm helping people it kind of brings out the best in me," he says.
Coon-Come Masiringi will work closely with the Paul Menton Centre for Students with Disabilities (PMC) to complete the rest of his degree at Carleton, slowly working his way through his last few credits.
The PMC will provide support for Coon-Come Masiringi, while ensuring he maintains his independence and individuality as a student, by working closely with the faculty members and staff he will encounter.
At Carleton, largely thanks to the PMC, students with disabilities graduate at a rate on par with the general population.
"I want to get back into the things I'm passionate about- social work, helping people, moving my career forward," he says.
Oh, and he's working on growing out his trademark dreadlocks.
"They're growing back, slowly, but surely," he says with a grin.
—
If you need help or someone to talk to please visit Carleton University's Emergency Numbers resource list.