By Ellen Tsaprailis
Photos by Chris Roussakis and Bonnie Findley
White roses, lit candles and photographs adorned Carleton University's Tory Building lobby to commemorate the 14 women who were murdered three decades ago on Dec. 6, 1989 at l'École Polytechnique in Montreal.
Geneviève Bergeron. Hélène Colgan. Nathalie Croteau. Barbara Daigneault. Anne-Marie Edward. Maud Haviernick. Maryse Laganière. Maryse Leclair. Anne-Marie Lemay. Sonia Pelletier. Michèle Richard. Annie St-Arneault. Annie Turcotte. Barbara Klucznik-Widajewicz.
Instead of achieving their personal dreams of becoming engineers, they died in their early 20s at the hands of an armed man who hated women.
The mass shooting at the engineering school at the Université de Montréal led Canada's Parliament to designate Dec. 6 as the National Day of Remembrance and Action on Violence against Women.
Flags on campus were lowered to half-mast on Friday, Dec. 6, 2019, to honour these women and all those who continue to experience gender violence.
A commemoration ceremony organized by the Faculty of Engineering and Design—led by Prof. Cynthia Cruickshank—was held on campus with participation from faculties and services across the university. Carleton President Benoit-Antoine Bacon spoke to faculty, staff and students while a large screen displayed the faces, names, age and program of each murdered student.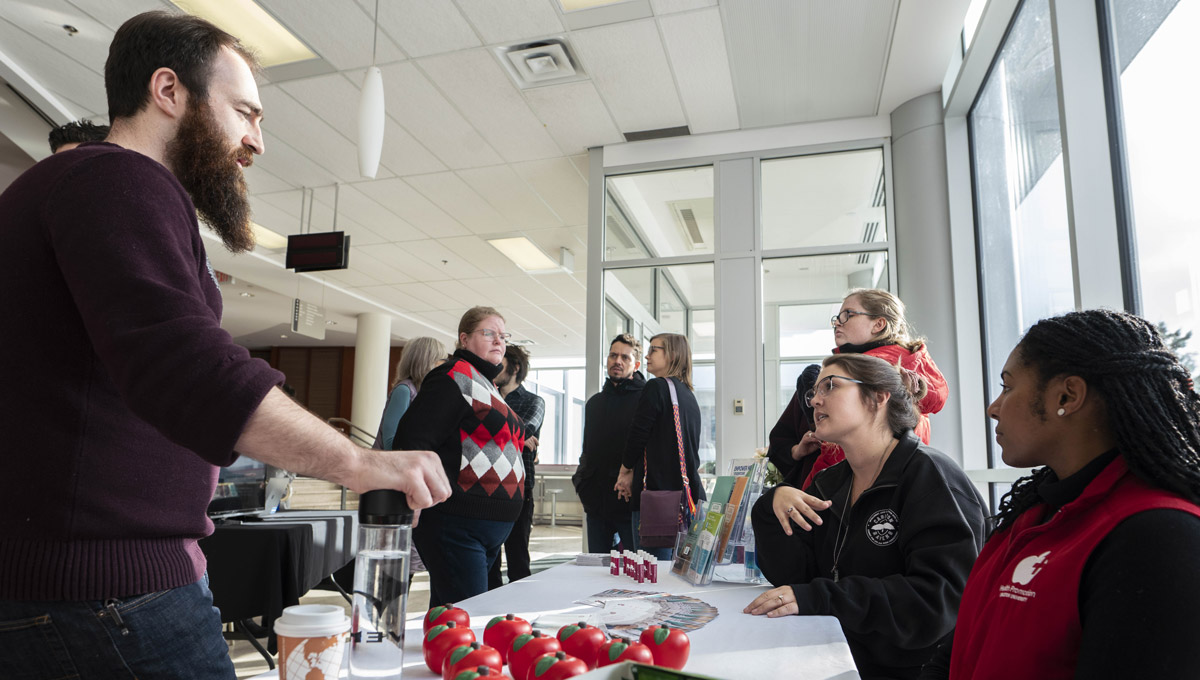 Taking Action Against Gender-Based Violence
"As we remember these brutal murders, it's critical that we also acknowledge the less spectacular forms of gender-based violence that are all around us, often unseen," said Bacon.
"Dec. 6 is about honouring those who have experienced gender-based violence, but it is also about taking action. Our actions matter, and together we can continue to build Carleton's culture of respect where everyone is included."
Following a moment of silence, Ikram Jama, Human Rights and Equity Advisor with Carleton's Department of Equity and Inclusive Communities, described how she arrived in Canada in 1989 as a refugee and found this massacre at a post-secondary institution so shocking.
"One hope I had was to go to university," Jama told the crowd. "Would university be the safe haven I imagined it to be?"
Citing recent news of inadequate spaces at Ottawa's five Violence Against Women shelters to accommodate the demand, Jama also remarked that women with marginalized identities are at greater risk for harm.
"We can all be agents of positive change," she said. "We must embrace courage and we are all responsible for ending gender-based violence."
She finds hope everyday as she arrives at Carleton and passes by the Sexual Assault Support Centre where students are ready to provide peer support to fellow students who have experienced sexual violence.
Ann Cvetkovich is the director of Carleton's Pauline Jewett Institute of Women's and Gender Studies. She thinks it is important to remember 1989 because gender-based violence is still so prevalent.
"If anything, there is more open violence and hatred towards women, including the backlash that can be created by greater awareness of sexism and racism," said Cvetkovich. "We remember what happened in Montreal, not just for the sake of the past, but also to remind us of the urgencies of the present and the need to act for the future we desire."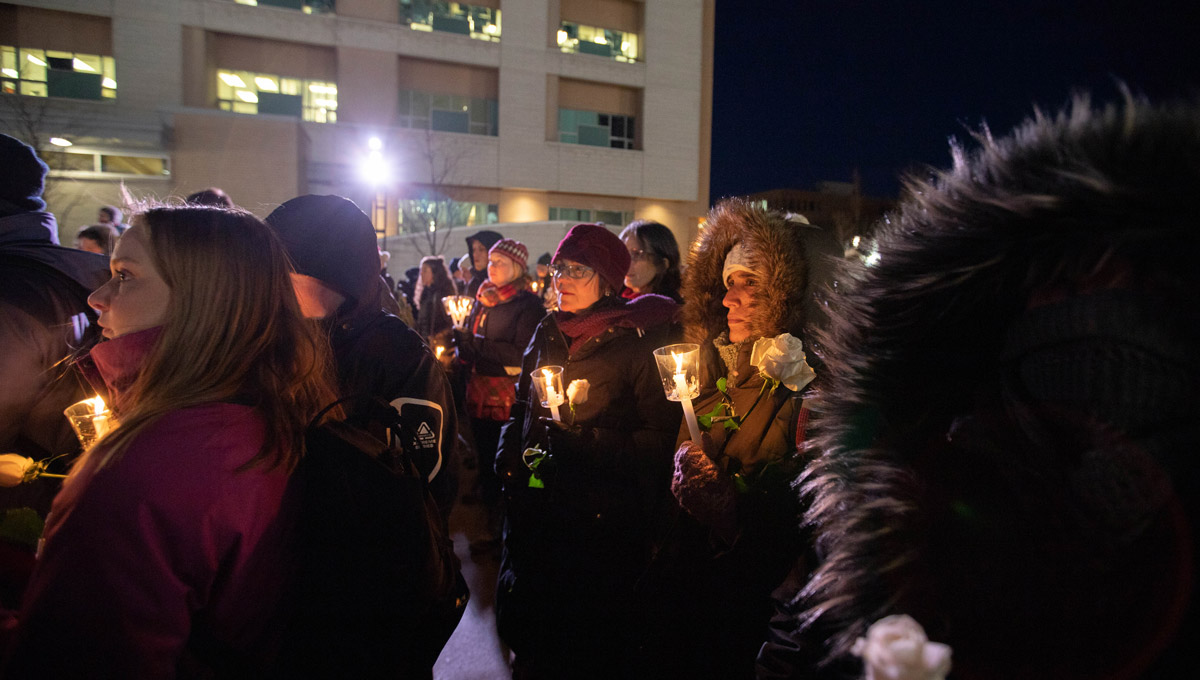 National Vigil
Bacon also took part in national vigil ceremonies, with beacons lit in 14 cities across the country—including Ottawa, where a ceremony was held late Friday afternoon at the University of Ottawa. Bacon spoke about being from Montreal, remembering that dreadful day, and read The Summer Day by poet Mary Oliver.
"As a community at Carleton University, like the University of Ottawa and universities across the country, we are committed to maintaining a positive learning, working and living environment where gender-based violence and, indeed violence of any kind, is not tolerated and is treated with all the seriousness it deserves," Bacon told people gathered at the event.
Monday, December 9, 2019 in Equity Services, Faculty of Engineering and Design, President
Share: Twitter, Facebook