Today, Carleton University is proud to join the global community in recognizing the United Nations (UN) International Decade for People of African Descent.
"As we approach Black History Month, this important recognition aligns with Carleton's ongoing commitment to stand against anti-Black racism and to enhance Black Inclusion within our community," says Carleton President Benoit-Antoine Bacon.
The resolution's themes of recognition, justice and development resonate with Carleton's aspirations and efforts to build a community that prioritizes equity, diversity and inclusion (EDI).
Carleton also recently signed the Scarborough Charter on Anti-Black Racism and Black Inclusion, which builds on the commitments found within the UN International Decade for People of African Descent.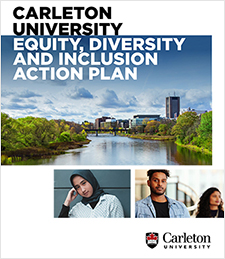 The university is focused on integrating EDI across its core activities and academic mission. There is more work to be done, and Carleton is committed to advancing these goals. In March 2021, after a robust consultative process, the university launched its five-year Equity, Diversity and Inclusion Action Plan to create systemic change.
As part of the EDI Action Plan, Carleton is committed to the collection of disaggregated data on its employees and students to help the university understand the representation, experiences and perspectives of employees and inform the design of equitable and inclusive services and supports. This includes collecting demographic data relating to gender identity, racialized people, Indigenous people, people with disabilities and sexual orientation.
Saturday, January 29, 2022 in News Releases
Share: Twitter, Facebook