By Tyrone Burke
Photos by Justin Tang
One out of every six people on Earth lives in India. Its $2.6 trillion economy is already the world's sixth largest, and it's expanding at a 7 per cent annual clip.
With a population that's on track to surpass China's by 2022, it's a market Canadians companies can't ignore – 1.3 billion people equals 1.3 billion potential customers.
The Canada-India Accelerator Program is making sure Canada's startups will be part of its growth. Delivered through Carleton University's Canada-India Centre of Excellence, the program will send 10 women-led startups from across Canada to India for up to three months in early 2019. But first, it welcomed 10 female Indian entrepreneurs for a two-week Transnational Boot Camp.
Since Sept. 24, the Indian entrepreneurs have been sharpening their knowledge of patents, sales, digital marketing and how to grow in the Canadian market through the Transnational Entrepreneurship Boot Camp series of workshops delivered by Carleton's Technology Innovation Management (TIM) faculty and the Global Cybersecurity Resource (GCR) staff.
"When ventures can access resources and customers from multiple countries, their potential to grow and survive past five years after inception is greater," says Tony Bailetti, director of the TIM program and faculty prime for the GCR project.
"The early experience builds legitimacy and capability to scale up. Participants have an opportunity to establish a network of connections in Ottawa. They gain legitimacy in the eyes of holders of the resource they need to grow – capital. Boot camp alumni will remain engaged through global projects, partnerships and supportive resources, including an online community and access to the principles on how to grow ventures that operate across borders."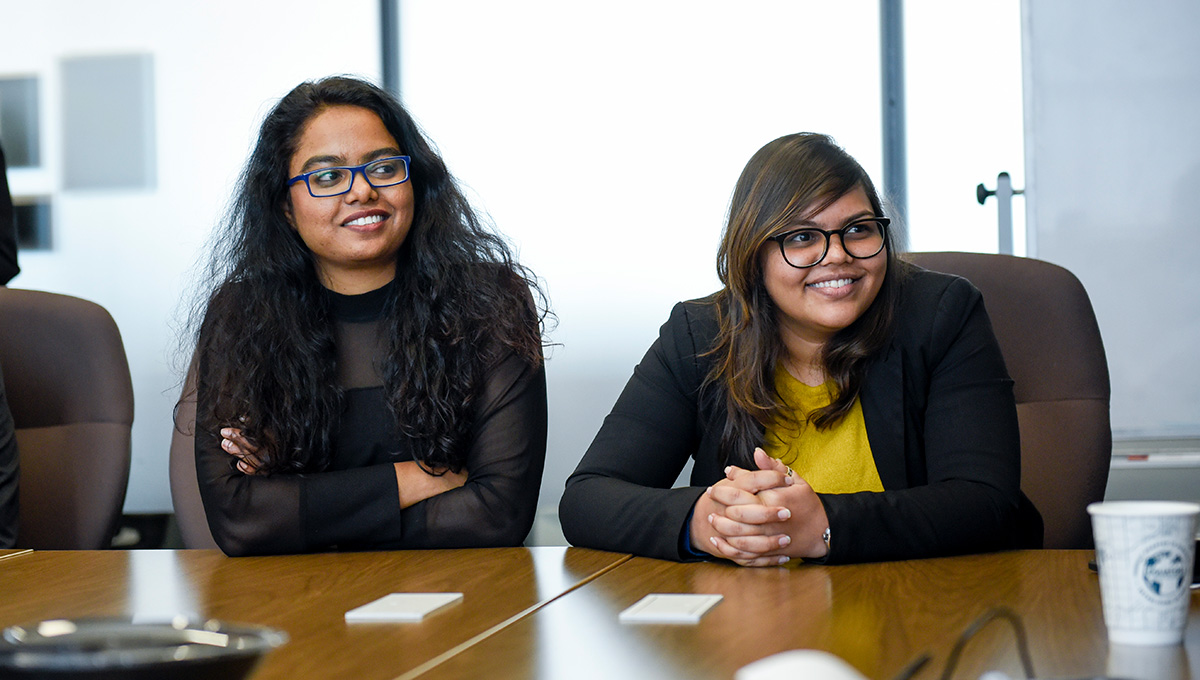 Women-Led Startups Transforming Agriculture, Biotech and Everything in Between
The entrepreneurs participating in the first leg of the exchange – running until Oct. 5 – are launching businesses in technologies that are transforming everything from agriculture to biotech.
Shivi Kapil's Empathy Design is developing a wearable monitoring pregnancy patch, Shraddha Bagwe's Shrambhoomi Innovations is developing a mobile soil testing kit, Shilpa Malik's Bioscan Research is developing medical devices for the early detection of disease, Aarti Shastri's DARS Biotoilet is developing a self-sustained eco-friendly toilet, Shefali Vinod Ramteke's PS-1925 is developing drones for use in "smart farming", Lalita Thakur's Queenbelt is a rape detection-prevention device capable of making automated distress calls, Payal Jawalkar's Agrowave is transforming the Indian agriculture supply chain using research, analytics and technology, Keerthana Ponnarasu's Think2Exist exploits opportunities in aeroponics, and Sushmitha Surendra Kumar is developing a solar electric stove.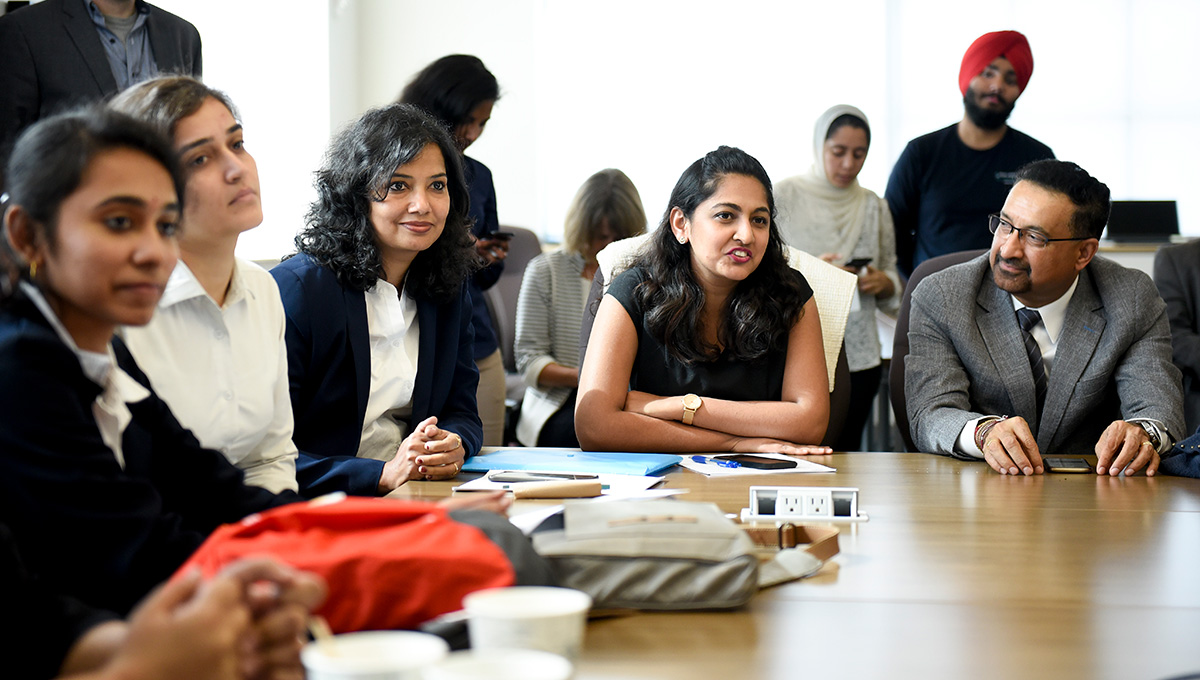 "The world is changing rapidly, and the pace of change has never been faster," said Ontario's Minister of Training, Colleges and Universities, Merrilee Fullerton, who met with the visiting entrepreneurs at Lead to Win's Bayview Yards location.
"We must continue to keep up by diversifying as much as possible as quickly as possible. Technology entrepreneurs are essential to creating new businesses and new jobs – and the Canada-India Accelerator Program is an example of how collaboration can work so well."
---
---
Fullerton, a physician who practiced medicine in Ontario for more than three decades, estimates that her medical school classmates were 80 per cent male. Today, more than half of new doctors are women. As she sees it, the under-representation of women in the tech sector doesn't need to be a permanent problem.
"Things are changing," she says. "We are able and we are capable. We want to see everyone reach their full potential. Women, we can do it. I'm glad to see you all here . . . women and everyone who supports us too. It takes all of us to get where we need to go."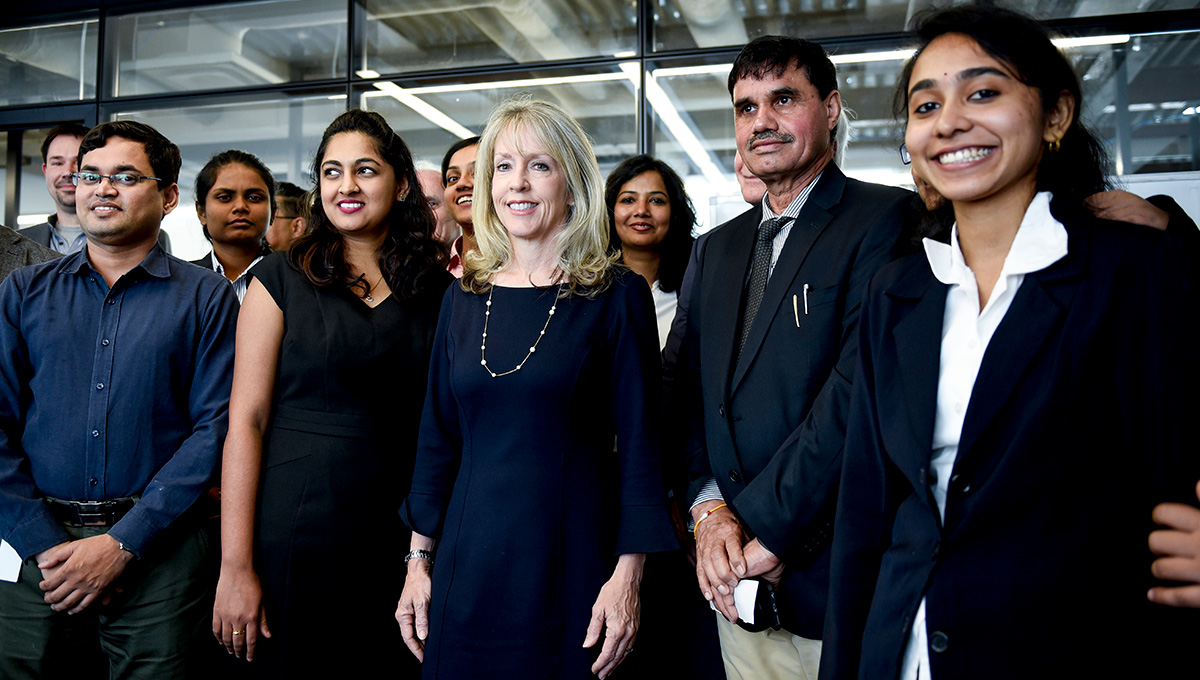 Empowerment Through Entrepreneurship
Empowerment through entrepreneurship is the driving force behind the five-year, $3-million initiative, which will also work with Carleton's other programs that are geared towards women in leadership.
"The Canada-India Centre at Carleton is meant to foster stronger ties between the two countries," says Manager Harry Sharma.
"Women's entrepreneurship – and empowerment – is an issue both countries are trying to address. This program brings together the two mandates of the centre, stronger connections and empowerment.
It also represents an opportunity to build bridges in an era where many are seeking to build barriers.
"Our companies should be everywhere, should be able to help this planet," said M.P. Poonia, vice-chair of the All India Council for Technical Education.
"Out of 700 companies, we identified 15, then the centre reduced that to 10. All are enjoying. All are smiling. We want more and more bonding with Ontario. This combination can work, and in time to come things will change. It is a wonderful opportunity and I want to extend my sincere thanks."
The Canada-India Centre is currently selecting 10 companies from across Canada to participate in the program. Those selected will receive a week of training in Ottawa and will be hosted by an incubator or accelerator in India for up to three months. Funding support for living expenses is provided, and companies will have the opportunity to compete for $200,000 in seed funding in Spring 2019. Applications close Oct. 5.